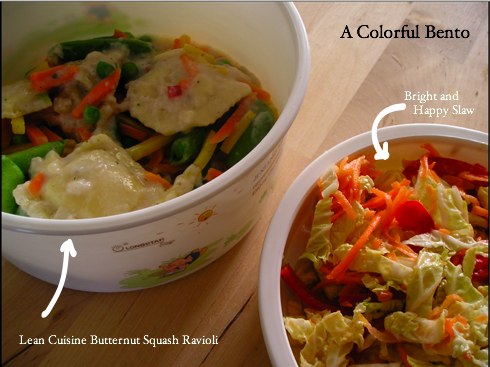 I make bento lunches almost every day. My bentos are usually a mixture of leftovers, and whatever is in my home made freezer stash – cooked rice, dumplings, turkey meatballs; things that I've spent some Sunday cooking and saved for another day.
Sometimes though, when I'm running low and I'm getting lazy, I do the unthinkable – I use a frozen meal. Today was one of those days, and I hesitantly pulled out a Butternut Squash Ravioli Lean Cuisine. As soon as I ate it, the regret melted away. These ravioli are really good. The butternut squash filling is sweet and light, there are plenty of vegetables that hold up really well and are not over cooked, and a really pleasant walnut cream sauce. I'm actually suprised every time I eat these that they taste so good. You could probably serve them at a dinner party and nobody would know…
The other container was the last of the leftover bright and happy slaw, from a few days ago. As you can see it holds up well, and the flavor just keeps on getting better!