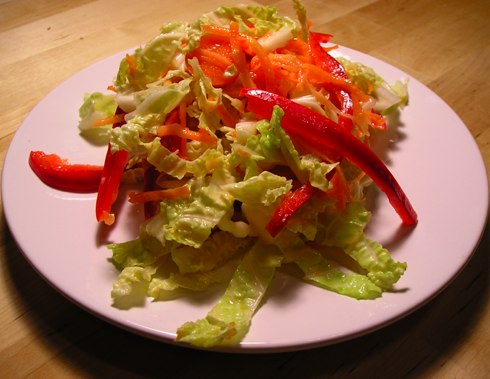 To think that I almost missed out completely on the joyful possibilities of cole slaw… After years of being served the gloppy, mayo mess at summer picnics or lobster pounds, I had developed an extremely negative association with anything that called itself "slaw". Fortunately I learned that all slaw is not the same, and there are some really fantastic versions out there with endless varieties of of crispy, crunchy vegetables dressed lightly and most importantly not swimming in jarred mayonnaise.
My father is the master of the light and flavorful coleslaw, always creating some new and improved recipe: sometimes asian inspired with sesame, ginger and chili oil, sometimes bursting with citrus, with tomatoes or avocado, almost always best consumed in Florida (after enjoying sundown on our lanai with a bloody mary or piña colada of course).
Two changes in my life have brought slaw back into my kitchen, the first is the presence of cabbage as a cheap and versatile vegetable at the farmers market, the second, I recently determined that I like red peppers raw, and am constantly trying to find new ways to use them. This is a completely new revelation. I never did like them, and thus avoided them, so who knows how long I have gone missing out with my palate surprising me with this pleasant new flavor possibility. It only reaffirms the fact that you should consistently taste things you don't like, because one day might be the day where it tastes good again. I've been waiting patiently for this day to come with raisins -probably the only thing that I'm ashamed to dislike- but they still make me pucker and grimace.
This recipe is easy because it can be created ahead of time and the flavors only seem to get better as they have time to meld. As long as you have vegetables that will hold up, this could theoretically last a week in the fridge (if you don't eat it all by then). Finally, the recipe allows for flexibility: I really like this combination of vegetables, but my next attempts will include fennel, daikon, and cucumber.
Ingredients
for the salad*
1/2 head of napa cabbage
1 large carrot
1 red bell pepper
for the dressing:
1 tablespoons mayo
2 tablespoons olive oil
juice of one lime
3 tablespoons rice vinegar
3 drops hot chili oil
a dash worcerstershire
a dash soy sauce
salt and pepper to taste
Method
1. Shred I put the cabbage sideways, and slice from the top of the head down. To shred the carrots, I use a mouli, by moulinex, an alien looking vegetable shredder, but you could just as easily use a grater.
2. In a small bowl, whisk together the mayo and olive oil, and add the lime juice, rice vinegar, and the chili oil, worcestershire and soy sauce together until well blended. Add salt and pepper to taste.
3. Pour the dressing over the salad components and toss. Set in the fridge for at least half an hour for the flavors to meld. Because the vegetables hold up well, you could make this several hours in advance and it gets even better as it sits.