56 days left in the year.
Dark by 5pm.
Every year I scratch my head at why we are still doing Daylight Savings. I'm not quite ready to prepare for a long winter.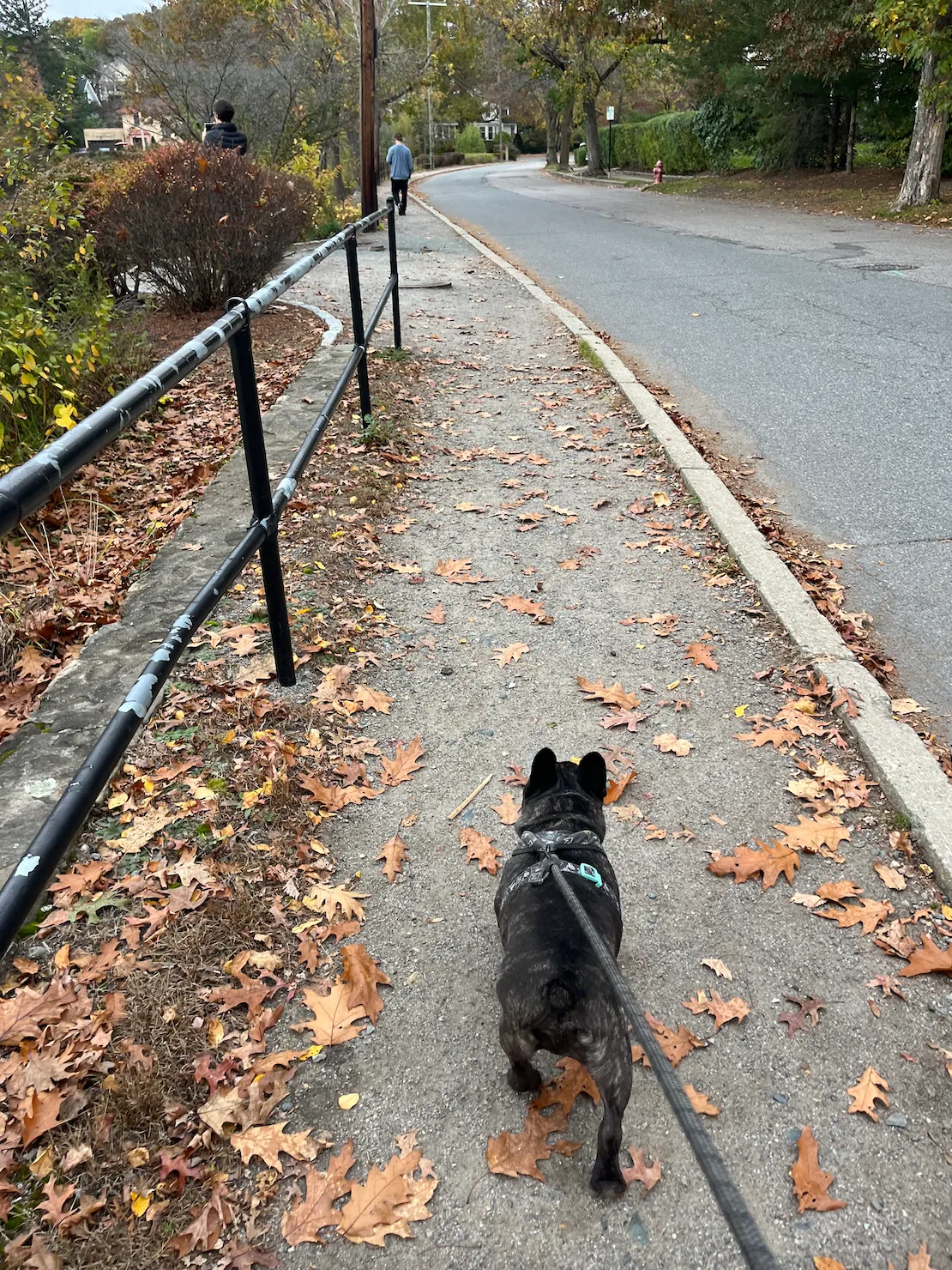 Cross-Posted from my Substack. (Please subscribe if you'd like this in your weekly inbox!)
This Week in Good Things
I feel like I'm perpetually saying "I'm not sure how it's… (insert the day/month here) already!" – but truthfully, I'm not sure how it's November 5th already! Here are some of the highlights from my week!
🦹🏻‍♀️ Ask your friends what they think your Super Power is. Go ahead, text them right now. This week I was heading on a podcast (Becoming You with my friend Rebecca Cafiero!), and to pump myself up, I asked some of my friends to text me what they thought my superpowers are. What I received was honestly the greatest gift. Some of the highlights – not because I'm trying to brag here, just because I felt so SEEN:

"Fuckin joy with intention in everyday things!!!!! And sharing and organizing that experience. You are an amazing resource for me because of how you live your life every day and how you want to share everything. You're like having the no 1 lifestyle magazine for a friend 😄" [Editors note: I *do* aspire to live life as incredibly as current Martha Stewart]
"Finding systems where things seem mis-aligned."
"Productive directness, really helpful feedback, and x-ray vision."
"I can't say it better than productive directness! And concrete, authentic discussion and strategy. OH! And genuine curiosity."

✨Find the opportunities to see your closest friends in their element! ✨ I got to sneak into the Business Leadership Council at Wellesley to see my bff Heather speak on an AI panel. Biggest takeaways? How do we regulate AI without stifling innovation? (It's okay for legislation to be *behind* – so that we don't over-regulate.)
🖼 I also got to see Diana Greenwald, curator at the Isabella Stewart Gardner interviewed by my fellow Wellesley alum, Rudina Seseri (founder of Glasswing Ventures). I took pages of notes from Diana's talk. Some of the more interesting themes: museum spaces providing consistency in a world of chaos and: how is this art making me think vs. providing a purely aesthetic experience? and AI forcing new points of creativity in the arts (as a good thing!) and also ISG's brilliance forming a unique endowment structure for her museum, which would provide for a strong director, weak trustees, and no more than a 5% draw.
🐾 I also just noticed that Diana has written a book called Isabella Stewart Gardner: Dog Lover, which I shall be acquiring for myself. On that note, I'm starting to think about signature holiday gifts. I love the idea of passing along something special that you really love to all of your friends.
✅ Tackled a nagging task: had an extra key made (in about 3 minutes at the Ace Hardware.) It's been on my to-do list for months – one of those things that takes no time at all when you actually set forth and do it. On Saturday morning, Heather was up to do errands with me, so we knocked it out!
Bonus: I got to leave an event with several bouquets of flowers! Perks of being a local!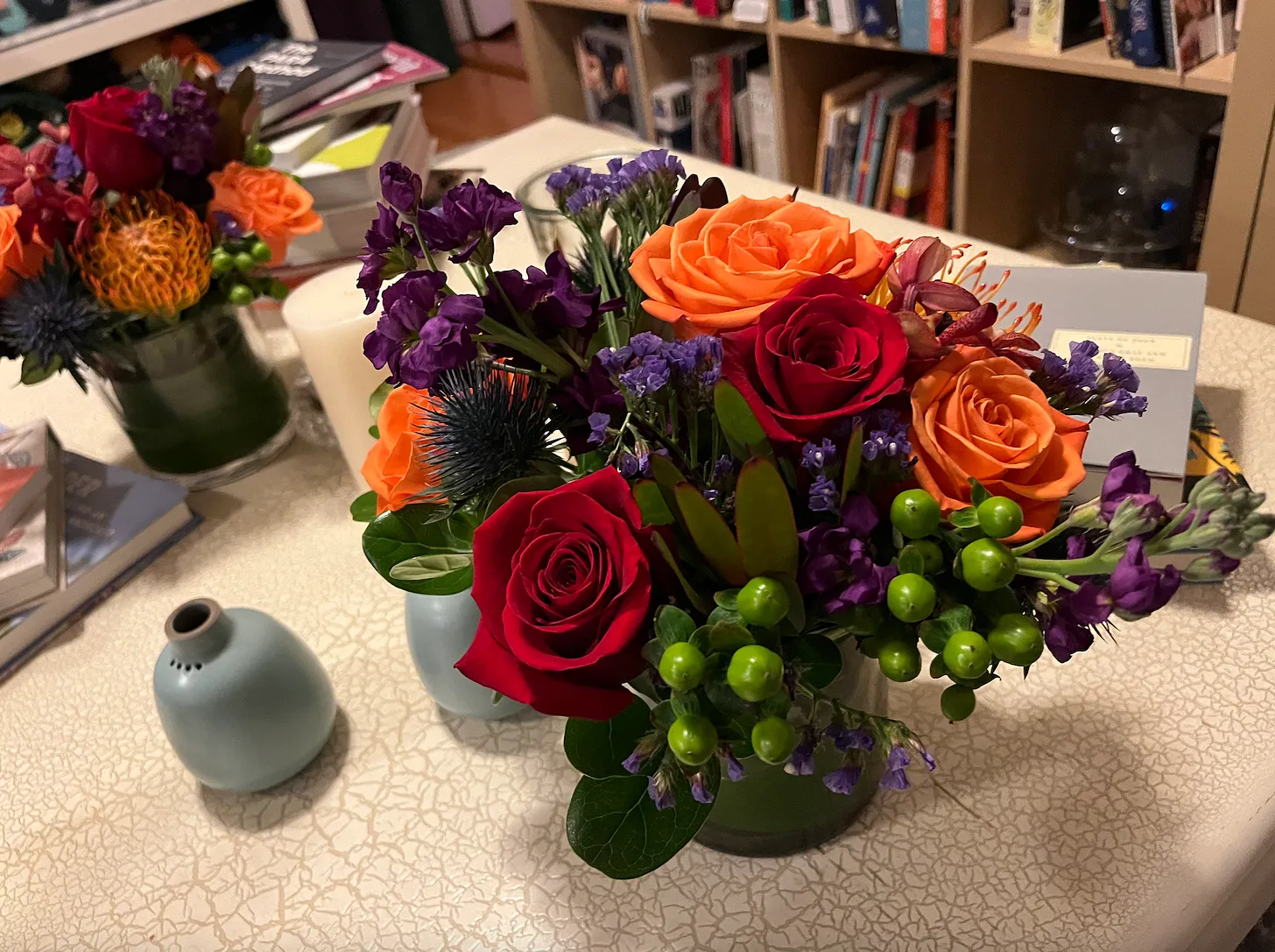 Interesting Ideas:
The difference between reporting the weather, versus being in the weather outside. (A metaphor for logical mind vs. feeling your feelings.)
Good Things in the World:
Reading. Stephen King's newest book, Holly. And finally kicked off Sanderson's Mistborn series. A few hundred pages in, I'm generally enjoying it, but I'm not sure what I'm in for!
Down time. Been watching Loki on Disney+, and the Great British Bake Off.
Perfect bites. If you are every in the Wellesley area, a sandwich at The Linden Store.
Organized life. I've been eyeing hobonichi yearly planners from the Paper Mouse.
Now and Then. I thought it was odd that the Beatles would release a song that was on John's cutting room floor. But it's cool that it was recorded over the span of almost 50 years.
Hate to love. A month in, I reluctantly will tell you that my (refurbished) Dyson air wrap hair dryer pretty darn magical. It dries my foot and a half of hair in about 4.5 minutes. I was secretly hoping I'd hate it.
Emotions. Watching Dan Povenmire call his daughter at school to tell her she has been nominated for an Emmy. (Cue the tissues.)
Good Words: Phoenicopter. What I will be calling flamingos from now on.
RIP Roland Griffiths. Listened to this interview with Rachel Martin on NPR (14 minutes), and if you have a longer time to listen, I very much enjoyed his podcast episode last year with Tim Ferriss.
The Weekly Meal Plan:
The week of the quarterly shipment boxes! I'm expecting my quarterly Noma box, by Rancho Gordo Bean club box, and I got my Burlap + Barrel Spices this week.
Sunday: Pasta with pork shoulder, cauliflower, cheddar
Monday: Chicken thighs with Floyd Cardoz Kashmiri Masala
Tuesday: Hodo Tofu, broccoli, DashiRX
Wednesday: Dinner at an event at the Museum of Fine Arts!
Thursday: Big salad with fridge scraps.
Friday: Pizza night (mushroom Cape Cod pizza with added pepperoni); big crunchy salad with red peppers and blue cheese
Lunches: Lamb Vindaloo, cold tofu with peanut sauce, pumpkin samosas from Trader Joe's, Bambino Pizza.
Treats: I've been thinking about making a sweet custard like chawanmushi in my Anyday bowls. Dole Whip (the kind at the store, not at Disney, alas!)
That's all for now! Hope you have a great week!
xo, Sam
PS: The Ompractice Slow Down is starting next weekend! Four weeks of classes to stay relaxed as the year ends. It's $49.99 for four weeks (or free with membership).