Mindfulness, common ground, and the weekly meal plan.
Cross-Posted from my Substack. (Please subscribe if you'd like this in your weekly inbox!)
42 is my favorite number, so this week was a sure bet at being a good one for me.
I inherited a love of good numbers from my mother – I love a strong number, mathematical curiosity, palindrome, 11:11 special number, etc. Alas, I didn't inherit my mom's synesthesia – where numbers and letters have color!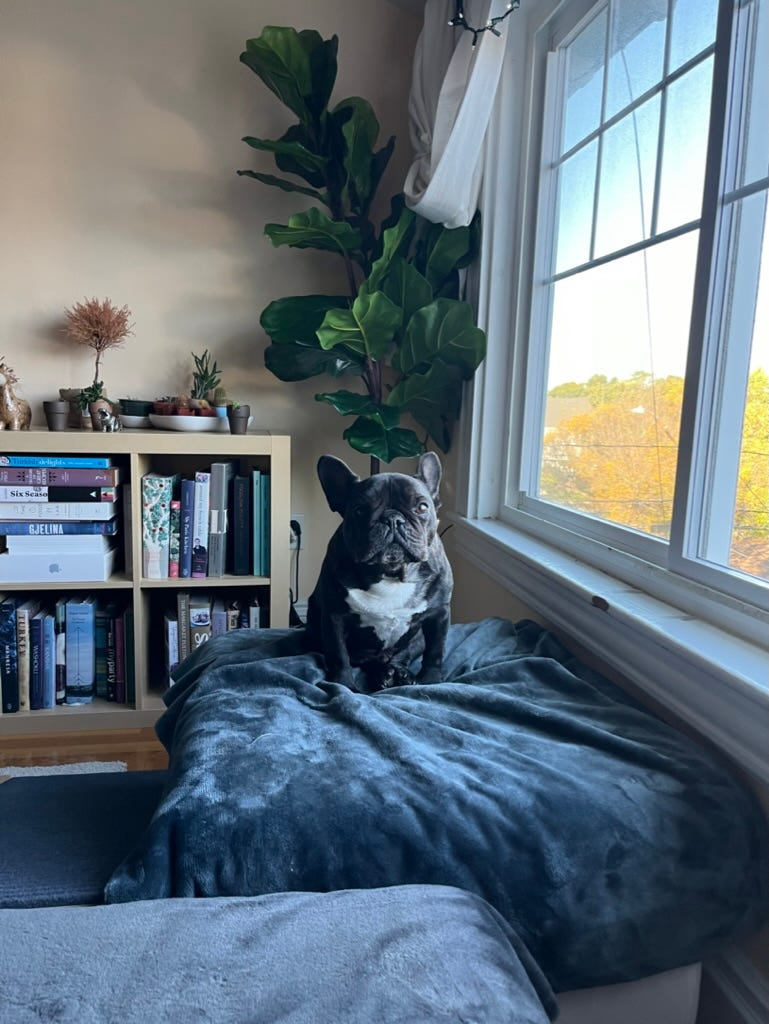 Mindfulness Doesn't Have to Be Hard?
I was at UMass this week speaking to a group of students, and one of them asked about starting a meditation practice.
I find that most of the time when people have tried meditation and it doesn't work for them, it's because they either ramped up too quickly, or found the wrong type of practice for them.
My favorite way to start building your mindfulness? Start where you are.
I've been practicing mindfulness and meditation every day for a decade – mostly because it's much easier for me to do something every day than intermittently.
Tiny Tangent: Okay, have to pause here to mention the Twitter post I snorted when I read this week – "The Andrew Huberman ideology is built on the belief that we are controlled by unseen biological forces to which we must pay daily tribute. Insanely neurotic, low-agency way of living"; – @TenreiroDaniel (I have a really mixed complicated love/hate relationship with Huberman (neuroscientist, podcaster, pop-health influencer) – namely *most people* will never get to this "optimizing stage of health.. nor should they.)
I'm not sitting to meditate for an hour. While I've done deeper work with MBSR training that had me sitting for much longer periods of time – and very much enjoyed it, and admire friends who have been able to go on 10 day silent retreats, I don't think that will ever be my personal goal.
My commitment is spending at least a few moments a day, usually 5-10 minutes, sometimes less, sometimes more, making time to work with my mind.
What keeps me practicing?
Finding Focus: I want to approach the day with a little more focus – practicing flexing my attention on the things I want to get done, and moments that I want to truly enjoy.
Boosting Energy: I frequently have to "spin up" to get something done or scratch the surface of deeper self reflection. Mindfulness practice helps me "tap in" and get there more quickly.
Even Mood + Less Rage: Sometimes the world is a lot. Okay, daily the world is a lot – when I practice mindfulness I'm focused on how I perceive the world around me, how to notice, and how to create energy boundaries.
6 ways I practice mindfulness that aren't regular meditation:
Go for a walk and keep my phone in my pocket.
Sit with a cup of coffee and watch my dog sleep in the morning.
Watching a movie or tv show without multi-tasking on a phone.
Soundbowl class with Reggie Hubbard.
"Noticing Walks" – pick either a color and snap photos of objects with that color, or "flower walk" – photos of flowers.
Standing barefoot in the backyard grass for a few minutes.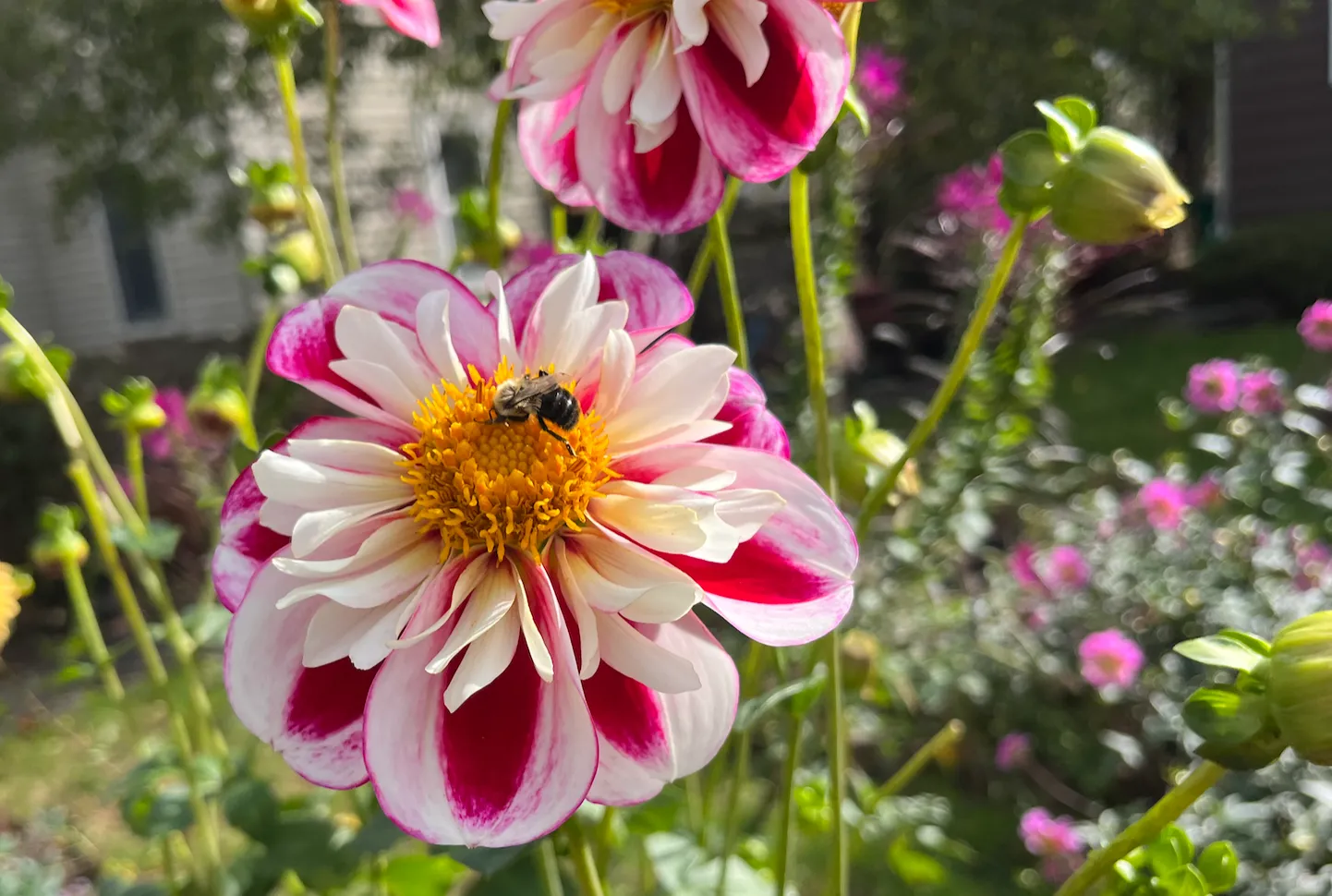 This Week in Good Things:
This week I had my quarterly gift to myself – a personal organizer who comes for three hours every quarter to help me move forward a larger scale project in my home. This time around I removed a wild amount of Tupperware from my kitchen, and removed enough so that when the dishwasher and sink are both empty, there's space for everything put away. The real impacts? I cooked this week, I felt more focused to do my day to day work, and it spills out to everything else in my life. Looking to get more organized in life? Start with your physical space.
Good Writing: I wrote an essay I've been thinking about for a while: A List of Wants and Needs. In it, I get very specific: wants for work, my writing, the world, Ompractice, and some fun stuff (I'm looking at you, Disney Annual Pass).
"What do I want? What do I need? What am I not letting myself ask? Sometimes the thinking piece is harder even than saying it out loud. Sometimes the asking part is hard."
Good Reading: After writing my own essay, I ended up reading this good essay: 'What do you want?' by Calvin Rosser. I've also worked my way half way through Don Miguel Ruiz's The Four Agreements: A Practical Guide to Personal Freedom (A Toltec Wisdom Book) because it felt like the season for a little philosophy.
Our Legacies: The poet Louise Glück died this week. I first got into her poems after taking a class at Wellesley on Lowell and Bishop with Frank Bidart. I like reading both Obituaries and Poetry, so I found myself reading a handful of them about her, then her Wikipedia page – her mother went to Wellesley! I went to high school with her editor's child! –, and then diving back into some of her poems. My friend Lizzy also pointed out that she wrote poems that referenced Formaggio Kitchen, and she lived these days in Cambridge, which now makes me question is it possible I've struck up conversation with her and not even realized?
Tackling a nagging task. This weekend I found myself wading my way through half-finished errands: breaking down cardboard boxes, returning a box to Target via mail instead of wading into the weekend zoo. Returning a product I ordered from France that's now taken me 3 weeks and 4 separate trips to try to return.
What does it mean to be "a regular"? I headed out to dinner with my mom and brother this week to the newly re-opened Eastern Standard, a Boston institution. (Eating with my sibling is like eating with a celebrity. Everyone comes up to us to say hi.)
Good Things to Think About
🤝 How do we find our mentors in life? Try "Invisible Mentors". While I think structured mentorship programs can be useful, often it's hard to find people who have the time and space to participate. One way to get around this? What I call "Invisible Mentors". Every so often when I'm trying to learn something new, get up to speed in a space, or advance, I start with making a list of people: who are the most innovative people in the space who are doing what I want to do? I then do a deep study on their writing, reverse engineer their path to where they are, and learn everything I can from them. Do they know me? No. But I believe we can learn from anyone. (Caveat: in this internet connected world, one thing I'm mourning about Twitter was that it was always very easy to reach out and actually connect with your "invisible mentors" on the platform. These days it's a little harder!)
📣 What did you read that made you question something this week? Think differently? One thing I try to do every day is read the ideas and opinions of people I disagree with. I don't want to live in an echo chamber. The next level is having conversations with people I disagree with, with the hopes of finding common ground. If you haven't read it, I'd recommend Diane Hessan's "Our Common Ground: Insights from Four Years of Listening to American Voters" the lessons of which go beyond politics.
🩴 How do you change your mind? This week, our friend conversation was about teaching a four year old about changing your mind, and how to convey age appropriate concepts on the topic. We talked about: "What kinds of things can we change our mind about" (agency) and "When can we change our mind" (predictability). It got me thinking about how we lose the ability to change our mind over time whether because society has beaten us out of it, or because we haven't practiced. Have you changed your mind about something important lately? What would it take to change your mind?
🟢 Good Things in Action: if you have a few minutes today while scrolling social media – take a moment to pause and actually comment on someone's post instead of just passively scrolling or "liking".
Other Good Things
📺 Watch: I've been very much enjoying the documentary series onthe Beckham's on Netflix. They come across as surprisingly thoughtful people, there's very good conversation about mental health, bullying, perseverance, and grit. // Killers of the Flower Moon was a phenomenal book, and I'm looking forward to the Scorcese film that just came out.
🛒 Things to buy in quantity: over the years these have been great decisions – a package of several good scissors. I use for cooking – I have several and they go in the dishwasher and I don't worry about it, one for my mail area, one in my office. G2 Gel Pens by the dozen. Sharpies in quantity. Anker fast charging cubes and several long charging cables. Packing tape in a 6 pack.
👅 Good Tastes: I subscribe to the Noma Tastebuds membership, and this Corn Yuzu Hot Sauce was one of the best new things I tried. (This will sell out by the end of the week.) Trader Joes has Kimbap back in stock (sort of) after going viral a few months ago and selling out after I had very much enjoyed the one I tried. I went on a yearly McDonalds Pilgrimage to try out the Mambo sauce with a 10 piece Chicken McNuggs and Fries in Palmer, MA. They were out of the sauce. I should give a special shout out to my one thing I get more frequently than once a year – the Mango Pineapple Smoothie which I find to be very good.
The Weekly Meal Plan:
This weekend, I had some energy to cook my favorite thing in fall: a pot of chili. I start mid-fall, and usually make a pot once a week or two through the entire winter. My method is typically a pound (or two) of ground meat which I heavily season, chopped onion, chopped pepper, a can of beans, a can of diced tomatoes, and then a jar of salsa of choice. (Today's was pepita salsa from Trader Joe's.)
Sunday: Mushroom pizza and salad with red peppers, blue cheese, and fried onion
Monday: Chili, shredded unexpected cheddar, crispy jalapeño crunchies
Tuesday: Tech women dinner at a friends' house!
Wednesday: Fish night, rice bowl, nori, cucumbers, pickled ginger
Thursday: San Diego!
Friday: San Diego!
Lunches: TJ's lamb vindaloo with yogurt, cubed cold tofu with peanut dressing over assorted fridge veg, pumpkin samosas from Trader Joe's.
Snacks: hard boiled eggs, overnight oats, Topaz apples from Volante.
Treat: Cinnamon Sugar Toffee Trio.
🥔 You know how you could do that? A friend posted about what to do with a baked potato this week, and I got a little excited in the thread:
Take a peek at Turkish "Kumpir" – it's baked potato as STREET FOOD. You basically load up with an outrageous amount of stuff.I'm always a fan of chili topping, but you can get VERY creative. I like to theme globally – ie "Greek Potato: feta, chopped olives, chopped parsley and dill, souvlaki or lamb"; Spanish Potato: chorizo, deconstructed patatas bravas – ie – tomato-ey sauce, garlic mayo. Etc.
Breakfast Baked Potato: loaded with eggs, cheese, bacon.Taco Potato: all the fixins of taco night.. on a potatoAlso – some of the great global potato dishes – corned beef hash.. potato.Canadian Potato: poutine baked potato, or Montreal Style potato with Schwartz's smoked meat, sauerkraut, pickles, side of Cel-Ray or Black Cherry soda.
Also! Potatoes are great to stick little flags in to make your potato more "festive".
That's all for now! Hope you have a great week!
xo, Sam