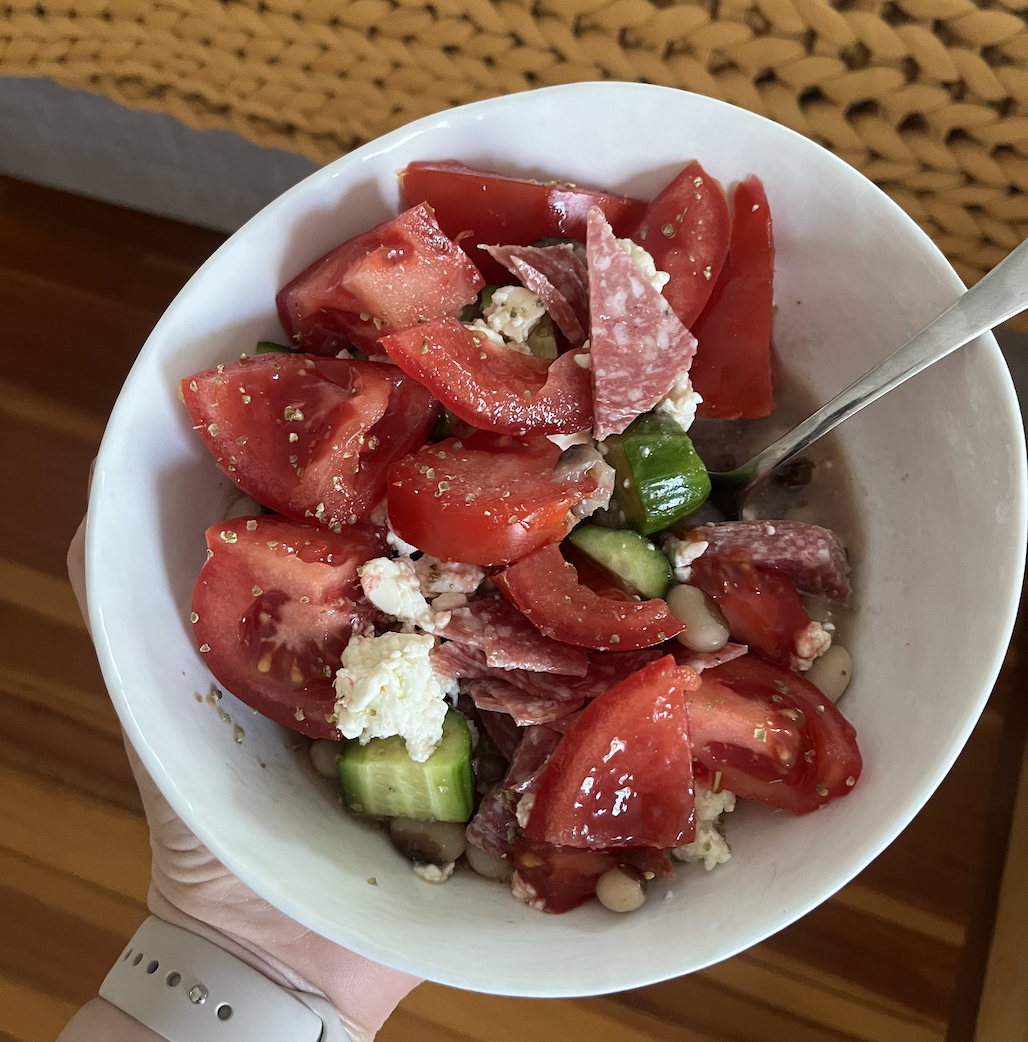 After making myself an unusually good salad lunch (this bean salad above: ripe tomato, cucumber, feta, oregano, salami, and red wine vinegar), I sat down this weekend to dream up some summer meals for the month of July. .
I usually start with Mark Bittman's classic 2007 article Summer Meals for inspiration. Most of the "recipes" are really just ideas – fresh, in season, simple meals. Lots of seafood. In the summer I need things to be easy, not get the kitchen too hot, and make me feel vaguely like I'm in middle school summer again.
Shopping is a little bit more relaxed – Trader Joes and Whole Foods for some basics, my farm share, and I like to pick things up at Farmers Market – I'm lucky to have a weekend market right down the street.
In Season (in Massachusetts)
Fruit: end of the strawberries, blueberries, raspberries, peaches mid-month. I'm still gorging myself on cherries (mostly Ranier), and typically buy whatever is on sale at the store. The melons starting – watermelon, cantelope.
Vegetables: Lettuces, Green Beans, Beets, Bok Choy, Broccoli, Cabbage, Carrots, Cauliflower, Kale, Chard, Corn, Cucumbers, Eggplant, Leeks, Peppers, Spinach, Zucchini/Squash, Tomatoes (at least hot house). My fresh herbs are all doing well in the planter: parsley, basil, dill, cilantro, oregano.
Cooking Projects:
Nan's Gazpacho: my grandmother used to make large containers of gazpacho all summer long to take to Maine.
Jordan Marsh's Blueberry Muffins. This classic recipe from Marian Burros in the NYTimes. I think of my grandparents whenever I eat blueberry muffins (although admittedly those were more likely to be from Market Basket or Costco.)
Recipes: (I mostly use NYTimes Cooking app for specific recipes outside of my own cookbook collection.) Here are a few I've bookmarked:
The List Summer Items:
Cold Peanut Noodles with Chicken and Cucumber
Grilled Hot Dogs and Baked Beans
Kraft Dinner Mac + Cheese from Canada
Can of B+M Brown Bread with Nutella
Watermelon and Feta Salad
S'mores
Strawberry Shortcake
Köfte and Shepherd's Salad, and cold Ayran
Fried Hamsi (little fish) with lemony salad
Fried fish tucked in bread
What to Eat When I'm Tired and Don't Want To Cook:
Trader Joe's Chicken Drumellas and a bag of broccoli never disappoints.
Tinned Fish Rice Bowl. If I'm a little more ambitious I can bake fish from this. Usually I add some cucumber, avocado, rice vinegar, seaweed, ginger.
Taco salad. Ground meat from the freezer with taco seasoning. Cheese. Chopped tomato. Sour Cream.
Lobster Cobb: lobster, blue cheese, tomatoes, avocado.
TJ's Lamb Vindaloo + TJ's Cumin Marinated Chickpeas + Yogurt
Eating Out:
Lobster Roll Quest (I'll aim for one every week or two.)
Mochiko Chicken Sandwich
Rancatore's Chocolate Shake
An Italian Sandwich (from Monica's, DePasquale, or Linden St. Deli)
A cider donut (even though it's early in the season)
A Flo's Hot Dog
Barnacle Billy's (Steamers and a Crab Roll)
What's on your summer table?