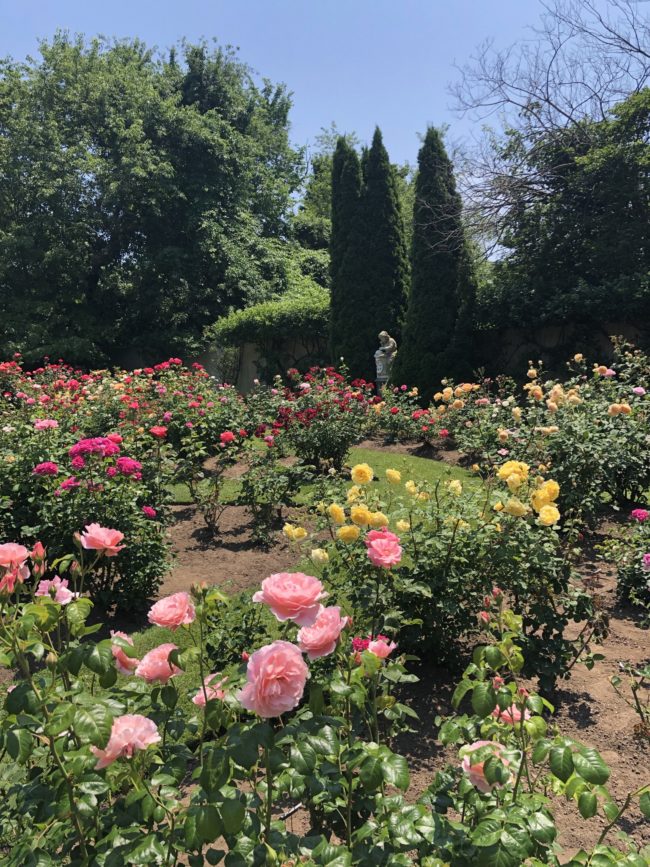 Okay, you get roses instead of vegetables! (Last weekend at Fuller Gardens, in New Hampshire.)
Cornerstone habits that add the most value to my week are the ones that provide structure to my days, reduce my mental load to free me up for better decision making.  Meal planning uses a simple template that I repeat!
Prep: I root through my fridge, and seeing what needs to be used up. This week, I went to Farmers Market without a plan, so I have a glut of veg to use. Usually I take a quick pic of my fridge contents to help me plan.
To use this week: scallops, cod, eggs, beet hummus, labne, tomato, cucumber, scallions, garlic scapes, kale, spinach, broccoli, arugula, sweet potato, tortillas, Banza, frozen green beans, frozen onions and peppers, bamya, oatmeal, green goddess dip, piri-piri
S: cauliflower gnocchi lemon cacio pepe with scallops and arugula
M: miso-mayo cod with garlic spinach
T: tomato and wine braised fish from freezer, cucumber tomato salad
W: banza (chickpea) pasta with tomato sauce, chicken
Th: sweet potato with beef and tahini (Stone Soup)
Fr: Epicurious kale and date salad with leftover chickenSa: Cava? or Vietnamese takeout.
Lunches: (usually in no particular order) – or leftovers // broccoli with lemon, parmesan, beet hummus and eggs // arugula lemon parmesan salad with tinned fish // soft boiled eggs and pb protein shake with berries // barbunya pilaki with bamya (stewed cranberry beans and okra)
Snacks + Dessert: cheese sticks, yogurt fruit oats, soft boiled eggs, cottage cheese, key lime pineapple coconut shake, air fried green beans
To Buy: onion, vanilla protein powder, frozen cauliflower (smoothies), cottage cheese, chicken, rice, spindrift lemon, limeade, tea
Batch cook: soft boiled eggs, defrost chicken, slice and freeze bagels, barbunya, strawberry rhubarb mush