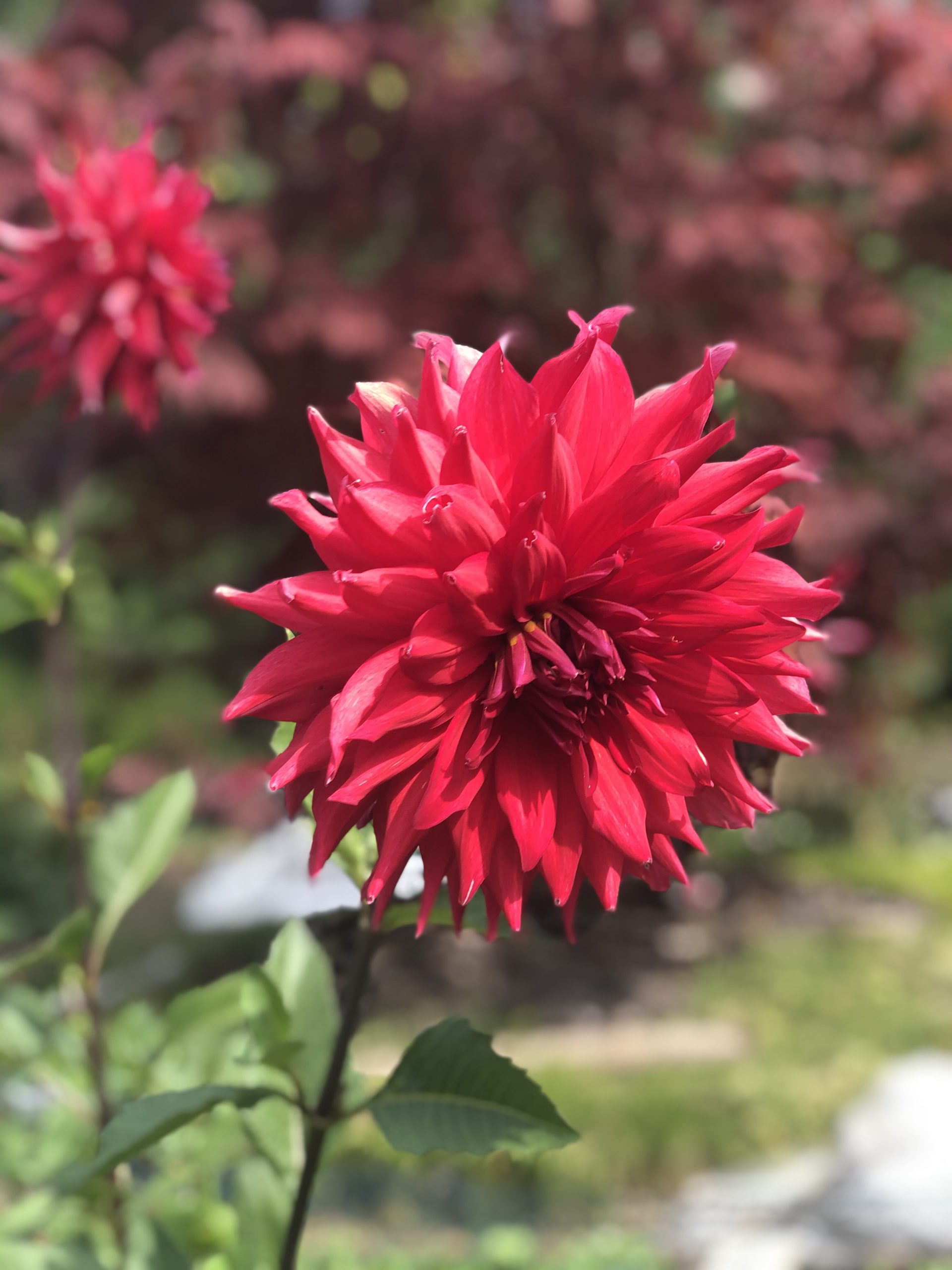 It is possible that September of 2020 was the longest month, although October seems to be bringing a strong case. While I have largely resisted getting hooked into doom-scrolling the worst of the 24-hour news cycle, I'm thankful that fall is my favorite season to be outdoors, so I'm pulled gently outside on a daily basis, and it's not hard to spot GOOD THINGS outside in fall!
While I missed out on the Five Fork Farms Dahlia Share this year, SOMEONE please remind me next fall!, I've been walking the neighborhood in search of resplendent blooms.
Fall running season is my favorite! After my 1275 mile summer adventure across Tennessee and back, I've been transitioning to a new fitness balance – a moderate dose of weekly running (my daily mile, and 3-5 miles or so a three times a week), adding back a good strength training program, and adding in a few yoga and meditation classes a week on Ompractice.
I'm particularly happy with my little "workout corner" to make movement more visible and encouraged on a daily basis. Visual cues are really helpful for me to get into the mood to workout.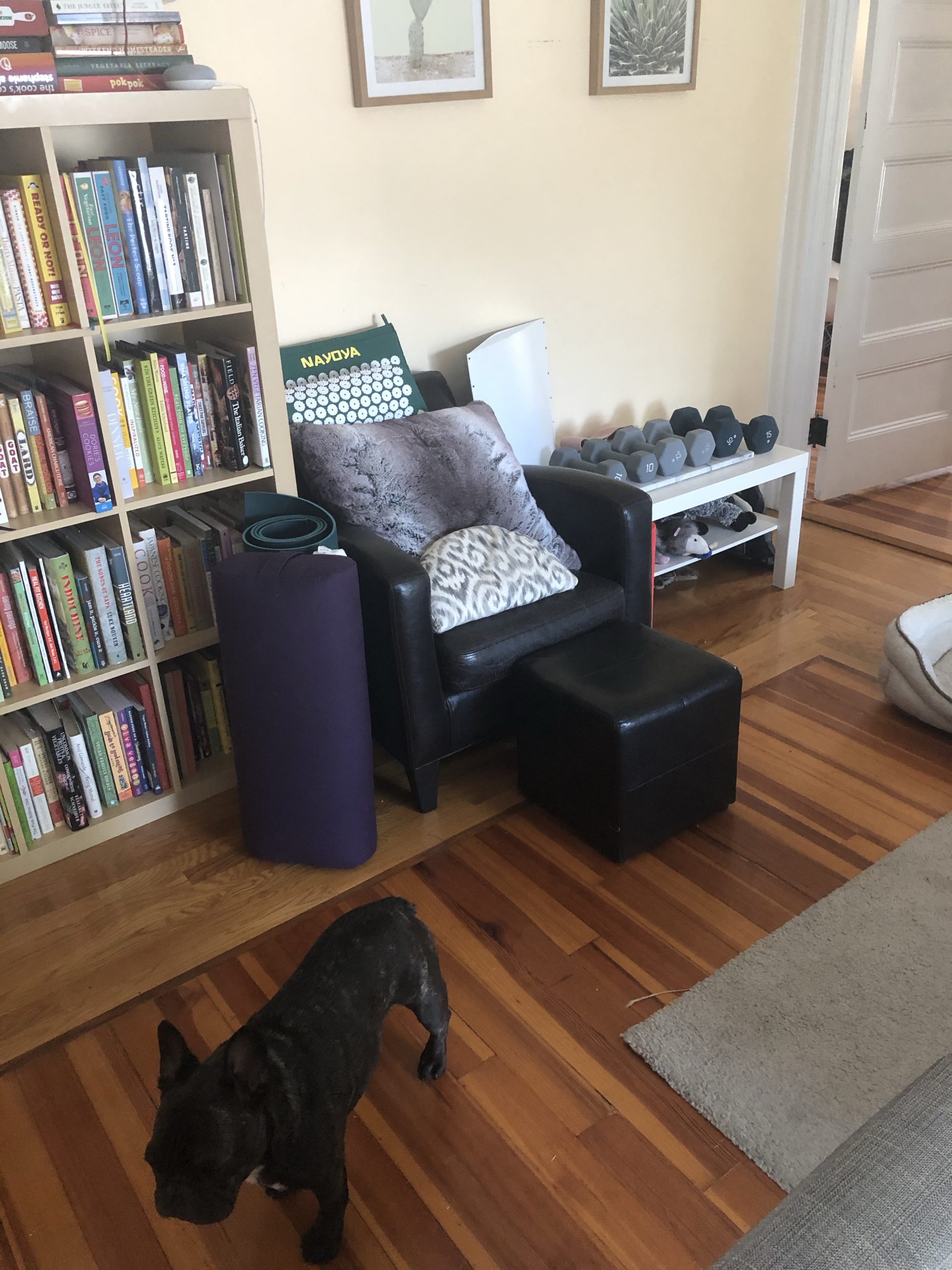 While I don't have any particular training plan for running right now, and as it stands, fall racing isn't *really happening* (I did sign up for the virtual Boston 10k though!), I was thrilled to come across this – a real USATF meet happening right by my house.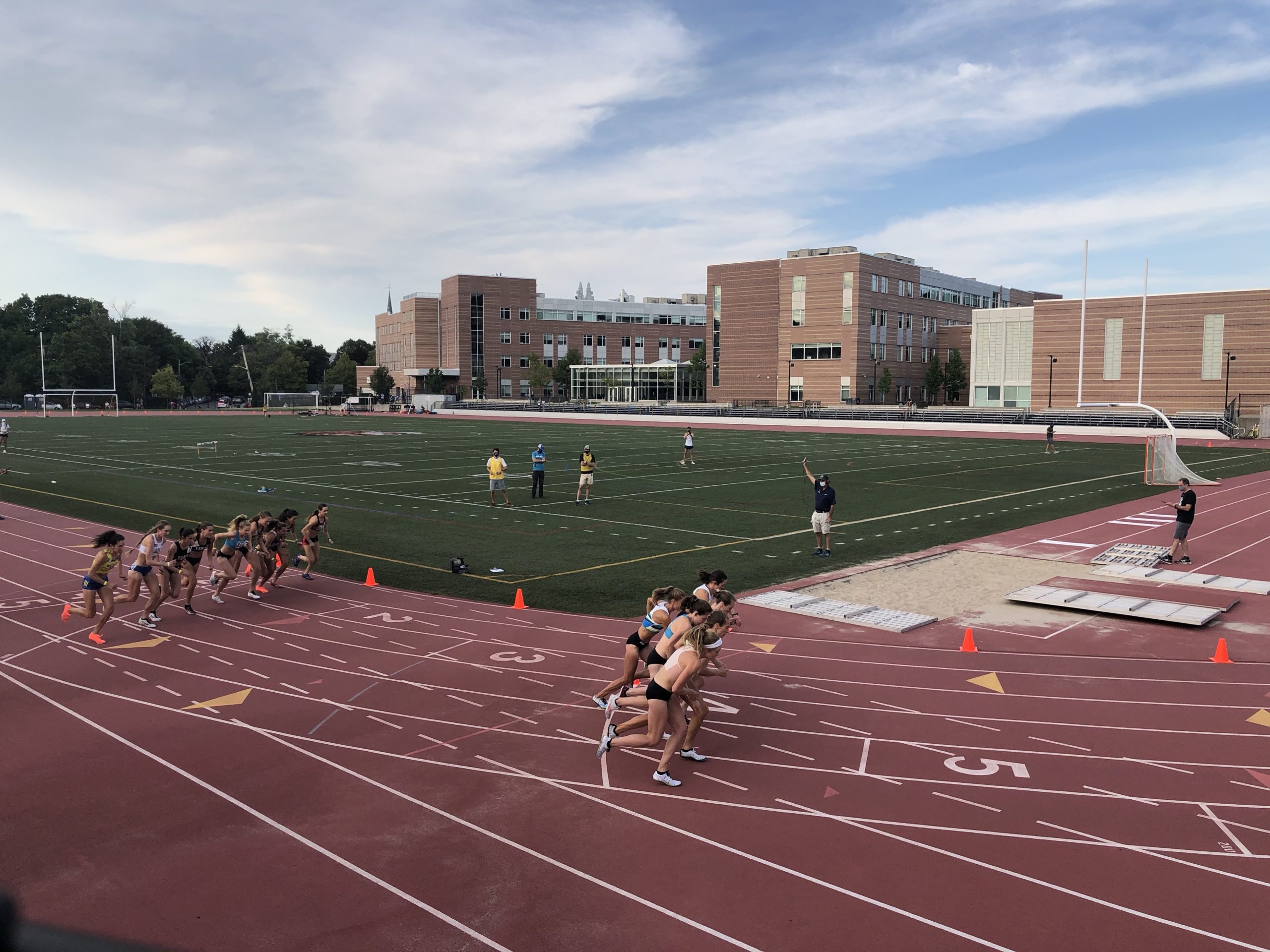 Good Things: Puppies. Bertram got to enjoy the company of Penny Pupadoodle this week, and they both took up perch protecting the neighborhood while our leaves change colors. We also spent time with Sawyer!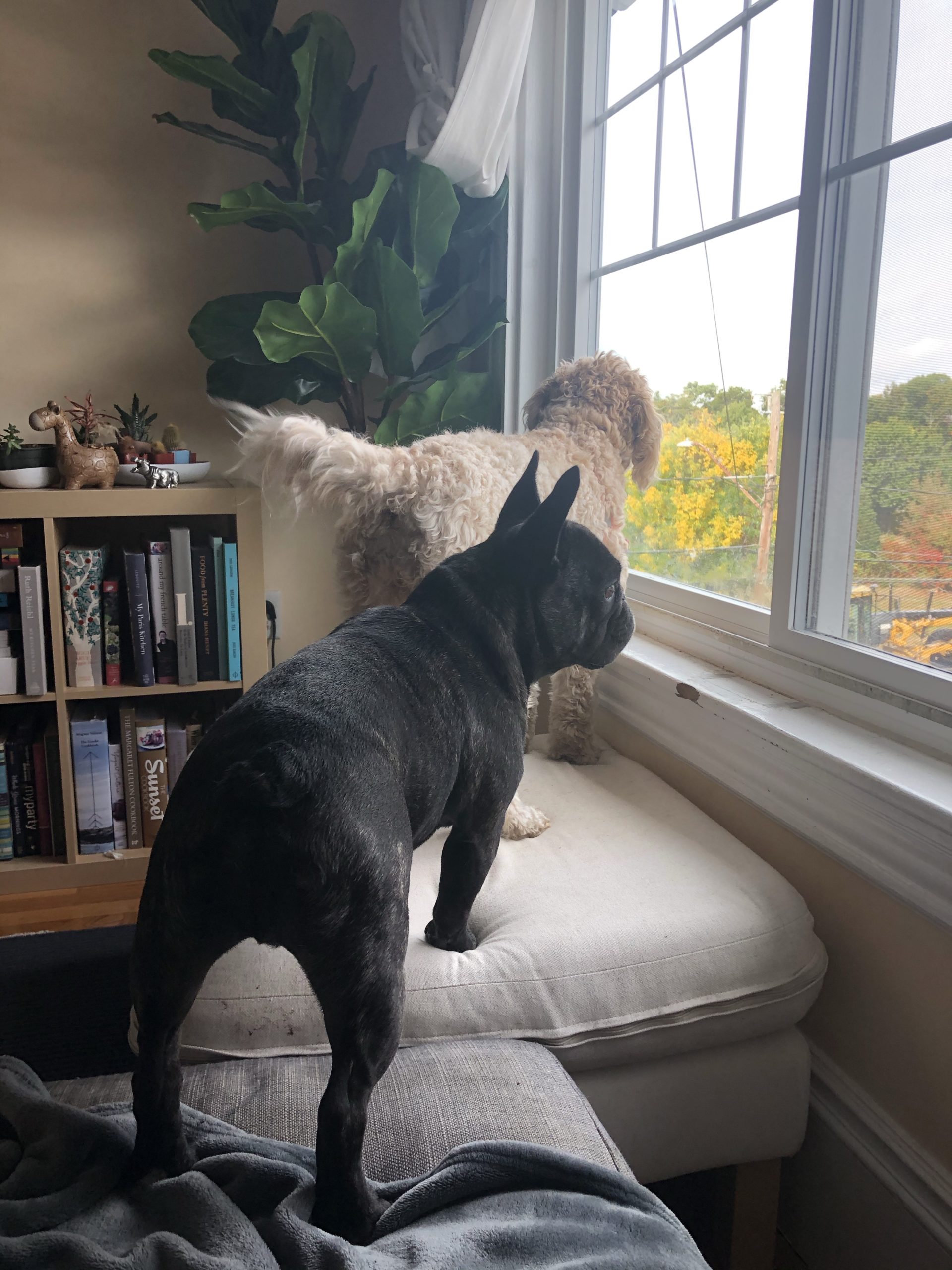 And we participated in more than one outside romp on the front grass with Albert. This is Albert.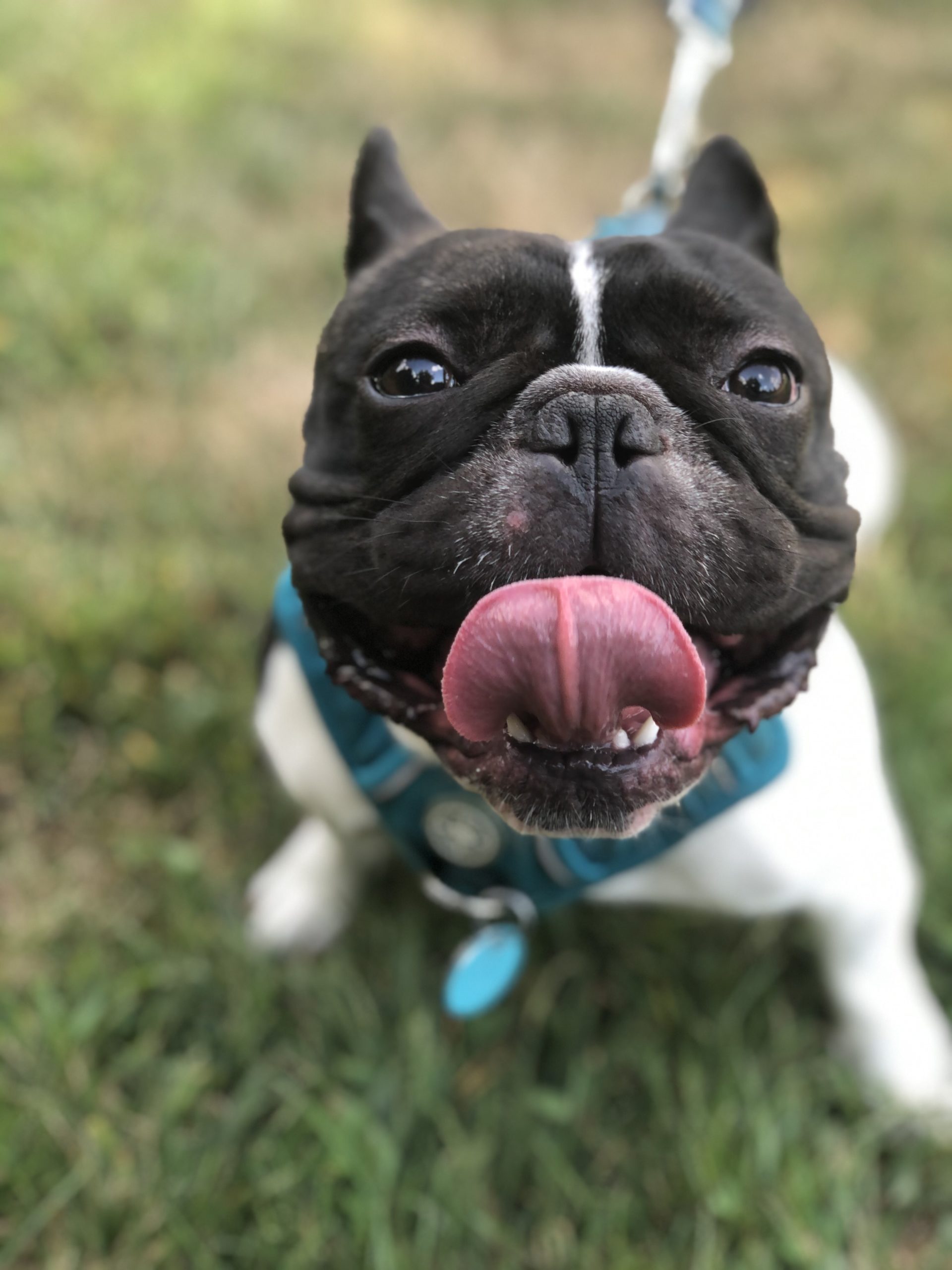 Good Things: Reading
I've not been in a rut, but I've been attempting to read too many long books at once. Right now I'm in-progress with several; on Audible: Leigh Bardugo's Ruin and Rising; Garth Nix's new The Left-Handed Bookseller of London, and Keith Ferrazzi's newest Leading Without Authority; and on Kindle: High Output Management.
In physical books, I've been re-reading Keith Ferrazzi's 'Who's Got Your Back' as part of my leadership group book club – action oriented reading!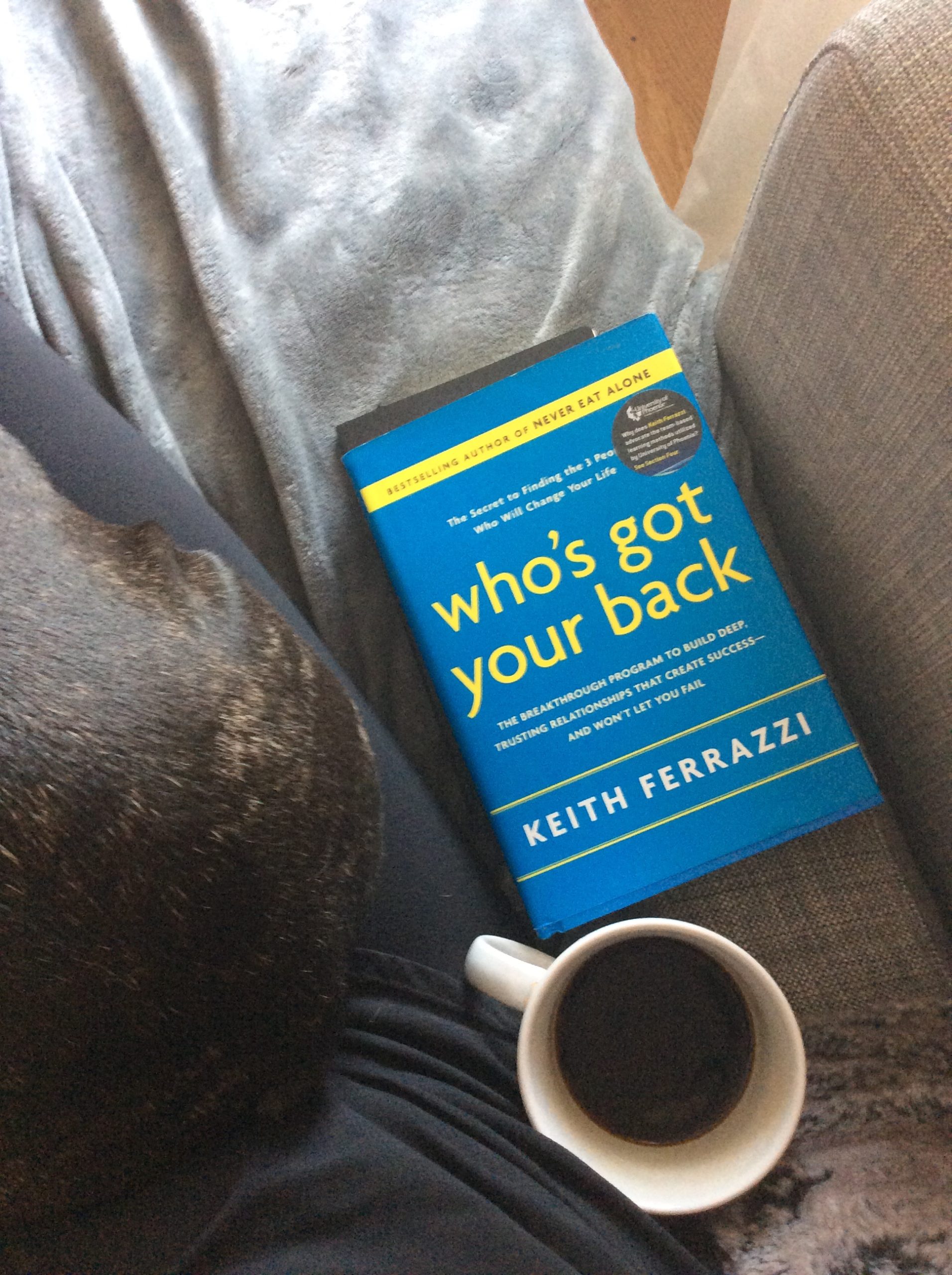 Good Things: Outdoor Excursions. While my outdoor time has dramatically reduced after my April – August race that had me outside for 10 miles or more a day, I'm still spending as much time as I can in the fresh air.
At the beginning of the month, I went on a socially distanced walk in the woods in Belmont. I took a glorious afternoon excursion one weekend to Fresh Pond, where I was able to mostly avoid the crowds and enjoy the fresh air. I made my first trip to Formaggio in FOR-EVER, where I was so overwhelmed by choice that I made out with a single small piece of Halvah.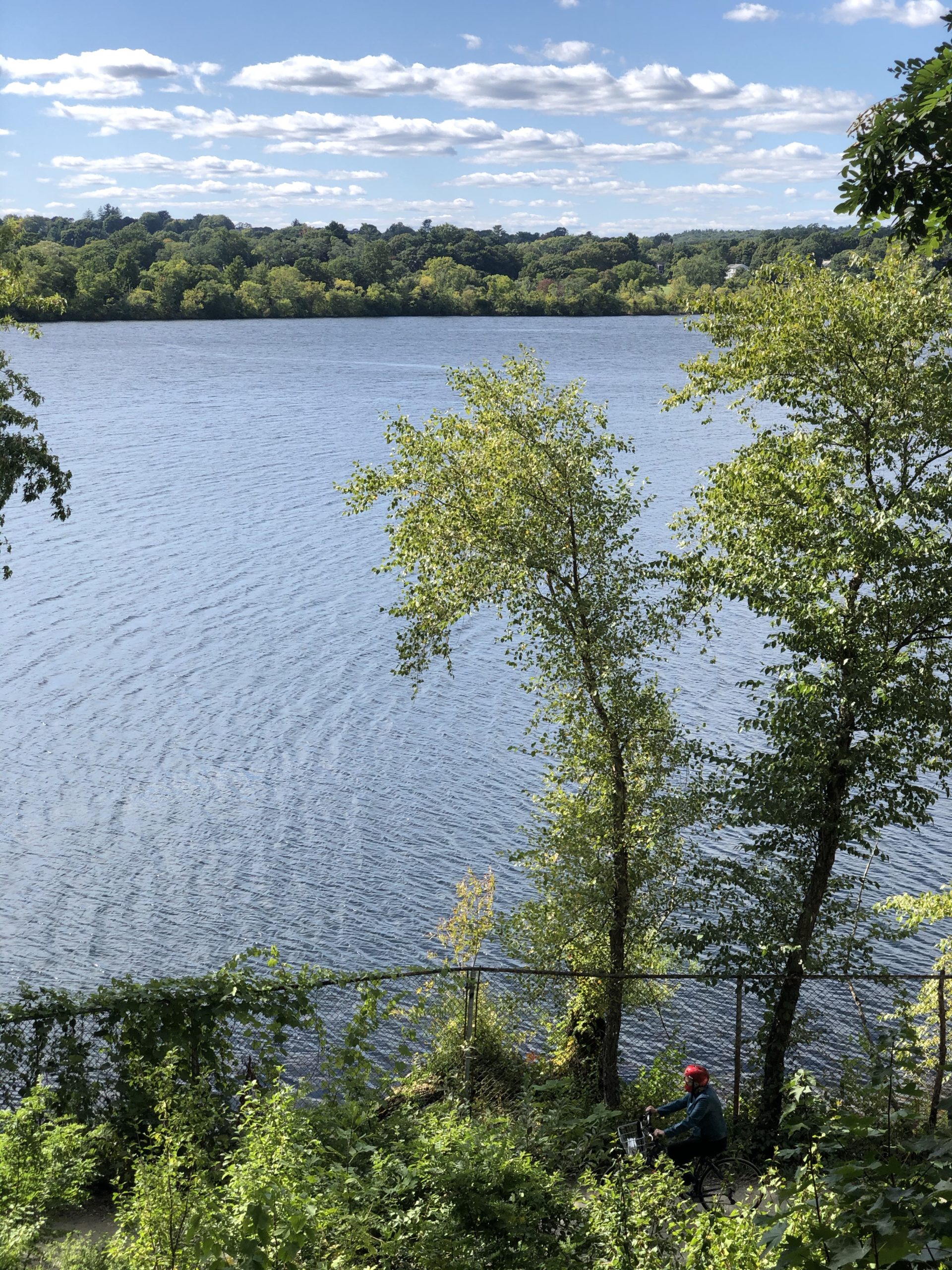 Love little love notes like this.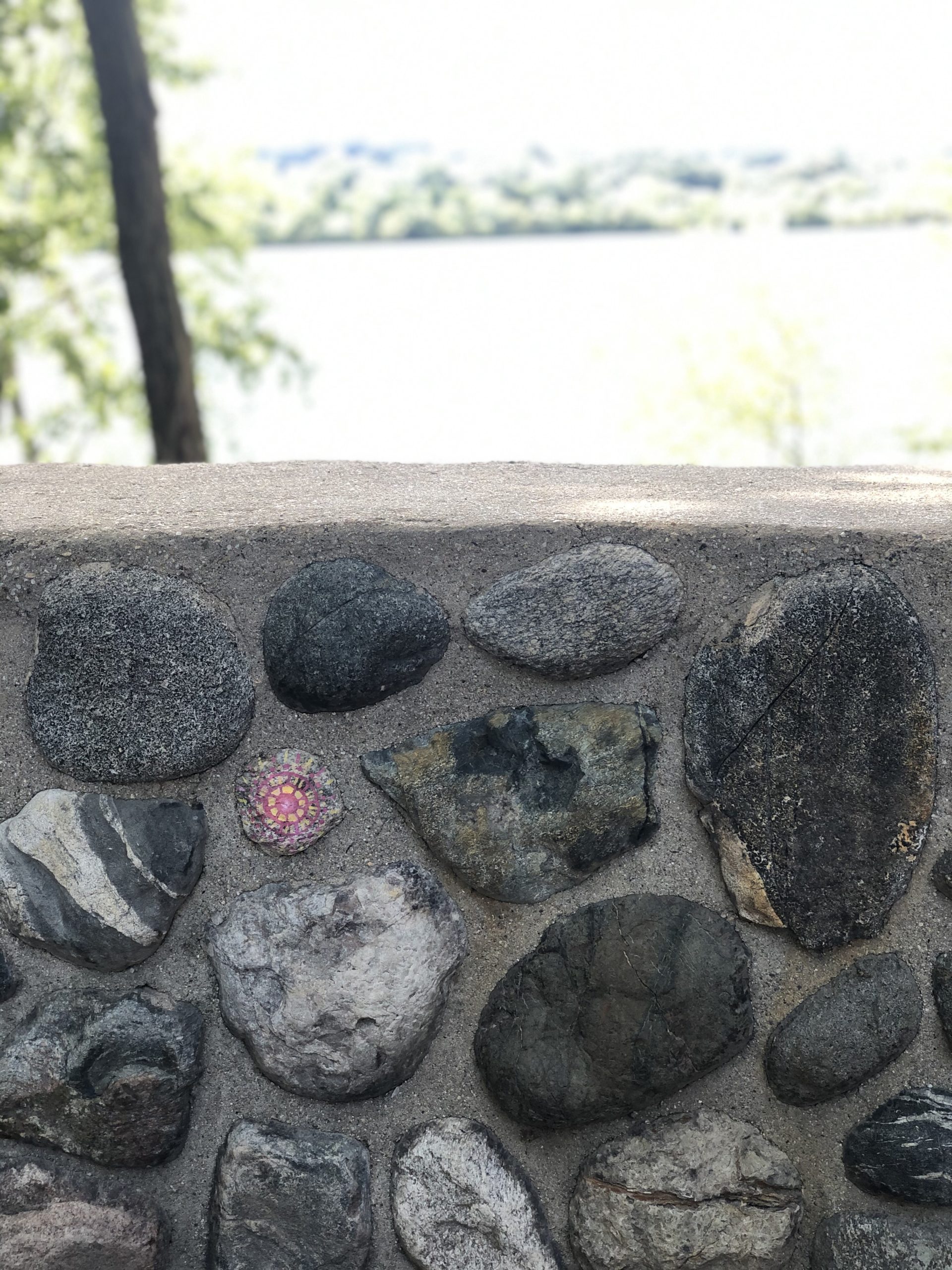 Good Things in Food: I was excited to get started on my Rancho Gordo bean passport this month. They sent a little booklet in the mail as part of bean club, with bean "stamps" and a space for you to take notes on your bean journey. As I have an ever changing backlog of good beans, it's a fun little project!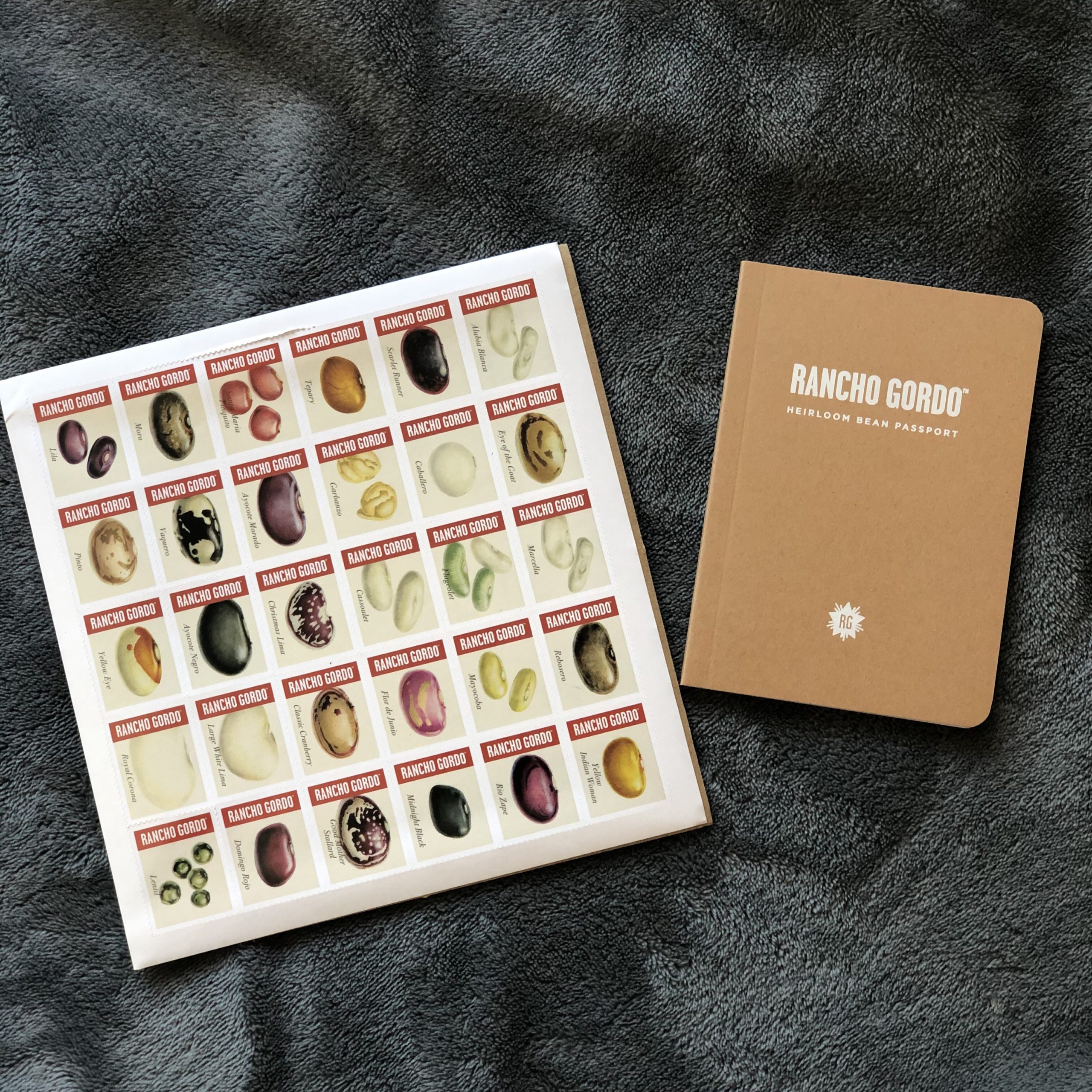 While I've been mostly getting food from my CSA or a weekly store trip, this month I made a concession trip to Eataly to treat myself to a variety of produce, prepared meat and seafood, and snacks. I picked up their chicken cacciatore (so good!), a chicken milanese, and some bubbe's chicken soup Seemore chicken sausages.
Their produce is usually quite good, and relatively inexpensive compared to the super market, which is confusing. Once or twice a year I stumble across a perfectly ripe melon, which ends up being a highlight of the week.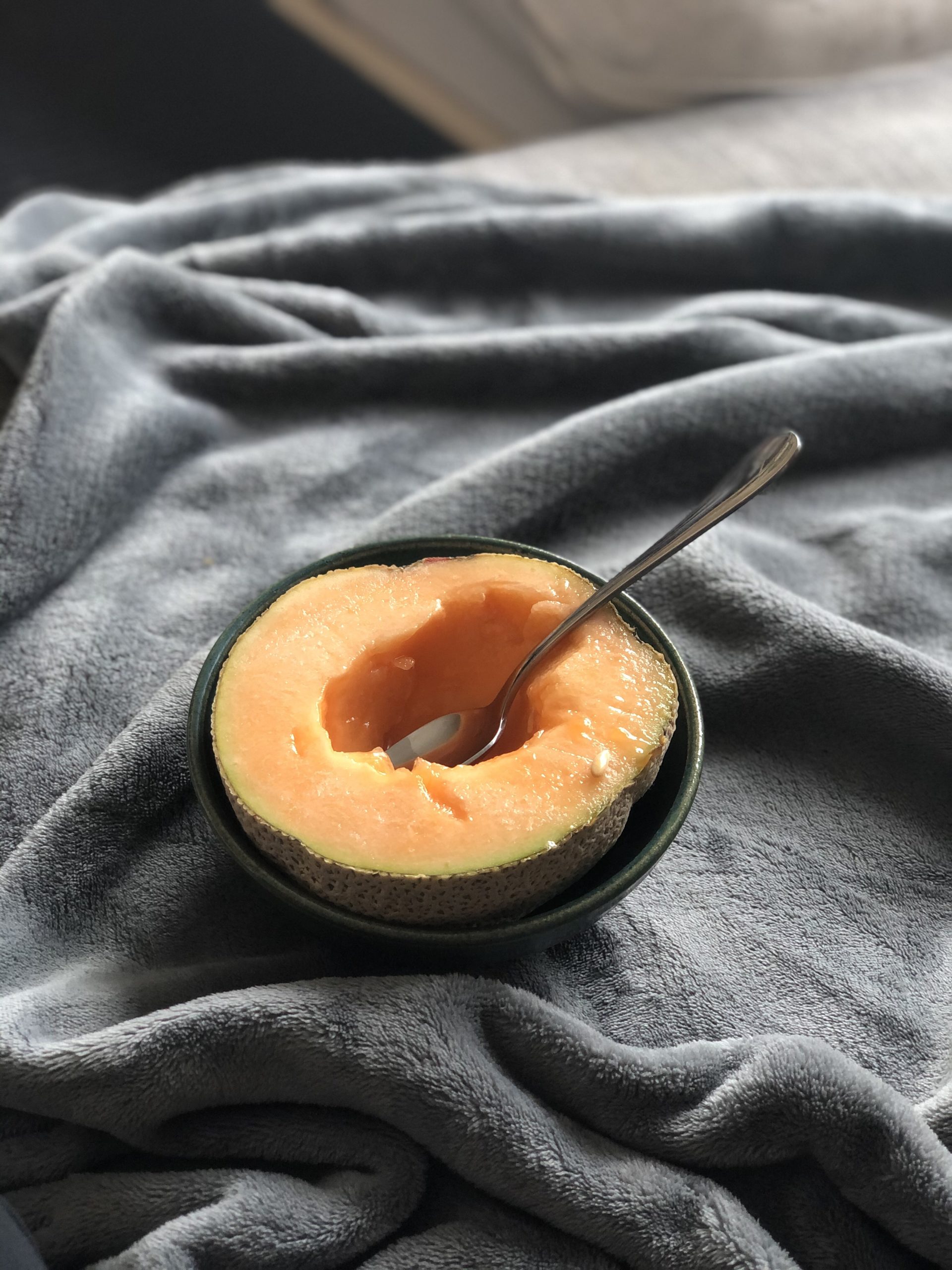 They also have a *very good* salmon burger, which I ate over a fall salad with apple, roasted potatoes, and the end of the good summer tomatoes. (On that note, I've picked up the new little shrimp burgers this week from TJ's, and will report back.)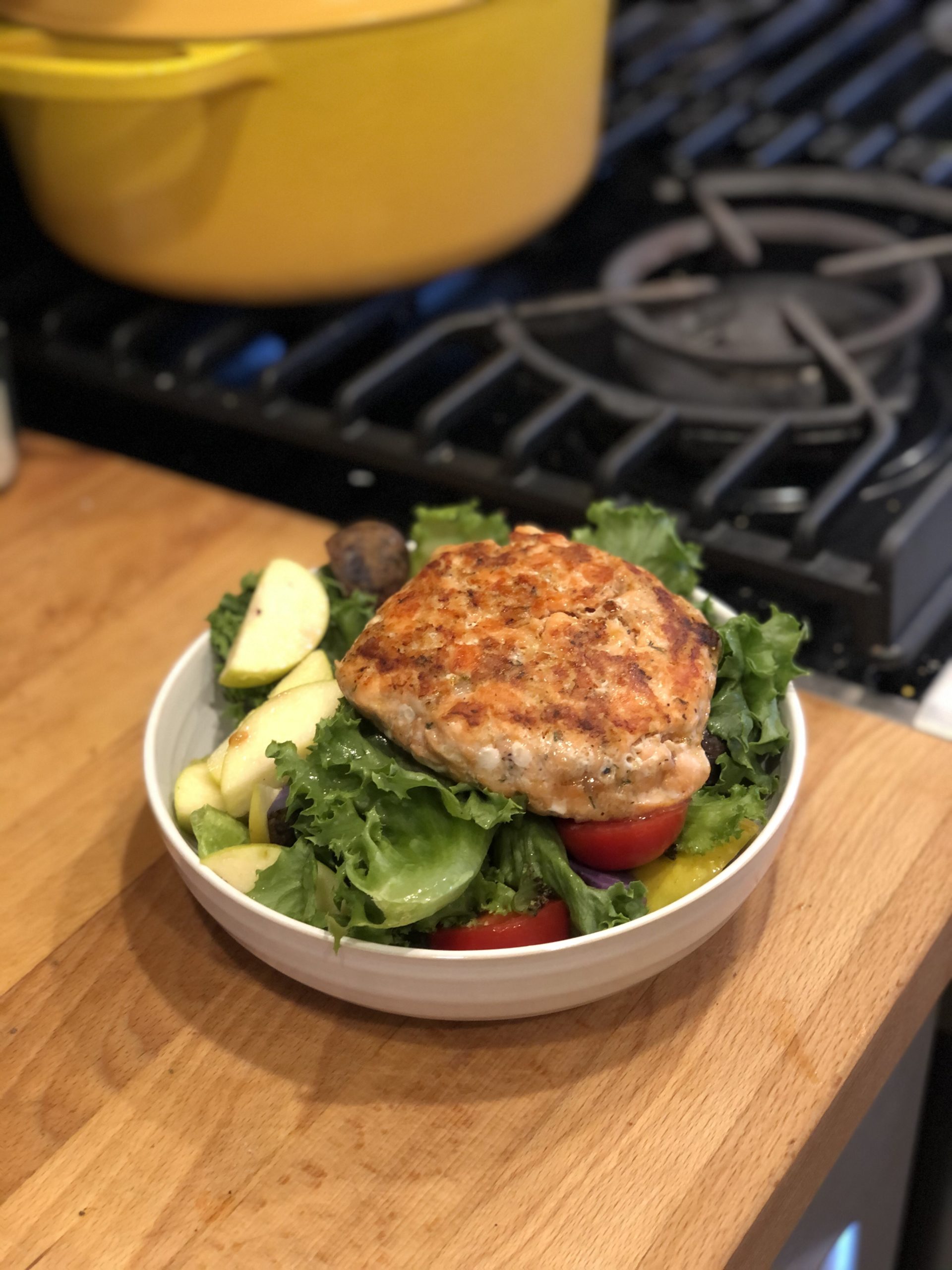 I got a container of their marinated octopus salad, which I ate with a crispy lettuce, tomato, and potato salad. (Yes, there's a trend.) Crispy lettuce is so darn delicious!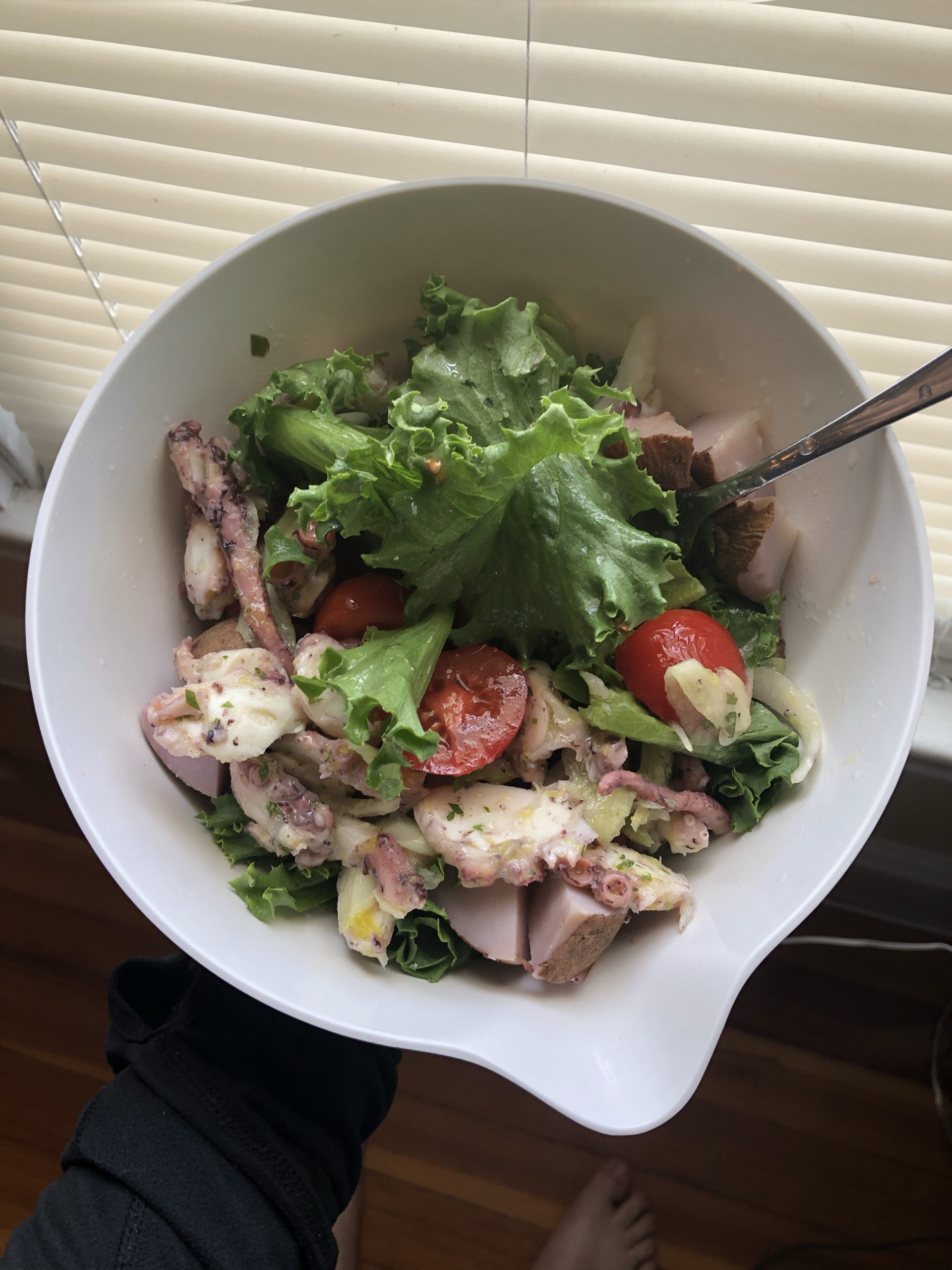 Good Thing: Eating as Vicarious Travel. Another good thing in September: I've been virtually walking and running along through Mexico with a team of my friends for the Circumpolar Race Around the World. Each week, I write up a little email about the cities we are "traveling" through. As we made it through Tampico, a city of Crabs – I couldn't help but cooking a theme meal: crab salpicon over a salad.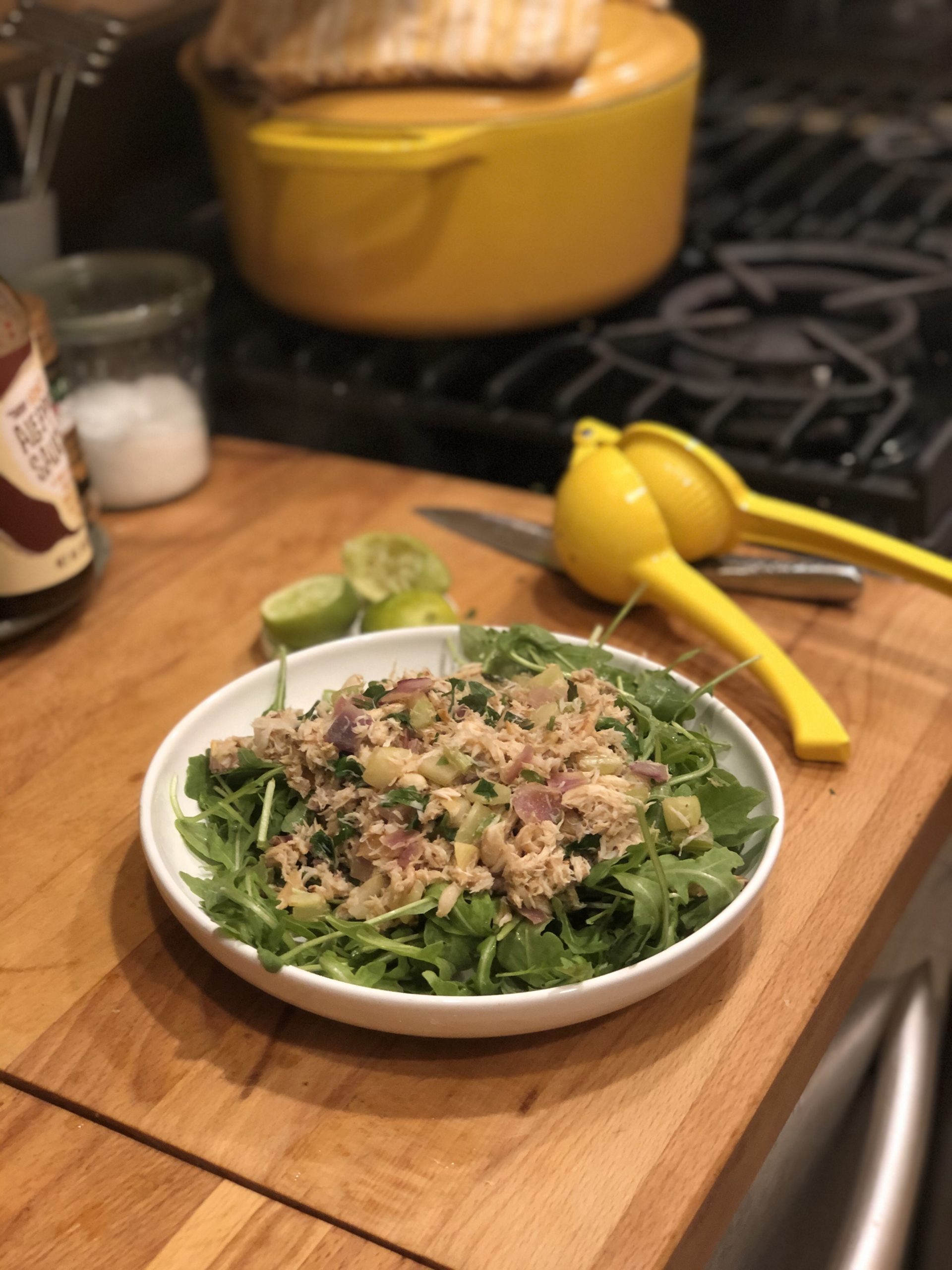 Other good meals: I'm back on the marinating train. Meat is just so much better when you coat it in spices or sauce, and let it just hang for time to do it's work. I've been doing chicken – a little bit of yogurt or sour cream, and a spice mix. Or lamb with cumin and olive oil. This one was honey-aleppo marinated steak kabobs over corn and tomato salad.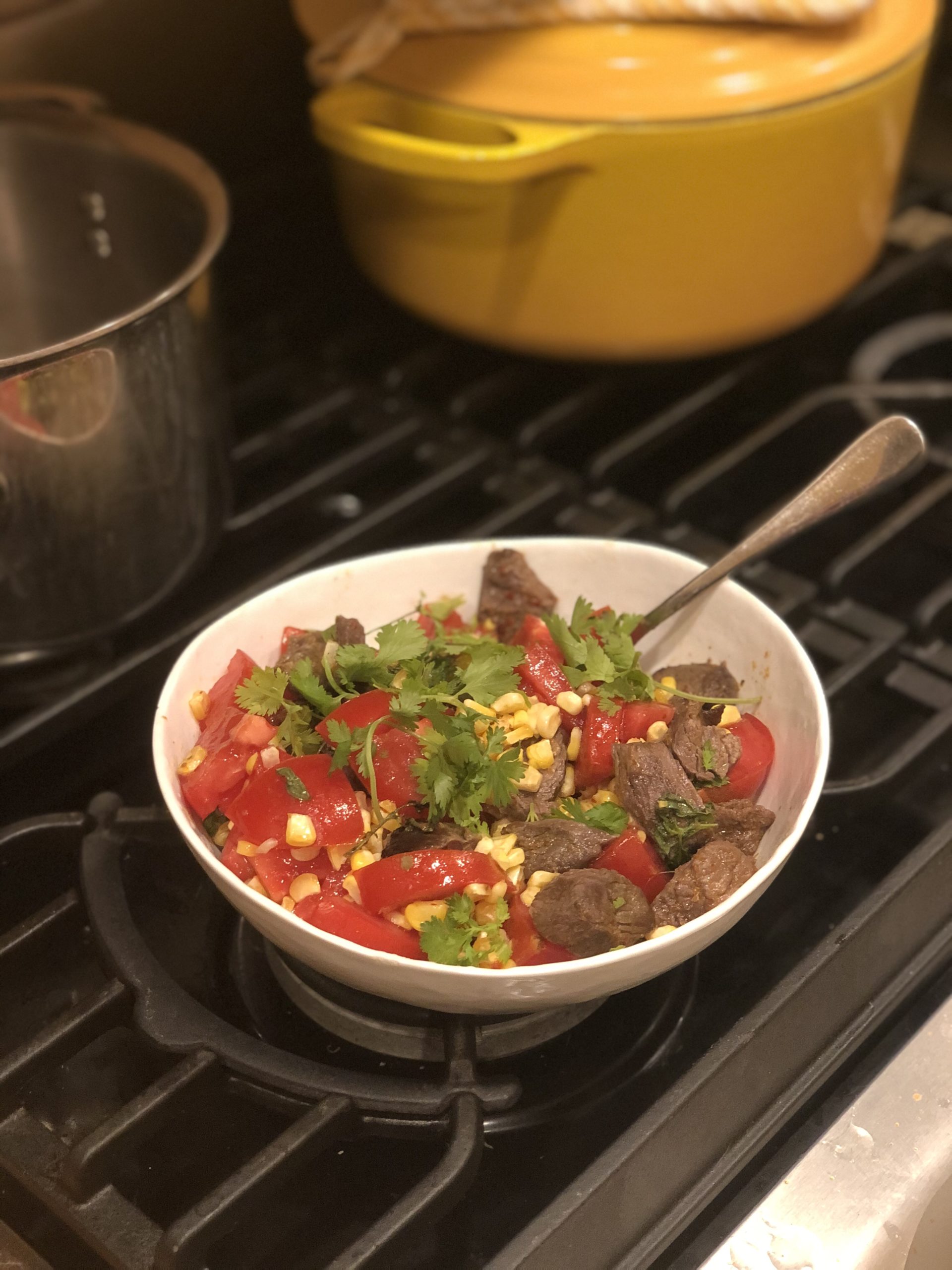 I've also been into super simple lunches: things that are more assembled than cooked. When I have the energy, I'll do a tiny bit of prep on the weekend to have chopped vegetables ready to go. I'll also make a bean of the week. (Chickpeas, in this case.) This one had tomatoes, cucumbers, fennel, and chickpeas with chicken.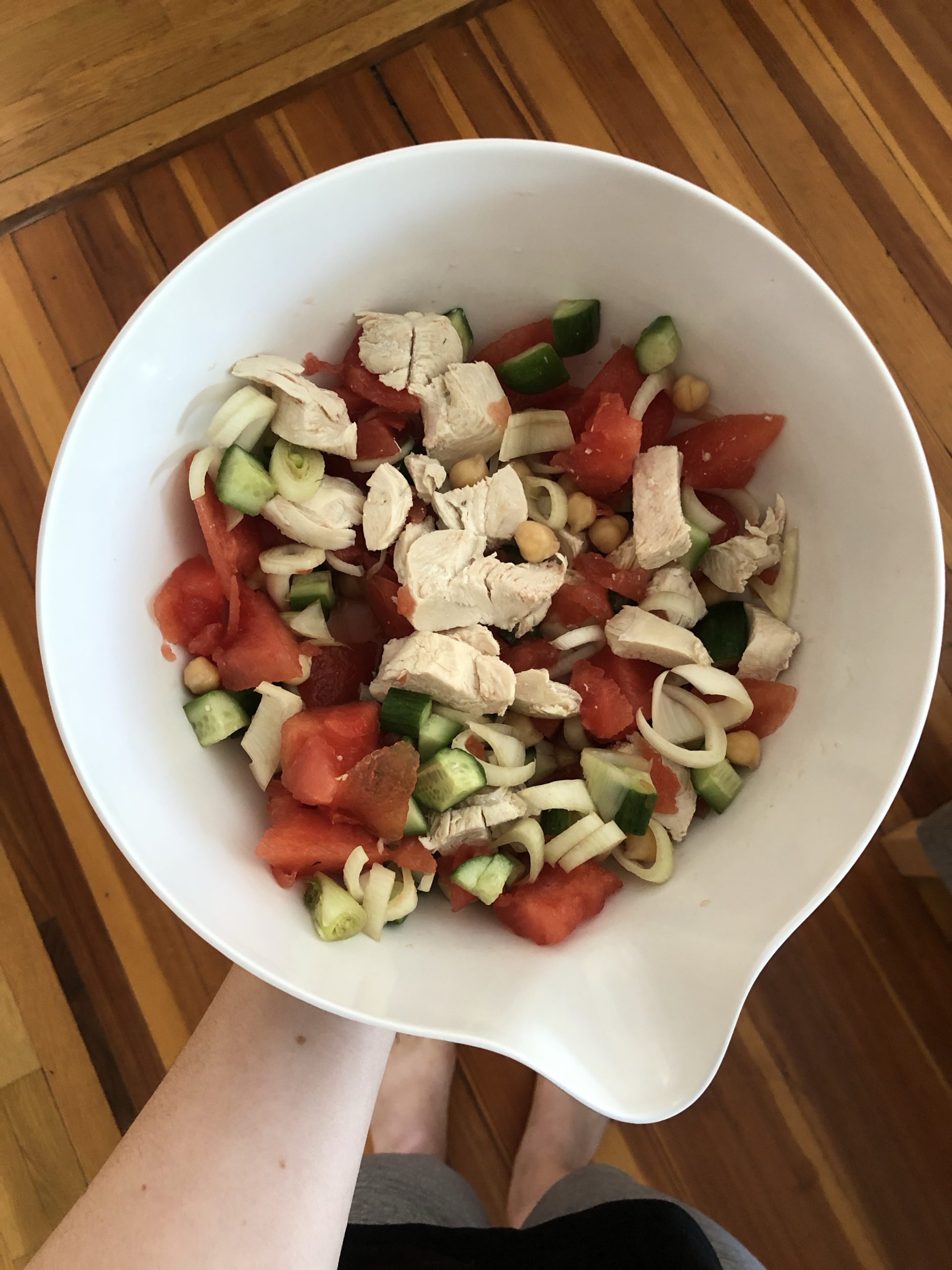 The chickpeas get a completely different treatment for the next meal: Orange bowl: warmed chickpeas with wilted spinach, tomato, potato, with dynamite sauce.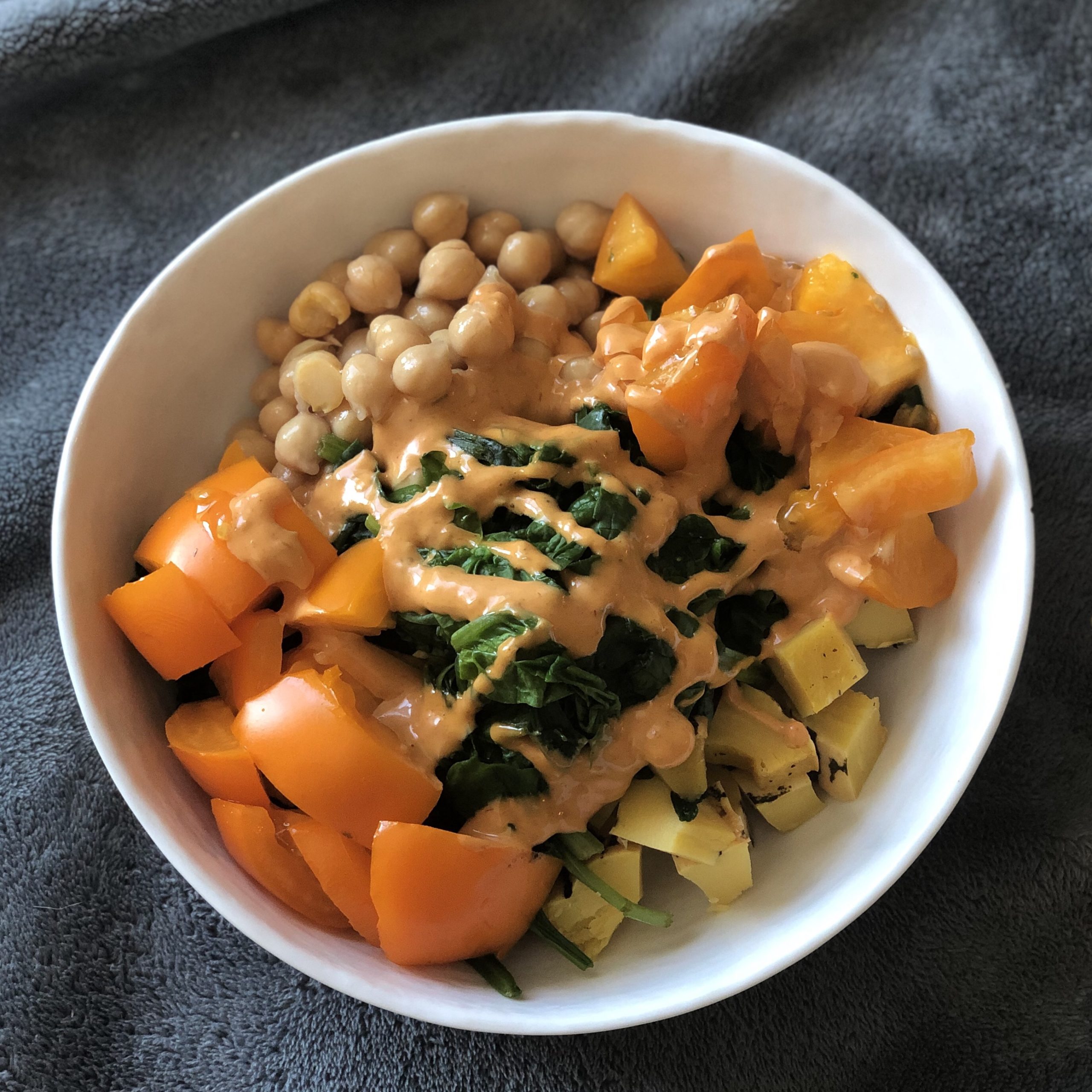 The third version is dinner: this is a favorite chicken liver and chickpea curry, with Patak's Tikka Masala PASTE which is always in my fridge.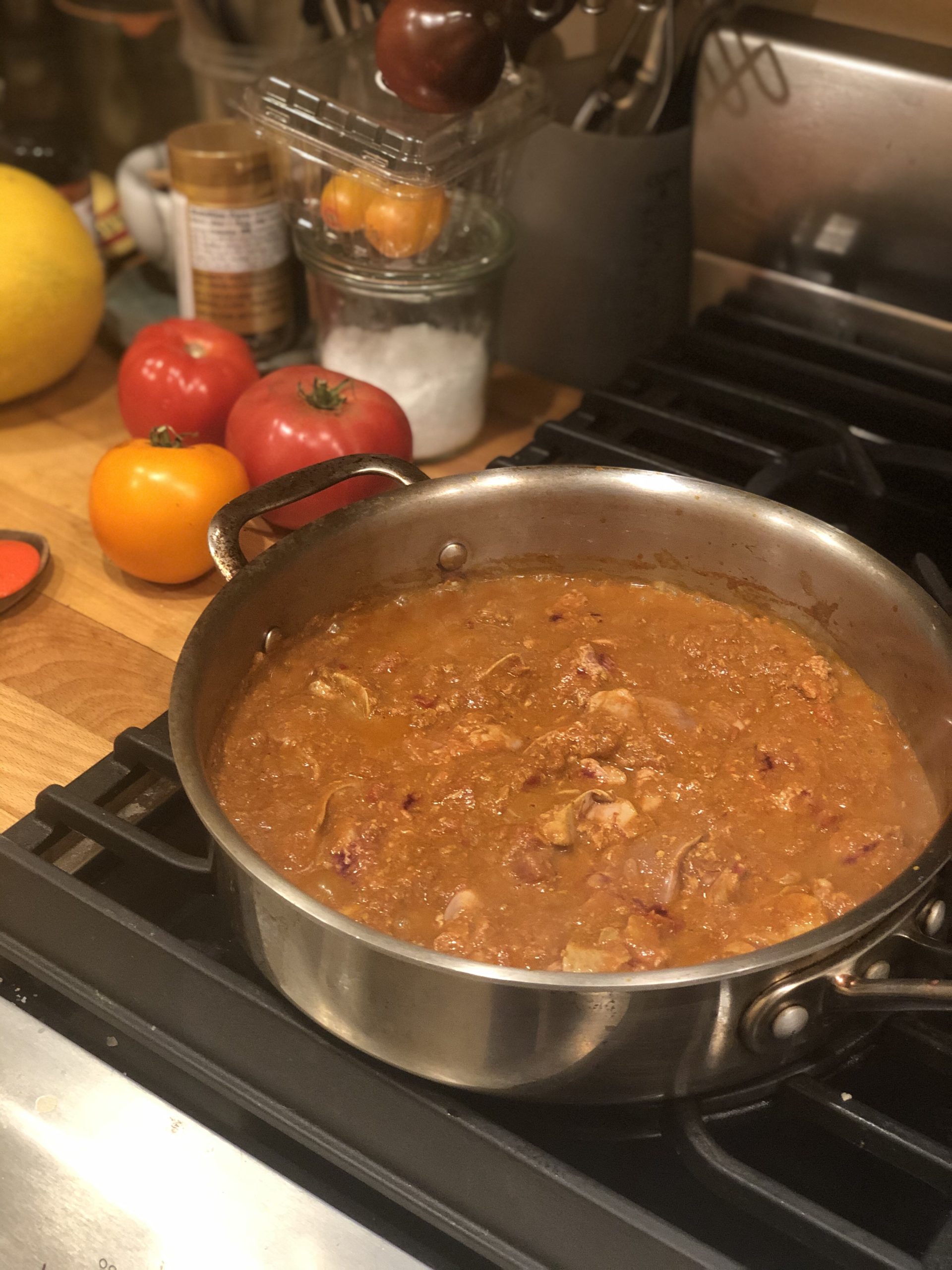 Moving onto the next bean: Egg and Eggplant two ways (roasted, and salad) – with fat Rancho Gordo Corona beans. Corona beans are huge and meaty. I've been meaning to pan fry them, but haven't yet. This batch was cooked in some leftover pan drippings added into the boiling water.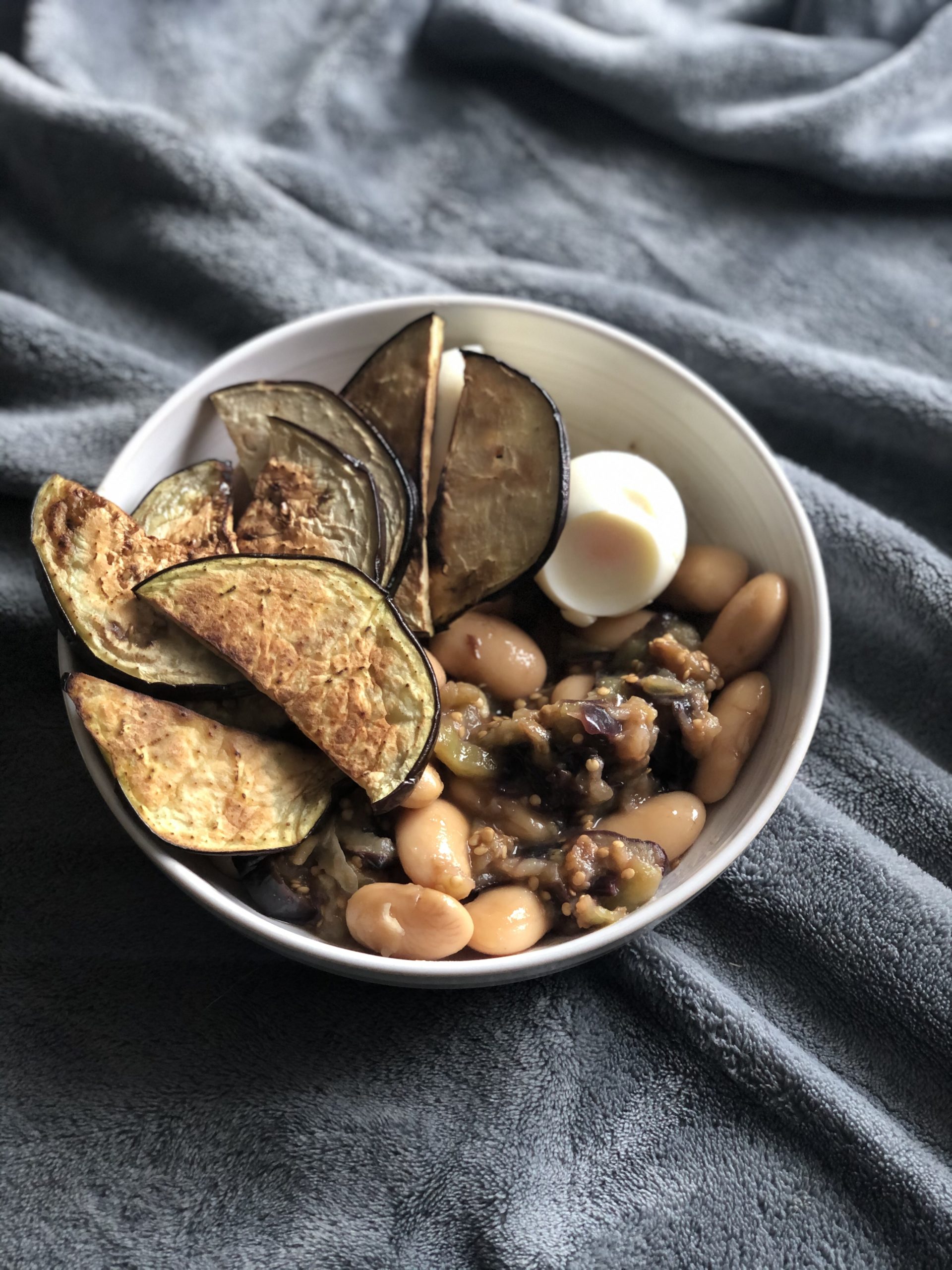 And my perpetual favorite meal: a "Sushi Roll in a Bowl" with seasoned rice, chopped fish or meat, quick pickled cucumbers, pickled ginger, and furikake seasoning. Sometimes I make this with chicken, or pork chop, or really any protein on hand, but a favorite in the past few months has been with Trader Joe's smoked ahi tuna. I haven't seen it in the last week though, but am hoping it'll be back!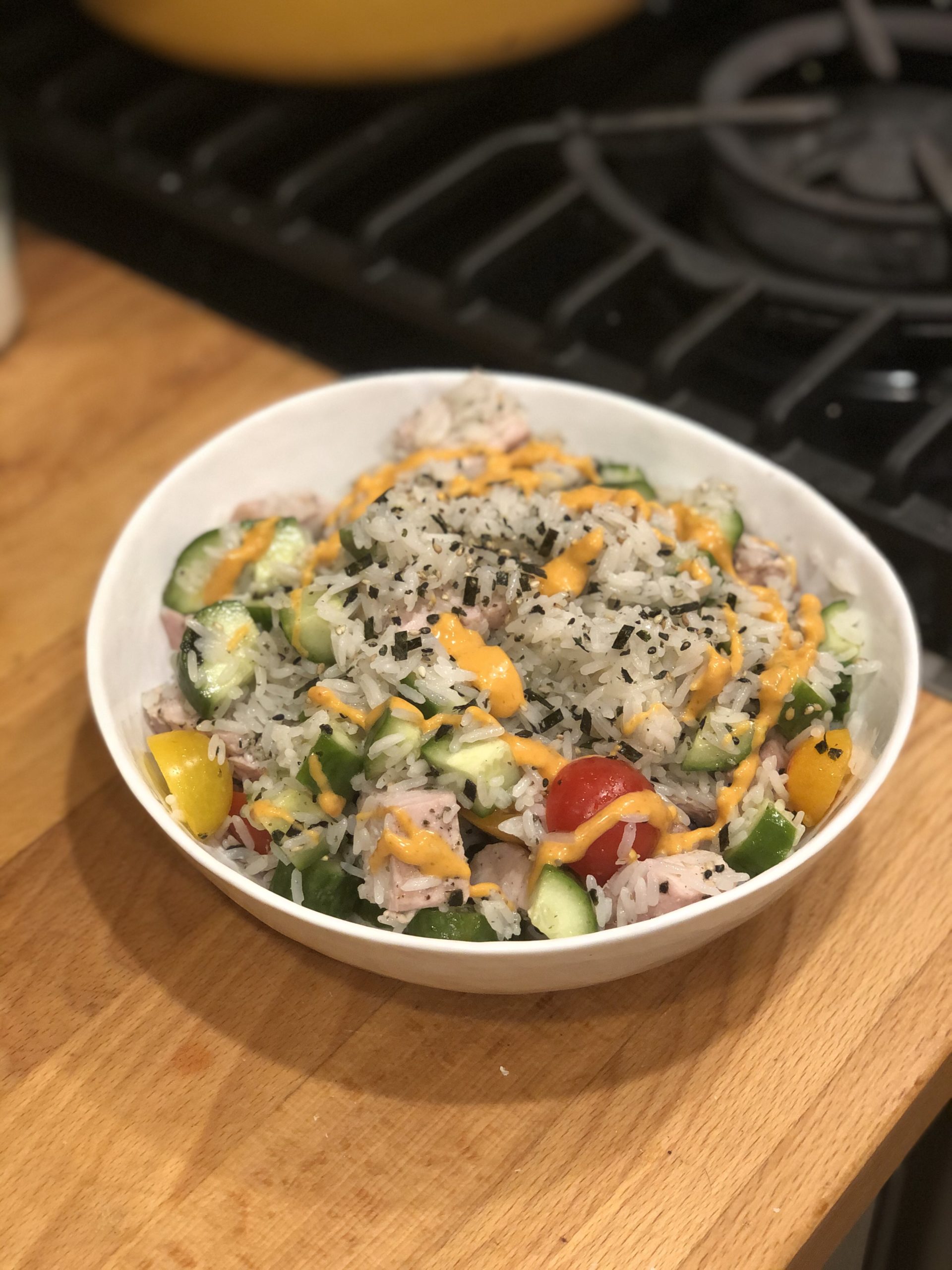 Other Good Snacks: a few good snacks to mention from September.
Blueberries, oats, brown sugar and a splash of cream.
Applesauce, oats, cottage cheese, cinnamon, and maple butter.
Roasted Spaghetti squash, with walnuts and crunchy maple sugar.
Single Serve Pumpkin Chocolate Chip cookies – just a little bit of water, the cookie mix from TJ's and microwave for one minute.
An apple cider donut from Honeypot Hill Orchards (thanks Somchay!)
Chopped liver, noodle kugel, and stuffed peppers (from my mom!)
And here's Bertram to wish you into the new month.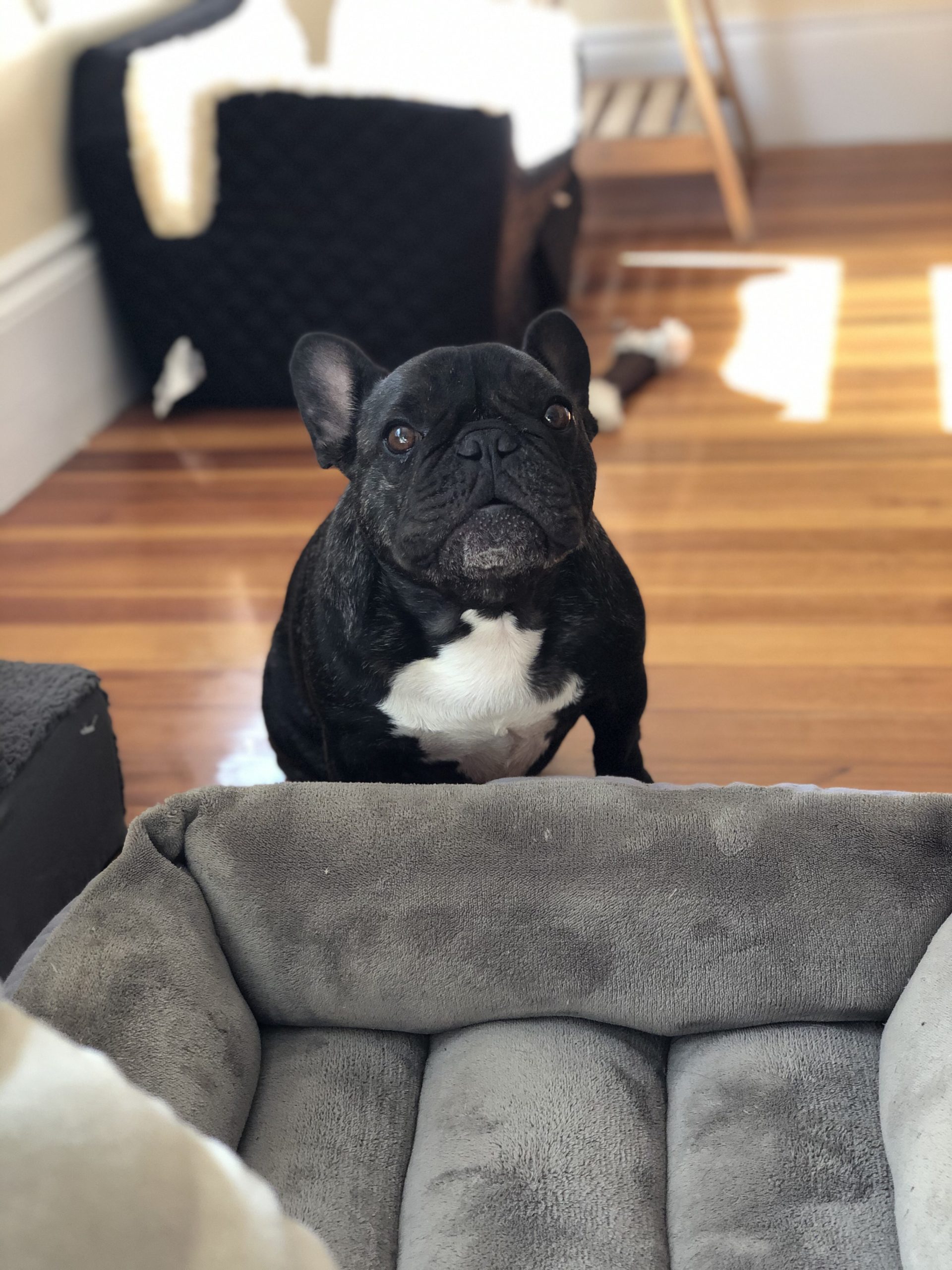 Cheers! Here's to some Good Things in the next week.
xo Sam