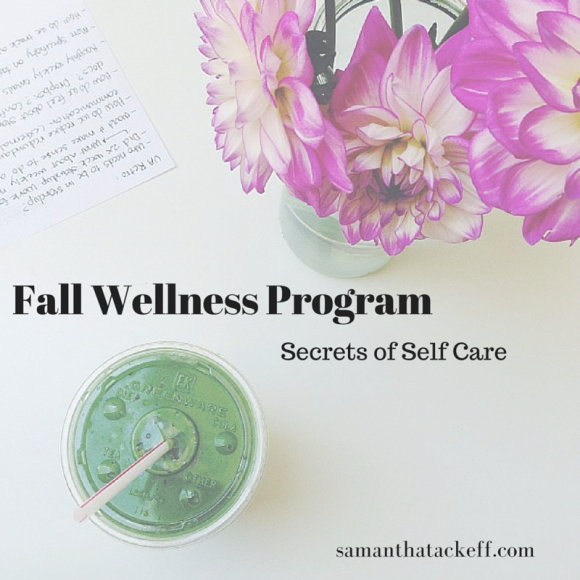 This week has been a vibrant whirlwind – which is sort of how I've come to expect my fall to be – life reflecting nature – the leaves changing colors, the winds picking up. Except I'm not gearing up to hibernate, but instead bolster myself for the holidays and the new year. It's a little scary how fast it's come this year. Wasn't it summer yesterday? (Okay, so maybe it did hit 73 degrees here this week…)
Much of my free time has been spent building out my fall wellness program which starts on Monday! – the Secrets of Self Care, and I realize that I haven't talked to you about it here on my corner of the internet, and YOU are who I've been writing this course for!
Secrets of Self Care is a 6 week program for those who have been focused on career, family, or business, and lost themselves a little in the process. (Okay, isn't that all of us?) Six weeks leading up to the holidays to help you get back in touch with yourself.
Are you lacking inspiration to make simple, healthy, and seasonal meals?
Are you feeling tired with the change of seasons?
Do the holidays cause you anxiety?
Does your energy wane in the early afternoon?
Do you find yourself making sub-optimal food choices when you don't have better options?
Do you feel like curling up on your couch with a cup of tea, and not leaving?
Join me for this adventure in which we'll focus on being kinder to ourselves, supporting our needs and desires, and nourishing our bodies.
What you get:
– Daily weekday emails providing journaling and action prompts.
– Supportive online accountability
– A variety of printable handouts
– A personal coaching consultation with Sam (via Phone, Hangout, or Skype)
– Additional email support for the duration of the course
The cost of the course is $179 for the 6 weeks, including a 1-1 personal coaching session.
We start Monday – I'd love to have you join me – we'll be thinking, writing, dreaming, and bringing good things to life, and I'll be doing the work right along side of you!
If you want to hear more, email me at sam@thesecondlunch.com, and I'd happy to hop on the phone with you for a few minutes to talk about the work that I do, and how I can help!