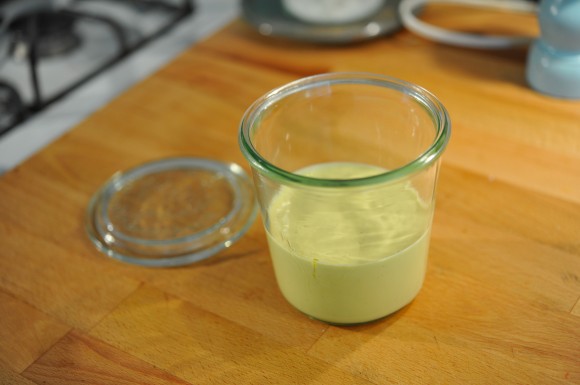 A friend in the gym today mentioned that her mayonnaise was breaking, and I felt for her. Truly, there's nothing like a sauce that refuses to do what you want it to – which is almost always emulsify. I suspected that the Vitamix was the culprit here, so I mentioned my tried and true mayonnaise tool: the whir-whir! (That's how I refer to my immersion blender. I'm fun like that.)
Here's my usual recipe. It's based on a dozen or more ideas for mayo that I've read here and there: Alice Waters, Tamar Adler, even J.Kenji Lopez-Alt, Patience Grey… everyone has a basic recipe. It's a little un-traditional with that whole egg (read: lazy.)
Mayonnaise: It's Easier Than You Think

When you go to your fridge and you are out of Mayonnaise, fret not. Take the little cup that comes with the immersion blender. Into it, crack a whole egg, preferably very fresh and from a reputable source, and at room temperature (having the oil and the egg at the same temperature helps promote emulsion). You aren't cooking the egg, and a farm egg tastes so much better. Add a large spoonful of Dijon, a teaspoonful of vinegar, and lemon juice – about a half lemon's worth. I always like Sherry vinegar, but you could use cider vinegar here, or rice wine vinegar, or maybe red wine vinegar. You could be minimal here – just the mustard and lemon juice, but I like the mix of acidity. And then you pour in your oil – between 3/4 and a cup. I try to use a fairly neutral oil. You could use half olive oil if you'd like, but full olive oil tastes incredibly olive-y and limits what you can actually do with this stuff. Here is the fun part. Stick the immersion blender in and whirr. Within about 20 seconds your mayo will come together. Usually I have to stir a little bit to get it going, but I'll just blitz until I get to a good consistency, which for me, is slightly less firm than the store-bought stuff.
Optional twists: you could add a few cloves of finely minced or crushed garlic in here and it becomes an "aioli" of sorts. Or, you could add a handful of fresh herbs, or any variety of spice to taste.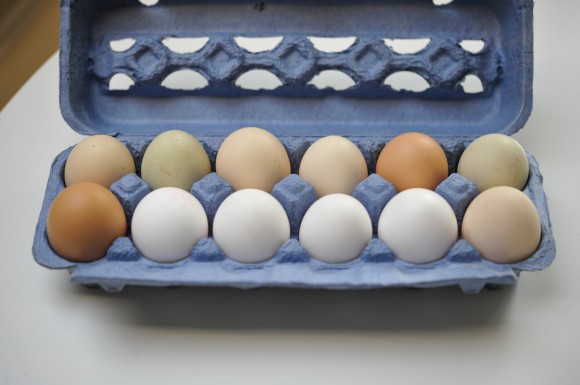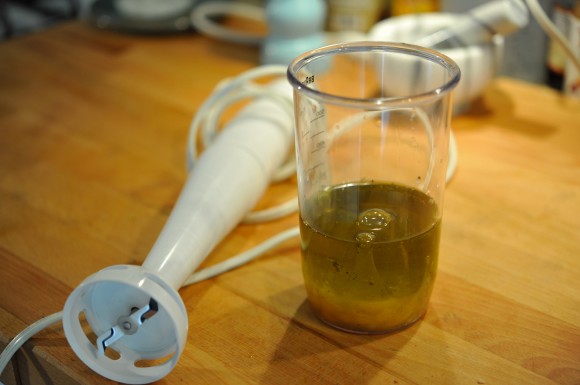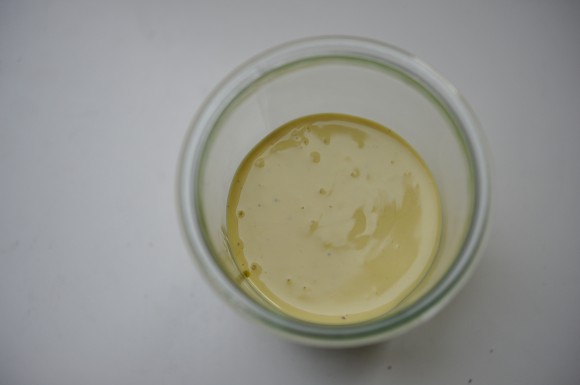 Now that you have this stuff on your hands, here are some ideas of what to do with it:
1. Slather it on sandwiches.
2. Put a little dollop on top of eggs.
3. Serve with boiled or braised meats.
4. Place a generous spoonful on a bowl of cooked vegetables.
5. Make a raw vegetable salad with it. I like this recipe for "Coronation Cauliflower", a raw cauliflower salad.
6. Make some home made coleslaw.
7. Slather it on grilled chicken.
8. Make seafood salad with crab, avocado, and a squeeze of lemon.
Or eat with a spoon, by itself, every time you open the fridge. Don't be ashamed.