The last Tuesday of the month is the day I pick up my meat club allotment at the best butcher shop in town – M.F. Dulock, in Somerville. For $50, I left with a nice sized package of spicy beef sausage, stew meat, stir fry meat, goat chops and pork jowl – enough to last me several weeks. The meat is pasture raised, broken down by the people handing it to me. It makes me a really happy camper.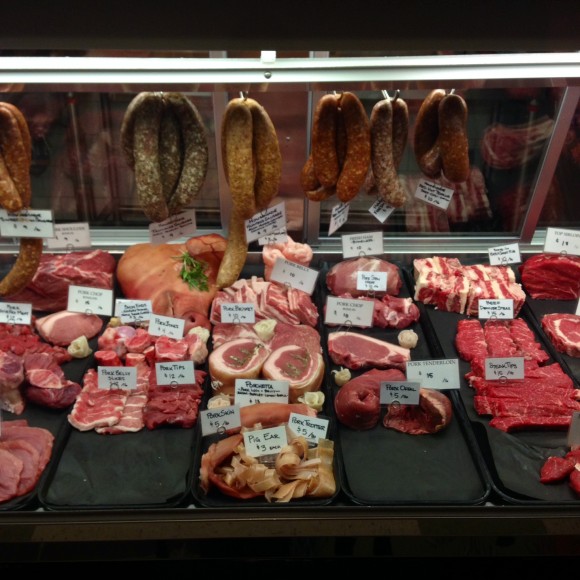 I wish I had more exciting stories to tell you, but here's what's plaguing me today: I have $11.30 in library fines. I swear I'm not a jerk – it was an accident involving eight items that were overdue for three days. And two of those were DVD's. And apparently, when you have an excess of $5 in fines, they shut off your ability to download digital items, until you head into the library and pay up. And they also disable your ability to the pay the fines online. This makes me grumbly. Let me give you my money! I might even donate a little extra every time I had to pay a fine if I could do it from the comfort of my own home.
Okay, but what does this mean for me exactly?
It means that I can't download the audio book that I've been queuing patiently for for two months.
Let me pay you money, library, and let me download my Wallander audiobook!
Which reminds me. I probably should get around to trying Audible.com. Does anyone use it? Is it worth it? Inquiring minds want to know. I've been trying to stick to this free audiobook from the libary thing, but apparently it raises my general stress level to "unacceptable neuroses".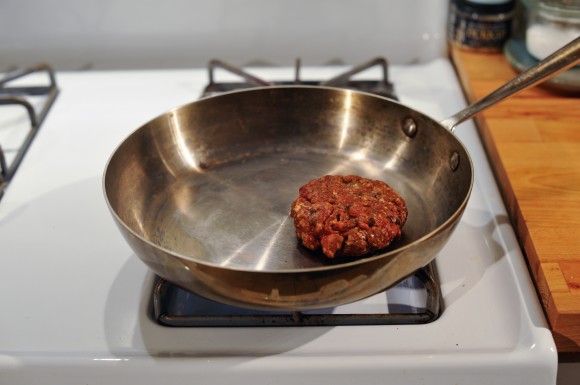 Okay, that's enough complaining. I suppose I should mention something about my almost favorite part of the day – dinner! (Second only to Second Lunch.)
My first order of business was to fry up a merguez burger that I was planning on eating on some wilted greens with lemon. After frying the first side for a few minutes, I got a call from Devon letting me know that he needed to be picked up, so I turned off the heat, flipped the burger, and popped the lid on, hoping for the best. When I returned less than 20 minutes later, the burger was browned nicely on both sides, and cooked perfectly through. A meaty-miracle!
I'll admit though, that somehow in the 20 minutes I forgot all about the wilted greens. By the time we got home I was starving, so the burger became my appetizer. Devon came back hungry, so I decided to put the "red hot beef" sausage from meat club in the pan – which halfway through cooking I determined was too spicy for him (it was so spicy that I nearly was choking on the smoke – just the way I like it). So he got refried beans and eggs cooked in spicy sausage drippings, and I ate a piece of sausage, and no vegetables, and just decided that I'd be okay with it, because sometimes all you want is a piece of meaty goodness, and nothing else. Sometimes, being an adult is *the best*.