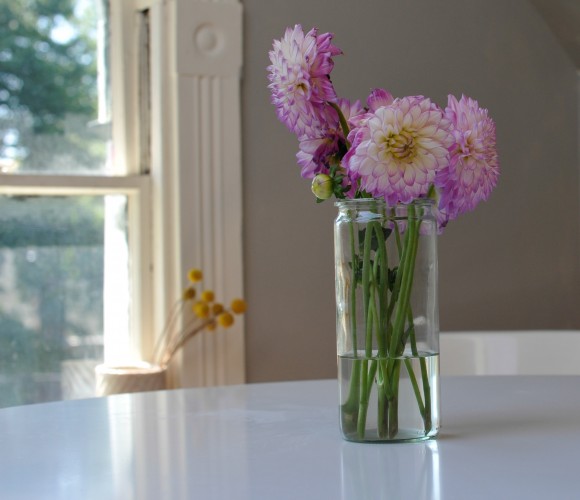 When was the last time you got yourself a bouquet of flowers? I'm ashamed to say it had been far too long since I'd done so – and flowers really do make me smile every time I walk by them. I picked up this gorgeous bouquet of dahlias last Sunday at Russo's in Watertown, and they've lasted me all week long.
This week, I've been following the prompts for Sarah Jenks' 'Live More, Weigh Less Challenge'. As a health coach, I'm particularly fond of following the work of others in the health and wellness space, and Sarah does some really great work changing women's lives. One of the reasons I went to nutrition school was purely for self-education, and I've learned so much not just from my teachers, but from my peers. Nearly a decade into my journey to good health, I feel like there is still so much to learn about myself, so participating in challenges like this is my version of continuing education.
The challenges this week have been utterly joyful, and there's something very satisfying knowing that you are participating in self-care with a large group of people who are committed to doing the same. We've been instructed to buy ourselves flowers, make a luscious green smoothie, hike, and watch the sunset. All of which, I've documented on my Instagram if you'd like a peek: @alphaprep – I'd love to connect there. Now, these are all things that I know I should be doing, but sometimes I need a little prompting to put myself first and get out there. Maybe you do too? If so, I'm fairly sure you can jump into the challenge at any time. (And lest this sounds like too much of a shill, I'm not affiliated with Sarah in any way, other than I think she's great!)
This week I sat down at a new (to me) coffee shop called Fuel to get my meal planning on. I ordered a Cortado (espresso with milk), and a large iced coffee, and got to writing.
Before leaving my house, I took a quick snapshot of the contents of my fridge and freezer to avoid letting produce go to waste, and used leftovers as the basis for this week's list.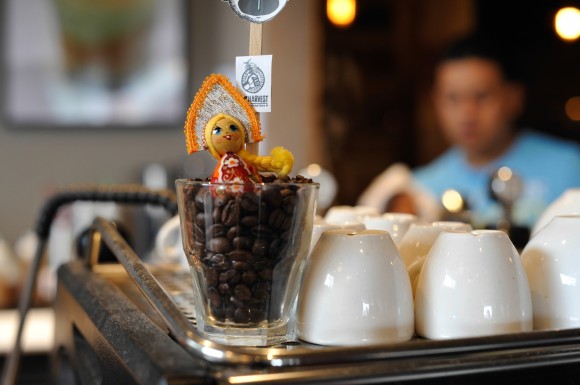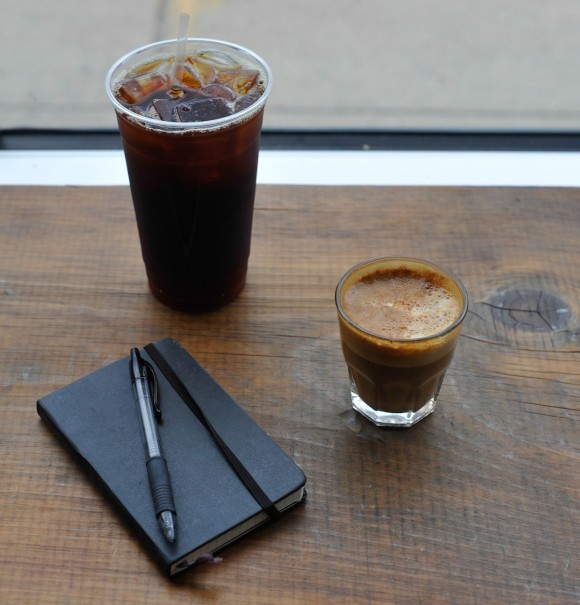 Week of September 9th. 
Sunday :: Cast-iron flounder, a mess of kale, and a few potato latkes. Sunday is always fish night around here, and local flounder was on sale. The monkfish also looked delicious, but I haven't had flounder for a while, and although it's a mild fish, I always quite enjoy it. The potato latkes – not homemade, but a treat from Trader Joe's.
Monday :: Cheddar dogs, baked beans, and greens. Cheddar dogs. Yes, not quite health food, but my love loves them, and nostalgia wins out on occasion.
Tuesday :: Taco salad, with cabbage slaw. Typically this is some sort of protein with all the fixins' of a regular taco. Since I'm craving seafood, we might have fish taco salad. Unless I don't get to the store, in which case, some sort of ground meat in the freezer from my butcher will win out. We'll see.
Wednesday :: Vietnamese braised beef brisket. Last week I got a copy of Luke Nguyen's new cookbook 'Greater Mekong' in the mail, and I've been longing for Vietnam – the country is on my top five culinary travel destinations. This recipe is actually out of one of Luke's older cookbooks, 'Indochine'.
Thursday :: Orange pork tenderloin. Or maybe spice-rubbed pork tenderloin. Or pork tenderloin medallions in red curry. Or something else. I have the tenderloin, hopefully the inspiration will come.
Friday and Saturday, I'll be eating my meals out of a van while I compete in the New Balance Reach The Beach Relay. I'll be running three legs (about 14 miles, total), of 200 miles with 11 of my coworkers at RunKeeper, and I'm expecting that I'll have to push myself in ways I'm not prepared for. I'm still trying to figure out how to feed myself on this trip. We'll see.
And you? What are you eating this week? Also, will you get yourself a bouquet of flowers please, and let me know that you've done so? It'll make me smile!
–– Sam