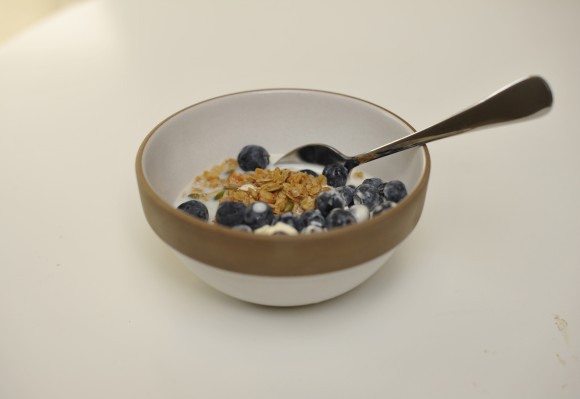 I spend a good deal of time wishing I were a morning person. Ideally, I need to wake up, make myself coffee, sit, think, walk, dream, and write before I'm a fully functional human being ready to start my work day. This would be a lot easier if I actually woke up at 6 a.m., but as it usually goes, I'm all too tempted to stay curled under the covers for another thirty minutes, and then my morning ends up being a tad rushed. Rushed or not, the days of breakfast-less living are over, and by day break, I'm hungry. Sometimes I start with some eggs, or leftovers from dinner topped with an egg, or a lately a green juice with chia depending on my mood. More and more, I've been grabbing something at the coffee shop because I've not planned well. On the weekend I try to make something special, but truthfully I've been in a rut with my mornings, so I'm not always so good at putting anything fancy together.
Today I woke up earlier than normal, and prepared a little bowl of Marge granola with blueberries and cream top whole milk. And then I sat for ten whole minutes just staring out the window at the cars and the lush green foliage from a few days worth of rain. It was what a morning should be like.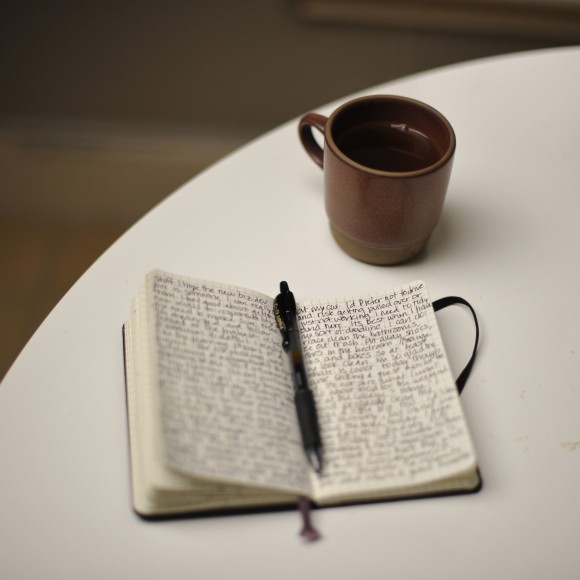 I mentioned that I was taking the Chookooloonks Pathfinder course on journaling – one of the best parts of the course is that we start the day with morning pages – twenty minutes or so to write freely, about anything that comes to mind, anything we want, without editing or censoring ourselves. Each morning, I pull out my pocket size moleskin, and write. It's hard. I have to put my phone out of my line of site, because these days my attention wanders and searching on IMDB or Wikipedia in the middle of a sentence is habit. "Can't… let…thought…escape." But during my morning pages, I just break whatever sentence I'm writing, and make a note of the thing I'd like to look up, and keep on writing. I can address it later, I won't forget, I won't miss out. Having my journal with me throughout the day, I've been trying to extend this practice, and have noticed that I'm significantly less stressed that I'll forget something.
Speaking about that, have you heard of 'FOMO'? Without heading to Google? Neither had I. Well, every friend who has attended business school in the past decade knows this term, and maybe you do too, but for the rest of us: 'FOMO' stands for 'Fear of missing out' – and I've been thinking a lot about this lately. For me, this anxiety leads to two distinct and opposite responses – either I overextend myself, say yes too often, and exhaust myself, or I go the opposite route and say no to everything, purposefully avoiding life experiences so that I don't get too used to adventure. It's a bad habit, and one that I've been actively trying to change. I think, the key for me, is finding balance, choosing to say yes to the things that are more meaningful, making more time for the things that matter, and actually doing the things that I dream of doing.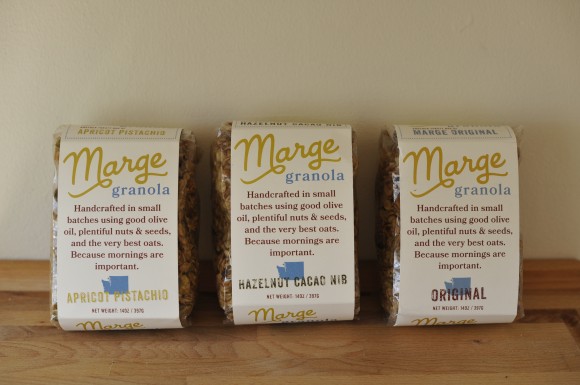 Megan's granola company, Marge, is wonderful. Find it here: http://margegranola.com
So here's what I've been thinking about lately, while I try to find my own path. It's crucial in this life to identify others with those dreams of doing, and support them in their pursuits. If you have friends who are creative, who make something with their hands, who write cookbooks, or sell baked goods at farmers markets, support them. Buy their book. Visit their store. Eat their granola. Help them build their project. These friends have succeeded in taking a dream and acting on it. Even if that company is small, or maybe if they've found success and are pushing to take things to the next level – this behavior is worth rewarding.
For me, it's also a little bit selfish, and I'm okay with that – every time I'm reminded how talented the folks in my community are, I'm inspired to head one step closer to where I want to be when I grow up.
Do you make something? Have a book you'd like to share? A friend who you'd like to support? I'd love to hear about it in the comments!