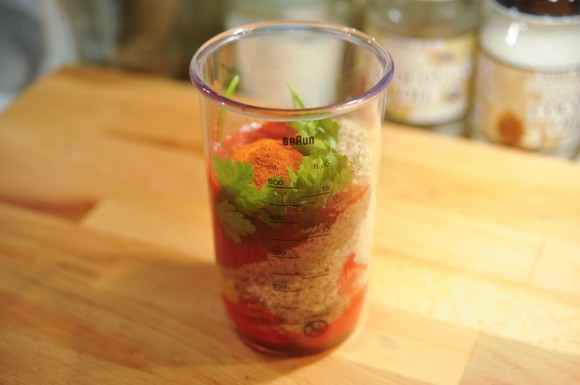 I was going to share this recipe last week, but then noticed that Ken and Jody had a wonderful post on Romesco with Grilled Spring Onions, and I suffered a short bout of blogger envy. Mine is the quick version, but be sure to swing over to theirs and check out the gorgeous photos – and then go ahead and make some Romesco! It'll take you ten minutes, and you'll be happy all week long.
*           *           *
I've really been enjoying the new era of Bon Appétit with Adam Rapoport at the helm. It feels like they've made a good comeback and successfully refreshed themselves. The creative direction feels modern and relevant, and they have been taking chances on some great up-coming photographers. (It was a treat to see the work of Kimberley Hasslebrink and Brian Ferry in recent issues.) Lately I've been really excited for each issue to arrive – and when it does, I find myself flagging multiple recipes to try, and actually heading in the kitchen to cook them.
As part of this year's kitchen resolutions, I've been trying to make a new sauce every week – sometimes a pesto, salsa verde, or chimichurri. Or even a good mayonnaise spike with fresh herbs and garlic. Having a sauce on hand is a good incentive to cook when you are feeling uninspired – you know you already have one component finished, a perfect accompaniment to chicken, roasted vegetables, spooned on eggs, or to refresh leftovers.
A few months ago I had flagged a segment of the magazine called "Master Fresh and Easy Sauces", which had an entire selection of sauces I'd be interested in eating: Romesco, Green Harissa, Avocado-Lime Sauce Vierge, Kimchi Relish, and Charred Lemon-Shallot Chutney. The Romesco made the cut because I had all of the ingredients already in my pantry.
Romesco
adapted from Bon Appétit January 2013 
(Recipe by Soa Davies)
The original recipe called for one large pepper, although I used 1/2 the jar from Trader Joes (about 3 medium ones), and substituted almond meal for toasted slivered almonds. I think you'd get a little bit more depth from toasting, although frankly I found that the sauce had enough punch without. For the tomato purée, I've used both Italian passata and Trader Joe's tomato sauce in the can with success here.
1 large roasted red bell pepper from a jar
1 garlic clove, smashed
1/2 cup almond meal
1/4 cup tomato purée
2 Tbsp. chopped flat-leaf parsley
2 Tbsp. Sherry vinegar
1 tsp. smoked paprika
1/2 tsp. cayenne pepper
1/2 cup extra-virgin olive oil
sea salt and freshly ground black pepper
In a food processor, pulse the first 8 ingredients until finely chopped, and add slowly add olive oil until smooth. Or, if you can't exercise patience, put all of the ingredients into a large cup, and blend with your immersion blender. (Quick, less to clean, and just as delicious.)
Makes 1 1/2 cups. Keeps in the fridge for a week.