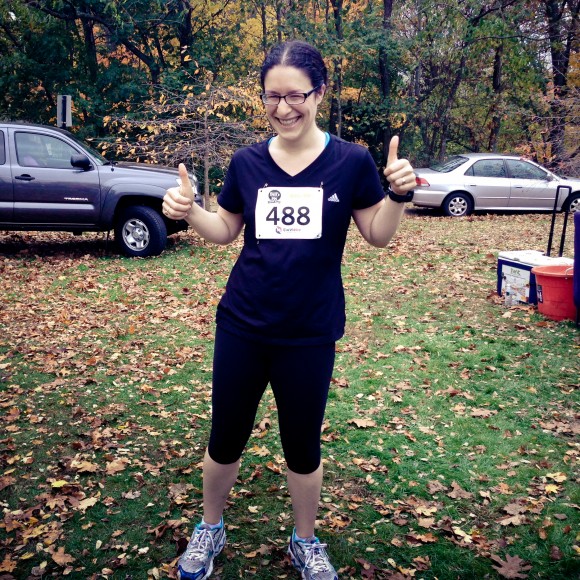 There is something deeply satisfying in setting off on a new adventure and having it work out. That's how this running thing has been for me over the past several months. I'm actually a little perplexed at how much I've enjoyed running and racing. It just never seemed like something that I could do.

I would not consider myself a natural athlete. I like activity – hiking, exploring, and walking, but I've never particularly enjoyed "working out". Working out was done to balance indulgence, rather than for the sake of exercise and feeling good. Because I'm not naturally good at running – as opposed to say, long distance walking – I can walk 10-12 miles, no sweat – it always fell into the category of "working out", and therefore, I didn't really like doing it.
But every so often I'd pick it up again, thinking that it'd be better, more exciting, more do-able. Making no real changes, it never was. But this time something was different. I signed up for races, my CrossFit goals brought me to a new level of fitness, and I had started from the beginning by running outside instead of on a dreadmill and loved running in fall weather – in short, I had better reasons to run. Once running was re-framed, it became a fun thing to do, something that I really wanted to do.
*                 *                 *
And that's how we got here. So how about this race recap? On Sunday I ran the Bill's 5K Road Race for the Travis Roy Foundation, on one of the most beautiful fall mornings we've had this year. It was nippy and grey, but the leaves were absolutely gorgeous, and it couldn't have been better weather for a run.
I woke up early to make myself a cup of coffee. This was my first race that I was heading to on my own, so I had to think of logistics. My plan was to drive over, lock up my stuff in my car, and hold my key while running. I contemplated the "key in the gas-cap" but thought better of it. I held the key. It worked out fine.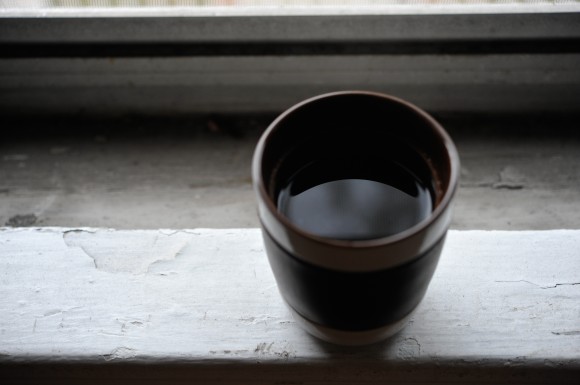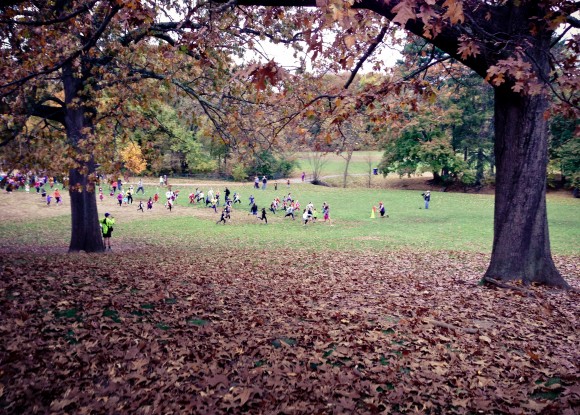 I made it just in time to see the kids starting off their spooky run in costumes. How fun is that? I wandered around to keep myself warm and get my blood pumping. I didn't see any of my gym-mates, but did see these fabulous cars, and set about busying myself until the race started.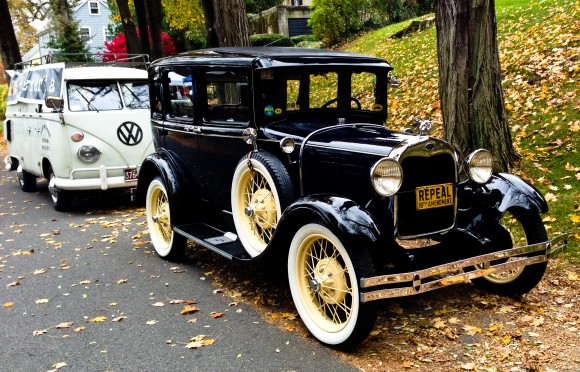 Of course I took the requisite picture of my trusty Mizunos. At some point I'll have to give these ones up, but they are by far and away my favorite of all my sneakers, and still quite comfortable. (I was crossing my fingers to win a new pair from the Mezamashii run project, but alas, no luck yet.)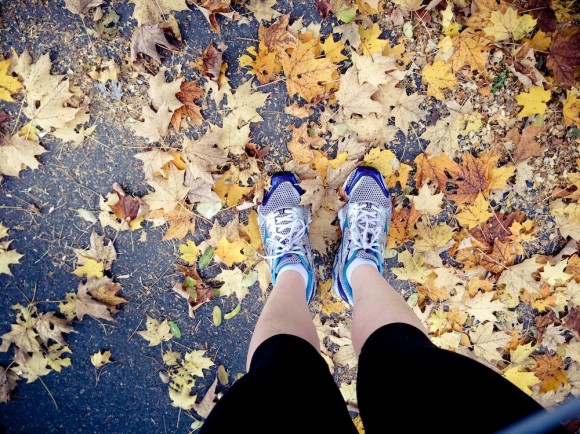 By 8:45, everyone started lining up for the race. After three slow-ish starts, I decided to situate myself close to the front. It was at this point that I paused to appreciate my unique quantities of brown adipose tissue. Nope, not the white stuff, but the special mostly-seen-in-babies-and-seals stuff, that I happen to possess a lot of. So much of, in fact, that I shocked the scientist whose study I was participating in, and managed to actually heat up the water in a 55 degree cooling vest when I wore it for two hours. That's a story for another day. Science! While most folks stood around me shivering, my body kicked in to warm me up while I waited, even standing around in 50 degrees in a t-shirt.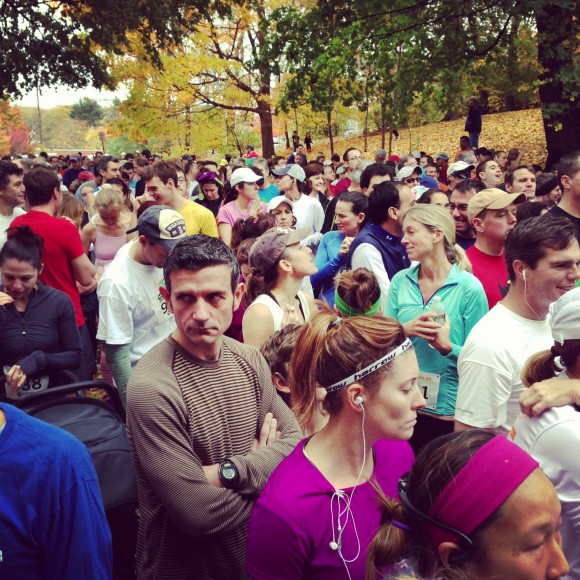 And we were off! Here's my race on Runkeeper: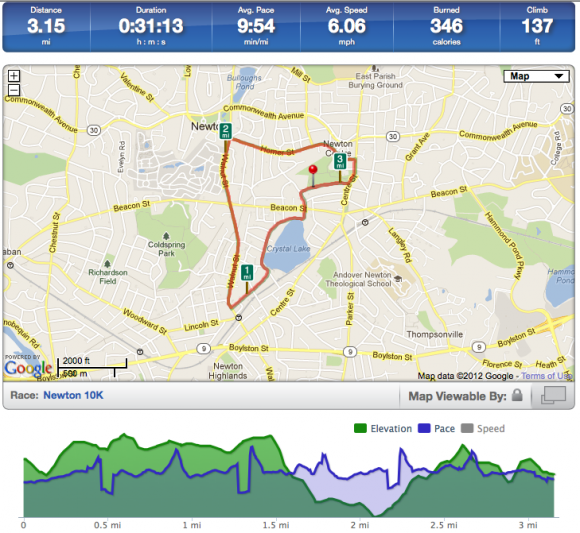 Mile One: 9:34/mile. I went out a little too fast as the race started, and had to consciously slow myself down as the first two minutes of my race were well under a nine minute mile. The first mile of the race took us around Crystal lake, which I only managed a glace at as I was distracted by the crowd of runners around me. I opted to take a really short walk at the half mile, just to make sure I didn't blow it. I took a second one right at the end of the mile for good measure.
Mile Two: 10:04/mile. After the first mile, I was already tired, and feeling a little bit unwell. I've been warding off a cold for the past few days, but my throat was starting to get to me. The water break was at the halfway point, so I slowed to get a quick drink. I will get the hang of this one day!
Mile Three: 10:14/mile. The last mile was the slowest because I had to take two longer walk breaks. I was feeling my cold, but managed to pick it up for the last part of the mile, running between a 9:00 and 9:30.
The .2: 8:48. I tried to push it through the finish, but didn't have much energy left, so I didn't end up sprinting through.
At this point, I stopped my watch, and it said 31:10 or something like that, and then stopped the Runkeeper at 31:13. My secret goal had been to finish sub-30 (which I didn't make), but I was tired and confused, and assumed that I hadn't beat my previous time either. I walked off slowly trying to process things. It was at this moment that I grabbed the banana and thought, "Hmm… I should eat something…"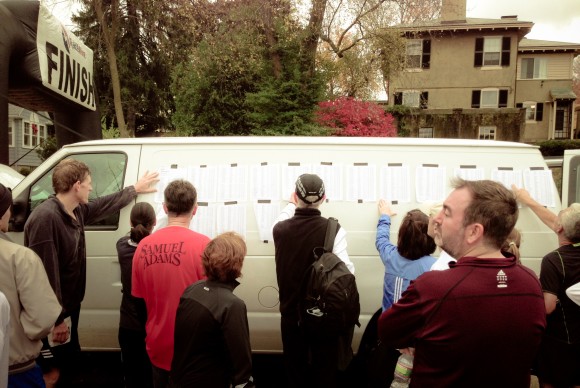 I actually had to look up my time on my website to see what my previous race time was. (31:58). I still didn't quite get that I had beat my time. I was impressed though with how quickly they had the race results printed and put up on the van at the finish line. I walked up and saw this: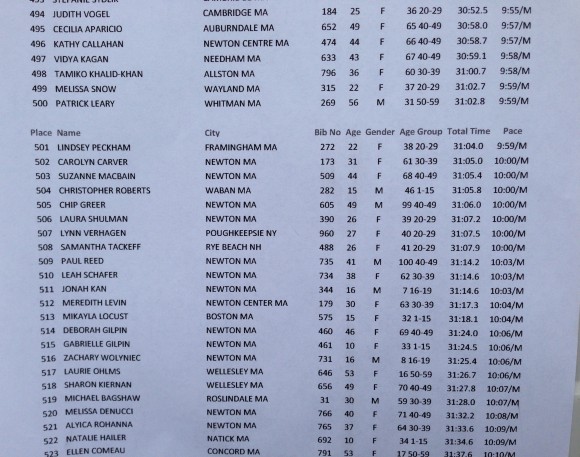 Finish: 31.07.9 – 508th place, 41st in my age group (F 20-29), 10:00/M pace. It was at this point I realized that hold on a second – if my pace was 10:00 minutes per mile, this WAS IN FACT A PR. By nearly a full minute!!
*          *          *
After the race, I hung around for a free massage at the Marathon Physical Therapy tent, and took a photo for these happy costume wearers. The gentleman in the photo was Tom Hanks' character from Cast Away, and spent a good amount of time wandering around yelling out Wilson! and putting on a good show.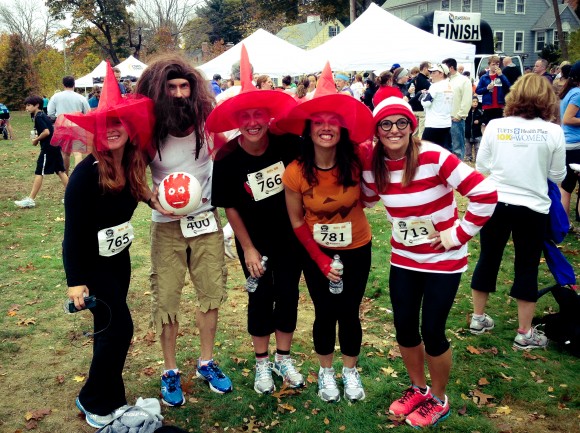 And then they handed me the hat.
Requisite shot of me terrified and concerned!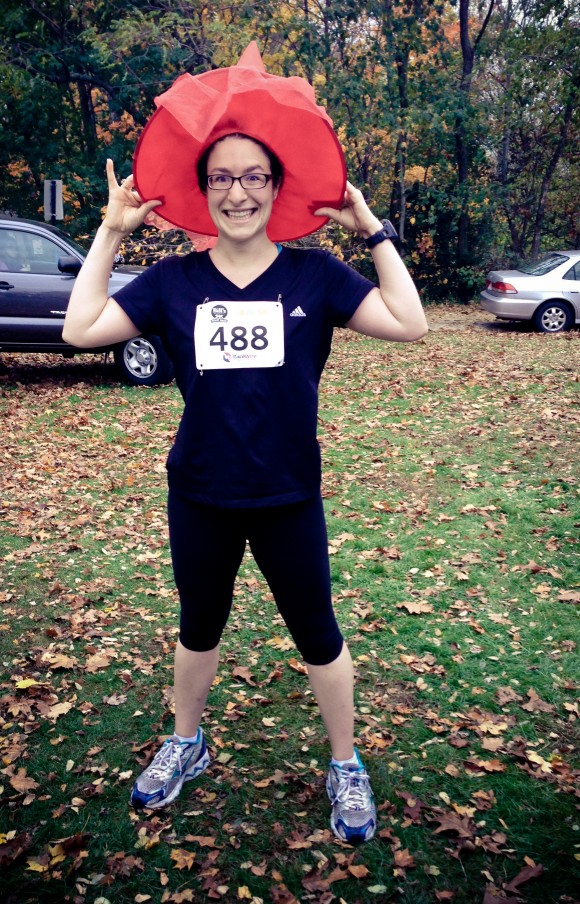 So that's that! As for what's next, I haven't signed up for my next race, but I'm looking for a good one. Maybe a Turkey Trot? Any Boston area folks signed up for a fun one?