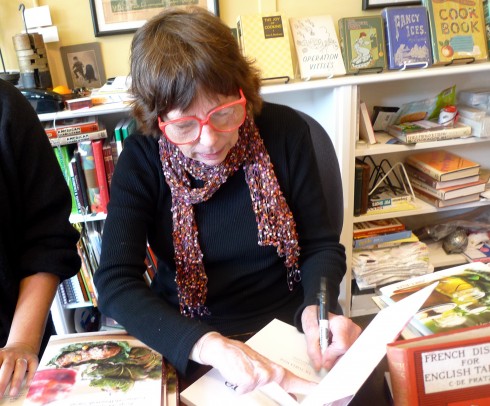 I've been thinking lately of how many amazing influential women I've met at Omnivore books over the past year. The list is pretty astounding – Paula Wolfert, Cindy Paulson, Alice Waters, Mollie Katzen (although she didn't speak) to name a few. So I think I'm going to make a point to post about these great women – they deserve immense credit for changing the world of food for the better. Here is the latest in influential women at Omnivore:
Behind those super hip red glasses is a woman we should all respect – Victoria Wise.
At 27 years old, Victoria was the first chef at Chez Panisse in Berkeley. A former philosophy grad student at Berkeley, her cooking education was mostly trial by fire. The first dinner she cooked was Duck with Olives. She sourced the duck from Chinatown, made the stock, sauce, everything from scratch. One of the big lessons she learned that night – you can't take a recipe for 12 and multiply it by 20 and expect it to turn out. It was, in her words, "Very Tomato-y".
After Chez Panisse, she set up shop across the street and opened a charcuterie deli called Pig-by-the-Tail. "It was an artist's workshop, it was not a business" she confided – but it was a different time then – like Chez Panisse, the goal was never to get rich, it was to make delicious food to share with friends. While Pig-By-The-Tail may not have made Wise wealthy, it gave her the material for her first book in a long line of cookbooks – "American Charcuterie", a standard that we sell at Omnivore (nominated for a James Beard in '87). (It's out of print, but if you call we can send you a signed copy!)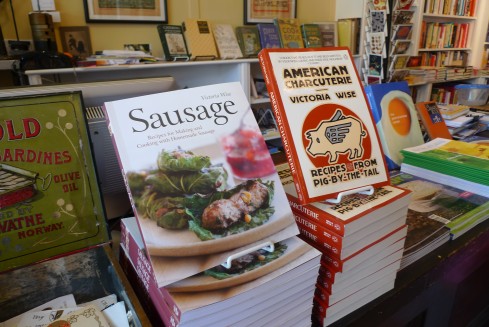 Since writing 'American Charcuterie', she has gone on to write over a dozen more cookbooks, including 'Good & Plenty: America's New Home Cooking', 'The Well-Filled Tortilla Cookbook' , 'Foods Of The World: Mexico',  'The Vegetarian Table: Mexico', 'The Well-Filled Microwave Cookbook', 'The Vegetarian Table: Japan', 'The Pressure Cooker Gourmet',  'Stories and Recipes from the Robert Mondavi Kitchen', 'The Armenian Table', 'The Olive and The Caper: Recipes', and 'Gastronomy, and Lore of Greek Cooking and The Gardeners' Community Cookbook'. Her newest book, 'Sausage' came out just last month, and she has another book, 'Bold Food' on the docket.
As you can see, the breadth of her work is pretty incredible.
Victoria's goal in life is to "convince people that they really can cook." Her cookbooks are approachable, filled with great recipes, but importantly great stories. Cookbooks are so much more than recipes – a good cookbook creates the context for good eating. Victoria loves writing about food as much as she loves eating, and confided unabashedly that she thinks about food all the time.
That's a woman I admire.