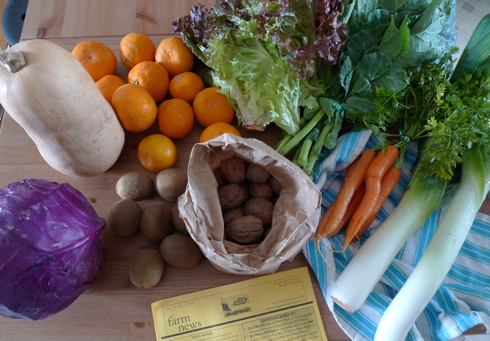 Here are the contents of this week's farm box from Farm Fresh to You: leeks, nantes carrots, collard greens, red leaf lettuce, a red cabbage, a butternut squash, kiwifruit, and a bag of fresh walnuts. The walnuts are particularly exciting because fresh walnuts are eons better than the old, dried out stuff you get in the tins. [Yes, eons is the wrong measurement here, but I like the word, and am going to attribute using it to the mental melting that occurred last night while watching Megashark vs. Giant Octopus.]
My first step this week was to take everything out of the box and put it on the table – not specifically for a little photo shoot, but to clean and prep everything for the refrigerator. A few years at Stearns Farm and I got it down to a system: I now have Ziplocks of two sizes to keep things fresh. I rinse and dry salads, I trim off tops and excess before putting them in the refrigerator. Ok, but the photo shoot helps – specifically so that by the end of the week I don't forget that I have something in the recess of my fridge and let it go to waste.
And then the excess tops (only leek and carrot tops this week) go in a pot with a bunch of water to make some homemade vegetable stock. Nothing to waste!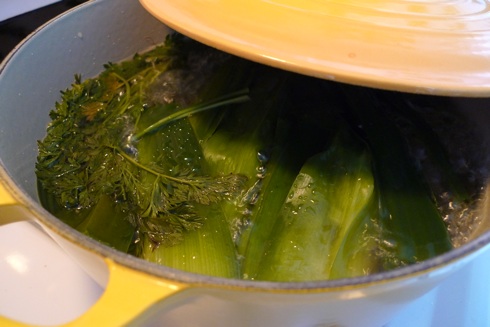 Except it's not a perfect system. I was freezing and had the heat on yesterday and therefore couldn't hear the gentle ho hum of the boiling pot, and consequently forgot about it until I had only a few cups of concentrated stock left.
So? Leek soup for lunch! I snipped in some fresh parsley and a good squeeze of lemon and it was ready to go.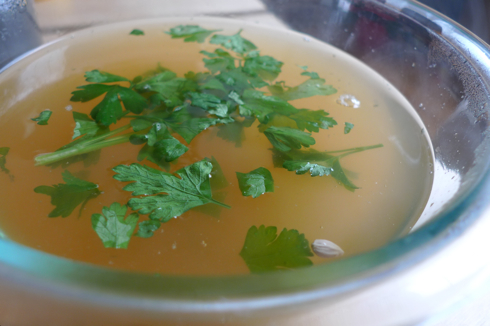 Things I plan on making this week with my vegetables:
1. Roasted Butternut Squash
2. More Kiwifruit Sorbet (notes about this soon)
3. Red cabbage and onions with Chicken Schnitzel
4. Indian Spiced Collards with Yogurt
I'm still not sure about the walnuts… I was tempted to make a walnut liquor but they are so tasty I don't know if I want to give up the pleasure of eating them all now.
Better Ideas?