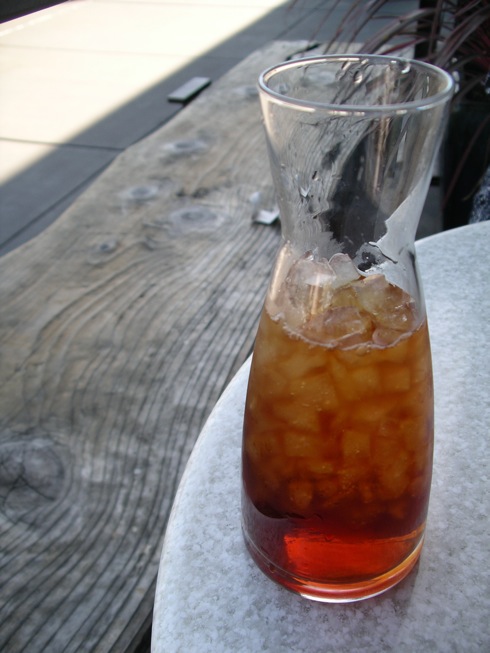 My favorite part about living in San Francisco currently, is hosting guests who have never been to this city, and heading around town feeding them my favorites. This presents a bit of a delicate problem for my expanding waistline, but I figure that I'll burn off "most" (cough* a fraction of*) of the calories if we attempt to walk to as many spots as possible.
Last week, my dear friend Caroline came, on a quick break from her graduate studies at Haaaahvahhhd, for her cousin's destination wedding in wine country, which meant that I had only one day to take her around! What to choose from!
After picking her up at the airport at 11:30 pm, we came back to my little apartment in Noe Valley, and fell right asleep, so we would have energy for the upcoming excursion. Once morning came, we headed out early, taking the J over the big hill by Dolores Park (I didn't want to kill her before noon), and stopping briefly on 18th street for a cup of Mocha Tesora at Philz, no extra sugar, dash of cream, with a mint leaf on top. If you haven't had it before, it's heaven in a cup. Philz makes your cup of coffee one at a time, and is one of the best that I've had in this city. I'm equally torn between the one on 18th street, and the one down on 24th in the mission.
We then walked through the Castro, taking a brief stop into Cliff's Variety mostly so I could note how wonderful it was that they really do have a little bit of everything! And to marvel at their collection of kitchen wares, and note how I could really use a Norpro Ceramic Compost Keeper, in order to properly follow the new San Francisco law of composting. Alas, Given was closed, so I couldn't show her all of the things (art, home ware, jewelry, furniture, trinkets) I would like to own. We headed up the street and turned on market, picking the J back up at Church and Market, and headed over to the Ferry Building.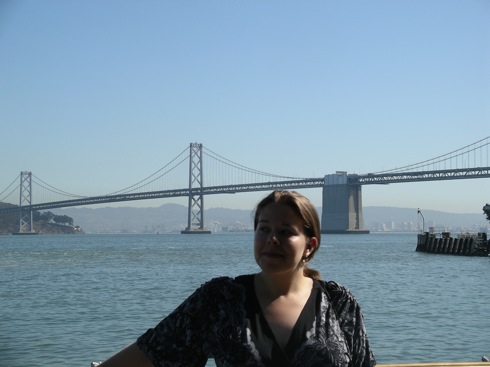 As things were just starting to open, we went to badger the hostess at Slanted Door, to see if she would give us a reservation for two around 11:30, enough time to walk through each of the shops before we became famished. She kindly obliged, and we went off to take "San Francisco Photos". I managed to take a "San Francisco Photo" of her with the Bay Bridge, and then a portrait of a native seagull, in the same pose.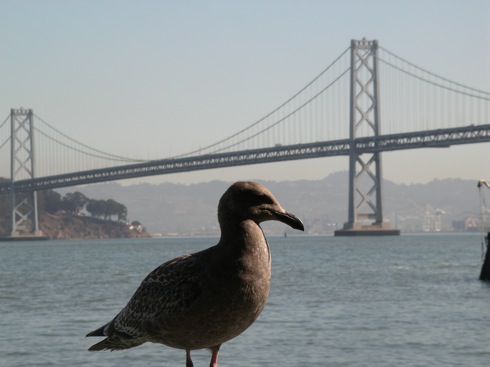 Stately fellow, isn't he?
After this, we walked around, although, this time, Miette wasn't open quite yet, so we didn't have one of their lovely Macarons (I like pistachio), and it was a little too early for a sandwich or Meat Cone at  Boccalone, although that usually is one of my favorites. My brother is still over the moon about his "Tasty Salted Pig Parts Water Bottle" he picked up there. We did step into Sur La Table, which stocks well and has nice sales, and an particularly pleasant assistant manager, John, who I met at Omnivore yesterday.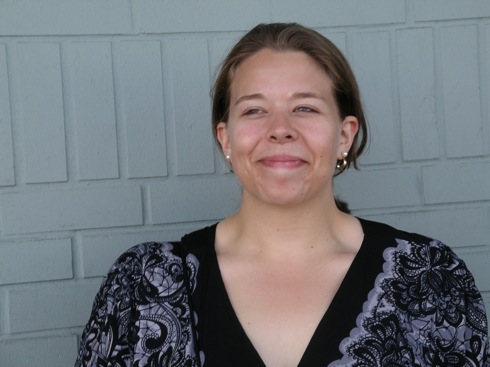 This is my favorite photo of Caroline, which I caught right before she broke out into a giggle. I like making my subjects laugh right before snapping their photo.
We sat outside at the Slanted Door, it was perfect weather, and the tourist watching opportunities there are prime. While people often make comments that the Slanted Door is overrated, I have never had anything but lovely food and service there. It's a nice place to sit, eat, and people watch.
She had milk tea, and I had their iced tea. We shared a bowl of their shrimp and pork wonton soup, which has a lovely broth and egg noodles, then we had the beautifully presented Hamachi (Yellowtail Tuna) collar, some of the most tender parts of fish, which came with these grilled pineapple that were so, so good. We finished with the highly fragrant chicken clay pot, and no room for dessert.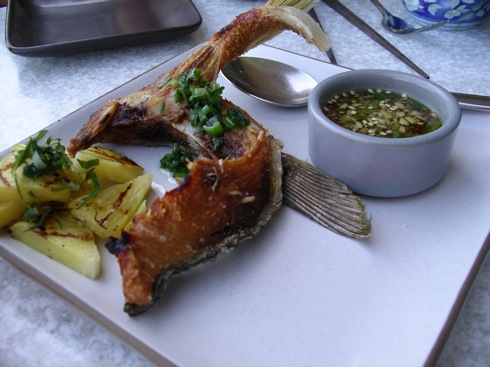 After lunch, we set back to walking, heading towards Union Square, where we took a brief pause at the very large Williams Sonoma to watch a pasta making demonstration, and discussing the merits of the city of Boston versus San Francisco with a lively little audience.
We finally headed over the bridge to Berkeley, on what I affectionately refer to as the "Soviet Disney Monorail" (aka the Bart) to walk around the campus, take a brief pause at Games of Berkeley, where I was astounded to find the board game "Quelf" which I immediately purchased. For those unaware (I'm assuming most of you, because most board game stores have never heard of this game), Quelf is a lively boardgame that is to be played with a group of people who are not afraid of acting like complete oddballs together. It is impossible to play without laughing hysterically.
Next, after checking out the "reduced price cheese basket" at the Cheeseboard cheese store, and scoring on a blue cheese and a goat cheese for about $2.50, we headed next door to get in line at Cheeseboard Pizza, my favorite spot for pizza in the bay area. Cheeseboard features one pizza a day, of which you can order slices, a fraction of, or the whole pizza including tax for $20. This is a steal for what you are getting. The pizza is always chock full of local vegetables, and specialty cheeses from next door. It's vegetarian, but no omnivore would be missing the meat here. The line is long but quick, and I've never been let down by the selection. On Fridays they have jazz.
We were there for a most delicious pizza with gruyere and potato, and the salad of the day, and made sure to get some for Devon, who most generously picked us up in the car to take us back over the bridge.
A pretty wonderful day, for sure.
Although, if you are thinking of coming to San Francisco, best visit for a week!