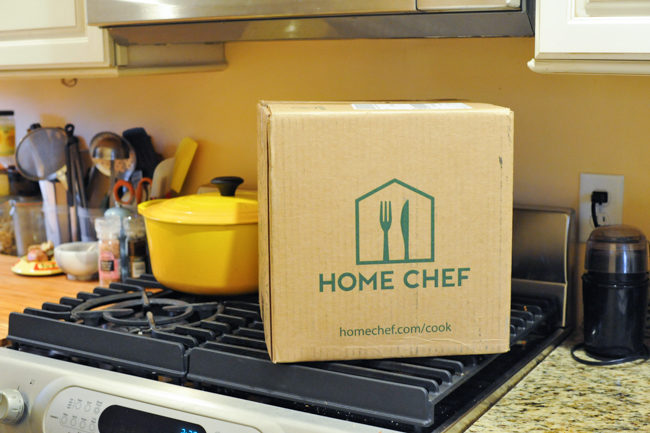 Well hello there! What's cooking? I'm back in the kitchen today with a quick profile of another meal kit delivery service for your reading pleasure.
This installment? I try it: a week of "Home Chef".
A few years back I took on a new kitchen challenge: to cook, taste, and review a variety of meal kits. In a sea of meal kits, I wanted to answer the age old question of: which meal kit is the best on the market right now?
Among the initial entrants, I tried Sakara (not actually a kit – it's really $$$ organic meal delivery), Purple Carrot (vegetarian), and then many months of Blue Apron which I was then too lazy to cancel. On the plus side, it was good for a more comprehensive review, which you can read here.
At the end of the day, I found that cooking meal kit takes me a lot more effort than doing my own meal planning, shopping, and cooking. It's also a good amount of waste packaging wise. And truthfully, I'm a better and more creative cook.
Nevertheless, I'm still charmed by the appeal of having a box of goodies show up on my doorstep and someone occasionally taking over the mealtime decision making, so I'm continuing my mini quest and trying different boxes every so often in order to share with you all, dear readers.
Disclosure: Home Chef knows nothing about me, but I did get a free box through their refer a friend program, and the links to Home Chef are affiliate links which give you $30 off your kit, and give me more free food. (If you order enough kits, you can send a free box to a friend; on par with most of the other meal kit customer acquisition programs.)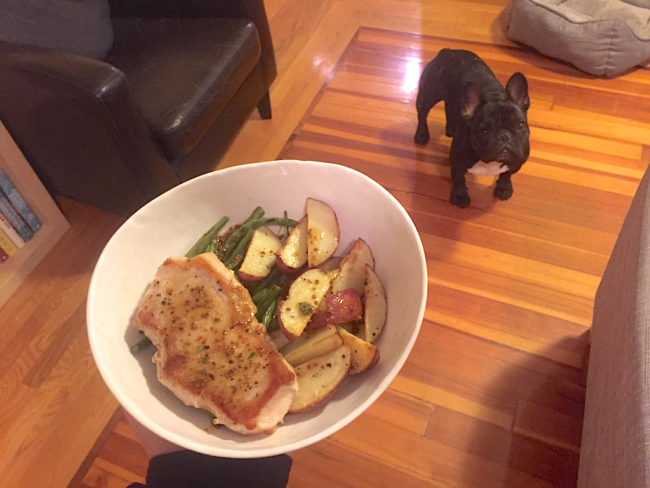 The details: 
Home Chef Box overview – Home Chef is a more general meal kit without any particular slant. I'd characterize them as American home cooking with a hint of global food exploration but nothing overly fussy or too adventurous for the average palate. The company is based in Chicago, and has raised 57 million through series b (see Crunchbase), which is about a quarter of the funding of Blue Apron who was just shy of 200 million pre IPO and less compared to HelloFresh's 365 million pre IPO.
How much does Home Chef cost?
This is a little complicated: $9.95 per serving – two servings of two dishes in the box; although you can add on lunches (most are $7.99/serving), seasonal fruit ($4.95/serving), or a smoothie ($4.95/serving) as extra which is a nice touch. If you glance, it's not totally clear that the add ons will charge you for two servings. You can also choose some weeks from "Premium Meals" which seem to include bigger pieces of steak or lamb for 19.95 a serving, but these aren't offered every week. And if your order is under a certain amount, you get charged the $10 for shipping. So the minimum box comes in at around $49.80 and goes up from there.
What kind of meat and produce does Home Chef have?
Generally, I found Home Chef's to have an overall decent quality of produce and meat, although, notably NOT organic. (Most of my personal purchasing is organic and I get my vegetables and meat from a farm share; so I don't think I'd get the box regularly for this reason alone.) Nothing seemed wilted or bruised, and generally everything was tasty. The fresh sausage packed in the lasagna skillet likely wouldn't have past the two days I waited to cook it though even though it suggests that it would last 6 days on the recipe card.
The service strikes me as less "foodie" focused compared to, say, Blue Apron's inserts about the farms and farmers (which sometimes strikes me as greenwashing but I still buy into), although does suggest wine pairings.
What kind of recipes does Home Chef have?
The recipes and ingredients on Home Chef are notably a little bit more basic than other services. I ended up going with two fairly simple dishes which worked well, although I'd be curious as to how the flavors are on the more global recipes. Each week you get to choose from several options on the list.
For my box, I chose the grilled pork chop with whole grain dijon sauce, and the Italian sausage lasagna skillet.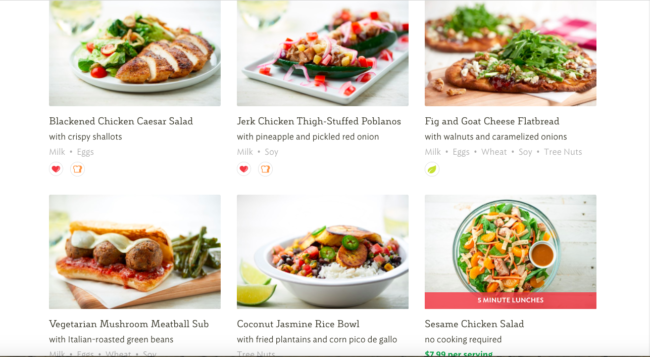 How easy are the Home Chef recipes to follow? 
As you can see in the picture of the sheet; the recipes are fairly simple and bulleted. You are encouraged to read through the whole recipe before starting (which is good practice, but always a useful reminder). I found that the recipes might leave a little too much room for interpretation for a novice cook, but I got along just fine. There were a few steps in each recipe that weren't what I'd have written, but in the end, my dishes turned out alright. For example: the skillet called for "one medium oven-safe pan" although the picture seemed to be of a cast iron, I wasn't sure what actual size cast iron counts as "medium" (8 inch? 10 inch?), so opted for a pyrex.
Decently quick to cook. Unlike other meal kits, the Home Chef recipes seemed to take less steps and take me less time overall to cook. Each dish was closer to 25-30 minutes of cooking (compared to Blue Apron which routinely had me chopping, prepping, etc. for 45-60 minutes.) Home Chef was closer to the promise of ease than other kits that I've tried so far.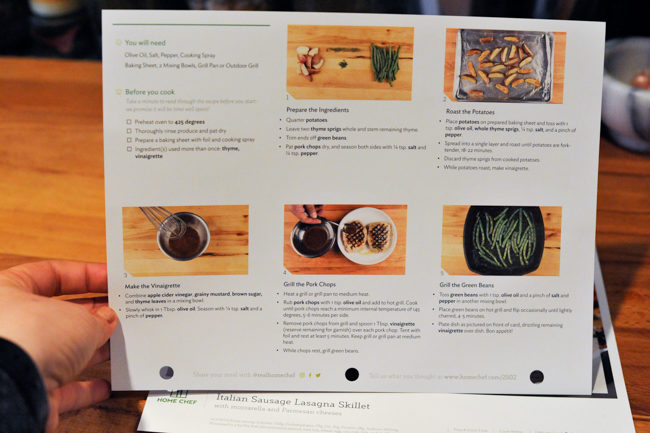 In your first delivery, Home Chef sends you a little plastic binder to save your recipe cards. It's a little flimsy, but was a nice touch.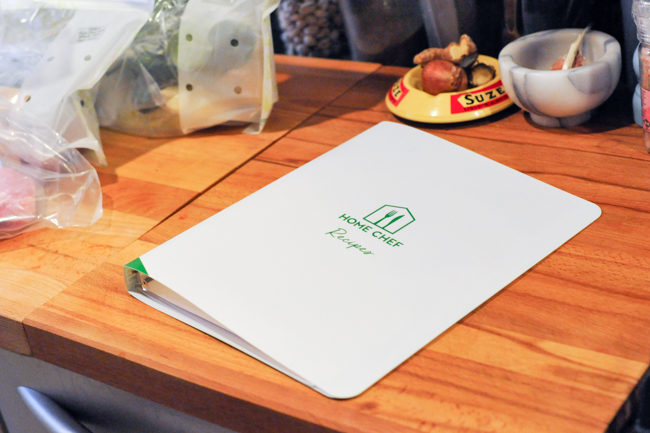 What's in the Home Chef Box?
Aside from the recipe cards, the box itself is filled with individual bags – one for the combined meats, and then individually packaged bags for the separate meals themselves which include all produce, spices, etc.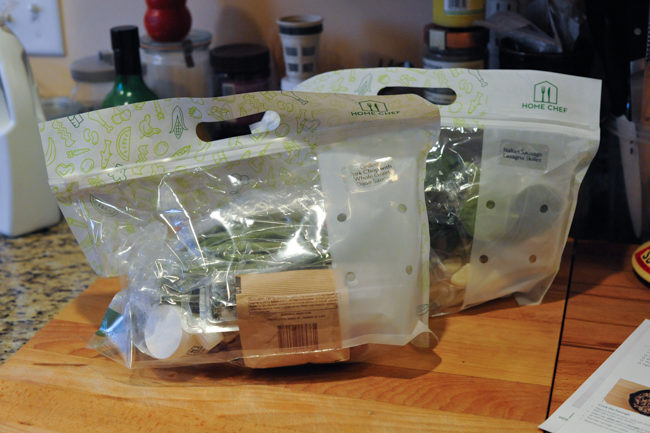 * Packaging – I'm not sure that anyone will solve this – it's about the same size box as Blue Apron; each meal comes in it's own little plastic bag, and the meats are separated into bags, the box here is filled with an icepack, and a soft plastic material filled with batting of some type. Still a PITA to break down and recycle, but what can you do?
I'll note here that my Frenchie Bertram is not afraid of much in life, with the clear exception of cardboard boxes from meal kit delivery services. Which he wanted to let me know was NOT OKAY for me to put on "his gel mat bed" in front of the stove while I took this photo. If I could have added the audio file from his complaints here, I would have.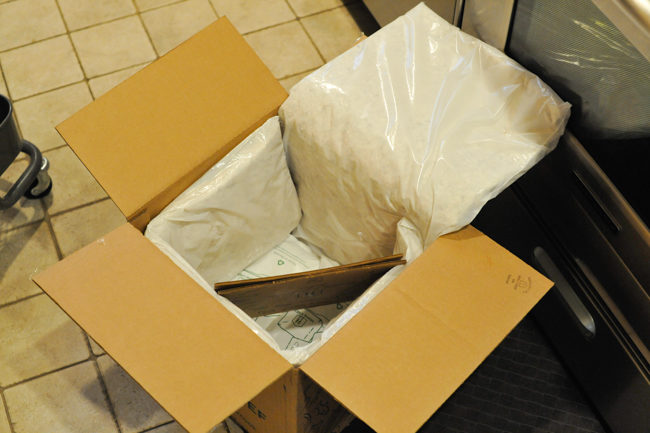 How much food is in each Home Chef box? Is Home Chef healthy?
Portion Sizes – appropriate for two light-moderate eaters. I was still hungry after both dishes. I tend to supplement meal kits anyway with more vegetables, but volume alone wouldn't have been enough for me to be satisfied, even though calorically the dishes were in the 500-700 calorie range. I'd love to see more vegetables to round out the dish.
Nutrition: the recipes themselves do have ingredients and high level macros listed (calories, carbs, fat, protein and sodium) for those interested in tracking. You can choose from a variety of different diet preferences, including vegetarian, low carb, and calorie conscious meals.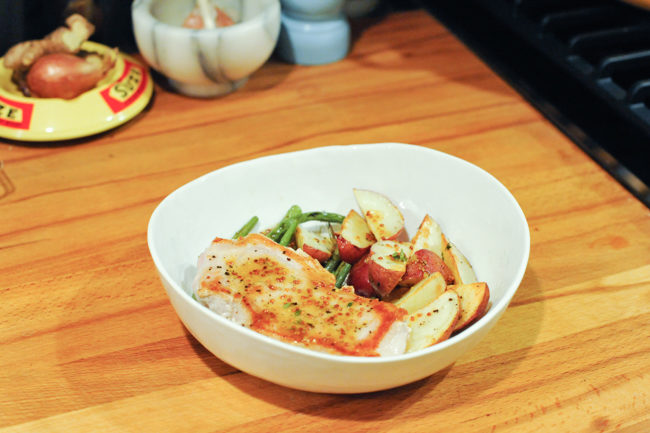 Other notes: I had to email customer service to move my first deliver date (before cut-off) because I ended up having a last minute travel situation. They were quick, competent, and pleasant to deal with.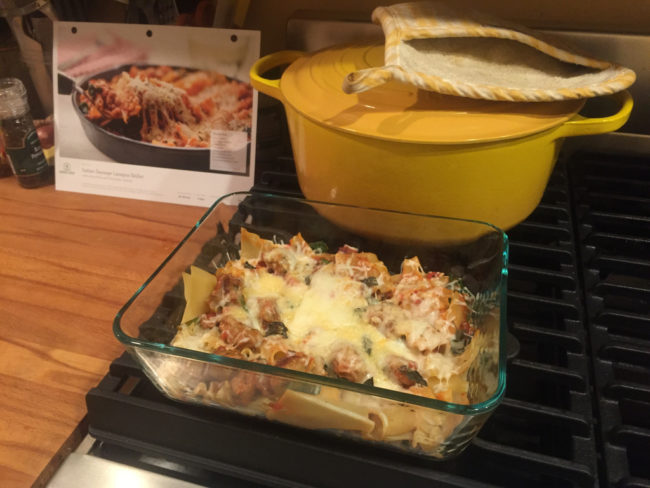 The Bottom Line: 
Did we enjoy the Home Chef meals? Yes. Both meals tasted good. The pork dish was slightly better looking in presentation, but flavors were very good with both. As mentioned above, would have liked a little bit more vegetable for volume! I think overall I prefer a slightly more spiced and creative dinner if ordering a meal kit, but Home Chef does deliver on overall taste if you don't mind a slightly boring meal.
Would we order Home Chef again? Possibly. I haven't actually canceled the service, so it's quite likely that I might try another box to compare and update this review.
Want to read more meal kit reviews? Here's my comprehensive review of several months worth of Blue Apron meals, and I'll be updating this post as I try more kits.