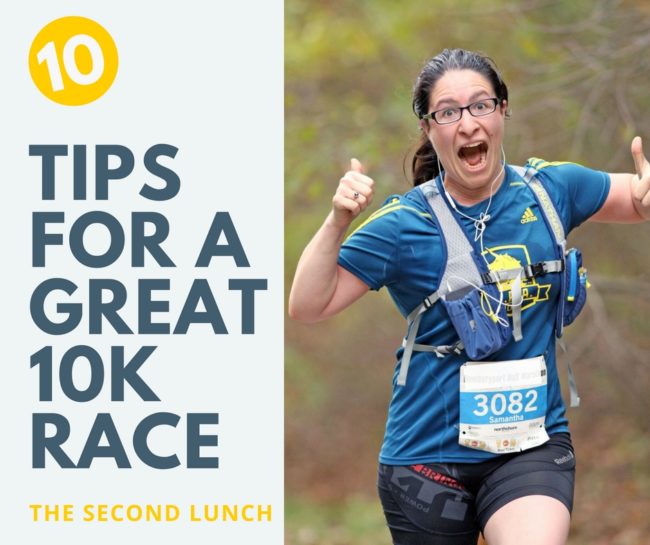 This post is sponsored by Tufts Health Plan 10k for Women. Get 10% off your race registration at checkout with my link through 9/15.  
On October 9th, I'll be running the Tufts Health Plan 10k for Women as a race ambassador. If you are in the Boston area and looking for a JOYFUL race to run, this is a spectacular race with excellent views of the city. The race caters to all abilities; you won't find a more positive place to run your first – or your 50th 10k. This year will be my 6th year running the race in a row – I'm hoping to run this race every year for the next 20!
The race has a special place in my running heart because it was also my very first 10k race; only two weeks after my very first 5k race… the tip of the iceberg that led me down a path of racing, working for a running company, half marathons, 26.2, triathlons, relays, adventure racing, and finally personal training and run coaching!
In honor of this 10k, I've put together a list of tips for running a great 10k race – including some of the quirky stuff they don't tell you when you start running longer distances.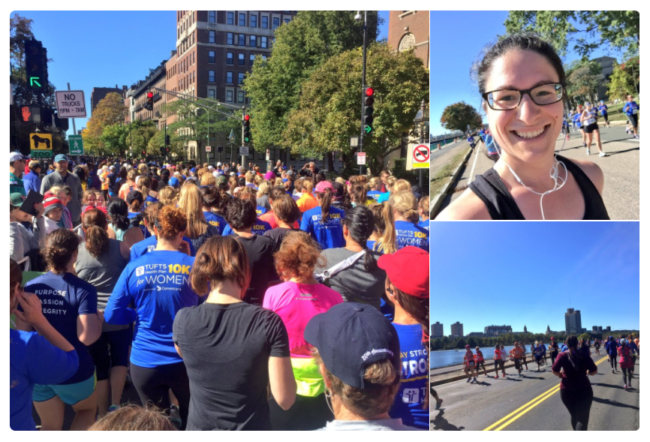 10 TIPS FOR A GREAT 10k RACE
1. USE A 10k TRAINING PLAN
Following a training plan is the best way to train safely and consistently for an intermediate distance race. Really, for any race! I typically recommend plans by Hal Hidgon or the Galloway walk-run plans. If you are training for specific goals, consider working with a run coach to come up with a custom plan. As a running coach, I typically write my own plans, but sometimes it's great to get a fresh perspective – for this race, I'm following fellow ambassador Chrissy of Snacking in Sneakers plan for an intermediate 10k.
2. GET FASTER – RUN WITH A SPEEDY BUDDY OR A GROUP
If your goal is to PR a speedy race, consider running once a week with a group or a faster running buddy. This has personally been one of the best ways for me to speed up in training. And those fast friends? Don't worry about going "too slow" – they'll appreciate an excuse to get in some easy miles while helping you pick up your pace.
In Boston, there are also some great local running groups to take advantage of group runs at all paces. I've personally run with Heartbreak Hill Running Company, the local runs out of the Athleta store on Newbury, and from New Balance, just to name a few. Most of the running stores have group runs in the city.
3. PREPARE YOUR RACE NUTRITION
While the speediest runner may not need to refuel during a 10k race, anyone running longer than an hour should consider taking in nutrition during the race – and you'll benefit by practicing your race nutrition in advance during your long runs.
What to eat? Race nutrition is a personal choice. As a profuse sweater, I'm a fan of a chew with added salt; although occasionally I'll train with whole food options like dates with nut butter. Research your options, and make sure you test before race day!
4. 10K PACKING LIST AND RACE PREP
Your 10k is still short enough that you can roll up with nothing but a pair of sneakers, your race bib, and a small snack. I stash my cards and keys in a Spibelt to wear for the race, and typically hold onto my phone while I run. An arm band is always useful, but I'm a weirdo who doesn't mind a phone in hand.
Get prepared in advance, and lay out your race prep the night before your race. Make sure your running watch is CHARGED if you wear one.
If you are driving yourself to the race, make sure that you have somewhere to stash your keys – and a pro-tip is bring a towel for your seat after the race to keep your car clean.
5. WARM-UP BEFORE THE RACE
Ever take a look at the pros warming up before their races? Those super speedy folks in short shorts? They ALL warm up. It's tempting to hang around and just stand there before a race, but if you warm up, you'll have a much easier time getting into the swing of your race – usually it takes me a few miles before I'm warmed if I start at the race line, but I can cut that by doing some movement before I get started.
I typically walk, stride, and do some dynamic stretches – the idea is to keep moving!
6. PREVENT CHAFING AND BLISTERS
A 10k race means more time on the road in sweaty clothes – which means – you guessed it, more opportunity for chafing. I managed to avoid the chafe for my first few years of running – until one fateful day where I ended up getting brutal chafe on my underarm from the seam of a running shirt. OUCH.
If you are prone to chafe on your sports bra line – try bodyglide. Underwear inseam? Make sure you aren't wearing cotton underwear, or go commando. For foot blisters – I recommend getting a high quality thick sock, and getting fitted for better sneakers. Blisters are NOT inevitable.
A side note: want a pedicure before race day? Only a polish change! No sloughing or you'll be miserable with blisters.
7. DON'T SKIP THE POTTY BEFORE THE RACE
A 10k is a longer race, and if you are hydrating, you may need to take a bio break.
Many (but not all) 10k races will have port-o-potty stops on the course. Pro-tip: it's best to make sure you know where these are in advance. Shout out to the Tufts Health Plan 10k for Women for making port-o-potties PLENTIFUL at the start of the race right next to where you line up! They know their audience!
8. ASK FOR ENCOURAGEMENT
If you like an interactive race day; consider tacking on – "Please cheer for me my name is______" on the back of your shirt – or simply take a sharpie to your running gear with your name in huge letters.
Look out for the kiddos on the side of the race for high fives – and if you don't care about PRing, do what I do – take every opportunity to say hello to dogs on the side lines. It peps up my race experience every time.
9. ACE YOUR RACE PHOTO
Most road races these days have photographers camped out on the course to take your photo – and let's face it… mid-run is not the most flattering photo op situation.
A little planning can go a long way – I scout where the race photographers might be hanging out. Once I see them, I tend to summon all of my energy and LEAP.
Thumbs up; joyful grin, and peace signs are also options. Usually I have to do a leap or two just so they can get a good shot. It's worth it for the life long memories.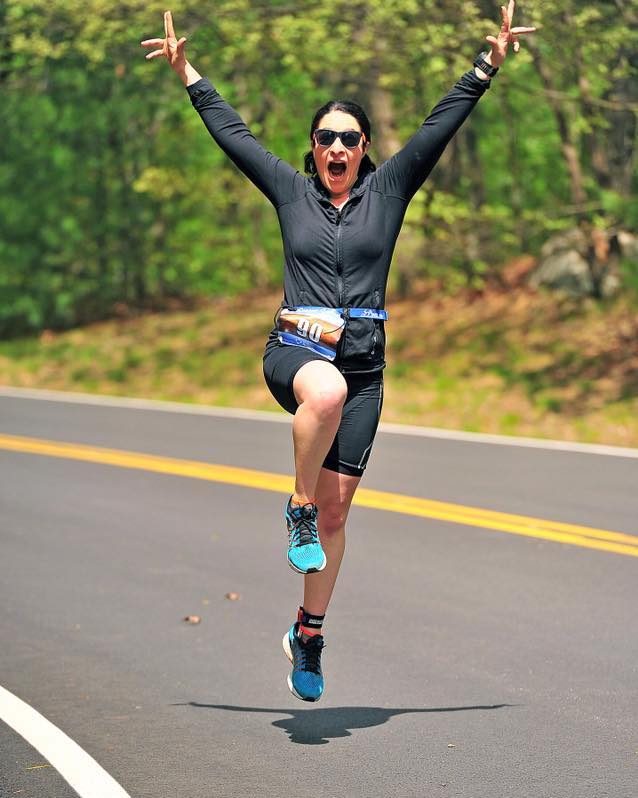 10. HAVE FUN
Whether it's your first 10k race, or your 50th, going into your race with a positive mindset is a great way to ensure a better race day.
Do a little dance party at mile 3.1. Say hi to strangers, wave like the queen to the crowds, and enjoy your race. Do not be afraid to be that weirdo!
Finally, when I cross the finish line, I take time to give thanks for every opportunity I have to get out there and run. And then I take advantage of the moment to sign up for my next race before I think better of it ;p
Happy Racing!
Tufts Health Plan 10k for Women – October 9th, 2017
Get 10% off your race registration at checkout with my link through 9/15. Register here.