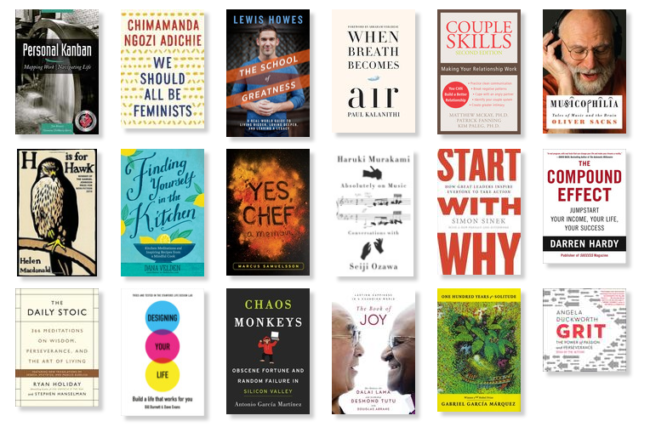 (There are affiliate links in this post.)
I am a voracious reader. One of my favorite ways to transition to a new season is to making myself a list of great books to read. I see it as a personal syllabus – you are what you read (and subsequently act upon). The syllabus in itself is a great art – What do I want to learn? Who is the best person to teach it to me? Whose words will inspire me to act? I usually sit down with a list of topics that I'd like to delve into, and take great pleasure in searching for the perfect book to add. I'll take a second look over my list to make sure that I have representation by women and POC's.
Here's what is on my list in the coming months. A few are re-reads related to projects I'm working on, another note is that I don't typically list out my cookbooks, and I read dozens of them a season. I typically use this as a starting point for requesting books from the library, and usually manage to squeeze in a handful of last minute un-planned reads as well. After each read, I spend just a little bit of time debriefing: writing out my takeaways, and acknowledging the things that resonated and piqued my curiosity.
We Should All Be Feminists
by Chimamanda Ngozi Adichie
When Breath Becomes Air
by Paul Kalanithi
Couple Skills: Making Your Relationship Work
by Matthew McKay
The School of Greatness: A Real-World Guide to Living Bigger, Loving Deeper, and Leaving a Legacy
by Lewis Howes
Personal Kanban: Mapping Work Navigating Life
by Jim Benson and Tonianne Berry
Musicophilia: Tales of Music and the Brain
by Oliver Sacks
H is for Hawk
by Helen Macdonald
Finding Yourself in the Kitchen: Kitchen Meditations and Inspired Recipes from a Mindful Cook
by Dana Velden
Yes, Chef
by Marcus Samuelsson
Absolutely on Music: Conversations with Seiji Ozawa
by Haruki Murakami
Start with Why: How Great Leaders Inspire Everyone to Take Action
by Simon Sinek
The Compound Effect: Jumpstart Your Income, Your Life, Your Success
by Darren Hardy
The Daily Stoic: 366 Meditations for Clarity, Effectiveness, and Serenity
by Ryan Holiday
Designing Your Life: Build a Life that Works for You
by William Burnett
Chaos Monkeys: Obscene Fortune and Random Failure in Silicon Valley
by Antonio Garcia Martinez
The Book of Joy: Lasting Happiness in a Changing World
by Dalai Lama XIV, Desmond Tutu and Douglas Abrams
One Hundred Years of Solitude
by Gabriel García Márquez
Grit: Passion, Perseverance, and the Science of Success
by Angela Duckworth
A Curious Mind: The Secret to a Bigger Life
by Brian Grazer
Ask For It: How Women Can Use the Power of Negotiation to Get What They Really Want
by Linda Babcock and Sara Laschever
Shaping Success (dog training)
by Susan Garrett
What are you reading this winter?
Is there anything brilliant that I should add to my list?