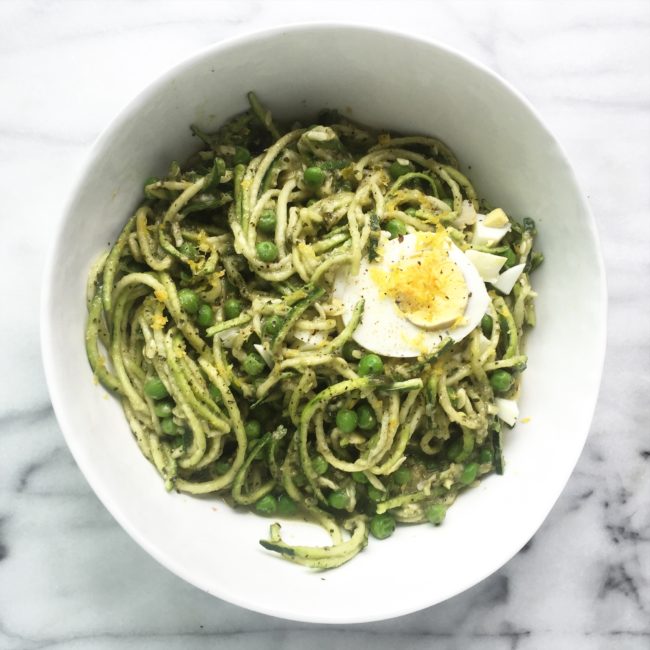 Yes, it's Wednesday afternoon. Yes, I try to make a meal plan over the weekend. Yes, I try to batch cook over the weekend. Sometimes… even with best intentions, my planning fails me. Sometimes, life happens, and you just can't stomach sticking to what you've planned. Here's what I remind myself every time my systems fail me and I feel a tinge of frustration – fail to plan, plan to fail. My personal goal is always to focus on creating sustainable systems and habits.
Sometimes those plans fail me, but the reality is that they fail far less often than when I don't stick to any system at all.
This week I wrote my meals out on a scrap of paper, forgot to transfer them to my Evernote, and I've already opted for Trader Joe's convenience food and a burrito. Last week at least I deviated from plan by doing a lot of spiralizing (like that zucchini with peas and pesto you see up top). So now it's back to the grind to feed myself well.
We ended up having quite a long week with the pup under the weather, but he's nearly 100% back to his own self after a nasty bout with Giardia. Yup, that's the parasite that you filter and treat your water for when hiking. He's feeling a lot better now and begging for treats again like a normal batpig. I on the other hand, am suffering from a bit of a summer cold. Wish me better!
One thing that I'm doing different for the second half of the week (to course correct) is spending an hour batch cooking on Wednesday evening to make our meals for the next few nights. Our CSA share starts on Friday, and so space in the fridge is at a premium, and I have a backlog of Blue Apron meals to cook.
:: The Weekly Meal Plan: Week of June 6th, 2016 ::
This week's prep: cook chicken sausage, hardboil eggs, and defrost and cook another piece of meat from my meat CSA. We didn't do any grilling this week because we were on nursing duty with the pup, but now that he's feeling a lot better we'll spend more time outside. I still need to head out and refill the propane tank for the grill.
Wednesday: steakhouse salmon with potatoes, green beans, and mushrooms. Every other Wednesday I have one of my business mastermind groups meet, so I try to make the meal healthy and efficient, and eat some sort of brain food to celebrate women getting things done. Salmon always fits the bill.
Thursday: seared pork chops and fig compote with sautéed kale and farro salad. I'm always a fan of a pork chop. Which reminds me that I'd like to re-season my cast iron this week.
Friday: miso-glazed chicken wings with purple rice and zucchini salad. I'm not the biggest fan of wings, but these came in the Blue Apron box and I do love miso on chicken. (Also, they are mini drumsticks which makes life better.)
Saturday: lobster rolls. I have a race on Saturday, and I'm going to want to reward myself. Given that I'm a New Englander, that means lobster rolls.
Sunday: beef arepas with pickled onion, avocado, and radishes.