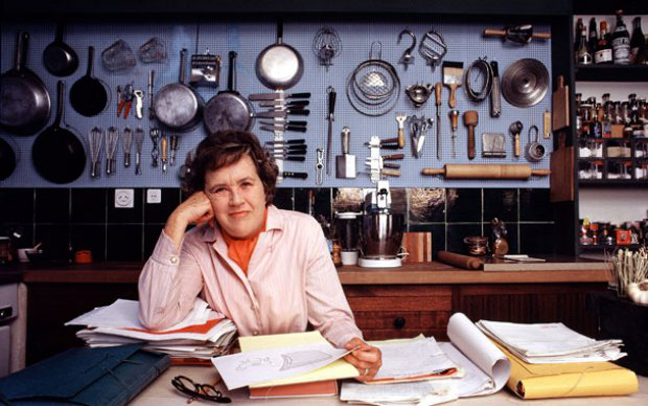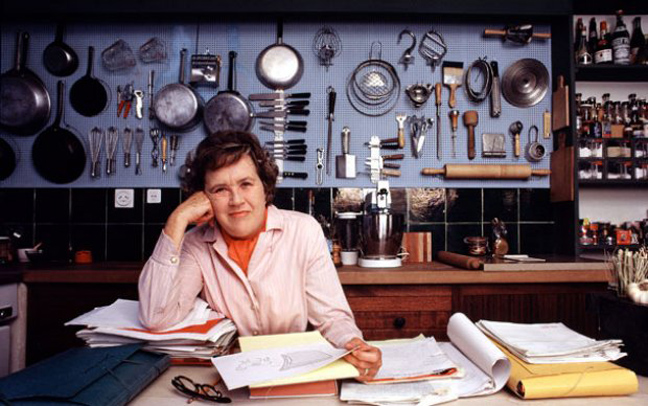 Julia Child, photographed in her Cambridge, Massachusetts kitchen, June 29, 1970. By Arnold Newman/Getty Images.
This is the time of year where I sit down to reflect. While many folks are making resolutions about health and fitness – and I have those year round, I just call them goals – I like to focus on resolutions for my kitchen – my favorite room in the house. It's a nice practice to remind myself to be more mindful in the space where I prepare our meals, nourish my body, and explore my creativity.
Kitchen Resolutions: 2016
:: I resolve to use my large/fancy appliances more often. This has more to do with my current kitchen space, but my Vitamix, Instant Pot, and Kitchen Aid mixer need more use in 2016. I will say that I've used my amazing Breville Tea Pot and my Cuisinart Steam Oven almost daily in the past year though.
:: I will do a weekly assessment of fresh produce in my refrigerator, and do what I can to not let the greens wilt and die before eating them. Or worse, completely desiccate. Although, I did contemplate eating them anyway… fridge-dried kale chips.. how bad can they be?
:: I will cull the pantry. No more hoarding of things that I have no interest in using. No more taking pantry items when people move. On that note, if I inherited something from someone and don't like it, I will get rid of it and not feel any guilt or shame.
:: Take better care of my cast iron. My mother seasons her cast iron (that I gave her) religiously and it's beautiful. This is really shameful – my cast iron is currently sitting in the oven and hasn't been used in a month.
:: I will not use the wrong lid on the wrong pot. I learned my lesson this year when I almost lost my Le Creuset lid to a vicious steam hold on my oversized frying pan. It took several days, the advice of over 20 engineers and 50 Wellesley alums and the collective power of the internet to free it.
:: I will not season directly into the pan. I will take appropriate amounts of seasoning into my hand… and then into the pan. One does not need four tablespoons of chile on one's eggs.
:: I will read my new cookbooks cover to cover before buying several more. This is actually a newer resolution, because I've rarely had this problem before. But somehow several cookbooks came into the house this year that were not read through before getting a spot on the shelf.
From previous years:
:: Wash all dishes and wipe down counters before going to bed each night. I'm too often guilty of leaving things until the next day. A clean slate makes life infinitely easier in the morning, and I feel even better when I have my coffee mise en place ready to go to avoid confusion during my morning grogginess.
:: Keep a running Kitchen Journal. To keep track of our likes and dislikes as a family, and to pass on perhaps one day as a keepsake.
What are your kitchen resolutions for 2016?