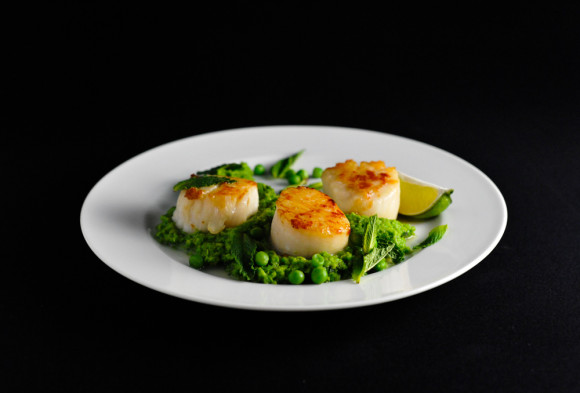 Happy weekend! Welcome to another installment of the weekly meal plan! Maybe it's the new year, but I'm feeling particularly productive in all aspects of my life, and I hope the inspiration lasts for a good long while. There's a recipe at the bottom of the post for these scallops with Thai scented pea purée, which were a smash hit tonight for dinner.
It's been a low key weekend so far – we went to see the final Hobbit this afternoon, which was beautiful, but honestly a bit of a let down. I grew up obsessed with Tolkien, and I think I'm still just bitter about the creation of Evangeline Lilly's Tauriel for the movies – a lackluster female character who definitely is not in the book, and devised for romantic tension with an all too good looking Kili. The whole thing irked me. But I was certainly glad to have seen a movie in the theaters – it's been all too long!
This weekend I've also been playing around with a new app that my culinary crush Jamie Oliver is collaborating on. (Other teenagers had their favorite pop stars hanging over their beds, I had a picture of a smarmy Jamie Oliver sitting in a bathtub that I had clipped out of the TV Guide. I was completely devastated when he married Jules, but I digress.) The new app is called the YOU-app, and every day it gives you daily photo prompts to encourage simple micro-actions to make a better life. Yesterday's action was to address your fridge – empty it, clean up, and take stock. I managed to toss a good number of things that were past their prime. Here's the slightly more tidy version right now.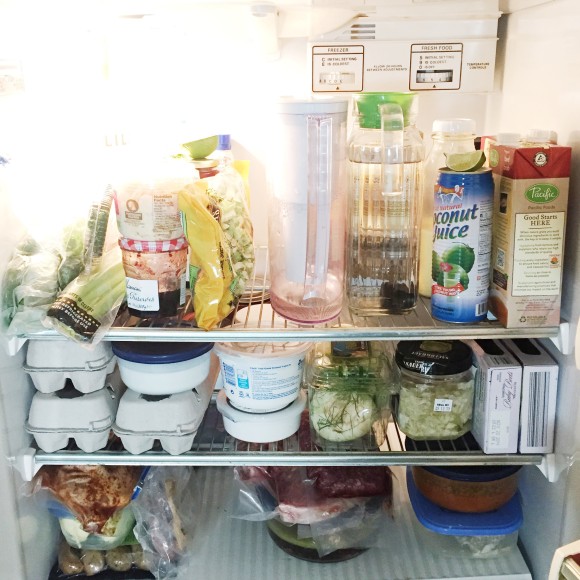 The Meal Plan: Week of December 28th
Now that you've seen me bare all – it's not looking as bad as I'd worried it would, here are the things to use up in my kitchen: a little bit of cheese, some potatoes in chicken broth, a little bit of leftover tomato coconut sauce from the Moqueca (perfect for simmering an egg or two), the leftover vegetable tops from my spiralizer, some beets which I plan on pickling, some coconut milk.
Saturday: scallops and thai scented pea puree. The recipe for this one is below! I was originally planning this for last week, but life happened. Served with a Trader Joe's potato pancakes, and a fried sardine for the cook.
Sunday: grilled chicken and winter fennel salad. I made this salad a month ago for a dinner party, and I've been craving it ever since. Recipe to be posted shortly!
Monday: ground beef and tomato-rice soup. My version of a stuffed pepper soup, with a Turkish twist. It'll likely get a dollop of yogurt on top, and I'll use up the leftover dill.
Tuesday: chicken sausage and egg shakshuka. These are all leftovers in my fridge that need to be used. I might sprinkle with some of the extra feta that needs using up as well.
Wednesday: black beans and rice. I haven't been eating too many beans lately, but Samin got me thinking about beans with her push for 'bean month' this January. And I still happen to have about a dozen varieties in my house from my Rancho Gordo year of beans subscription.
Thursday: pork chops with brussels spouts. Just something simple to use up some of my CSA pork chops. I'm not sure I'll have anything interesting to do with them – this pork is so good just on it's own.
Friday: Out!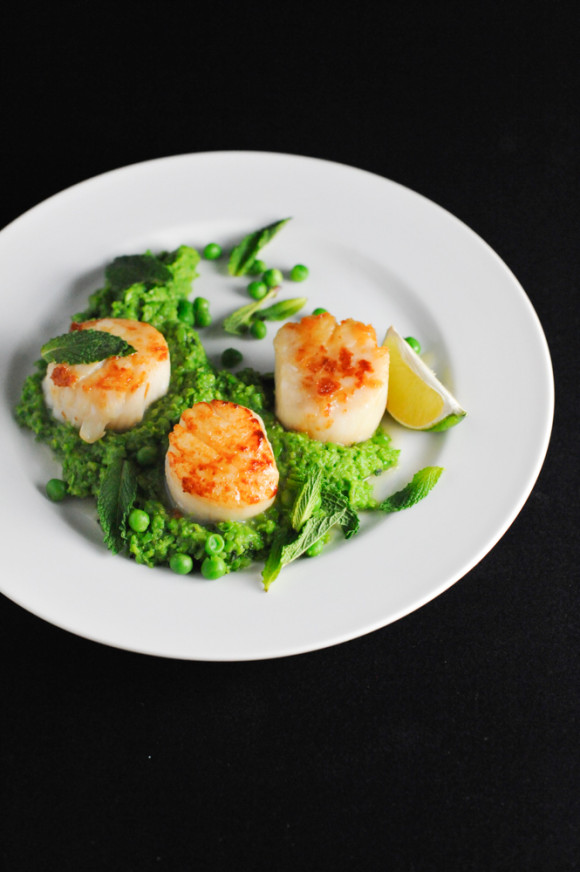 Scallops with Thai Scented Pea Puree
serves 2
I've adapted this recipe from Nigella Lawson's original one – replacing her creme fraîche with coconut milk, and adding some extra fresh herb (mint) to the peas. Thai basil would also be good here. I use Thai Kitchen Green Thai Curry Paste, which you can find in most supermarkets now. If we're feeling hungry, or the price of scallops is exorbitantly high, I'll reduce the number of scallops to two, and serve the meal with some Trader Joe's frozen potato pancakes. To cook this dish, start by putting out all of your ingredients, because you'll want to put together this dish quickly, and eat it while hot!
16 ounces frozen peas (I get the 1 lb. petit pois from Trader Joes)
1 to 2 tablespoons Thai green curry paste
1/2 cup coconut milk
2 tablespoons chopped fresh mint leaves
flaky sea salt
1 pound wild sea scallops, about 3-4 large scallops per person
flaky salt
2 teaspoons butter
2 teaspoons olive oil
juice of 1/2 a lime
Start by prepping your scallops – dry them well, and season with a pinch of flaky salt on both sides. Then, start the mash. In a large bowl in the microwave, heat the peas until hot, stirring every minute or so until warmed through, about three minutes. (You could also do this on the stovetop.) Stir in the green curry paste, coconut milk, and chopped mint leaves, and season with a good pinch of salt, and set aside.
For the scallops, heat the butter and olive oil in a non-stick skillet on medium high heat. When hot, add scallops, making sure not to crowd the pan, and let scallops cook for 3 minutes without touching them. Check to see if they're golden on the bottom, and if they aren't let them go another minute. Flip. Cook three minutes on the other side.
While the scallops are finishing their last three minutes, puree the pea mixture with an immersion blender (A regular blender will also work, but will take a little bit more effort – if you use a regular blender, you may want to do this before cooking the scallops.) Taste, and add any extra salt and pepper you'd like. Plate the purée, and take the cooked scallops out of the pan, and nestle them on the purée.
To finish, make a quick pan sauce: squeeze the lime in the hot pan juices, and use a wooden spoon to scrape up any golden brown bits that have all the flavor! Stir for about a minute, and you are done. Pour pan sauce over scallops and mash, and eat while hot!