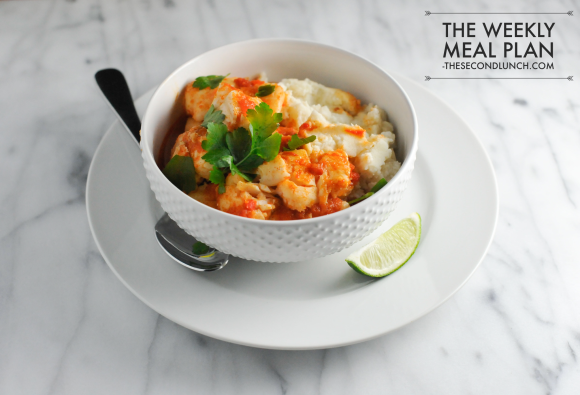 Well hello there! If you've come looking for the recipe for this gorgeous Brazilian fish stew, it's at the bottom there for you. But first – my week! I spent a lot of time thinking about the months past. I'm a sucker for resolutions, vision boards, and planning the future, but I try to make a really earnest effort to look back at the year, take stock, and feel thankful for the opportunities that I've experienced, people I've met, and things I've achieved.
This was also a week of rest and rejuvenation. We continued to listen to Serial, this time as we headed to IKEA for some post holiday shopping, which is code for (we've run out of their crack-meatballs). I ended up taking home another Lack coffee table, only to put it together and find that the color (white) totally clashed with our living room. So it ended up repurposed as part of my photography station in the kitchen. Speaking about that – I've been working on my photography (both with my DSLR, and iPhone – and sharing regularly on my Instagram account!) – skills that I want to continue to focus on in the new year. I also got myself an extra Lowel Ego light to take pictures in the evening – or in New England, any time after 3:30 pm. And I got another cutting board from Ikea to take photos on. And I spray painted some foam core as a photo board, but I will tell you that that experience was a little bit of a bust. I've also been listening to the Tim Ferriss Podcast from the very beginning, and I'm currently on the episode with Chase Jarvis, one of the co-founders of CreativeLive – an excellent resource for creative courses online.
And I must tell you about my incredible luck: last week I got a huge shipment from Chronicle Books – a few weeks ago I entered a giveaway over at SF Girl By Bay (one of my favorite blogs), and I ended up winning! Chronicle is another of one my favorite publishers, so this had me smiling for days. Some of these were in my collection already, so a few lucky people got some cookbooks this holiday season!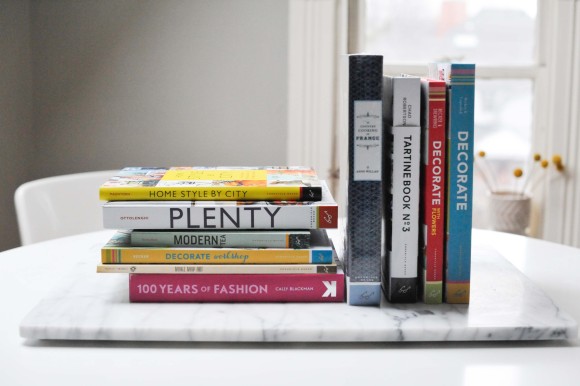 The Meal Plan: Week of December 28th
I'm already over the gluttony of holiday eating, and looking to get back on track. Healthy in this house is always delicious, and you won't find any plain chicken breasts for dinner, but I do like simple meals! Things to use up in my kitchen: almost everything from last week: chopped Buddha's hand citron, some chicken basil pesto sausage, a little bit of cheese, peppered turkey, dill. I have some cooked borlotti beans, boiled potatoes, celery, some beets, and a little bit of tomato sauce left as well.
Saturday: Whole Foods Salad Bar Night! I try to cook us meals to share, but some nights we're craving different things, which is a perfect excuse to go and pick out our own meals. Have you tried their zucchini and tomato with garlic? It's very good. I also came home with a maple kefir from Butterworks Farm.
Sunday: Brazilian Fish Stew inspired by my Cook Smarts subscription. (Recipe Below). I love this coconut seafood dish.
Monday: rack of lamb with pesto and roasted vegetables. My freezer currently has a bit of a storage problem – a rack of lamb came flying out at me when I opened the door this weekend, so it ended up defrosting in the fridge for Monday night dinner. The vegetables are all actually leftovers from my spiralizer sessions. I put them in a small tupperware until I have a few cups to roast.
Tuesday: greens and eggs. I used to eat this meal once a week while Devon was taking his late night classes in Hayward. It's still my favorite meal to go to when I'm craving all of the green things.
Wednesday: Mexican flavored meatballs? Baked potatoes with caviar? I feel like I should do something significant to usher in the new year, but as of yet, I haven't figured out what. I'll keep thinking about it!
Thursday: scallops with Thai scented pea puree A few years ago I bookmarked this recipe in Nigella's Kitchen cookbook, and have kept coming back to it when I want something light. It's always a nice treat!
Friday: Out! Or possibly eating more green vegetables.
––––––––––––––––––––––
Quick Brazilian Fish Stew (Moqueca) 
Some notes – I've gone ahead and tweaked this recipe slightly from a traditional version – I like my onion and pepper texturally in a sort of smooth salsa-like paste before I cook them into stews. You could use any type of thicker white fish here, but I use cod. It's also good with shrimp. You'd typically marinate the seafood in advance in lime juice, but for an easy weeknight meal, you don't have to, and it still turns out delicious. Traditionally you would use full fat coconut milk and palm oil (which I spotted today in Trader Joe's! – but I substitute olive oil, because that's usually what I have in the house.)
1 small onion
2 cloves garlic
1 small bell pepper
1 tablespoon palm oil (or olive oil)
1 teaspoon chile powder
1 tablespoon sweet paprika
1 good pinch of salt
1 pound wild cod, cut into chunks
1 14 oz. can diced tomatoes
1 cup light coconut milk
1 cup chicken stock
juice of half a lime
lime and cilantro for garnish
In a mini Cusinart, chop onion, garlic, and pepper into a thick salsa-like consistency, alternately, you can chop these ingredients with a knife. In a heavy pot over medium heat, heat the olive oil, and cook the garlic, onion, and pepper mixture with the paprika, chile powder, and a large pinch of salt, stirring gently, for about five minutes.
Add tomatoes, coconut milk, stock, and another pinch of salt. Bring to a boil, and then simmer for 10 – 15 minutes, until the onion and garlic are cooked, and have lost their harshness.
Add fish chunks, and cook for another 5 to 7 minutes, turning the fish over after three minutes to ensure that they cook through. When fish turns opaque, take off the stove, stir in the lime juice, and taste for seasoning – you might need to add a little bit of salt. Serve over rice, with crusty bread, or with mashed potatoes. (This isn't traditional, I'm just on a mashed potato kick.)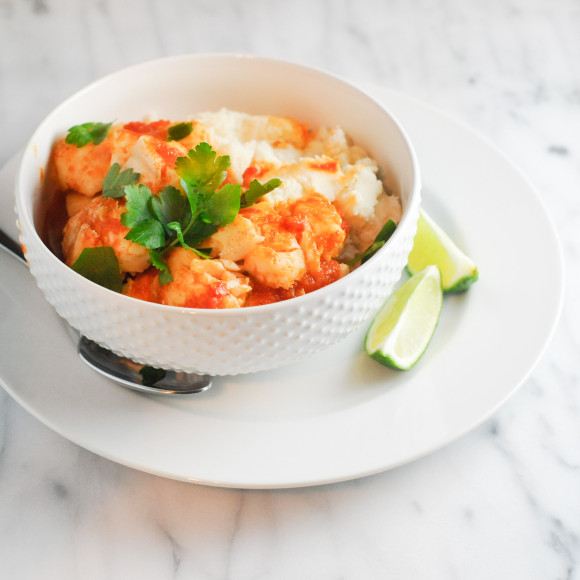 What are you eating this week?
–– Sam