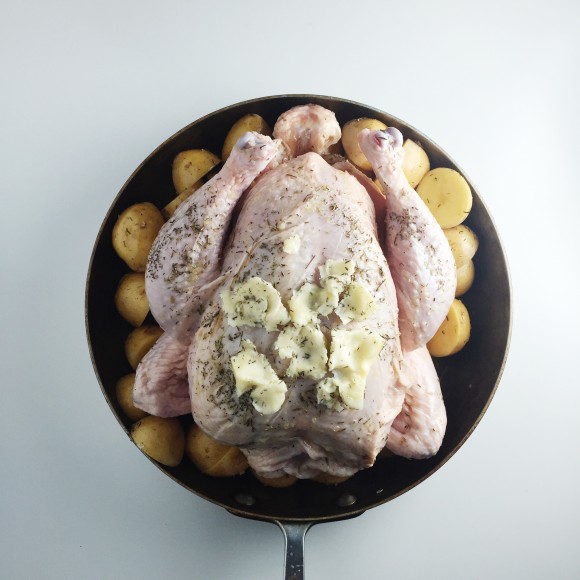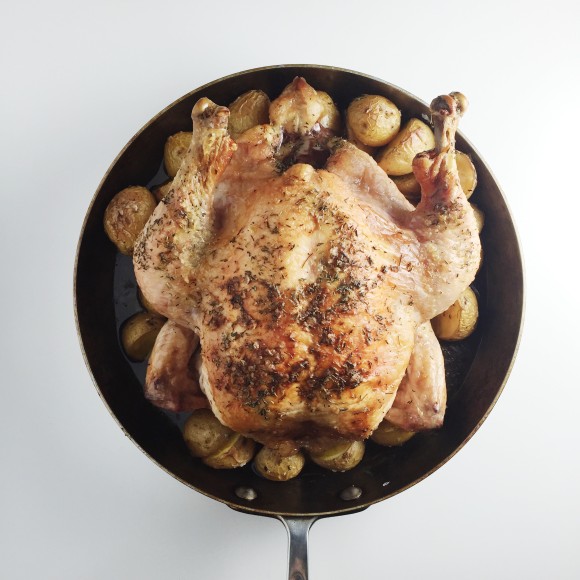 I ended up with a chicken in my Walden Local Meat CSA this month, and because my freezer is already overflowing, I knew that I'd have to defrost the bird and use it relatively soon. When you get a really great free range and pastured chicken, you want to treat it decently, and give it a good show.
Of course I searched around for a recipe for the very best roast chicken, perfect roast chicken, killer roast chicken – if you consult with the internet, people really love Ina Garten's chicken, and Julia's, and my dear Jamie Oliver's. And everyone loves Zuni chicken – the dry brine technique makes for a wonderfully moist bird, and I love the Zuni Cafe Cookbook (Judy Rodgers will be forever missed).
From experience, some of the very best roast chicken is from Ad Hoc at Home – which is the recipe that I would have used if I had wanted to follow a recipe to the letter. I have a thing for recipe following, which is to say, unless I'm testing a recipe for a client, I rarely stick to one. I can at best say that I was inspired by this cookbook, which is a very inspiring cookbook indeed! And I will say that if you are for any reason nervous about roasting chickens, just don't be. If it turns out awful, well, you just chop up your chicken and put it in soup for tomorrow. Or if you actually burn your chicken, you have my permission to go out and get dinner.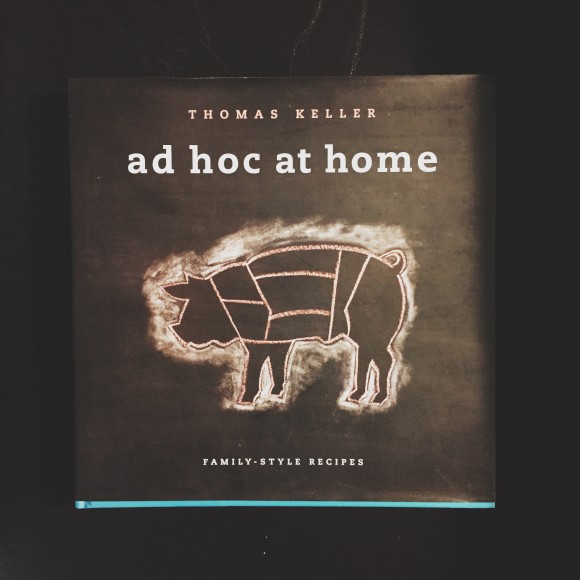 This chicken ended up being more ad hoc than Ad Hoc at Home.
Because, well, I read the recipe and didn't have enough time to let it come to room temperature before cooking it. Or have any twine to truss it. Or fresh herbs. I did have a lemon though. Or at least half of one. And it had been sitting in the fridge for a week. I didn't want to let any of these problems stop me. There would be chicken on the table for dinner, or else!
So I turned the oven up to preheat at 475, and I cut up some potatoes, and tossed them in olive oil, salt, and dried thyme as a base. And then I coated the chicken in the same combination of olive oil, salt, dried thyme, and nestled the bird on top of the potatoes. Then gracefully put a lemon up the rear end. And I buttered up the breasts. So then I popped in the chicken for 25 minutes at the 475, and turned it down to 400 for 45 more minutes. (This is a 5 lb. chicken mind you. You could probably do less if it was smaller.)
Then I turned off the oven with it in there and went to pick up Devon and go to the gym (about an hour in the warm but off oven.) And then I forgot that I was voluntold to make pumpkin chocolate chip muffins, so I turned it back onto 450, set a very precise 17 minute timer, and told Devon to turn it off when it beeped, as I went to the store. He turned it off… and then took it out instead of leaving it in the oven as I had intended, so the potatoes could finish cooking. So it "rested" for 15 minutes on the counter, which was only a good thing for this chicken. Resting the meat allows it to redistribute meat juice. And then we (finally) feasted – a big bowl of potatoes (which could have admittedly used a little bit more cooking, but were mostly delicious) and perfect chicken, with crispy skin. I'm still kind of amazed how well it turned out.
Do you have a favorite roast chicken recipe? I'd love some more inspiration!