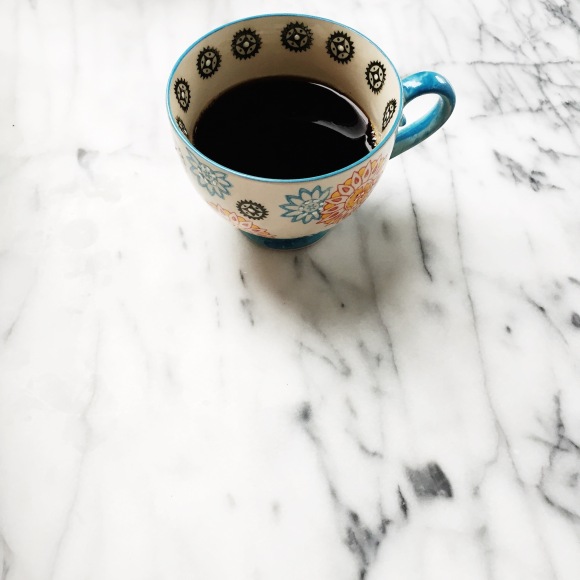 Today was the first time in a few months that I felt like I was getting back into a routine. I made myself a single cup of coffee in the morning, and proceeded to reheat it over and over as I worked through the day. Meetings, a webinar, it's nice feeling immersed in my work, but I suffer when I neglect a good cup of hot coffee. I'm loving my new mug – a hand me down from my friend AA, who moved and left me with a pair of these, and plenty of good tea to brew in them.
For lunch, I made myself a bowl of steel cut oats with a large spoonful of pumpkin butter. Later in the afternoon I ate some canned wild salmon, with a spoonful of mayo, and plenty of cracked black pepper. I was in the mood for the most simple meals I could make today – as usual when I travel, I find myself on the cusp of feeling unwell, and need to take care of myself before anything more sinister develops.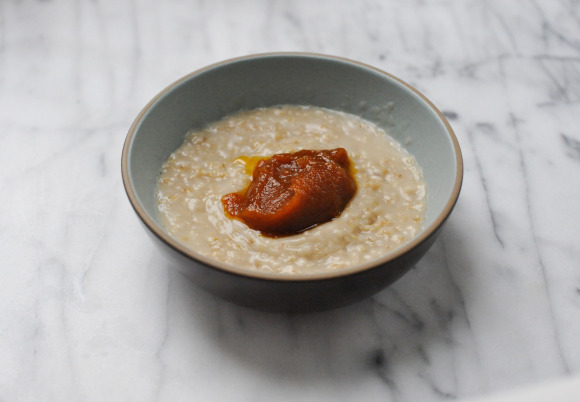 On Wednesdays I try to get into the gym to lift, but I wanted to give myself a little bit more time to rest after my marathon. I've been eying the local Core Power Yoga, which offers a free intro week, and decided to sign up. This afternoon I came to the mat with the intention of healing, resting, and restoring.
The yoga instructor, Amanda, was direct, clear, and gave very good guidance. I've practiced now for over ten years, and am always pleasantly surprised when an instructor can teach me new things in a class, or help me look at familiar poses in a new way. She was also particularly giving with extra manipulation – a hand to provide guidance, and gentle push into a deeper stretch. I was supremely appreciative of her care in this class.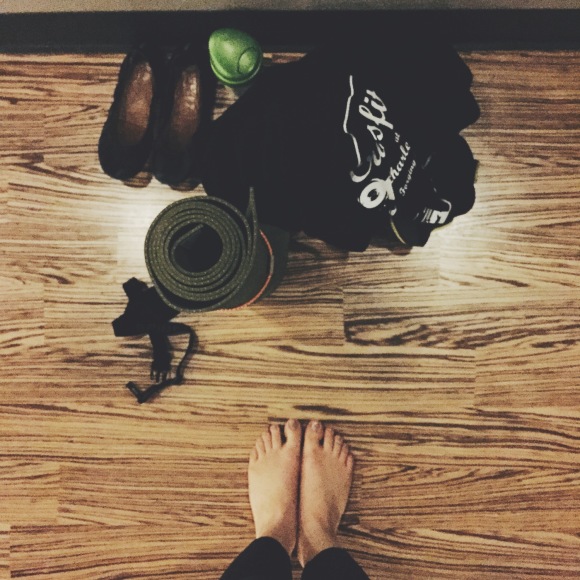 I returned home with a strong desire to make soup, taking out my Le Creuset for the first time this fall, and making a large pot of pasta e fagioli, Olive Garden style, with ground beef. I'm never too high brow around here, and I'd have killed for some of their breadsticks.
Pasta e fagioli (if you can call it that): my basic recipe was tweaked from a handful of online recipes (most closely following Iowa Girl Eats and Giuliano Hazan): brown a pound of ground beef with some salt and pepper, add a cup of chopped onion, a few sticks worth of chopped celery, and one chopped carrot stick, a few cloves of garlic. Sautée until the vegetables have softened. Add three cups of cooked cranberry beans (or a few cans of cooked beans of your choice), a 15 ounce can of tomato sauce, and a 28 ounce can of crushed fire roasted tomatoes, a teaspoon each of: dried oregano, thyme, and basil. Cover with a few cups of beef stock, and cook for an hour or two. At the end, add a few cups of cooked pasta. I make my pasta ten minutes before I'd like to serve, and stir it in at the very end. You could also par-cook it, and then let it finish in the soup. Serve with Parmigiano-Reggiano. A sprinkle of fresh parsley.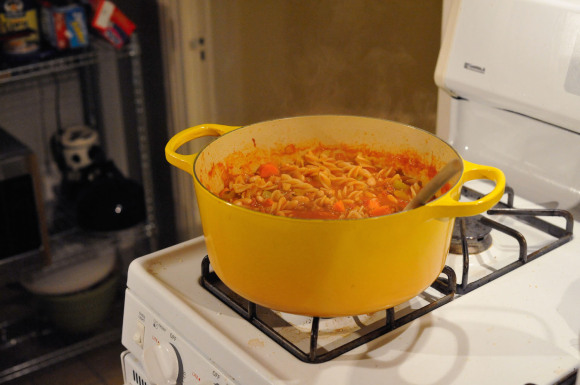 The best part about a big pot of soup, is that you have many a meal for later. Looking forward to eating my way through this for the next few days.