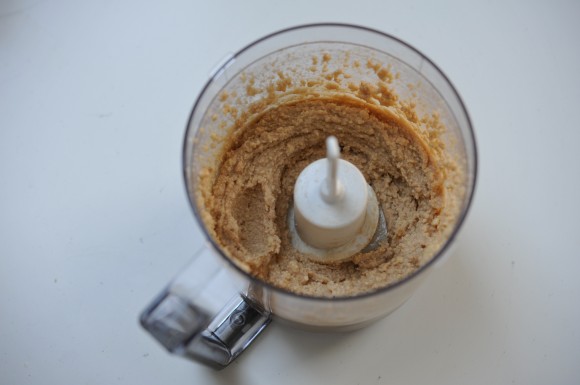 A few years ago, after working on Karen Solomon's book 'Can It, Bottle It, Smoke It', I became a home made condiment convert. The secret about condiments is that they usually have no more than a handful of ingredients and come together in a television commercial break. Which doesn't matter any more because of the miracle of the DVR – but believe me in high school and college, many foods were deemed suitable or not based on how much prep I could do during a two minute interlude while watching Buffy or ER.
I'm not saying that everyone should be making their own coconut milk or marshmallows (although, frankly both are doable and fairly easy). But nut butters, ketchups, and all sorts of sauces are my favorite things to cook, and turn out so much better than the packaged variety. And yet… I still am tempted to pick these things up and put them in my basket at the store – because those are the things you never want to run out of. To remedy this, I put together a little condiment calendar, of special things I wanted to try to make at home. My goal is to make a useful condiment in bulk at least once a month. For a while it was once a week, but I like making achievable goals and then outdoing myself.
So nut butters. From start to finish, no more than 10 minutes, and you have glorious, fresh nut butter, which you can flavor however you'd like.
Truthfully, it had been a while since my last nut butter batch. And then I joined a gym challenge where pre-packaged nut butters, nut milks, and any sort of additives were verboten. We were however allowed both nuts and coconut oil, and our kitchen – so this week I whipped up a batch of cashew butter with coconut and cinnamon. (I was tempted to make my own fresh coconut milk for curries, but I thought that would be pushing it with the rules and the spirit of things.) I'm actually better at portioning out nut butter than I am nuts – I know that 2 tablespoons of nutter butter is a serving and not to go over – but three and you are pushing that. Give me a handful of whole nuts, and I'll go back for handful after handful, until I've eaten the entire bag.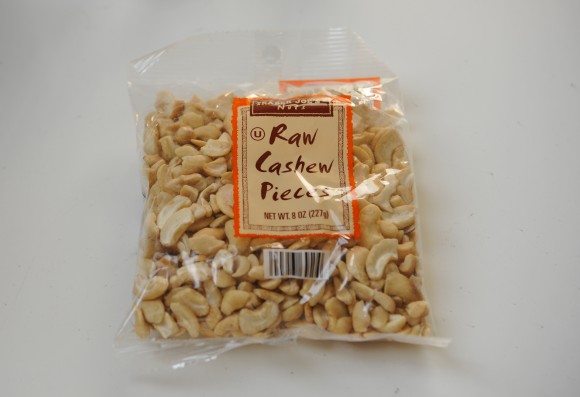 So cashew butter. I like cashews because they are creamy and naturally sweet, and make a great unsweetened paste. You can make your own nut butter of any type – almonds, pecans, pistachios and hazelnuts all are great. You can use walnuts, although I find walnuts to be slightly bitter for my taste.
Usually I pick up these raw cashew pieces from Trader Joe's. They are cheaper than the whole cashews, and come in a convenient 8 oz. package, which is more than enough for a batch for one person.
You usually need a little bit of fat to blend the nut butter – I like melted coconut oil because it gives it a hint of coconut taste, without tasting overtly coconut-ty. If I were making a savory nut butter (have you had one before? It's interesting!), I might use olive oil. With cashews I like adding a little bit of vanilla, cinnamon, and salt. But you can also add cocoa powder, and make your own Nutella – if you want to get fancy, add a little bit of chile powder.
Another seasoning trick is to find a good recipe for spiced nuts – you know, the kind your grandmother used to serve with cocktails – and then just blend them into a nut butter.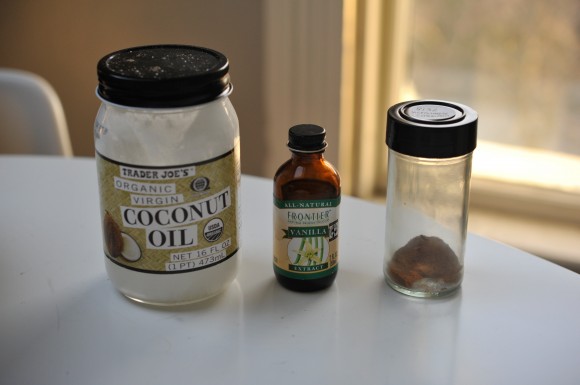 For this batch I kept it simple.
Into my baby Cuisinart Mini-Prep (on sale at Amazon for 47% off) – this thing is a workhorse, and perfect for a small household. And you can dish wash!
Blend, blend, blend.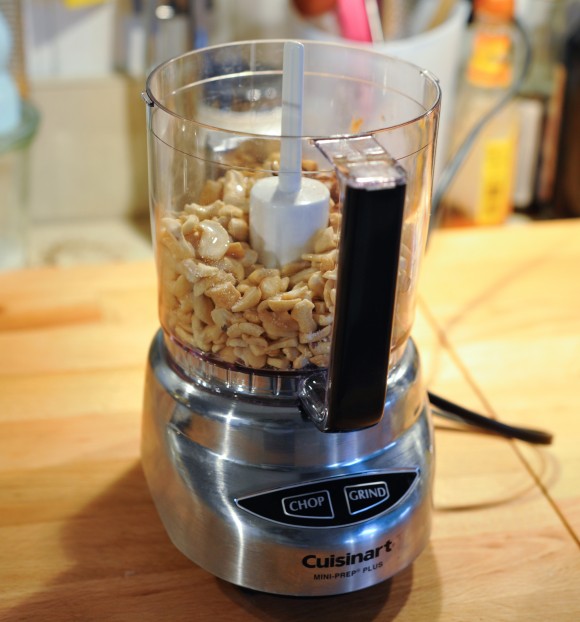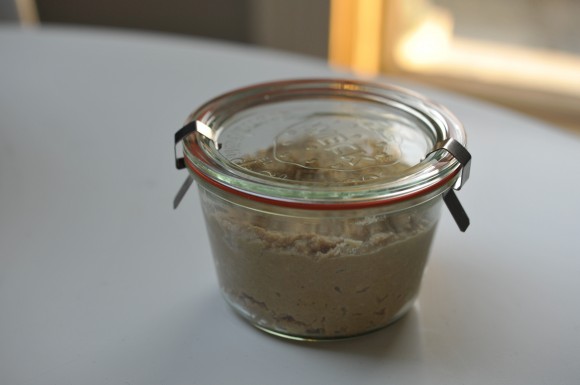 Homemade Cashew Butter
This nut butter is best made with raw cashews, which you can purchase at Trader Joe's for an affordable price. I typically make a small amount – about a cups' worth – primarily to avoid eating several cups worth of nut butter in a single week. The recipe is easily double-able, and I'd actually recommend doubling if you are using a larger food processor, as the small amount won't blend as well.
8 oz. raw cashews (225 grams)
1/4 cup coconut oil, melted
1/2 teaspoon cinnamon
1/2 teaspoon vanilla extract
a pinch of salt
In the bowl of a small food processor, place the cashews, cinnamon, vanilla and salt, and pour over the melted coconut oil. Pulse to get the mixture started, scraping down the sides with spatula. You want to get the nut butter going, and then grind for a minute or two at a time, until a smooth paste is formed. I usually do a minute on, scrape the sides, another minute, scrape, a third minute – you can do it for a few extra minutes if you want a very smooth paste, but I like mine a little bit chunky. It also helps to give your processor 30 seconds of rest if the motor is overworked.
You can store this in the fridge for a few weeks but it'll firm up. I'm okay leaving it out on a cool countertop for a few days – which is as long as it'll last in the house.
Makes about 1 1/4 cups.