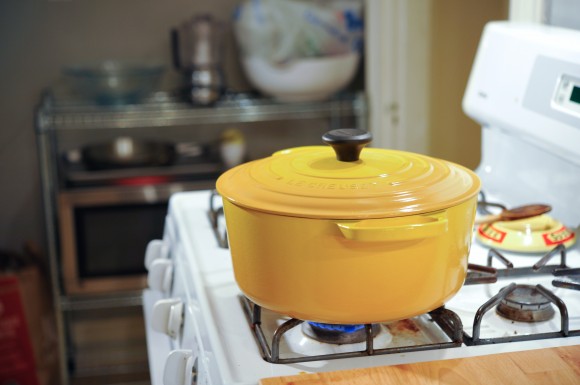 Editor's note: since I published this post, I've received a lot of comments online and off by people frustrated with a different experience (and a much less positive one.) While I was satisfied (and seemingly lucky) with my experience, I'll leave the comments open, and welcome anyone to share their experience here as well. Did you managed to get your pot replaced? Did it not work? Keep in mind that we're all real humans here, and in no way connected to Le Creuset, so let's keep it friendly in the comments!
Here's a little story for you about my recent experience with Le Creuset. (Spoiler: it ended happily!) But I'll start from the beginning: from early childhood, my favorite cooking memories involve sitting over the stove, stirring delicious things in Le Creuset pots. My mom has had the same large white French oven, and big blue braiser for at least two decades. More, I suppose. I love the functionality of these pots, and the heat distribution. They are perfect for soups and stews, braising, or even roasting in the oven.
Three years ago, I became a big kid, and got my own – a 7.25 quart round French oven, in Dijon. It's a cheerful color, made my kitchen happy, and I used it every day. It felt good, having that pot, trusted, and would serve, in a pinch, as an effective weapon, in case of an intruder bursting into my kitchen.
While my mom's pots have lasted with no problems for decades, alas, I must have purchased a lemon. After a few years, the enamel on the bottom of the pot started cracking, despite my gentle use with wooden spoons, typically low-medium heat as specified by their recommendations, and only gentle scrubbing. (You don't really ever need to use the thing on high, because of the fantastic cast iron.)
One day, I was heating up some oil in the pan, and the enamel started exploding like tiny pieces of popcorn. I must admit, I had no idea what to do. I couldn't really afford to drop several hundred dollars on a new pot, and reading threads on Chowhound made me nervous that Le Creuset might not replace it. But after several months with limited braising capabilities, I decided to take the plunge, and try my luck with the return process. There was no sense in sitting with a large, useless kitchen item. (I literally loved the pot so much that the idea of parting with it was horrific, even though I could not use it at the time.) Hopefully, if you are in the same boat as I was, this will be of use.
Here's what happened:
1. I called customer support, and asked for a Returns Merchandise Authorization number. They ask you to put the number both inside and outside your returns box, so don't send it to them without calling first! I chatted with the kind support folks for a bit about my problem. They couldn't promise it would be replaced, but they seemed kindly enough, that I'd risk it.
2. I washed out my sad pot, one last time. I had a big pot, and was a little nervous about finding something to ship it in. Fortunately, my 7.25 quart pot fit perfectly in the USPS priority shipping box! You have to pay for it yourself, but at least this is fairly economical. Go USPS!
3. I wrote a kind note explaining what was wrong, just in case they didn't notice. I then purchased insurance on the item, and confirmation of delivery (just a few extra dollars, but totally worth it.) My thinking was if the postal service lost my pot, I'd get insurance, and be able to replace the thing anyway. There was a moment where I prayed this would actually happen, because at the time, I still had my doubts about Le Creuset coming through. I also took a picture in the box, just in case. The total came to about 18 dollars, which isn't free, but also isn't a tenth of the cost of purchasing a new pot.
4. I waited. The support site says turnaround time is 2-4 weeks, although on the phone I was quoted 4-6 weeks. There's nothing to really track the process, or any form of communication from the company. But yesterday, I came home, and there was a box on my doorstep. The box came back in less than 3 weeks, and they even replaced it in the discontinued color of the original (Dijon).
If they don't find fault with their workmanship, they offer a 75% discount off of the purchase  of a new pot. (But they won't return the item you sent to them.) I think I would have had a tantrum if they had pulled this, but fortunately, things went well.
Moral of the story: this was an anxious month. I sent my well loved item back to the factory without promise of return. I wish they had a program that you could just exchange at an authorized point of purchase, but I'm certainly appreciative that I got my pot replaced! And frankly, I wish I had done it sooner! I LOVE, LOVE, LOVE my pot. So, if there are any of you sitting at home with a sad Le Creuset, just take the plunge.