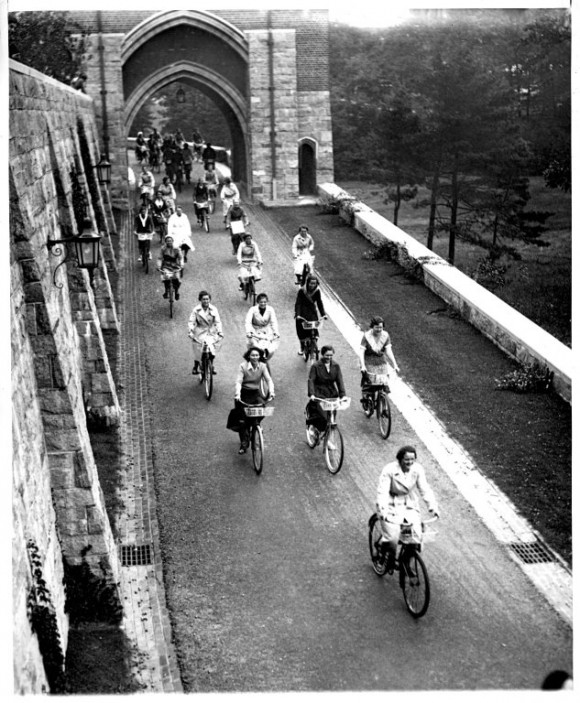 (Wellesley, 1931 via the Wellesley Archives.)
Hello! It's been a long, fabulous, drawn out week, but I'm happy to be back. The bulk of my weekend was spent at Wellesley, participating in the Alumnae Leadership Council. I went to the beautiful campus to convene with hundreds of fellow graduates, all smart, sophisticated and accomplished women who have achieved so much good in the world. It was just what I needed. Wellesley is a very special place.
When I struggle or feel nervous about my future, I think of all the brilliant role models I have. Women with incredibly varied life experiences. Women who make a tangible difference. Hillary Clinton, Madeleine Albright, the late Nora Ephron are just a few of them. Women whose will and spirit I aspire to emulate. One of the highlights of this weekend was listening to a panel of current students discussing their experiences at the college. These were four incredibly eloquent and accomplished young women, who I couldn't have been more impressed with. If these women represent our future, it will be a bright one.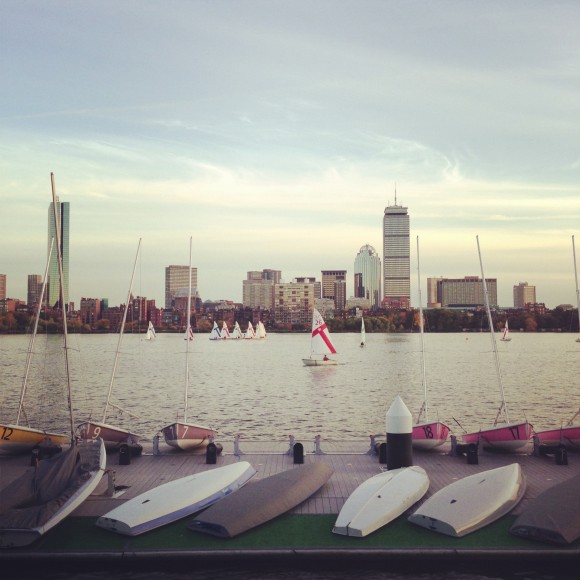 The best part of the weekend was getting to spend time with Lizzy – one of my dearest friends, a Minnesotan, Data Scientist, Kiteboarder, Dog Lover (her family breeds and shows Bernese Mountain Dogs) and the super human being who accidentally introduced me to Devon more than half a decade ago.
Here's a week-long catch-up:
Wednesday: Acquired Lizzy from the airport. Went for a long walk through the city, grabbed lunch at Felipe's in Harvard Square. Visited the Honey Store. Walked through Kendall. Headed down to the water. Cooked up dinner – chicken thighs with brussels sprouts and bacon.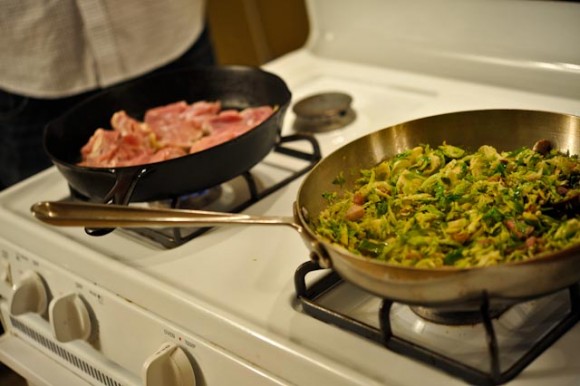 And… a Pinkberry run. Did you know you can just get fresh fruit and toppings? Well, you can!
Thursday: Headed to CrossFit to complete my challenge of the week – 100 overhead squats for time. 5 burpees everytime you drop the bar. There was a 20 minute cap, and I made it to 75 with a light 35# bar, having dropped the bar one too many times and dying on the burpees. (I was not pleased with my results.) Lunch was a hugely underwhelming bowl from Boloco. In the early evening, we met up with a friend at Barbara Lynch's Drink, and I ate an entire bowl of delicious warm olives, and a single taste of each of the night's cocktails: Old Fashioned, a Champs–Élysées, and a Ramos Gin Fizz. Next time I head over, I'll be having a Ramos Gin Fizz of my own! I happily partook in the steak tartare, minus the toasts! For dinner we got Anna's to compensate for our lackluster lunch experience. Burrito bowls have been my go-to when ordering out, and I never tire of them.
Here's the inside of Drink: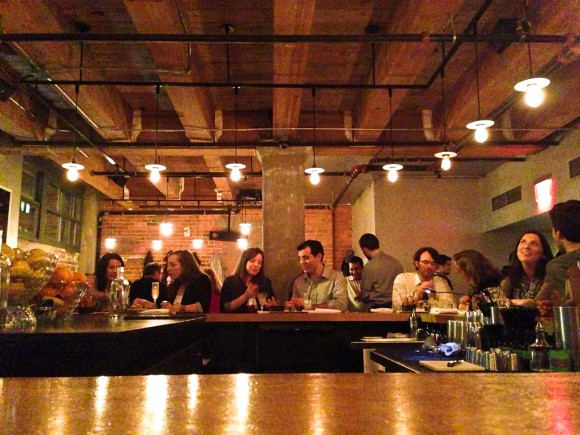 Friday: We went for long walks and headed over to the North End. Lizzy got her cannolo at Modern, and I made do with an espresso, standing up at the bar at Caffe dello Sport. For lunch we picked up some food from Whole Foods – roasted brussels sprouts and beef stew. Dinner was spaghetti squash with Rao's marinara and Trader Joe's Italian sausage.
Isn't this the most fabulous photo of Lizzy? Those cheekbones! That delightful ricotta filled snack! The powdered sugar explosion! I digress.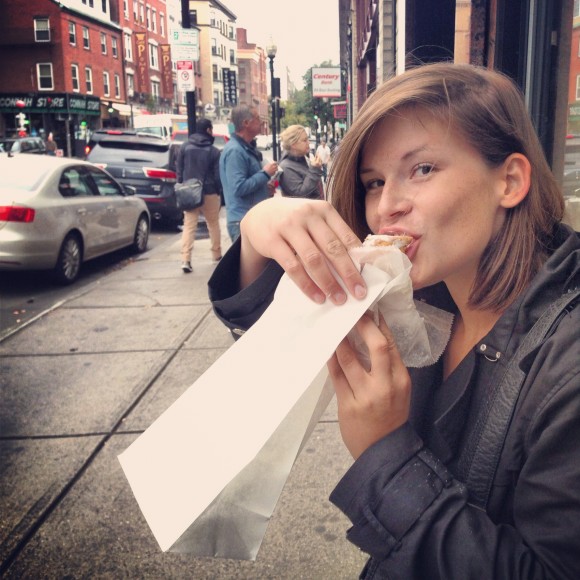 Saturday: Leadership council! We snuck onto campus early to have brunch at Tower Court. Eggs, bacon, a little bit of chicken, grapefruit, and pumpkin coffee. (Although I rarely ate in dining hall – despite being forced to stay on the meal plan – brunch was one of the best parts of my college experience.)
I smartly loaded up, fearing the worst with my dietary needs and the impending catered meals. While I would have just brought my own food or been flexible, I had decided to make advanced plans with all the caterers giving proper notice of my gluten and dairy free requirements. Multiple caterers were being uses, all in the running for reunion events, and as I've volunteered as dinner chair, I thought this could be a good test. Lunch was salad and a chicken breast, and I had to argue with a server who was going to take away my chocolate mousse because I had requested "no dairy" and they "needed it for someone else". This, for the record, was ludicrous as they had plenty of extras (including one at an empty seat at our table). I was looking forward not to the mousse – which wasn't challenge friendly- but the raspberries on top. After clarifying that I was not allergic to dairy, and getting snapped at, I had to scowl to keep my three beautiful raspberries. Dinner was not much better. Steak, two pieces of broccoli and purple potatoes. I had to clarify that dairy free meant I couldn't have the mashed potatoes made with butter, which the server brought back a second time insisting it was rice. My final plate consisted of a 4 ounce piece of steak and about three spears of broccolini. The food, despite the mishaps was all actually quite good.
After a day of not eating nearly enough, I found myself starving, and regret to say that I cheated on my challenge. Considering the majority of folks have cheated since week one, I only felt a tiny bit bad. The worst part is that it wasn't even food I'd crave normally: my downfall was roasted marshmallow on graham cracker at the Wellesley fire pit. C'est la vie.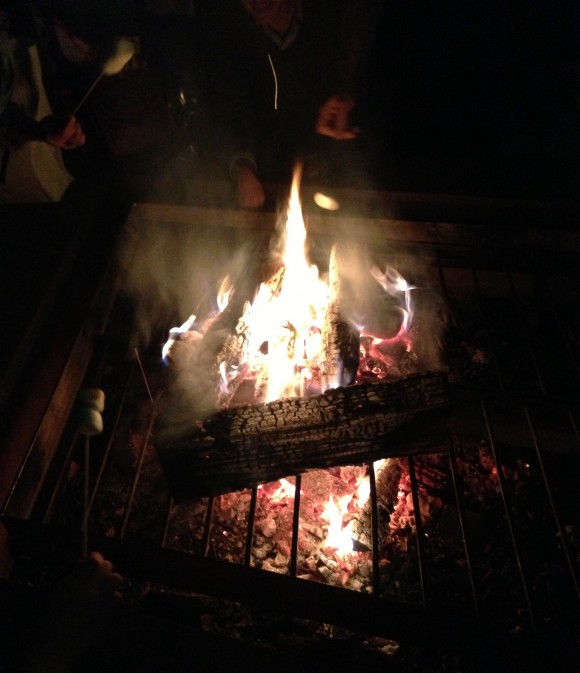 Sunday: Leadership council day two! Yet another morning breaking into doing hall for brunch. This time I grabbed a few extra eggs and a banana to go as hunger insurance. For lunch, most people got butternut squash ravioli, but the gluten free meal was a portobello mozzarella stack with a tomato vegetable sauce. Which I had without cheese. Which means my entire meal was a mushroom. Sigh. After the conference, Lizzy, Devon and I headed to Basho for a meal, and by meal, I mean, for $70 we ended up with enough food to qualify as "appetizer". Basho has a really nice atmosphere, but the food for the price just doesn't cut it. I should note though that they were particularly accommodating for my needs. I ended up with three very small rice-less hand rolls, but they were kind and flexible. We were so hungry after dropping off Lizzy that we went to the store and picked up some food. I went with kielbasa and salad.
Monday: Back to reality. Met up with a friend for a long walk/run. 4.5 miles in the crisp early evening air. Food: I ate it. Mostly leftovers – cabbage and kielbasa, tomato braised cod with olives and artichokes. Dessert was a shake – blended a frozen banana with 2 Tbs. of cocoa and some light coconut milk. Highly recommended.
Tuesday: Crossfit! A fairly strenuous workout. The workout of the day was called "Ace + Gary". There were two rounds: the first was 15 minutes long, alternating a 400 m. run with as many unbroken pull-ups as you could do. You scored based on total pull-ups, which for me was… 13. Then a 7 minute rest, and round two: alternating between a 500m row an as many handstand pushups as you can do before toppling over or tiring out. Over my four rounds, I made it to 30 – although scaled by getting into a headstand and pushing up. (My cartwheeling into the wall still needs practice, so this made it easier to actually get in pushups for the workout.) For dinner, I roasted a chicken, and served it with salad.
Wednesday: Rest day! Breakfast was a banana and egg "pancake", with nut butter and a little maple syrup. For lunch I made do with Trader Joe's Gazpacho, a handful of black olives, and some canned sardines with mustard. In the late afternoon I picked up some decaf coffee at Formaggio. (Note to self, just don't do decaf. It's never as good.) For dinner, a low point of the week, I crumbled up some ground beef with spices, and served it with roasted delicata squash, nothing else. Devon got his with mashed potatoes.
* * *
Before I go, I want to give you a few shots of breakfast over the past week. There is nothing like waking up in the morning and walking into the kitchen when someone else has made coffee for you.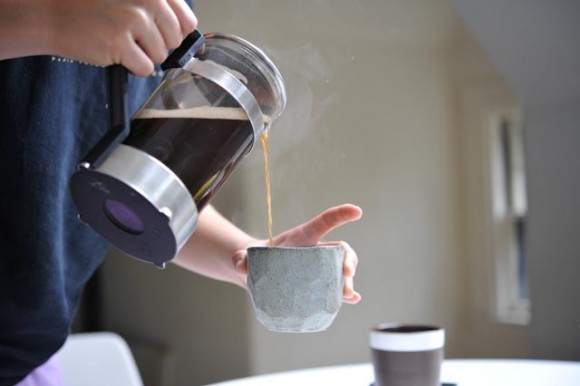 Banana and egg "pancake".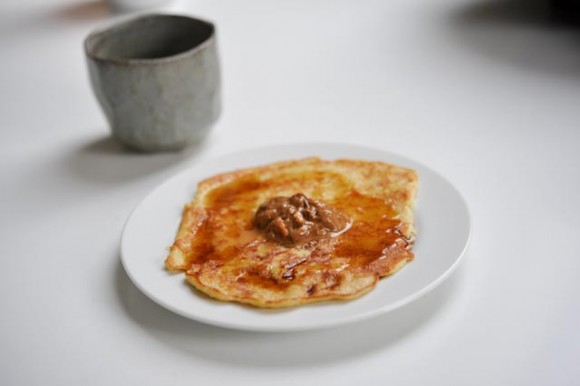 The Trader Joe's Pumpkin Spice Coffee we blew through… fantastic until we went back to TJ's and were informed that they wouldn't have any more due to a production snafu. Grumble.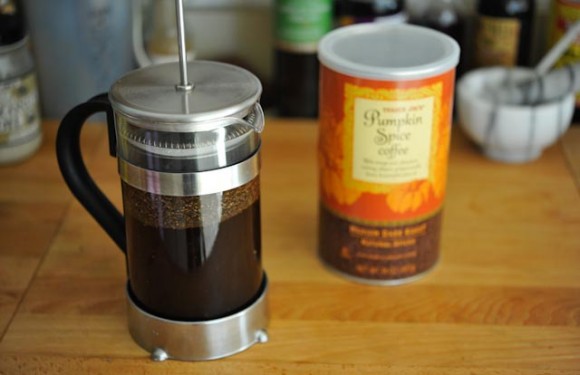 Lizzy's cocoa oats.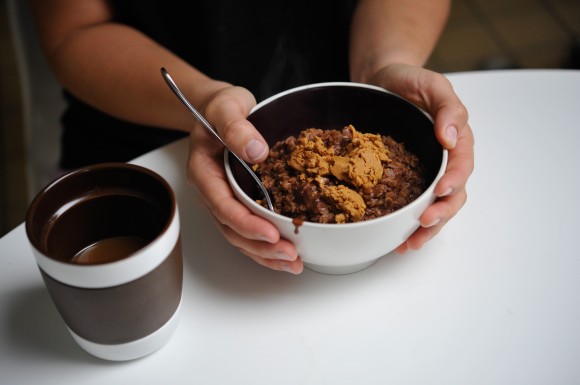 Apples and nut butter.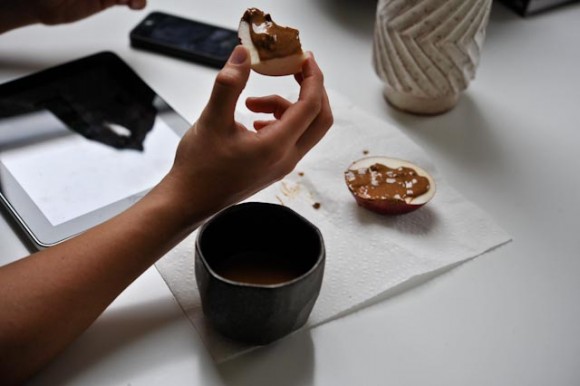 Back to the grind – and regularly scheduled postings. I'm looking forward to it.