Yesterday was free burrito day at Boloco. I didn't partake, but I thought that I'd share this photo for folks who I went to college with. This is the line at the brand spankin' new Boloco in the 'ville. Yes, that's right. There is now a burrito shop in the town of Wellesley, mere paces from the gates of the college. These kids have it so easy.
The other reason I thought I'd mention this, is in the wake of the scum-tweeter at KitchenAid mocking Obama's dead grandmother, I remembered this (slightly less embarrassing) social media scuffle involving Boloco's CEO, and a disgruntled employee making stupid comments on Twitter. The CEO read her tweet, fired her on Twitter, regretted his decision immediately, and then turns the situation around. I actually thought it was an interesting case for brand managers. (Read more on BostInno.)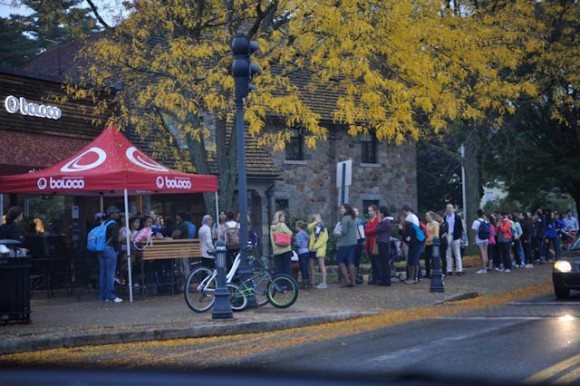 But enough about that. After yesterday's breakthrough at the gym, I was excited to go back to complete more handstand-pushups and help our team rack up points. I was also excited about this workout:
WOD (Workout of the day):  "Survivor"
4 Rounds for time:
400m Run
500m Row
I was supposed to do a running workout anyway to prep for next week's race, so because this was cardio-intensive, I went ahead and went to the gym two days in a row to participate in this round of fun. There were a lot of folks in class, so I actually did my rows first, and finished with runs. I tried to pace myself so that my rounds were pretty consistent. My splits were 2:22 (row), 3:26 (run), 2:46 (row), 3:17 (run), 2:51 (row), 3:22 (run), 2:32 (row), 3:17 (run). I finished in 23:57. A little slower than I would have liked – my splits included the transitions, and I always seem to have trouble getting in and out of the erg.
And after that monstrosity? I banged out 150 HSPU's. Boo-YAH. (Sorry.)
*               *               *
In the afternoon, my mom came to meet me for lunch! We were supposed to pick up new phones today, but we were thwarted by the fact that it seems that no Sprint 16GB iPhone 5's exist in the world. But we had planned the date in advance, so she ended up meeting me anyway.
We headed over to Legal C-Bar for lunch, because I was yet again craving seafood, and Legal is known to have a gluten-free menu and they are super accommodating. After checking out the menu, I opted for a version of what I usually get – the crab salad sandwich. They serve it without the bun, and with a side of your choice (broccoli!). While the crab was quite fresh, and the broccoli steamed well, my one gripe was how little food this was. If I can't have the bun, wouldn't you at least give a bigger portion of broccoli?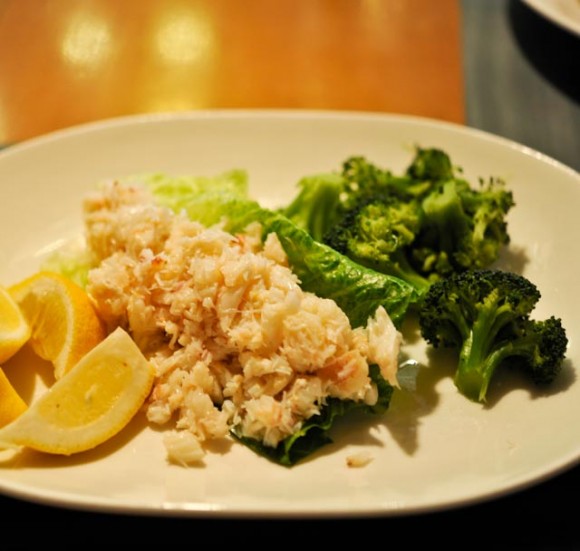 Realizing quickly that I would be starving if I only ate this for lunch, I opted to order a half dozen oysters. Three blue points, and three from Duxbury. Jewels of the sea!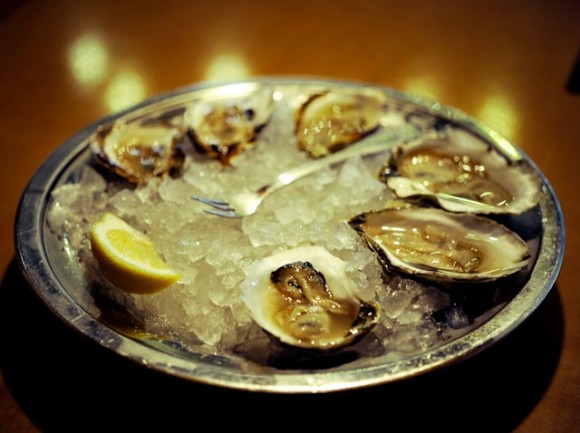 After lunch, we headed over to the huge Whole Foods to pick up a pint of raspberries, which I then devoured. I also introduced my mom to LÄRABARs. We left with two Zyliss julienne peelers, and a Bialetti ceramic pan for my mom, who has heard me raving about mine.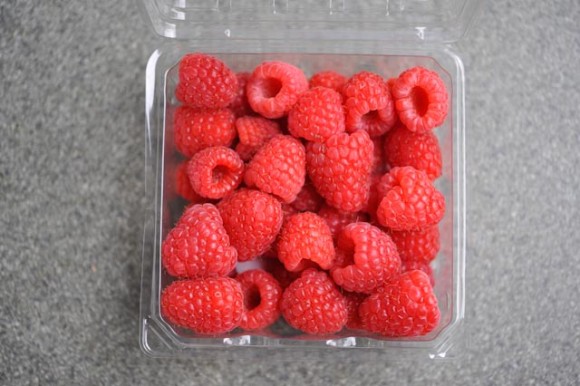 After properly fueling ourselves, we determined that the best thing to do next would be to stop into Williams Sonoma for coffee samples. I started with a Nespresso ristretto from the Nespresso Pixie Espresso Machine. I usually go for this every time I walk into a kitchen store.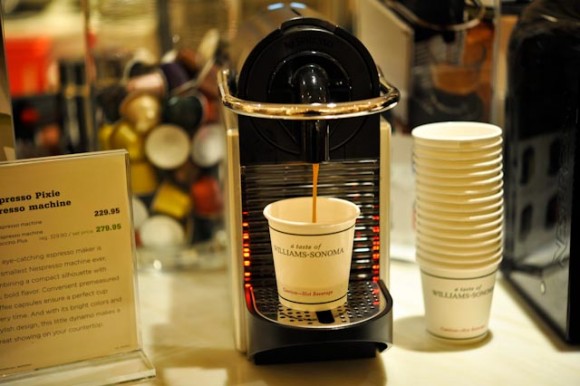 And then we went over to check out the new Starbucks Verismo. I had my doubts. My mom had a latte, which she conceded was quite good, and I had a cup of plain coffee. Also surprisingly decent.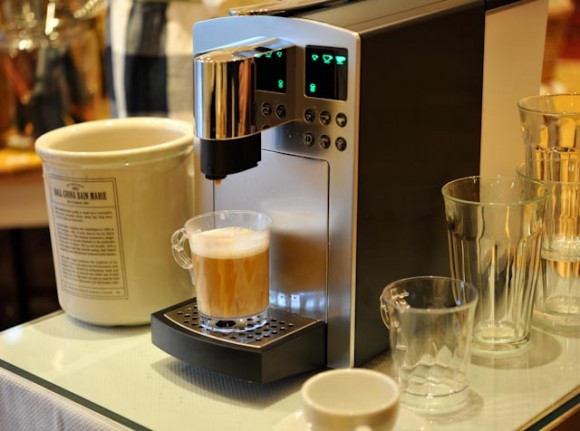 After caffeinating, we made a stop at City Sports where I rewarded myself with a new foam roller, and a jump rope to practice my (non-existent) double-unders. I have a funny feeling that these are going to be part of the gym challenge in the coming weeks. Eek.
In the evening, I came home to make dinner: a rack of lamb, and roasted sweet potatoes. My mom and I both picked up these racks of lamb from the refrigerated section at Trader Joe's. Unlike the frozen racks they have, these are from New Zealand, and don't come with seasoning. You also don't have to plan in advance like you do with the frozen ones… I seasoned it with Nom Nom Paleo's Magic Mushroom Powder from her iPad app, and some rosemary.
The sweet potatoes were tossed in coconut oil, salt and pepper, and went in the oven at 425 for about 35 minutes. (I put them in before I put the lamb in, and then left them in for a few extra minutes as the lamb sat out resting.)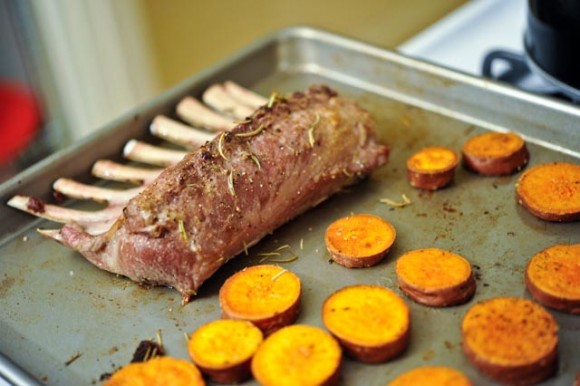 I started my dinner with some Trader Joe's gazpacho to get in some extra vegetables.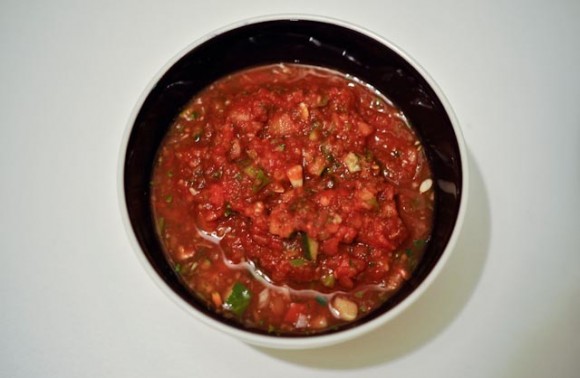 And here's the rest of my plate – a few lamb chops, sweet potato coins, and a chopped red bell pepper.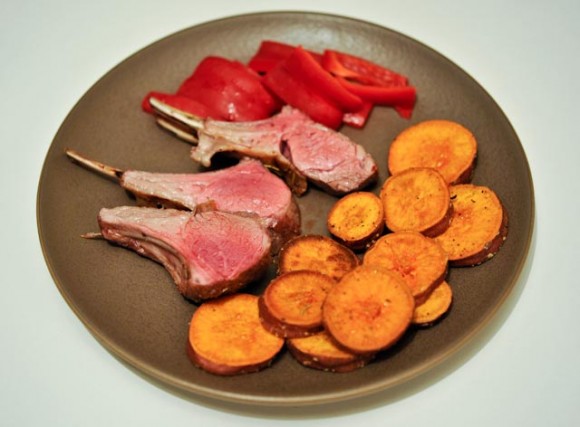 After dinner we vegged out watching DVR'd episodes of NB80's. Think VH1's I love the 80's, but all about basketball. Highly recommended.