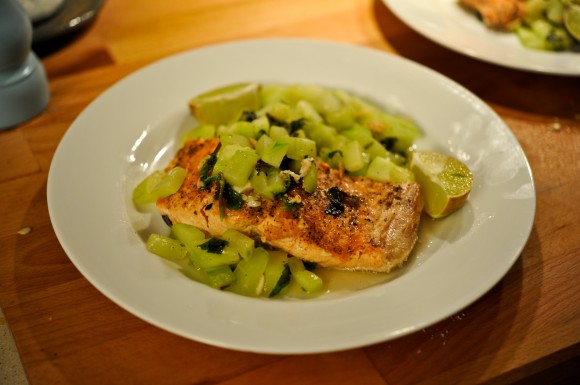 For the past few months I've been getting shipments of wild Alaskan salmon from Copper River as part of the Fresh Catch Crew. Folks who follow me on Twitter likely saw me tweet gleefully about it, live-documenting my gravlax making. I've posted on Facebook, and there have been many pictures on Instagram, but I'm finally sharing here on this somewhat neglected blog of mine. Why is it that social media seems to be taking up all of my time? I digress.
Let me begin by mentioning that fresh wild salmon from Alaska is seasonal, and is nothing like the sad, pathetic, light pink, often bland farmed stuff. Its deep orange flesh is rich, silky, nutrient dense, oily, and supremely flavorful. Most of the time I simply season my fish with salt and pepper, maybe a little cumin, and put it on the grill.
It's nearing the end of salmon season, and I'm hoping that you'll be inspired to pick some up before the summer ends, and make this recipe. It's a dead simple one, from Melissa Clark's 'Cook This Now'.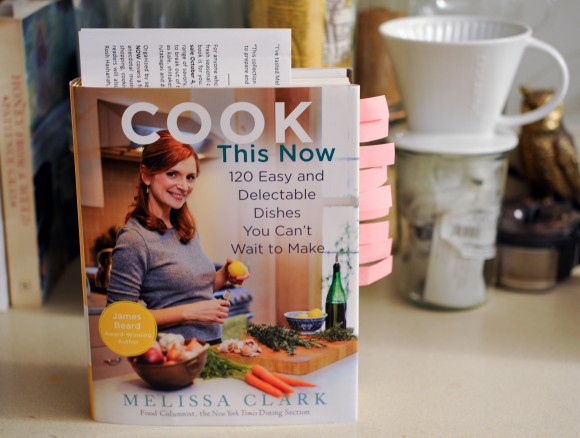 Melissa's cookbook is one that I've turned to again and again in the past year – as you can see, it's been tabbed up with stickies, and I've been consistently pleased with her recipes. There is something about Melissa that inspires confidence and creativity in the kitchen, and I've long admired her column in the New York Times. A few years ago we had the privilege of hosting her at Omnivore Books, and she was truly as lovely in person as I had imagined.
So about this fish.
Yesterday, a package was waiting, with the first of the Coho salmon. Copper River is home to King, Sockeye and Coho, and while most people seem to favor the King salmon, I have to say that I really enjoyed the wild Coho. Its generally a bit milder of a fish, and is quite versatile.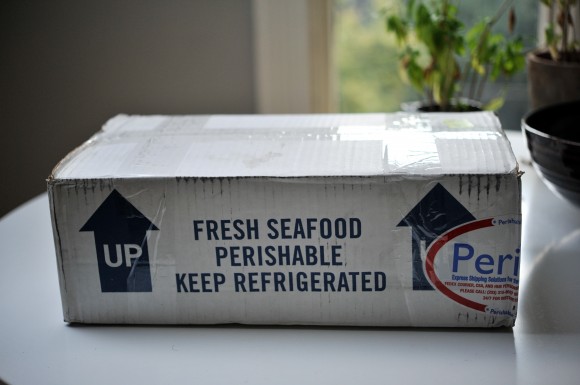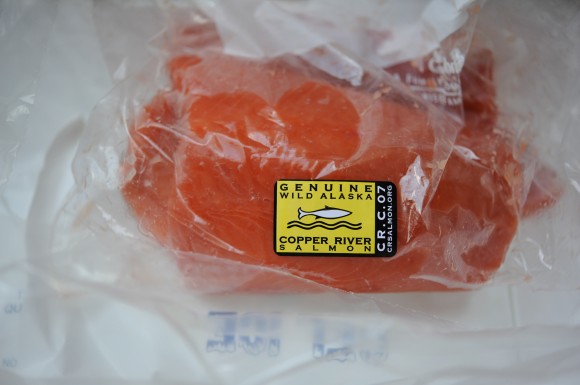 As soon as I took the fish out of the box, I set to work gathering my ingredients for dinner. This recipe has just a few ingredients – salmon, cucumbers, butter, garlic, fresh herbs and citrus. It's something you could put together on a weeknight even if you are exhausted, and it feels fancier than it is.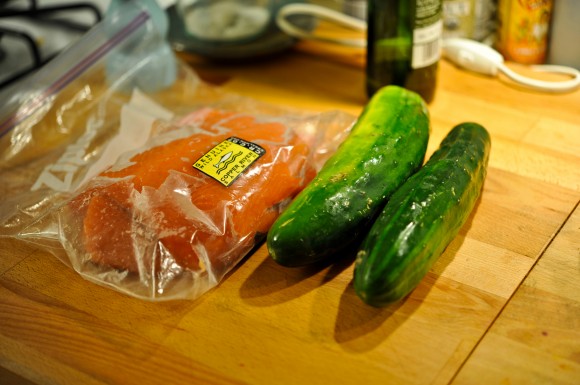 The first step, which of course, I managed not to get a picture of, is to heat the butter on medium high heat, and cook until foam subsides and turns to a deep golden hue, about 3 minutes. You'll want to watch the pan for this – don't be tempted to wander off, lest your butter burns and you have to throw it out and start over again.
If you wish, say, because you are on a month long Whole30, you can substitute ghee – which has some of the nuttiness, but won't quite be the same. (I've made this recipe with both, with similar success.)
The next step, is to season your salmon with salt and pepper. The recipe calls for two 6-8 ounce filets, but I had a gorgeous one pound filet that I left whole. Add your fish to the pan, skin-side up, and cook for three minutes, resisting the urge to touch it, prod it, or poke it. This is a good time to peel and chop two cucumbers if you haven't already.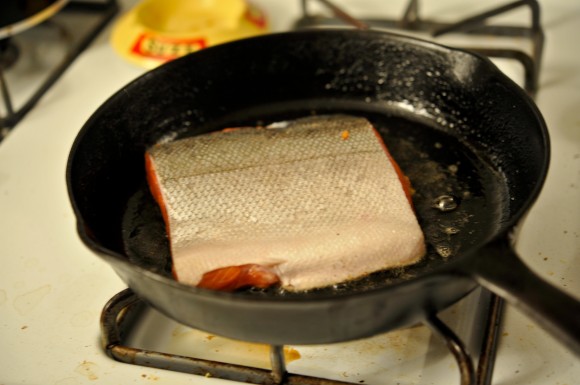 After three minutes, add your cucumbers, season them with salt and pepper, and gently stir to coat with the butter. After three more minutes, gently flip your fish, making sure that the skin gets good contact with the pan, and isn't sitting on cucumbers.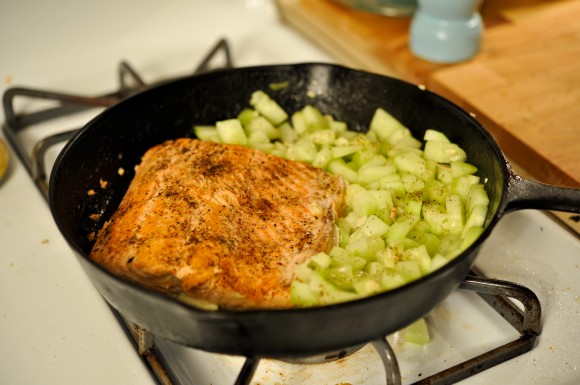 Add the minced garlic to the cucumbers, and cook for 2-4 more minutes, until the fish is done. I like my fish on the rare side, so I took mine out of the pan after two, but left Devon's half in for an extra few minutes.
To finish the cucumbers, add fresh herbs – I added chopped mint, but dill and cilantro would be good as well – stir, and season to taste.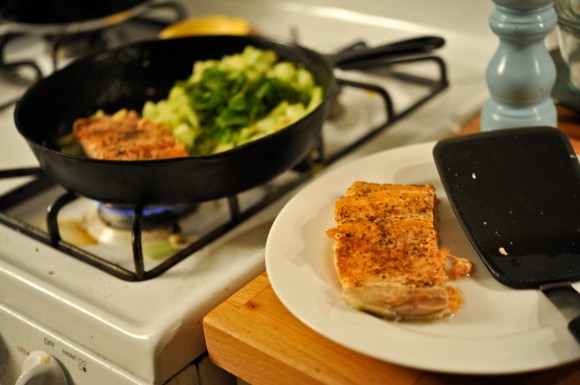 Spoon the cucumber and butter over the salmon, and serve with several wedges of citrus. I used lime, but you could also use lemon. The lime cuts the richness, and adds much needed pep to the dish. Don't forget it!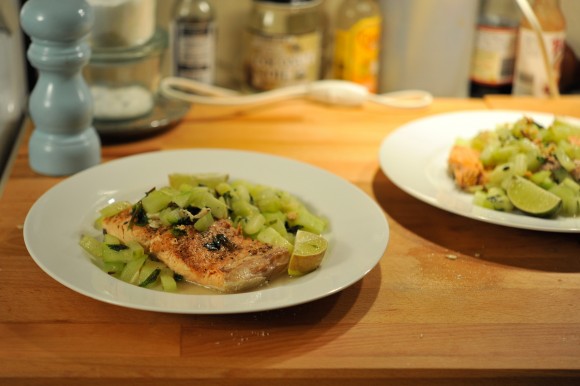 Melissa Clark's Wild Salmon with Brown Butter Cucumbers
Find the original recipe here in the NYTimes
serves 2
2 tablespoons unsalted butter (or ghee)
2 thick, wild salmon fillets (6 to 8 ounces each)
Kosher salt or freshly ground black pepper
2 Kirby cucumbers, peeled and diced into 1/4-inch cubes
2 garlic cloves, minced
2 tablespoons chopped fresh herbs (dill, cilantro, or mint all go well here)
1 to 2 teaspoons fresh lemon or lime juice, more to taste.
1. In a large skillet, melt the butter over medium high heat, and cook until foam subsides and turns deep golden hue, about 3 minutes. If using ghee, note that there are no milk solids to foam and brown, but you can still let it cook for a few minutes.
2. Season your salmon filets with salt and pepper. Add the salmon skin side down, and let the filets cook for 3 minutes. Resist the urge to touch or fiddle with it. As you wait, peel and chop your cucumbers. Add the cucumbers to the pan and season with salt, stirring to coat the cucumbers with butter. Cook for three more minutes, and flip the fish.
3. Add the minced garlic to the cucumbers, and stir. Cook until the fish is done, about 2-4 minutes more. Remove the fish from the pan and transfer to two plates.
4. Stir the fresh herbs into the cucumbers, and stir just to incorporate the flavors. Take off the heat. Squeeze in your citrus, season with salt and pepper if needed, and spoon over the fish.