Yesterday was Yom Kippur, the most sacred day of the Jewish year, the day of atonement. It follows at the tail end of Rosh Hashana, the week long celebration of the Jewish new year, and typically is the day that you reflect upon all of your sins and bad deeds. While I'm not particularly religious anymore (despite the fact that my mother has served on the board of our synagogue and is currently on the education committee), I do consider myself quite spiritual, take great comfort in many of the tenets of the faith, and particularly relish the holidays.
Most Jews fast on Yom Kippur, abstaining from food and drink, and aside from a cup of coffee, I did as well. One of the things that I wanted to do on this day was spend some time thinking about what it means to live without. For the past several weeks I've been choosing to abstain from foods, certain bad habits, and negative thought patterns. It has been a challenge. One of the great things that has come out of it is a desire to share with you all some of the changes I've been making, and I've been really moved by all the support that I've received. I'm not taking any of this for granted, I feel particularly lucky.
On the topic of living without, I spent a good part of the day reading Shauna James Ahern's 'Gluten-Free Girl: How I Found the Food That Loves Me Back & How You Can Too'. Shauna writes a beautiful blog, about food, family, and her life – choosing to make living without gluten a practice in living fully and well.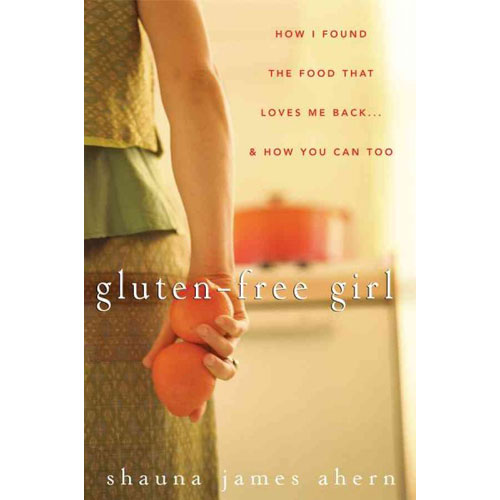 In her pages she is candid about her experiences with Celiac disease, and living gluten free, but it's about so much more than a life without – it's about discovery, learning to eat well, learning to love food, learning to live fully. Learning to say yes.
The book skips through her life, from her childhood in California with quirky parents eating TV dinners and Clark Bars, traveling the world, teaching high school English on Vashon Island, a stint in New York in her early 30's, living in England with an absurdly wealthy family for 6 months, to finding herself back in Seattle where she ends up falling in love with the man she would later marry. (And have an adorable daughter with. But that comes after the book!)
The pages are filled with food memories, friendship, first tastes, and recipes. I spent the afternoon smiling, tearing up, and (very) hungry.
This book came out in 2007, and I'm ashamed to say that I hadn't read it until now. I don't know Shauna personally, but she knows several of the friends that I made over the years at Omnivore Books, and my heart lifted to see so many of them mentioned in her wonderful book.
*           *            *
After regretfully reaching the last page, I put the book down and headed into the fresh air to walk around the neighborhood before heading to our family feast to break the fast. I wandered into this guy.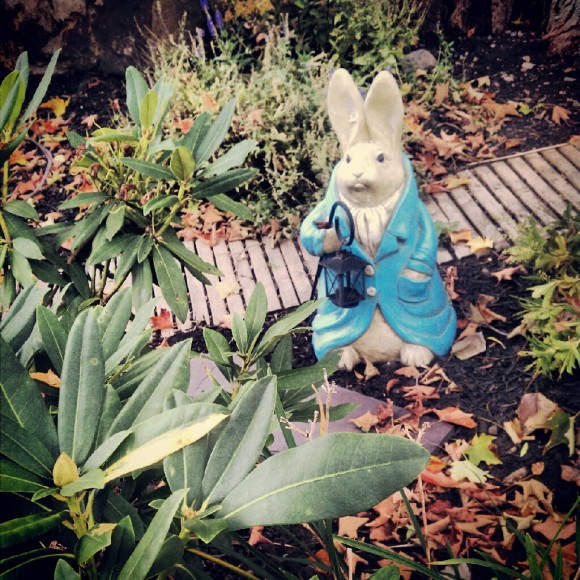 By the time I got back from my walk, Devon had returned home and we drove over to my aunt and uncle's house together. The sun had sufficiently set, and so I made a beeline to the appetizer table, where I immediately proceeded to gorge myself on carrots, cucumbers, and fresh pistachios that my mom had brought back from her trip to Istanbul. (I abstained from the lovely cheese selection, hummus, and chopped liver, but I thought it was a nice spread.)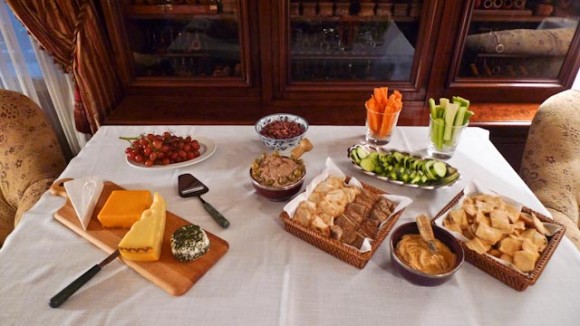 Because my aunt works magic, the table had been set: bagels, lox, multiple types of kugel (noodle pudding), herring with blueberries, cranberry sauce, fruit compote, mini challah, and bread. For our family, Yom Kippur ends up being a cross between traditional Jewish foods and Thanksgiving. 
That's Cooper, 6 months old, eying the gefilte fish.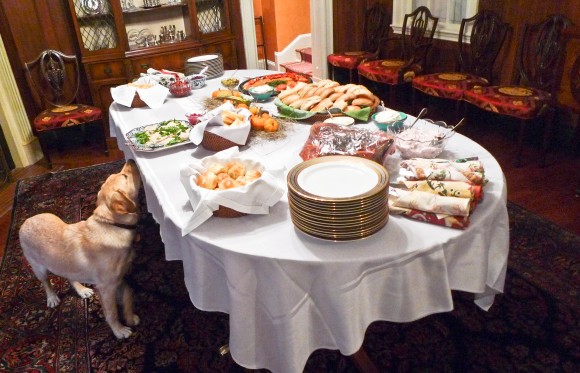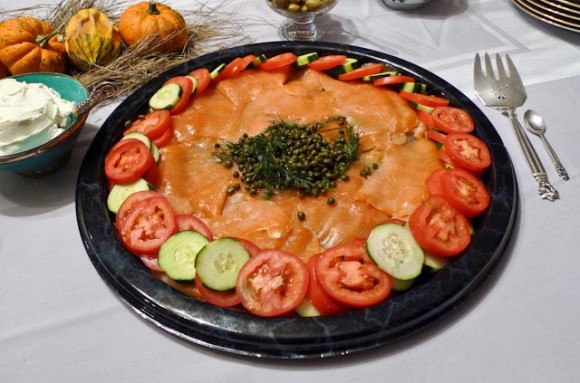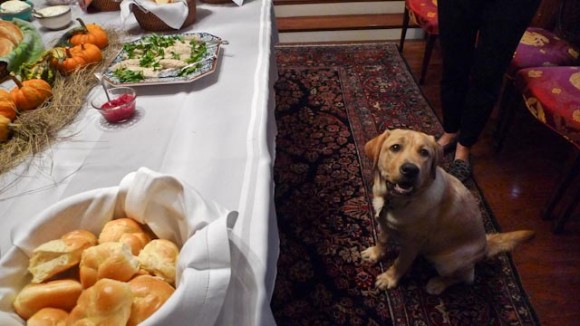 If you insist Coop, you can definitely have my gefilte fish! Mmm.. carp! (I should note here that in addition to some excellent training – he can now heel, lie down, roll over, and shake – he is also learning good manners and isn't being served people food. I'm totally impressed by my cousin-pup!)
The highlight of the meal was actually this turkey.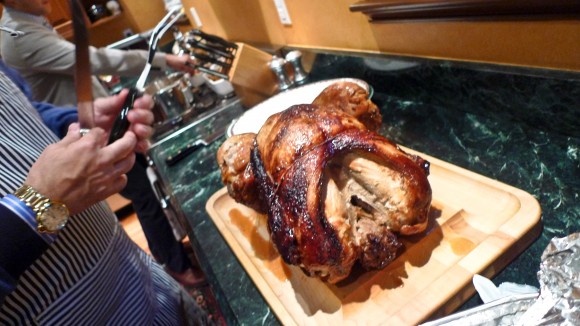 While I knew that I would have to hold back from so many of my favorites (Cheryl Ann's mini challah rolls!), I didn't find myself wanting. Here's my dinner plate – turkey, pistachios, carrots, tomatoes, cucumber, and a whole bunch of pineapple. I sat myself down strategically next to the carved turkey, so when I finished this plate, I ended up having another half pound of bird. It may have been slightly excessive.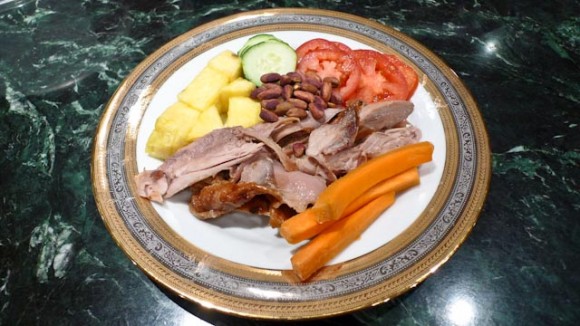 For dessert, I had more fruit, and a cup of coffee. Because of this challenge, yet a second holiday in a row where I've abstained from dessert. It was… a challenge. The spread included my mom's apple cake, my favorite pumpkin chocolate chip cake, my aunt's spectacular banana bread, and Eleanor Bloom's famous brownies – dense, fudgy, chewy, and perfect from the freezer in the middle of the night.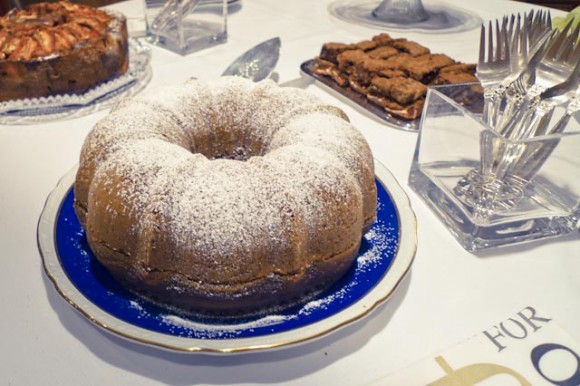 Next time!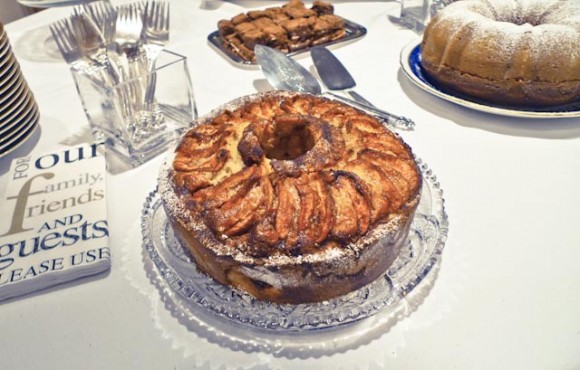 Happy Holidays to my kinfolk!