I'm not sure how it happened already, but it seems that Fall has arrived. While New Englanders are already bracing themselves for what is likely to be a horrendous winter, I'm just so thrilled that my favorite season is here. Fall foliage, creative layering, mulled apple cider, pumpkin chocolate chip cake (though, not for a while yet for me), pumpkins, warm blankets and lingering in bed in the morning.. I love it all.
Fall also feels like renewal to me. For someone who loved school, I was always excited to be back in action come September. Even though I'm no longer a student, I always feel the urge to pick up new books and read all season long. Things happen in the fall. 
Physically, I'm much more suited to fall. You don't get overheated or sweaty, and you don't freeze. In New England, there could be snow tomorrow, or 85 degree weather for the next two months, so I've learned not to take any good day for granted. And today was a glorious day. Temperature in the low 70's, and it felt like summer, but this tree had eagerly shifted outfits. I'm so looking forward to the next few months.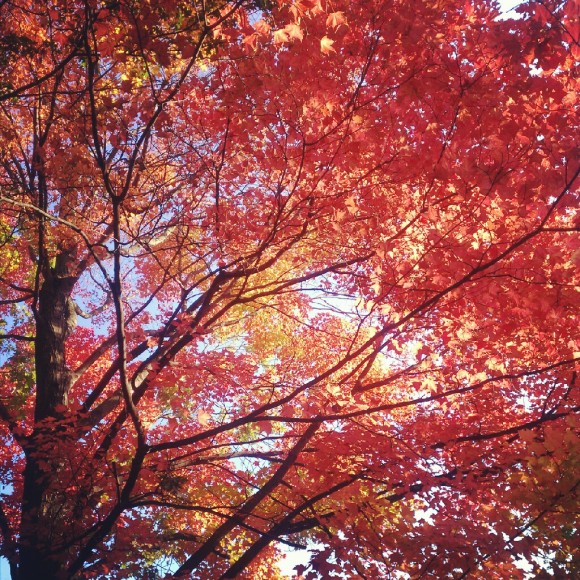 This morning I had a late start, or at least, as late as my adult brain would allow me to go. Gone are the days where I could sleep in until noon. This is not a bad thing. After a few hours with a book, we headed out to Needham to pick up my race packet for tomorrow!
We opted for a brunch at Whole Foods, and each parted ways at the salad bar to find our own meal. I made a big colorful salad, with eggs, tomatoes, roasted peppers, squash, onions, carrots, cabbage, a little bit of sweet potato, a spoonful of cashews, oil and vinegar. On the side I treated myself to "dessert" – a Coconut Cream Pie LÄRABAR. The ingredients in these bars are great – dates, unsweetened coconut, almonds, cashews and coconut oil, and they taste delicious! (Dates however are super sweet, and this definitely was a treat for me, given that I've now had them two days in a row. Danger!)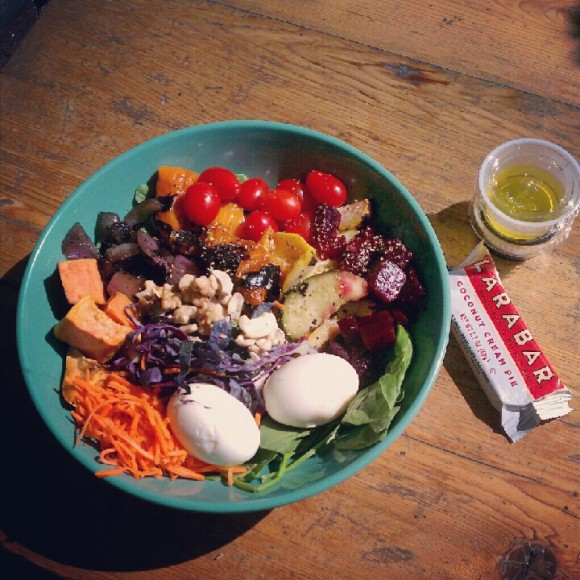 After brunch, we finished up our errands with a trip to Pinkberry. Which I abstained from. Devon tried out their seasonal chocolate hazelnut flavor, and I had this delicious iced tea from the Starbucks next door. We sat outside for a while, people watching, chatting, and upgrading Devon's phone to iOS 6. I'm likely going to switch to the iPhone 5 next month, and am looking forward to everything except for the switch from the awesome Google navigation to the travesty that is the current Apple dot thing. Even with the new turn by turn… y'all don't know what you are missing.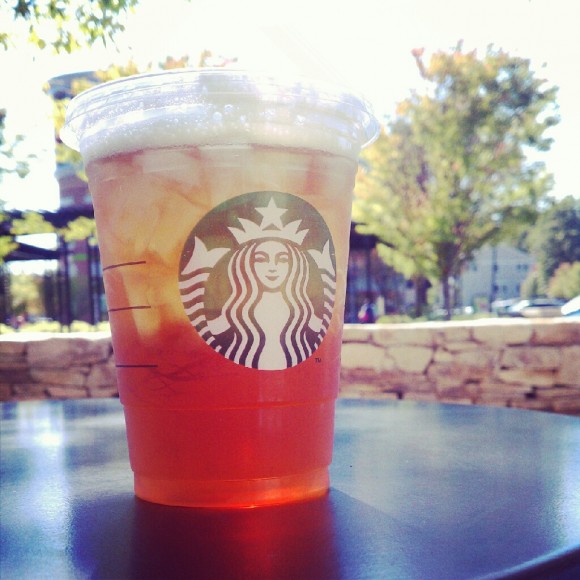 In the late afternoon I headed out for my daily walk. An hour around the neighborhood listening to a podcast before returning home to make dinner. I finally found a good little route with walkable hills! My legs miss those Noe Valley walkabouts, and I've been yearning for steep inclines lately!
For dinner, I took out two lamb shoulder chops from the butcher, which I seasoned with salt, pepper and cumin. I then started on some cabbage – I chopped up a small 1/2 head of green cabbage which went on the stove with some of my homemade chicken stock, salt and pepper. I let it wilt down for about 10 minutes, seasoned it with some cumin and lime juice, and took it off the heat.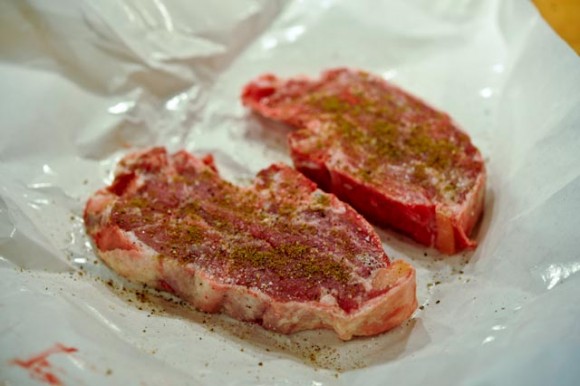 Then, I quickly fried up my chops. 3 minutes on each side for mine, and a few extra minutes for Devon's.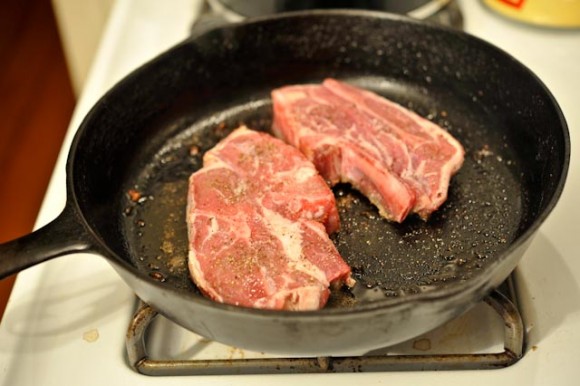 I set them aside to rest, and fried up a single fresh pork sausage, and a tomato for myself. Here's my dinner plate: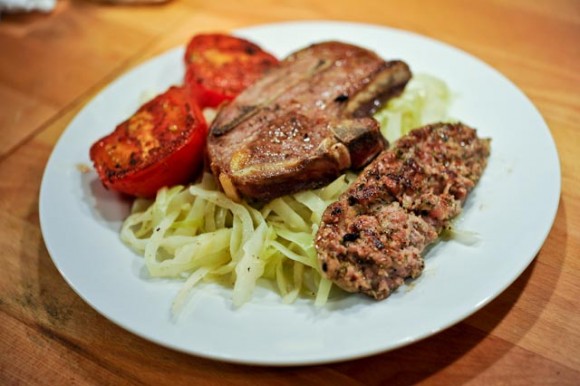 After dinner we watched Top Chef Masters (go Chris!) and Kenneth Brannaugh in Wallender. I can't say enough about every single show from the BBC these days, and PBS for airing several incredible seasons of Masterpiece in a row.
Dessert, because I reckoned I hadn't eaten enough today – a chopped up apple with a spoonful of coconut butter and a spoonful of almond butter.
Now, to bed, so I can get sleep before the race!