Today's Happiness Booster: Evening Walks. I remember when I was a teenager spending the summer in France, we used to go for evening walks. Usually before dinner, or in between dinner and dessert, we'd head out as a group, sometimes just the kids, sometimes the whole lot of us, and stroll through the neighborhood. There was always a lot of smiling, laughing, waving to people eating in their gardens or doing the same as us.
This is a practice that I've been longing to make a habit of, but it hasn't been until recently that I've been doing it. You get rewarded at that time of day, the blue hour*, when twilight hits and the sun has set and things all of a sudden become magical. (*Also, love this blue hour.)
I took these tonight, on my phone, as the light was fading on my evening walk.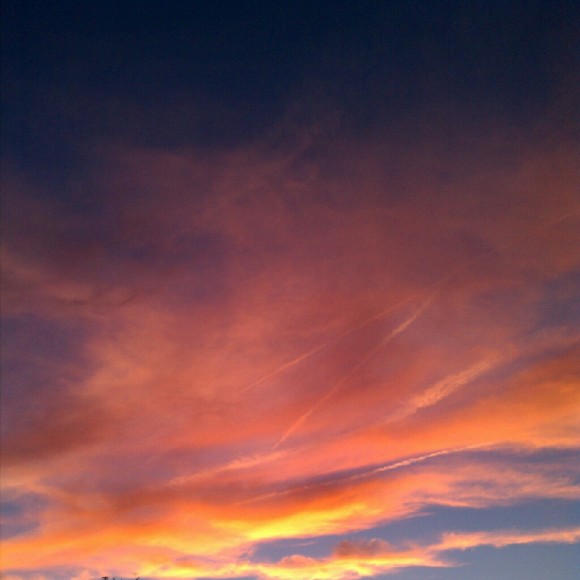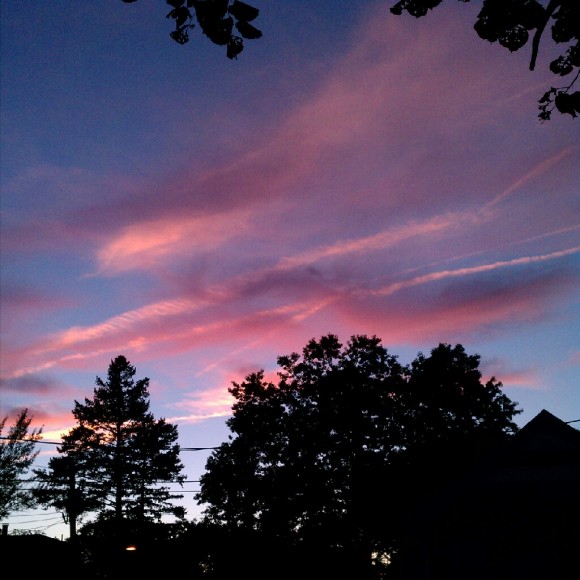 Today was an odd sort of day, trying to fit a few different things into my schedule that I hadn't planned for. I decided at the last minute to go to the gym because I'm committed twice a week, and although I usually go on Friday or Sunday, I wanted to give myself enough rest for my little road race this weekend.
I had half a cup of coffee, and headed to the gym on an empty stomach, because of my last minute judgement. Although having some food is better than none, if I don't leave several hours between eating and my workout, it becomes uncomfortable and "an issue". I'll leave it at that.
Today's workout was called "Tarpit".
AMRAP 20 (As many rounds as possible in 20 minutes):
200m Run
16 Lunges
8 Push-ups
4 Pull-ups (Jumping pullups for me!)
If this looks painful, well, it was. I got in an honorable 5 rounds plus a run. (Three rock stars in my class got 9 + change. Crazy!) To reward ourselves, we did 8 sets of 20 seconds of situps + 10 seconds of rest in between. I did a less than honorable 52 situps. Eek!
Before heading home, I stretched for a good 15 minutes, and swung by the Needham library to flip through a cookbook of mine that is stuck in a box. They have this fantastic statue outside that I just love.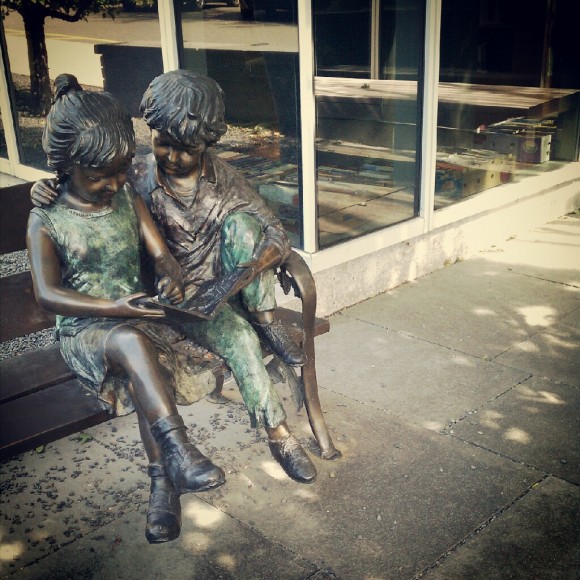 When I got home, I set about making a simple soup of leftovers that turned out better than expected. Butternut squash, roast beef, a few handfuls of baby spinach, and the last bit of homemade beef stock I made last week. I seasoned it simply with salt and pepper and a little bit of Turkish urfa biber (a deep oily red pepper flake).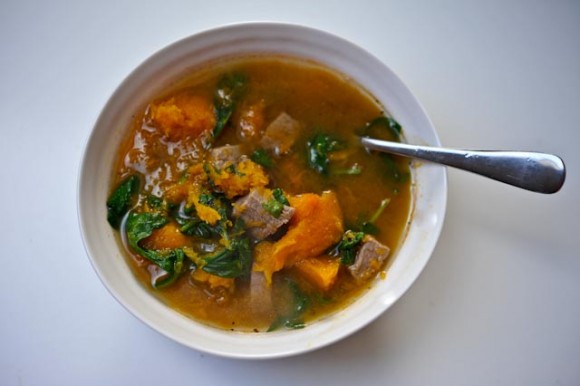 Later in the afternoon, snack was an entire half pint of raspberries, and some iced tea with coconut milk. I had a heck of a time trying to photograph the milky tea, the camera just didn't want to do it. It was good, I promise.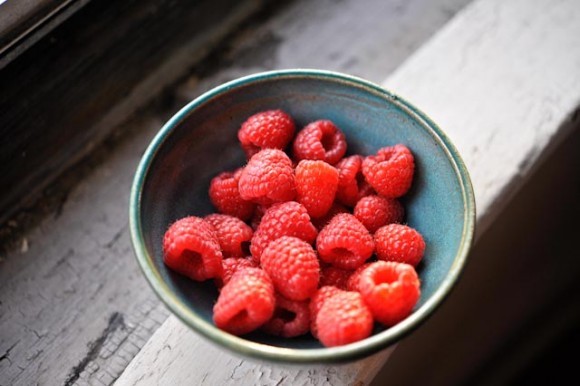 In the early evening I headed off to M.F. Dulock again in Somerville to pick up some pasture raised and freshly butchered meat for the next few days. Having a great source of high quality, humanely raised meat is so important to me – leaving my meat c.s.a. in the Bay was really hard, and I just can't say enough about having access to this stuff. I picked up some beef shanks, beef stir fry meat, fresh pork sausages, lamb shoulder chops and goat! Variety is the spice of life!
After my evening walk, I set about making dinner. First I gathered vegetables to make my salad.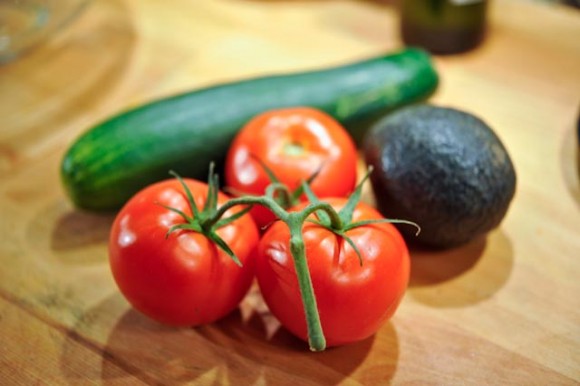 I chopped up the tomato and cucumber, and tossed them in a bowl with a little bit of salt and thyme, and let them sit while I prepped everything else. This allows the juices to puddle at the bottom, and all you really need is a little bit of vinegar and a spoonful of olive oil to finish it off.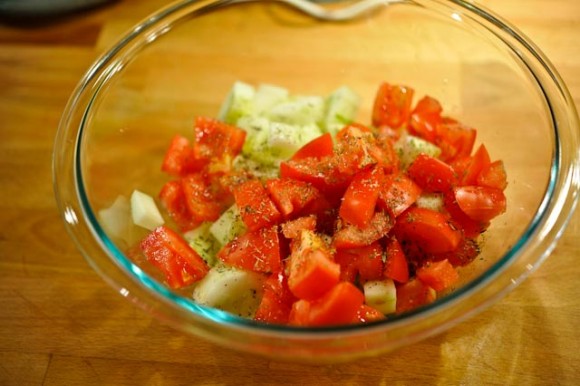 The goat meat I had picked up at the butcher had already been seasoned – salt, pepper, garlic, onions and parsley – pretty much exactly what I do to my ground meat to make Turkish köfte – convenient!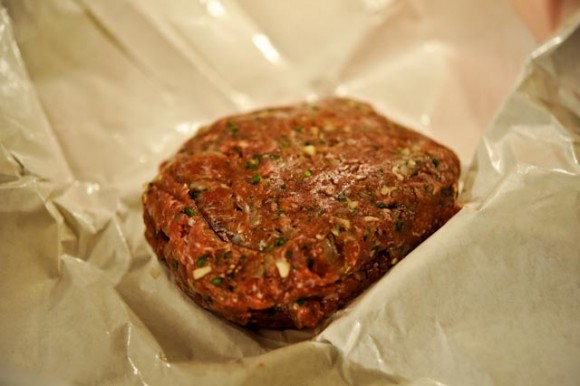 I formed the meat into little balls, and fried it in some tasty lard in my cast iron. Goat is a very lean meat, so a little bit of extra fat was welcome here.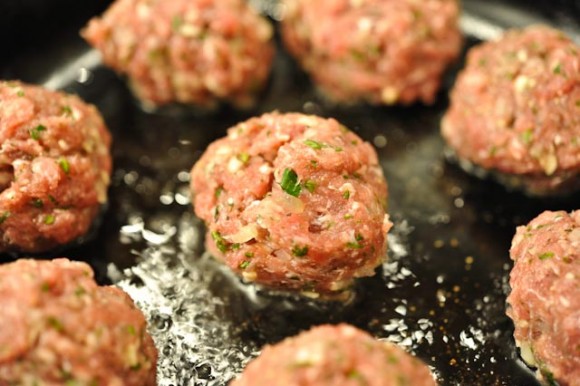 I was surprised at how much they really crisped up in the pan. I made Devon a salad with a little bit of Caesar dressing, sliced up an avocado to share, and made up our plates. This is his, mine had just cucumber and tomato salad without leafy greens for no good reason other than the fact that I had put away the greens before making my own plate and forgot.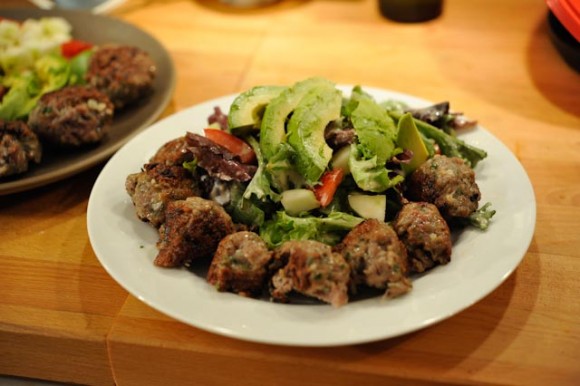 And wait! Dessert! Before my walk, I managed to cut up a melon and put it in the fridge. I ate several cupfuls mindlessly while watching "Breaking Amish". And to think I had seriously contemplated giving up fall TV…