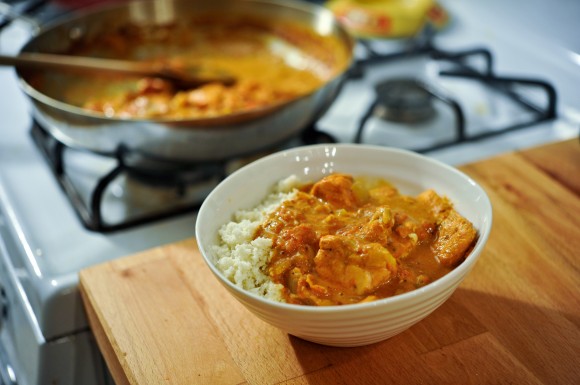 And like that, the weather in New England seems to have turned the corner to fall, although I'm not quite sure it'll stick. We might have more summer yet. Or so I'm telling myself. In the mean time, last night was the first night that I've been alone in a long time (I nervously sent Devon off to North Carolina for a conference). It was cool out and I was craving a bowl of something warm and deeply comforting. With the last of my wild Coho salmon I was sent by Copper River/Prince William Sound Marketing Association, I decided to make a simple curry for myself, inspired by a Nigel Slater recipe.
I don't think that most people associate fish with curries, but warming spices go wonderfully with fish strong enough to stand up to them. Or, as Tamar Adler reminds us in An Everlasting Meal, they are perfect for strongly flavored fish (like bluefish), that you may have left a little bit too long in the fridge.
I made my curry and served it with cauliflower couscous, which, is just blitzed cauliflower that I heated up for about five minutes in a pan with a little bit of coconut milk and some salt. It shares the texture of couscous, is perfect for sopping up the creamy curry, and has the added bonus of being nutrient-dense veg. (You can also make cauliflower into "rice", which may or may not have been what I was attempting to do… until I went ahead and over did it by 20 seconds in my processor.)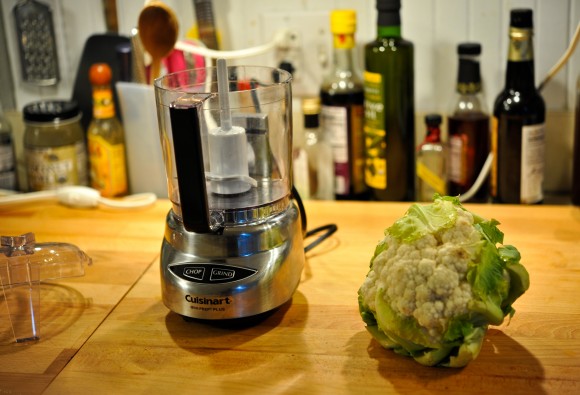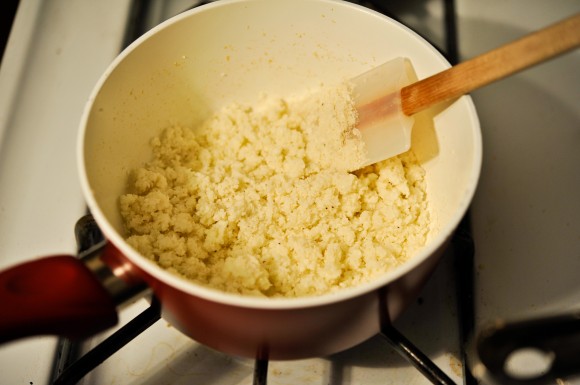 The great thing about this curry, as with most every soup, or stew, is that it tastes absolutely fantastic the next day. Even cold. Which is exactly how I'm eating the last bits, gleefully as I write this.
A warming salmon curry
serves 2
If you don't have all the spices on hand, and have a good curry blend (such as Trader Joe's), go ahead and use a tablespoon of that instead. But, take note that these are really useful spices to have on hand, so you might as well just go and buy them. 
1 wild salmon filet, 1 – 1.5 lbs.
salt and pepper
1 medium onion
1 Tbs. coconut oil
1/2 tsp. mustard seeds
1/2 tsp. turmeric
1 tsp. ground cumin
1 tsp. ground coriander
1/2 tsp. ground chiles (I used Turkish Urfa biber)
1 can (14 oz.) whole, peeled tomatoes in their juice
1/2 cup coconut milk (full-fat, don't skimp!)
1. Remove the skin, and chop your salmon filet into large pieces (about 2-inch cubes), and season with salt and pepper, and set aside. Put together your spices in a small bowl, and set aside. Chop up a medium onion, and warm it in a large skillet on medium heat in a tablespoon or so of coconut oil. Stir about until it softens, being careful not to let it burn.
2. Add the spices to the onions, and stir gently for about 30 seconds, until the aromas start wafting up to you. Add your can of tomatoes, with the juice, and break the whole tomatoes up with your spoon. Stir, and let the mixture bubble and the flavors meld for about 10 minutes, stirring occasionally. Taste your sauce, and add a little bit more salt if need be.
3. Add your salmon, nesting it gently between the tomatoes. Let the salmon cook for five minutes on one side, and carefully turn over, letting it cook for another five minutes. Pour in your coconut milk, and simmer for about five more minutes. Serve warm, over rice, or cauliflower rice.