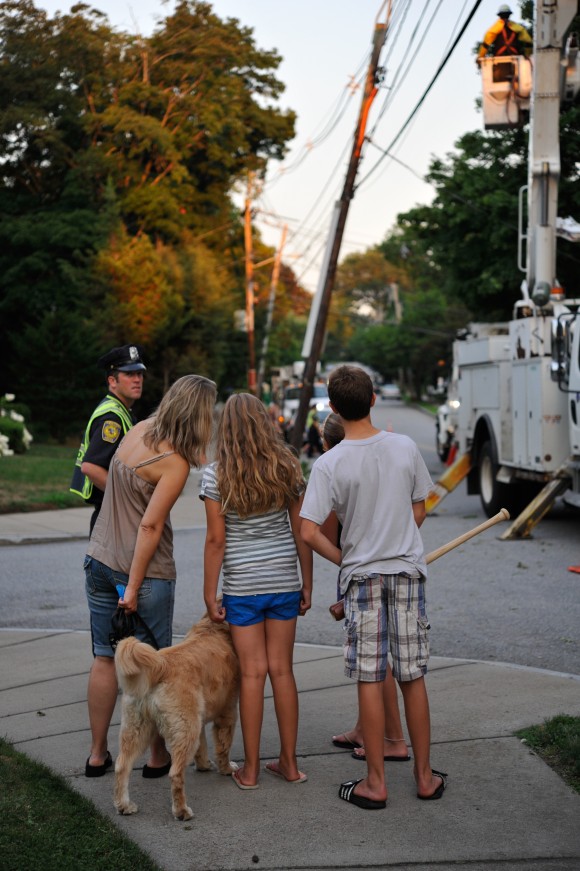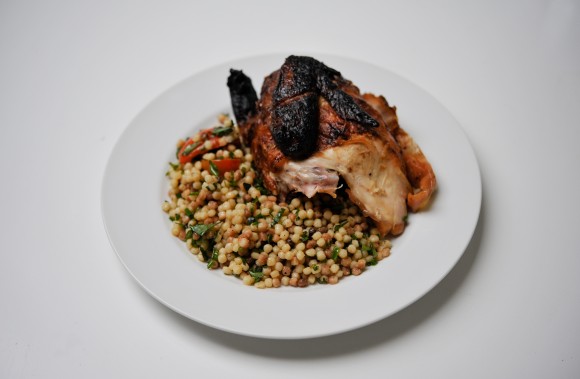 The power went out in our neighborhood as I was cooking on Friday night. I momentarily panicked about all of the beautiful Copper River salmon that their marketing board sent me as part of the Fresh Catch Crew. Then I panicked about the many containers of Ben and Jerry's ice cream in our freezer. Then I walked outside and took this photo. Then the power came back. Thank you, freezer deities. 
Lunches: 1. Fregola salad with fresh tomato and basil from Formaggio Kitchen, with a quarter of a rotisserie chicken. (Pictured). 2. A bowl of baked beans. 3. Devon made an amazing sandwich with roast beef, ripe tomatoes, melted cheese, and a chile-garlic-caesar dressing on ciabatta. It was masterful.
There was a trip to IKEA where we finally got some lighting for under our kitchen cabinets. And some fabric covered in ships. We didn't get any Swedish Meatballs, but we did head back to Pho So 1 Boston in Randolph for the second meal there in two weeks. Their Bun Bo Thit Nuong – vermicelli noodles with grilled beef – is spectacular.
We watched Mark Wahlberg in Rock Star. The supporting cast includes members of both The Verve Pipe and Third Eye Blind. We watched several episodes of Agatha Christie's 'Hercule Poirot' with David Suchet. We watched team USA win the gold in Olympic Basketball. Were you watching? It was pretty thrilling.
I went to CrossFit and am still aching from a running WOD and lots of Curtis P's.
We finished three out of the four containers of Ben and Jerry's in our freezer. Do yourself a favor and find some of their new 'Chocolate Therapy' if you can.
Happy Monday, everyone!