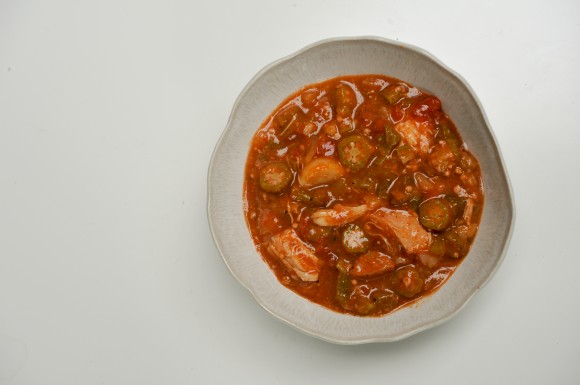 70 degrees outside! Can we have a Hallelujah?! It's finally cooled off around here, which is a good thing, because I've been genuinely worried that I'll overheat and die. I've always been resistant to air conditioning because we've never needed it before, but for the first time in my life I learned just how bad it can get when there is no escape from the heat.
Last week, after a month of reaching the high 90's in the house, we finally got a ceiling fan, rigged up a screen in our big Victorian window, and got some air flow! It's not perfect, but it works. Our windows don't actually fit traditional air conditioners, so we'll be saving up for one of those outrageously expensive robot rolling air conditioners for next summer. (If we make it through the winter without freezing to death, that is.)
As the summer has progressed, I've been eyeing the okra, hoping to catch it before it got too late in the season. You really have to get them small before they get woody and tough. Okra is one of those foods that people seem to either love or hate, and I fall squarely into the love category. There are many things I like to do with these little green pods – pickle them, or add them to chili, or simmer them in a tomato and olive oil based sauce Turkish style, or dredge them and deep fry them – but one of my favorite ways to prepare okra is in this Southern-ish Slow Cooker Gumbo. Okra benefits from long slow cooking to reduce some of its trademark mucilaginous qualities (slime!) But in the summer, who wants to turn on the oven for a long braise? Enter the savior slow-cooker: long slow cooking times, with the added bonus of not heating the house up like a sauna!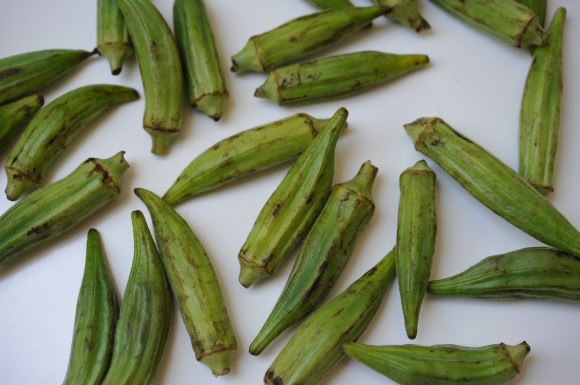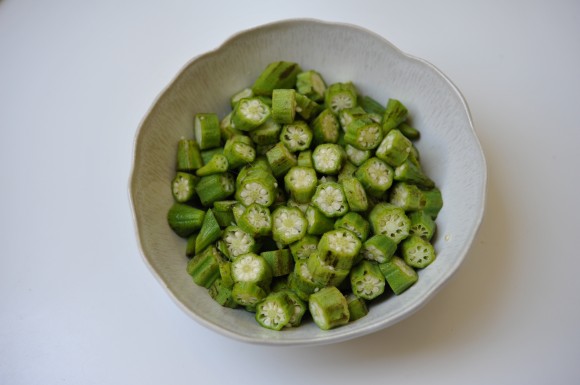 Southern Gumbo you ask? Okay, so I finished reading Midnight in the Garden of Good and Evil, and for the past two weeks all I can think of is how long it's been since I've been below the Mason-Dixon.
The last time I was in Louisiana was winter of 2001. My family had gone on a trip to an eerily empty Disney World – it was just a few months after September 11th, and people weren't traveling. This of course meant outrageously cheap flights, a hotel upgrade at the Grand Floridian, and no lines. No lines.
After a week of the best Disney experience ever, I flew to meet my best friend Sara and her mother and grandfather in an equally empty New Orleans. Her mother was there for the Modern Language Association annual convention, and we were skipping along, free to do what we pleased. We hit the necessities. Café Du Monde for beignets. We gleefully ate crawfish fondue in front of her visibly displeased grandfather (an observant orthodox Jew), which still fills me with guilt more than a decade later . We ate in a Kosher restaurant as well, but I've blocked the memory of that meal. We ate at Emeril's flagship. I want to tell you that I hated it on principle, but truthfully it was one of the best meals I've eaten in a restaurant. Seriously, there was smoked salmon cheesecake.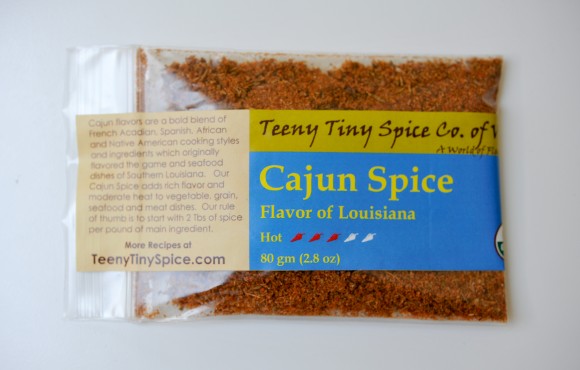 So, about this slow-cooker gumbo. It's kind of a cheat. The best gumbo takes hours and delicate care and attention, preferably with one of those Southern grandmothers manning the stove and beating you with her wooden spoon if you come too close. I love grandmothers!
But I had okra, and some good base flavors: rotisserie chicken, Cajun Seasoning that I was sent by Teeny Tiny Spice Co. (a mix of cayenne, paprika, fennel, mustard, cumin, pepper, thyme, oregano, sage, onion, garlic, and salt!), the holy trinity (bell pepper, onion, and celery), Trader Joe's Chicken Andouille Sausage, and a roux. Well, not just any roux. A real cheeky roux if I do say so myself: instead of flour, I used cornbread mix.
Braving the heat of my kitchen, I did not skimp on this roux. I cooked it as slowly as I could handle. I stirred until it reached a dark reddish hue and smelled like heaven. Then I put together the ingredients in the crock-pot and slunk out of the kitchen and sat myself down right in front of the fan for the next three hours.
But that's the beauty of the slow-cooker – you don't really have to do anything. And you know what? It was pretty damn great.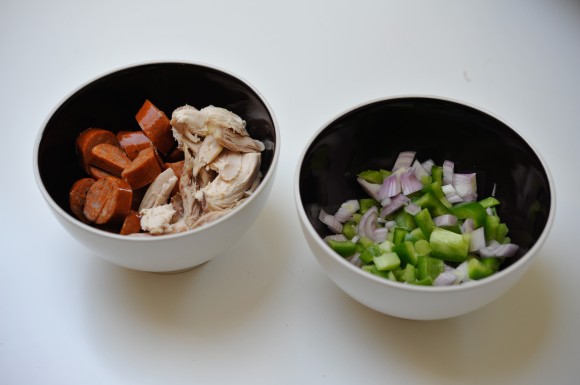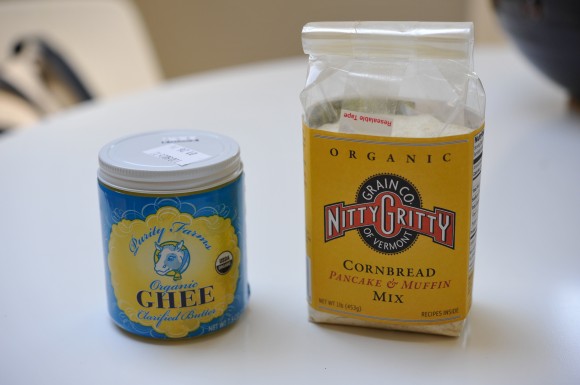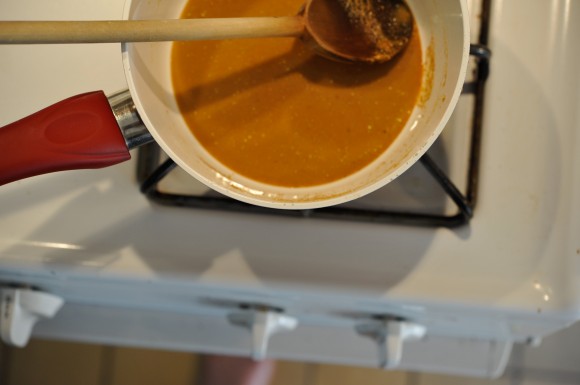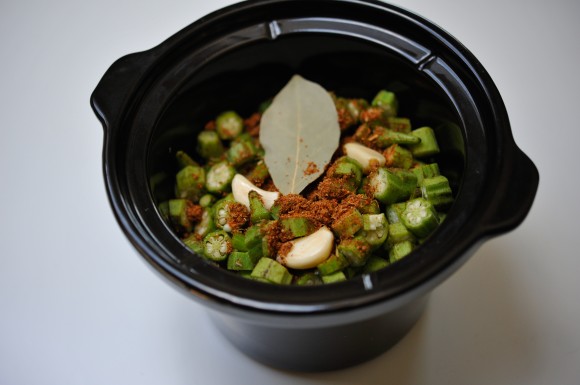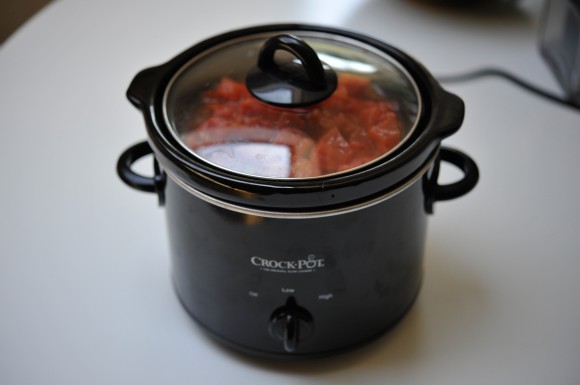 Slow Cooker Gumbo
serves 4
This is one of those dishes that it actually does make sense to organize before you start – because essentially, once you make your roux, you'll layer everything in the slow cooker, turn it on, and walk away. I use a small slow cooker, but you could easily double the recipe to fit it in a large one. If you can't find fresh okra, you could use frozen here, no need to defrost.
Time: 20 minutes prep, plus 3-4 hours to cook.
Ingredients:
For the roux:
1/4 cup fat (lard, oil, clarified butter – I used ghee)
1/4 cup flour (or, in my case, cornbread mix)
For the stew:
2 links Trader Joe's Chicken Andouille sausage
1 cup chopped cooked rotisserie chicken
1 shallot, chopped (you could also use 1/2 an onion)
1 green pepper, chopped
1 large stick celery, chopped
a large handful okra (about 1.5 cups), chopped
4 cloves of garlic
a Turkish bay leaf
2 teaspoons Cajun Seasoning
1 (15 oz.) can fire roasted tomatoes + 1 can of water
a dash of Worcestershire
salt, to taste
Gather and prep your main ingredients – chop your sausage and chicken, and put them in a bowl. Then, chop your shallot (or onion), celery and bell pepper, and put those into another bowl. Rinse off your okra, chop – don't be put off by the slime – and put those into the third bowl.
Then start your roux. On medium-high heat, heat up your fat in a heavy bottomed pan. Then dump in your flour. It'll start sizzling, and you'll want to stir immediately and reduce the heat to medium. Then, you'll stir. And stir. And stir – for about 10-15 minutes, more if you can handle it. The idea is to slowly cook the flour paste so that the roux gets rid of it's raw edge, and becomes a magical flavor base for your dish. But, you have to watch it. The second it burns, you are done for, and you have to throw it out – don't even think of using it.
Once your roux reaches a deep hue, take it off the heat and assemble your crock pot. Layer! First the roux, then the trinity (your celery, pepper and onion or shallot bowl). Then your meats. Then your okra. Then, add your Cajun Seasoning, nestle in your cloves of garlic, and your bay leaf. Finally, pour on the can of tomatoes, fill the same can with water, and add that on top. Add a few dashes of Worcestershire, some large pinches of salt and cover. You can stir it now, but usually I wait until it heats up to touch it.
Cook: Turn the heat onto high, and cook for 3-4 hours, stirring every hour or so.
Serving: Traditionally, this would be served over white rice, but since we aren't very traditional, and I'm a little lazy, I just serve it as is. You can brighten it up with some chopped parsley if you'd like, and pass around a bottle of Tabasco. I also like it with a small dollop of plain yogurt to temper the heat.
Storing: like all stews, this tastes great the next day, and for several days after that. Usually, I chop up a few extra andouille sausages into moons, and add them to the soup as I reheat to make it extra meaty.