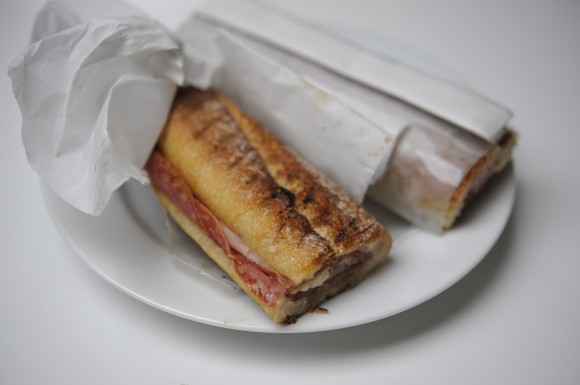 Yesterday I met up with a lovely woman named Anna for coffee at Formaggio Kitchen. She brought along Alex, her sweet mellow baby and we sat outside and talked for a good long time while Alex ate cheerios and keenly observed trucks and dogs and bicycles.
Having worked busily in my very small office this year without much reprieve, I'd forgotten how nice it is to have long conversations with new people. It re-charges you. Inspires you. Makes you feel like skipping down the street, which you avoid doing when you are an "adult" because someone will look at you disapprovingly. Don't worry about them – they can live their miserable lives – you go ahead and skip if you feel like it! Have that coffee with someone new. You won't regret it. 
Before heading home, I picked up this sandwich to go.
Anna's Big Jim : ham, salami & cheddar or Swiss on ficelle. Pressed in the panini press.  Usually I get the ficelle with sesame seeds on it, but they were out. It looks huge, but it's actually quite modestly sized  – that is my smallest salad plate. It's a perfect combination of bread, cheese and meat, and reminds me of Paris in the summertime.