This week I've been reading Cheryl Strayed's 'Wild', her captivating story of solo-hiking the Pacific Crest Trail. I've long been interested in the travel memoir, and particularly drawn the arduous – usually foolish – journey across a thousand miles of trail, or flatland, or through the desert, the bush, or up Mt. Everest.
Jon Krakauer's 'Into the Wild' tempted me to hitchhike into the wilderness of Alaska (until I got further into the book), and for a brief moment (really brief) Rory Stewart had me contemplating trekking across Afghan provinces as he had in 'The Places in Between'. Bill Bryson's 'A Walk in the Woods' had me lusting after the Appalachian Trail, which in my mind still seems like an achievable adventure.
So, in the spirit of this adventure-seeking, let's talk about one of my favorite non-culinary activities for a moment – getting into a kayak, paddling away from shore, and gliding down a quiet river.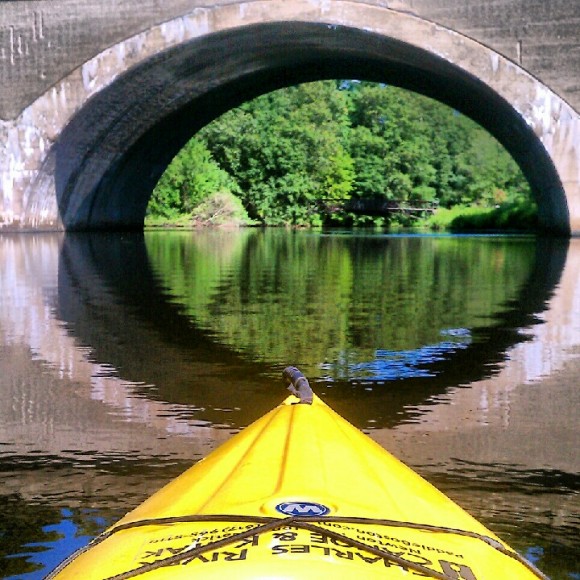 When I'm in a kayak, I can paddle for two hours without thinking about much of anything. My phone nests out of reach in my double ziplock, I don't have my headphones in, and yet I'm never bored. Occasionally I'll set my oar down and let the boat drift where it wants.
Then it's back to the rhythmic paddle, paddle, paddle, until I spot something and drive my oar down into the water to stop the boat: Oo! Dragonflies mating on my bright yellow kayak! (I was tempted to Instagram this one, but I resisted.) Look! Three turtles sun-bathing on a rock. Paddle, paddle, paddle. Swans! Geese! Paddle, paddle, paddle.
On the river you may be alone, but you are never lonely.
There is always a sense of wonder on the water, something to pause for. A heron hunting for fish, waterbugs frantically skating across the surface of the glistening river, or a duck mysteriously perched on a log that you can't actually see just under the surface. That one got a few extra seconds of pause.
*                    *                    *
After kayaking for two hours on Tuesday afternoon, I reluctantly got out of the water, and headed to the store to find us dinner. I thought that something aquatic would be fitting. The plan? Fish Taco Salad (Minus the Taco).
I've been eating much more seafood lately, thanks in large part to the shipments of Copper River Salmon that I've been blessed with as part of the Fresh Catch Crew. (More about that soon!) Because I was starving and couldn't wait to defrost a salmon filet, I stopped by Whole Foods to pick up some swordfish which was on sale this week.
This dinner is beautifully simple to put together, and can be done with any firm fleshed fish, such as salmon or halibut. I had the fishmonger cut a single one pound swordfish steak into two thinner cuts. Yes, I could have done this myself, but it saved me about two minutes and some knife washing to get it done.
To start, I set my cast iron to heat up while I seasoned my fish with this Just Cook Foods Ancho Chile Chicken Rub that came in this month's Foodzie Tasting Box. The main ingredients are smoked paprika, ancho chile, cumin, and oregano. This was a good mix, but you could easily do something similar in your kitchen with your own spices – just make sure to include some salt.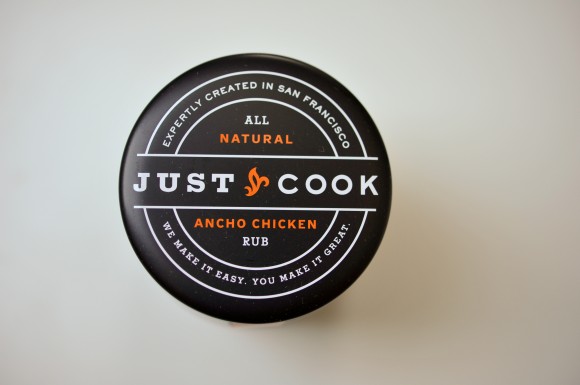 After seasoning the fish, I set it aside while I started work on the other parts of the meal. You want to let the fish sit for a few minutes to let the spices permeate before you cook.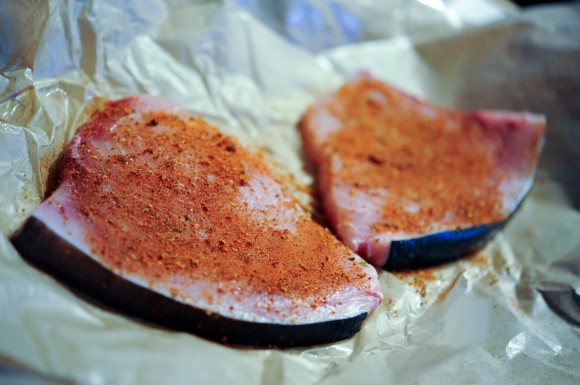 While my pan was heating up, I started out on the Lime-Parsley Vinaigrette for my salad. My new toy this week was a four cup Cuisinart, and I've been making efforts to use it as much as possible. Into the food processor went the juice of a lime, a large handful of parsley, two garlic scapes, two pinches of salt, a grinding of pepper, and about a scant half cup of olive oil. In thirty seconds the dressing was done.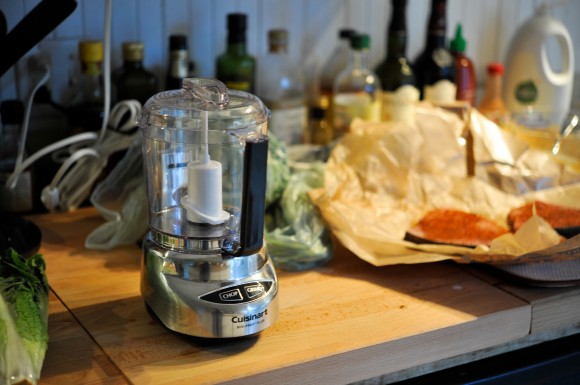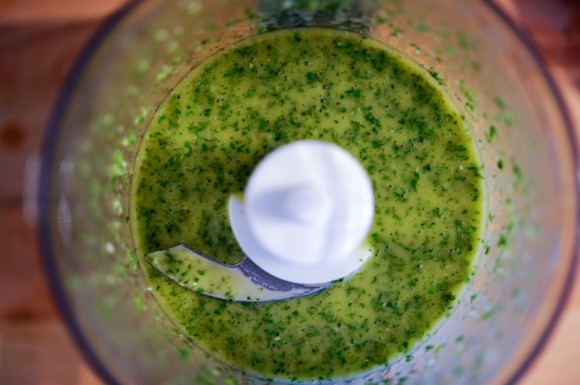 I then started out on the Cheat-Guacamole. When I can't find ripe avocados, I like to use Trader Joe's Avocado's Number Guacamole, and mix it with some fresh pico de gallo. Stir it up, let the flavors meld, and it makes for the perfect side. It tastes good, and you get to chuckle about the math joke that most people won't get.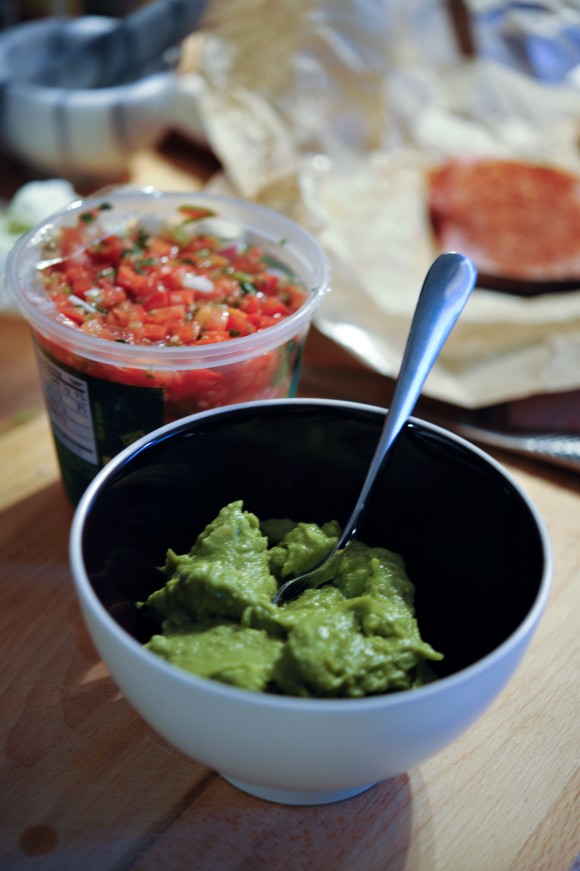 Then, I set my fish down in the pan, and set the timer for three minutes.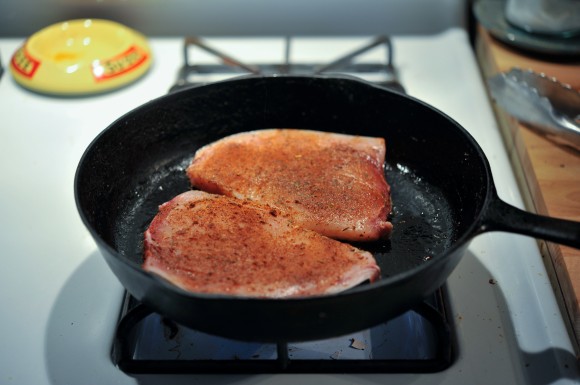 After three minutes, I flipped the fish, and let it go for three minutes more. I probably could have taken it up after two – my cut was pretty moist, but Devon's was a little bit dry. Grumble.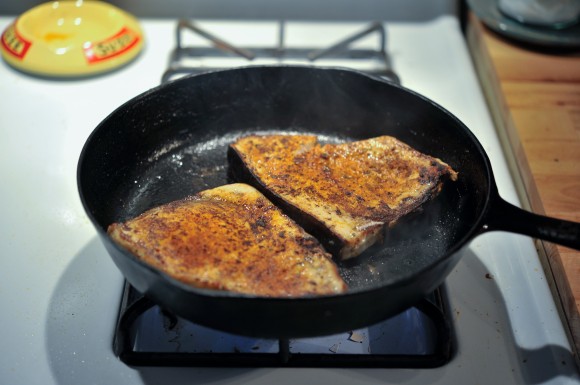 Last step was to rip up some romaine, toss my salad, add a few cherry tomatoes for color, and to top it all off, some hatch chile cheddar (yes, cheese and fish, don't smite me Scott Conant).
Voila!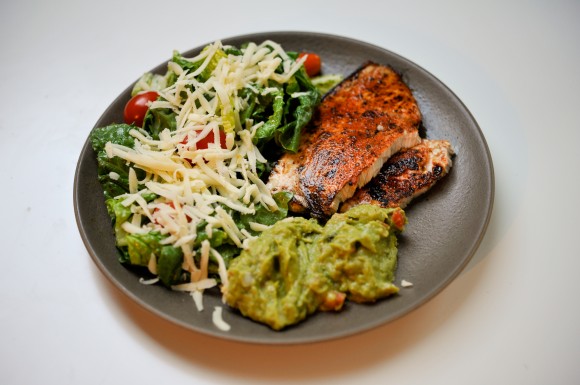 What have you been doing with fish lately?