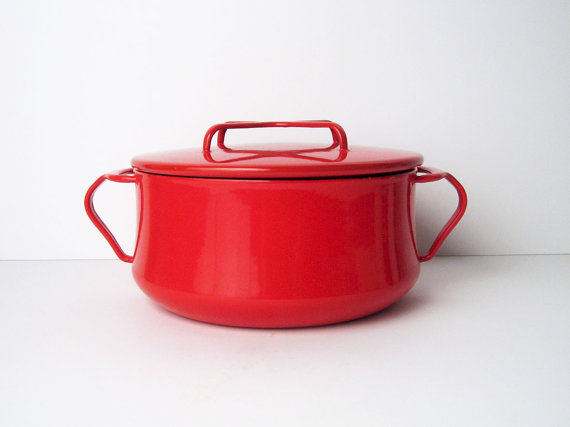 (via)
Holy Scandinavian Design, Batman!
I was shopping around at Crate & Barrel and noticed that the re-issue of Dansk Købenstyle are in stock!
Købenstyle originally came out in 1956, created by the prolific Danish industrial designer Jens Quistgaard – for Dansk, an American company founded by Ted Nierenberg – and quickly became one of the most iconic cookware designs of the time. Known for it's bright, cheerful colors, and innovative design (the lid flips over to become a trivet), it's not surprising how popular this line became.
Since Crate & Barrel doesn't have them up on their site yet, I'll report to you that I found the red, white, and very dark blue (I actually thought they were black) in various sizes. The enamelware is lighter than your typical cast iron, which means that it won't strain your back on the way to the sink, and it won't strain your wallet as much as a new Le Creuset. Even the big pieces were around $100 – the 6 qt. I spotted was $119.95, the large baker $99.95, and the 4 qt. $99.95.
I want them all.
They don't however carry my favorite color – bright yellow. You have to shop vintage for that.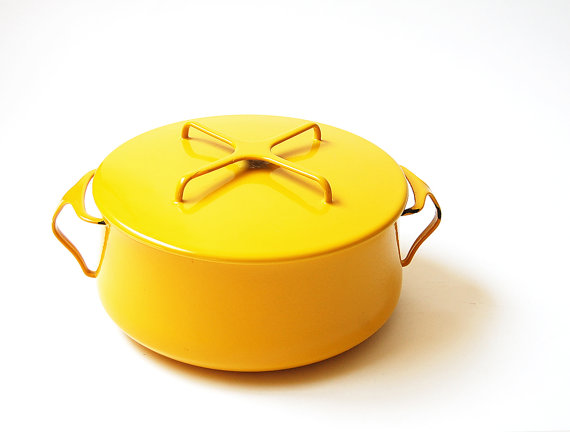 (via)