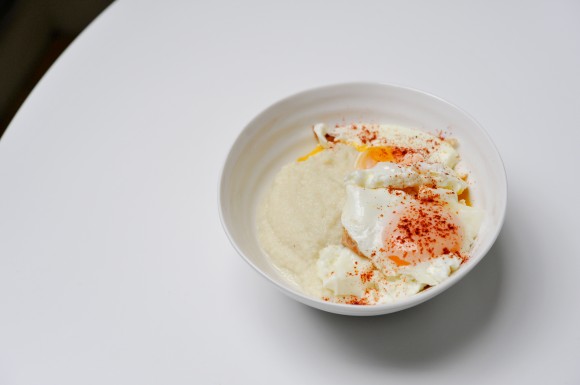 Today marks the end of my week working from home at my kitchen table. It's been good here, and I've really enjoyed drinking tea all day, sitting alone quietly, and pausing to make myself restorative lunches.
This was a bowl of creamy goodness after a long morning of things not going quite right. At the bottom is a sea of cauliflower "mashed potatoes", topped with a few fried eggs, some salt, and a pinch of bourbon smoked paprika that really brought everything together.
The cauliflower mash is my favorite re-discovery, via Nom Nom Paleo. I used to make this quite often – it's one of the best ways to get in your vegetables. Sometimes I'll add some beans, or even a real potato into the mix, but usually just the cauliflower itself is satisfying.
It also fills my craving for big bowls of warm white food. When I'm needing comfort, I find myself turning to bowls of mashed potatoes, or rice mixed with yogurt, or Annie's macaroni and cheese – no judging! Cauliflower mash seems to do the same trick, except I get to feel good about myself because I'm gorging on nutrients instead of an entire day's worth of calories.