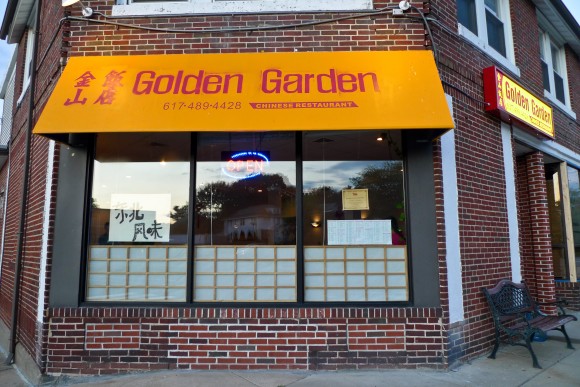 On the way back from our strenuous shopping trip to Ikea, Devon jokingly said he needed $50 dollars worth of Chinese food. Immediately. Preferably two orders of egg rolls. And by jokingly, well, he wasn't. I've been feeding him too many cruciferous vegetables. After five healthy home cooked dinners this week, take-out Chinese food was the appropriate antidote.
The conundrum: where do we get Chinese food in our new city? 
Finding good Chinese food is a crucial task for any relocation, and not one I take lightly. When we moved to San Francisco, well-researched Chinese take-out was the first meal we ate – on the floor of our apartment the day we moved in, New Years Eve. My thought process was that if we were going to kill each other building Ikea furniture and unpacking boxes, our last meal had damn well be a good one.
San Francisco has long been a good city for Chinese food, because it became a stopping point for many immigrants from diverse regions of China. In New England, the iterations of Chinese food are less regional, and skew towards a "Chinese-American" that has little to do with native cuisines. And they are often significantly altered for a more… Puritan palate. (For a fascinating book on the topic, I highly recommend Jenny 8. Lee's book 'The Fortune Cookie Chronicles'.)
This is not to say the Boston area takes this type of food lightly. I grew up with classic landmarks of Chinese-American food that rivaled anything in the country. The 1200 seat Kowloon Restaurant was opened in the 1950's, and is still popular to this day. In the late 1980's, Rick Chang built a 51,000 square foot copy of Beijing's Imperial Palace, and opened a restaurant that served 5000 meals a day, and even had a separate Kosher catering kitchen for the 40% Jewish clientele. Alas, the restaurant closed a decade later due to bad management, a recession, and tax evasion, among other things. These are the nostalgic spots with the pu-pu platters, tropical drinks with umbrellas and deep fried egg rolls the size of a small burrito. I've never been above this type of dining, but they fulfill a different category of culinary desire.
You then have restaurants that serve food with a semblance of what you can actually find in China, which is typically what I'm looking for. Most restaurants have something in between these two. They can still have General Gao's Chicken on the menu, but as long as they have some decent native-style dishes, I'm a happy camper. (You know, the ones that your Asian grandmother would semi-approve of, or at least recognize the components of the plate. We all know that she can make it better.)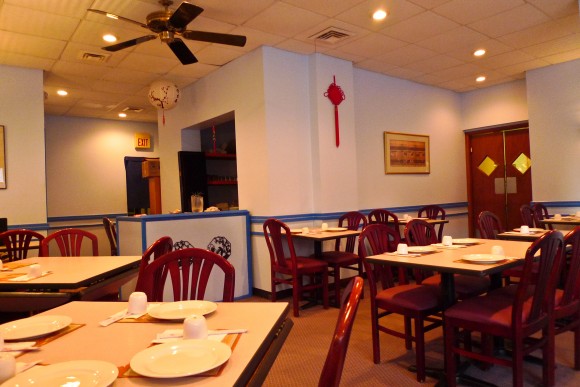 From my preliminary findings, Chung Shin Yuan seemed like a good idea, but after further research, it was noted that the place is really only good for it's Taiwanese Dim Sum on weekends. (I'll jump on that soon). Next on my list? Golden Garden, in nearby Belmont.
We were too far for their 3 mile delivery radius, but after reading scores of reviews recommending their dumplings, we drove over to Belmont at 6:30. The restaurant is located on the corner of an unassuming neighborhood block. There were no cars around. Indeed, we were the only ones seated in the restaurant – although many people stopped by to pick up take-out as we ate. This was a relaxing experience after an afternoon with new-college-parents in Ikea. Devon actually got deliberately rammed by a mother with a cart.
We sat right next to the window. Our waiter was new, maybe a college student, but on top of things. Tea arrived immediately, and we were entertained by the "authentic Chinese-American restaurant zodiac placemats". I had forgotten about these which seemingly were too kitschy for Chinese restaurants in San Francisco, and I feel nostalgic about every time I see them. Devon is a Pig (zodiacally speaking),  and I am a Tiger. We don't technically clash, according to the chart.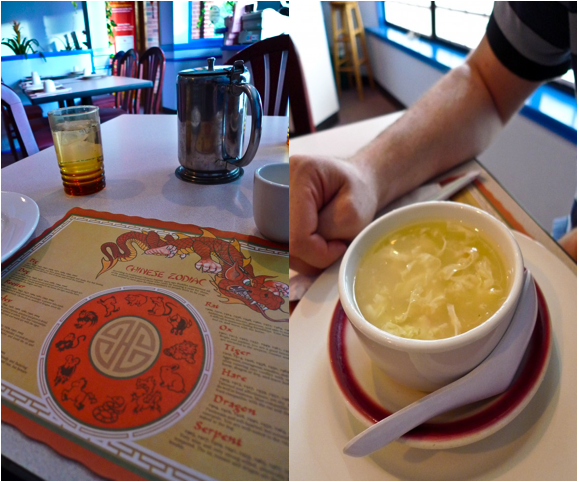 I wish we ordered more adventurously, but I tend to be cautious on my first experience. The menu had Szechuan cuisine, so I went that route. (Although, later I found out the chefs are from Dongbei, in Northern China, which would explain the lamb on the menu.)
After some deliberation, we ended up with a cup of egg drop soup for Devon, an order of pork and leek dumplings to share, ma po tofu, and rice noodles with pork.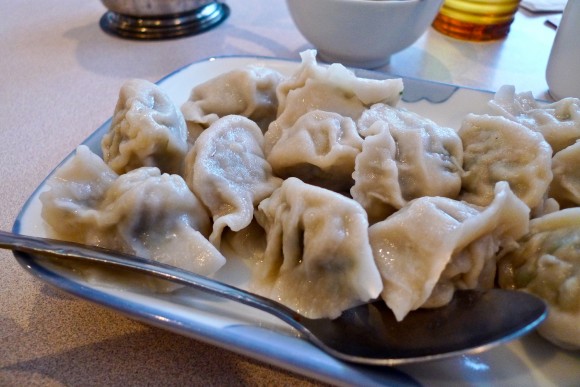 Aside from the egg drop soup, which was slightly bland but serviceable, the food was a success. The dumplings – which you can purchase frozen in bags of 50 – were moist, succulent, and really flavorful. The dumpling wrappers were thin but didn't break, and they were also boiled, rather than steamed or fried, which really makes a difference in texture.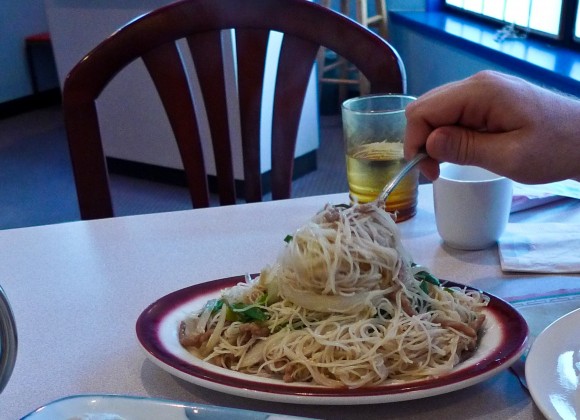 Devon's noodles, which I had successfully recommended he get rather than sweet and sour pork, came to the table looking unassuming, with small strips of pork and chopped scallions,  and was surprisingly well seasoned. The next morning they also made a shockingly good stir fry with cubes of zucchini and bitter greens.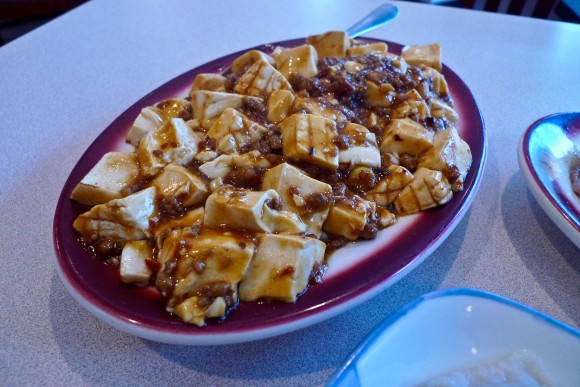 My ma po tofu was soft and jiggly – Devon has "textural issues" with food, and hated it. I found it outstanding. The tofu was soft and fresh, the dish had a great ratio of tofu to meat sauce, and it was spicy enough that I had to order an extra bowl of rice. On my next visit, I plan on ordering more of the house specialties: the cucumber with garlic from the "cold delicacies", the cumin-scented lamb, and a few of the offal dishes.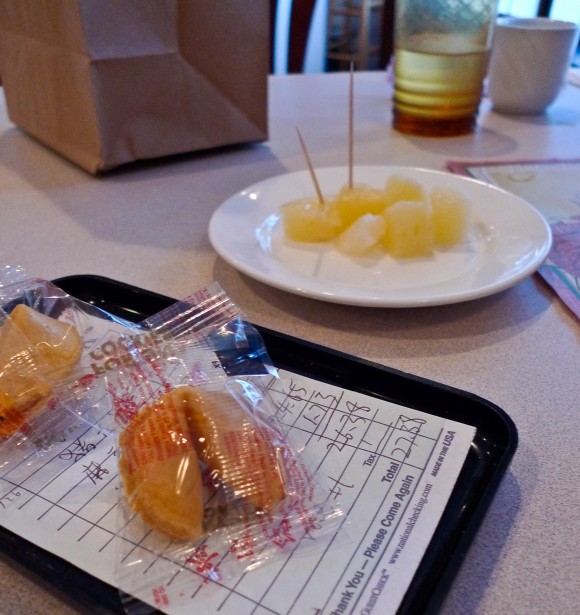 The bill came to $27 dollars and we had plenty of leftovers to take home.
Golden Garden
http://goldengardenbelmont.com
617-489-4428
63 Concord Ave. Belmont, MA 02478