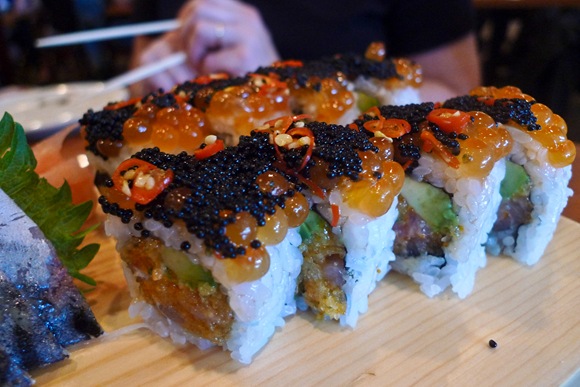 We all have one type of food we crave no matter what our mood is, and for me, that's Japanese food. New England isn't exactly the hotbed of Japanese cuisine, but when I was growing up, we happened to have a good little Japanese restaurant in town called Sakura. I regularly would beg for dinner out so I could eat miso soup and California rolls.
Over time I learned there were more exciting options than California rolls, and soon I moved onto Nabeyaki Udon (a rich broth filled with thick, chewy noodles and seafood and vegetables served in a cast iron soup bowl) and Beef Negima, (thinly sliced beef wrapped around scallions). I finally moved onto the Omakase chefs' favorite sushi – and "please, hold the cooked shrimp", because I wasn't interested, thank you.
Sakura closed after I moved to San Francisco. I was sad to hear the news, certainly, but more out of nostalgia than any real loss. It wasn't the best Japanese food, yet it was the place that opened my heart to an entire regional cuisine. However, I found out another Japanese restaurant opened in its absence when my mother started texting me photos of elaborate sushi rolls. It was called Shio.
Fast forward to my big return to the Seacoast. I've been going on the gastronomic tour these past few weeks, eating at all the old haunts, and making a list of the new ones.
The first time we tried to visit Shio – on a Tuesday – they were closed and I had what we call affectionately in Yiddish, a "kanipshin", which roughly translates to a big ole' hissy fit. Two weeks in my hometown away from the big city and I really needed my Japanese food!!  When triple digit temperatures actually made the idea of raw fish in a blissfully air conditioned environment a necessity, we came back two days later.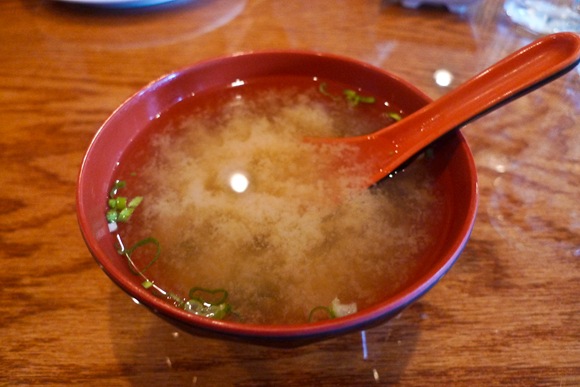 Shio is located in a half empty strip mall in Portsmouth, right on Route 1. This isn't the type of place you'd be casually charmed to stop in after strolling by, you kind of have to know about it. If you aren't the type of person immediately put off by neon sushi signs and a "Big Lots" next door, you'll get rewarded by a pleasant looking restaurant interior. Shio has nice big tables, a sushi bar, and traditional tatami rooms, where you can take off your shoes and sit on cushions. The evening crowd is mainly families, although we saw a few dates, and it can get quite busy.
Let's face it, it's not Nobu, but the food is a notch above your New England neighborhood sushi joint. It filled my sushi cravings, used relatively high quality fish that wasn't bland, and took greater care in plating. They took pride in their food.
Being a tee-totaler of late, we didn't order any drinks (I know, shame on me), but I did observe a fairly well stocked bar, and some excellently kitschy cocktail umbrellas.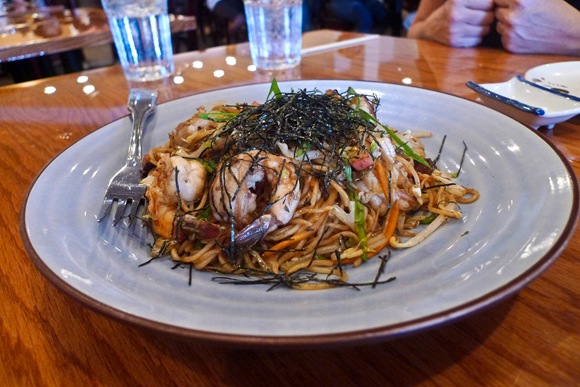 Seafood Yaki Soba with Shrimp and Scallops ($14.00)
In addition to sushi, there is a good selection of cooked food made in the kitchen. Having grown up with a sibling that wouldn't have touched raw fish with a ten foot pole, the relative variety of non-sushi options makes this more family friendly for those who haven't yet hopped on the bandwagon. Even my grandmother eats sushi, then again, she also has a Mac and goes to Zumba classes.
At dinner, my father ordered the Yaki Soba which was unctuous, not too salty, and generously topped with seafood. The Dumpling Soup was a warming bowl of rich mushroom broth with little meat dumplings, scallions, mushrooms and vegetables (and was much better than the miso soup). Devon's Chicken Katsu was lightly breaded with a great crunch, and avoided the typical katsu pitfall of being too greasy. It also tasted superb when I ate the leftovers at 11:45 pm, and was awarded my extra stamp of approval.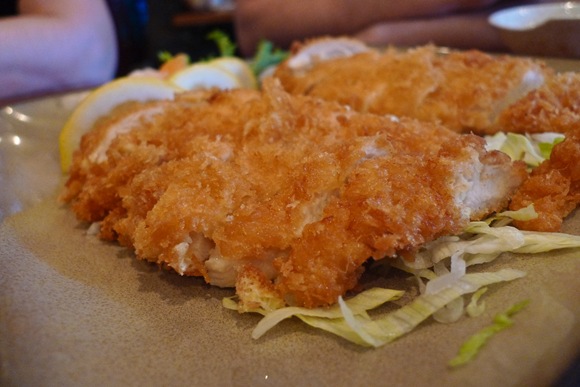 Chicken Katsu ($13) lightly breaded and fried chicken cutlets
Although I'm not a "roll person", the selections at Shio are creative and slightly more exciting than your average selection, using more traditional Japanese condiments such as plum paste, spicy kampyo (squash), or non-traditional additions such as cilantro, mango and fresh chile. My mother had the Rob Roll, which I'm fairly sure was named after someone named Rob, but immediately brought to mind the Urban Dictionary connotation of being very good at something unexpectedly after drinking a lot of booze.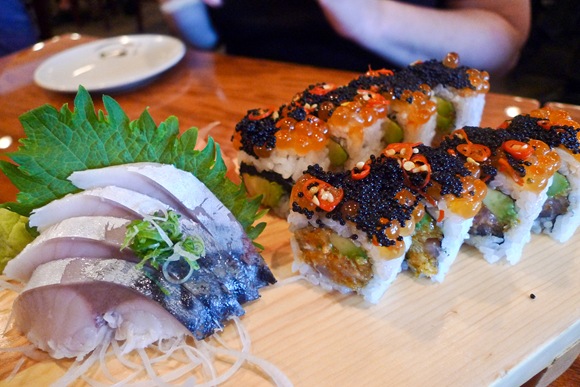 Rob Roll (11.95) Spicy crunchy yellow tail and avocado, topped with salmon roe, caviar, and fresh chili pepper. Side of Saba (Mackerel) sashimi ($4.50).
I ordered my favorite fish preparation, Chirashi, which is assorted sashimi scattered over a bed of sushi rice. This rendition was quite satisfying, and I found myself enjoying everything except for the imitation crab, which I could generally do without. I particularly enjoyed the variety of tsukemono (pickles), there were three beyond the standard pickled ginger.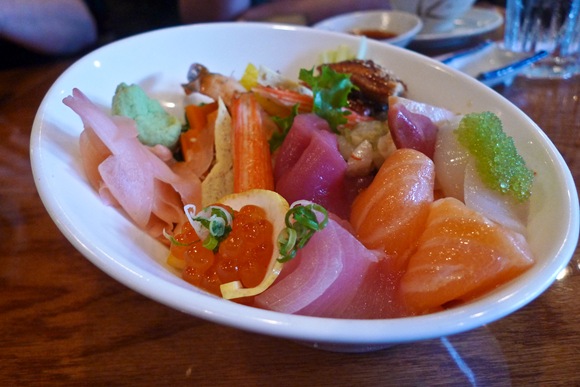 Shio's Style Chirashi ($20) Assorted raw fish, eel, ikura, caviar and Japanese pickles on seasoned rice.
In the name of impartial research, Devon and I actually decided to go back to Shio for lunch, as the specials were quite reasonably priced. Interestingly, while the typical Seacoast lunch crowd is made up of women, we were surprised to see a crowd of mostly business men in button downs and slacks – clearly Shio is the place to be for a work lunch. Unfortunately, one of said businessmen spent twenty five minutes prodding his sushi with a chopstick, and left abruptly, but not before rudely telling the staff he was in a hurry, and wasting his entire meal. In his defense, the asshat convention was probably about to start without him.
Lunch specials were served with miso soup and salad, both of which I could have done without. While I generally like carrot ginger dressing, serving it ontop of iceberg lettuce pains me.  Devon ordered the sushi platter, which came with five pieces of sushi and a California roll, and I ordered the Sushi and Sashimi combo.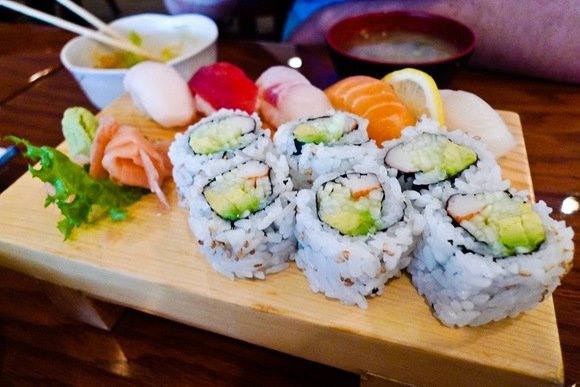 Sushi Platter ($9.50) Five assorted sushi, and a California roll.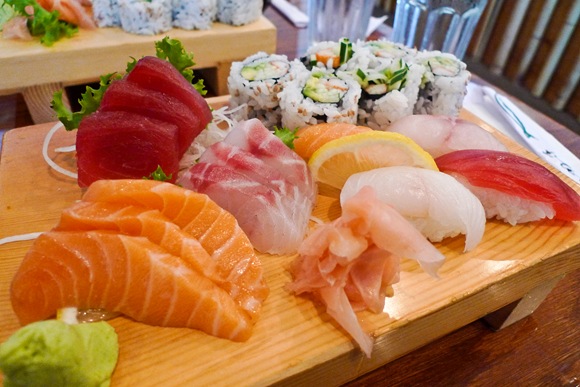 Sushi Sashimi Combo ($12.50) Four sushi, six sashimi, and a California roll.
Although admittedly not as good as my Chirashi at the previous meal, the sushi was flavorful and lunch was a pretty good deal all around. Overall, two solid meals, a decent price, a lucky cat statue, and we will be back.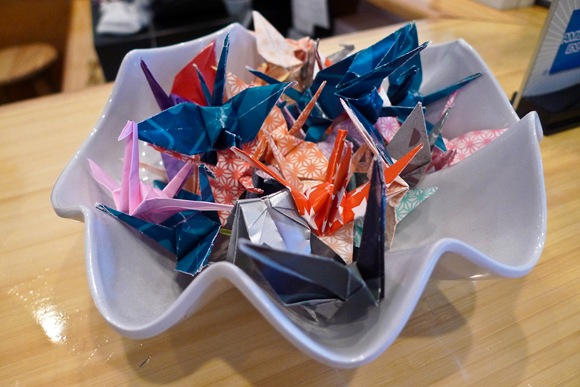 Shio Japanese Restaurant
2454 Lafayette Road
Portsmouth, NH