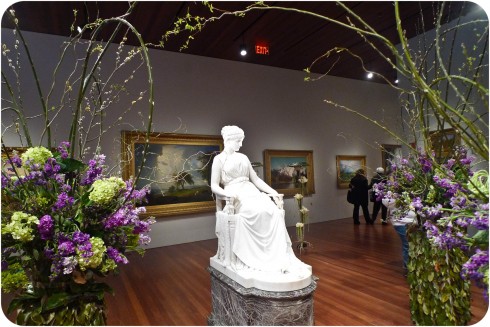 It's nice to have a muse, and for the past few months mine has been the lovely Penelope. Transplanted right from the Odyssey into the de Young, here she is surrounded by bountiful bouquets and looking particularly serene. Despite the fact that rumors are swirling of her husband's death in far lands, she sits, awaiting his return, the symbol of fidelity and faith.
Yes, I understand that my life hasn't been nearly as dramatic. But like Penelope, I had been existing in a state of limbo, and trying to be as calm and patient as possible and accept things as they came. And then my computer died abruptly (more about that here) so my patience was tried in whole new ways. To put this in perspective: in response to a recent email of mine, my grandmother responded "Dear Sam, you really have to go to the computer every day or you do not know what is up!". (Hmm….)
Well, back to my story. For the last two years I've been living and breathing Omnivore Books. My day job was as the manager of this fairy tale wonderland, and I am so thankful to have been part of its growth. But as with everything in life, there is a natural course, and for me it was time to move onto new things. "Move on" being a loose term given that I still live five blocks away and will be around for many of the events anyway. But I won't be there every day, and that realization comes in pin pricks when I think about it, and my heart breaks just a little bit each time.
Many days I am terribly sad to have left, mostly because I miss all of the wonderful people that are part of this community I've helped to build. I'm afraid that there will be acquaintances lost in the cracks because I've neglected to remember their last names, or they live a less digital life, or because I'm phenomenally bad at keeping in touch with people that I really do want to keep in touch with. Which reminds me, if you are on Twitter, and I, @alphaprep , don't follow you, please let me know so we can keep in touch that way.
Then I remind myself that the bookstore is still there for me when I need it, and this little break has only made me appreciate the place more.
Now for the good news – my patient waiting paid off! I have a brand new job which is particularly fulfilling. I now work for a company called Square. It's a financial company that allows anyone to accept credit card payments with their mobile phone (either to take money from your friends – or you know, for legitimate business). There are no fees to sign up, no monthly fees, and the device is free. But, lest I continue sounding like an advertisement, I'll quit here and just say that it's awesome to be working for a growing company with a product I truly believe in.
Another perk is that I get fed at work. (Breakfast, lunch, and if I so choose, dinner.) Although, this makes me a little nervous, because free tasty food is the bane of my healthy existence. Which is where this book comes into play. Just a few weeks ago, Heidi Swanson published her new book Super Natural Every Day, and I've been cooking and eating out of it as much as I can. Her recipes are utterly delicious while at the same time being very healthy – the perfect antidote to potential pitfalls of not cooking many of my daily meals. (I'm happy to say that in my first week of work, I did not, in fact, gain the five pounds I anticipated, but lost three.)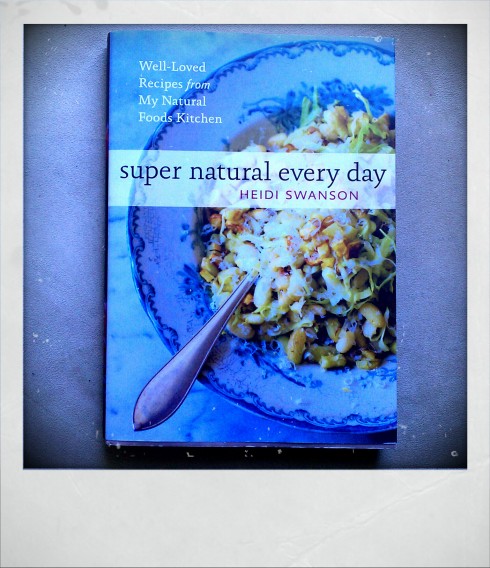 Heidi Swanson is one of those people who understands how to cultivate a beautiful life, and is uniquely adept at sharing it with others.
I first met Heidi at Omnivore, which to most would seem like a probable place to meet her, but believe me, I was still startled at the occurrence. (Yes, I know her blog is called 101 cookbooks. As in the very same type of book shelved along every wall of the particular establishment that I worked in.) But you know, it didn't occur to me that she would actually end up in the same room as me, let alone would I get the privilege of seeing her on a semi-regular basis.
After meeting her just once, I ran into her at a coffee shop one evening by Duboce Park. She was drinking beers with her boyfriend Wayne, and I was positively overwhelmed by the fact that she not only remembered who I was, but both knew my name and gave me a hug. At that moment I realized how real this person was, and it seemed like a very San Francisco moment – where the people you aspire to be are real people, and you can realistically run into them in the course of your daily life on this 7 x 7 mile patch of Northern California.
It has been a pleasure to see Heidi over the past few years as she has come into the shop and gathered inspiration for her work in progress.
I was particularly excited to get my hands on an advanced copy of her new cook book (thank you Ten Speed!). The day mine came in the mail, I took it with me to one of my favorite spots in the city, Coffee Bar, and read it through cover to cover. And then I started cooking. Within the next few days, I would go on to make the green lentil soup (curry powder, brown butter, coconut milk, chives) on p. 149; the farro soup (curry powder, lentils, salted lemon yogurt) on p. 128; the weeknight curry (tofu, coconut milk, seasonal vegetables) on p. 135, which satisfied even the more carnivorous one in the house; and a bowl of lemon-zested bulgur wheat (coconut milk, toasted almonds, poppy seeds) on p. 37, which was the perfect start to my morning.
The best part of this book is that it is impossible to read without wanting to head straight to the kitchen. The recipes are easy enough that you could feasibly make them on the fly with a well-stocked pantry. (Which she teaches you how to create if you don't yet have one.) The recipes are vegetarian, although so well layered with flavor that even the meat and potatoes crowd will enjoy them.
Last month we had a potluck at Omnivore,  in honor of Heidi (and her new book). I had a truly lovely time taking up my old post – ringing up books, popping open Prosecco bottles and stealing moments to give and get hugs. I did a measly job of taking photos, but this whole wheat chocolate chip skillet cookie was one of my favorite dishes to photograph and eat. It's actually not in the book, but the recipe is on Heidi's site here.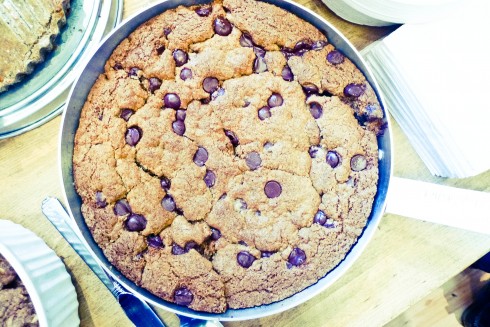 It's been quiet on here lately, but this book was a great reason for me to mosey on back. It's nice to be here, in my little corner of the internet, and I've missed it – and I have missed you all.