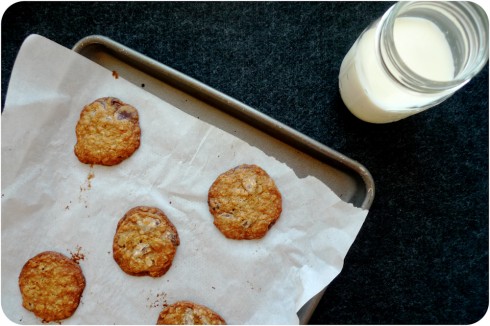 Hint To Self #324: If you are hosting a cookie competition, there is no way in hell that you will not eat dozens of delicious cookies. Your plan of 3-5 cookie samples is an outrageous underestimation of the truth, and a lie to yourself. You've learned this at countless previous competitions. Plan accordingly.
But, before I re-cap the hardcore competition (yeehaw!), I want to take a quick moment of reflection. Today, a reader who shall go nameless, actually apologized for commenting so often on my blog, and let me know that she hoped I didn't think she was crazy. This actually made me a little sad, because it couldn't be farther from the truth. I can't thank you all enough for coming and reading my blog. The reality is, every time I read a comment, my heart fills with joy. And yes, that even goes for my mom, who I know has been reading every single post dutifully since the beginning.
My first attempts at blogging as a teenager were a personal pursuit. Nobody actually read my LiveJournal, and I was okay with that. I started writing this blog though because I missed my family, my home, my community, and food. It was a scattered attempt to find my place in this world, to share my experiences and to exist within a community of like-minded folks that I so admire. Over the past few years, it has been truly miraculous to meet so many wonderful people because of this blog, and while working at Omnivore Books. You've all made my life so much greater for it, and again, I thank you.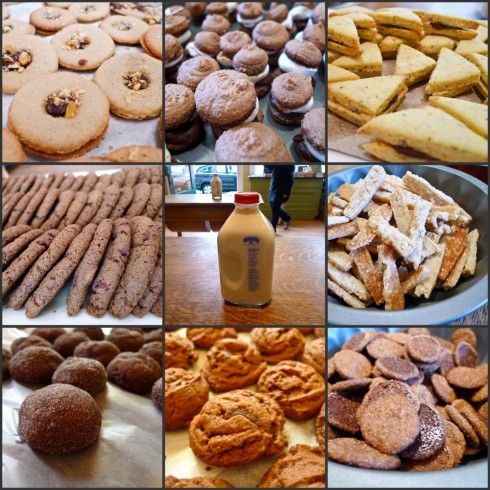 Off my sentimental soapbox for a bit, it's time for another competition round-up from our little corner of the world at Omnivore Books on Food! We've had pies, fried chicken, pumpkin recipes, tomato recipes to name a few. This time, with cookies, I think we truly took it to another level.
Now, if you know me personally, you know my love for cookies runs deep. I can tell you that it is exactly an 11 minute walk to Anthony's Cookies from Omnivore Books. When I test a new cookbook, if they have an oatmeal chocolate chip recipe, you can be sure that I'll make it. (Mad Hungry is in the lead – see the top cookie shot there). If you are ever in the area near Brown University, you need to make a pit stop for a Meeting Street cookie, which a friend of mine once admitted that if she could, she would pro-create with one. Her grandmother, incidentally, makes a peanut butter cookie that rivals all others. And if you are ever able to make it to Big Sur Bakery, Michelle's chocolate chocolate chocolate cookies are glorious, as are all of the varieties.
I share this all with you, because, being cookie obsessed I hold very high standards, and today I was very impressed. There was a real breadth of entries in this competition. I'm missing about five here, because in the end we sort of just exploded with cookies.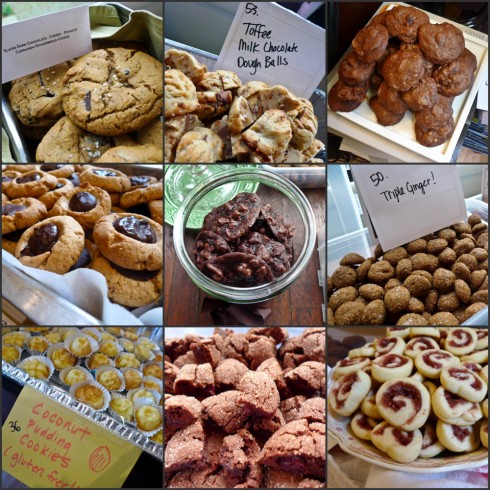 In no particular order:
Brown Sugar Toffee, Chocolate Chip, Chewy Almond Raspberry, Jacques Torres Spiced Chocolate Sugar Cookies, Orange Polenta, Chai White Chocolate Shortbread, Macadamia White Chocolate Chip, Caramel Cashew Choc-Oat-Ban, Toasted Walnut, Crispy Spicy Gingerbread Coins, S'more Macarons, Mayan Mexican Chocolate, Crispy Sesame Sticks, Chocolate Peanut Butter Sandwiches, Sugar Babies, Coconut Bars, Chocolate No-Bake Cookies, Chocolate Peanut Butter Fudge-gasms, Double Chocolate Mint, Cranberry Orange Pecan Oat, Coconut Pudding (gluten free!), Mocha Shortbread Chocolate, Salted Caramel Whoopie, Pecan Thumbprints, Raspberry Coconut Swirls, Mocha Squares, Chocolate Pecan Cherry, Mexican Hot Chocolate, Chewy Quinoa Raisin, Lemon Ricotta, Uncle Bill's Cookies, Chocolate Spiced Cherry, Chocolate Chocolate, Double Chocolate Cherry Toffee, Chocolate Espresso, Triple Ginger, Lavender Shortbread, Salted Peanut Butter Triple Chocolate, Salted Chocolate Cherry Pistachio Cardamom, Toffee Milk Chocolate Dough Balls, Lemon Rosemary, Almond Butter, Cowboy Cookies, Oatmeal Chocolate Chip, Monster Cookies, Peanut Butter Chocolate Chip, Perfect Chocolate Chip, Sable with Black Tea and Plum Jam, and Chocolate Toffee with Sea Salt.
I was happy to see so many people I know, and meet lots of new folks as well. (A quick shout out here to Irvin whose wonderful blog Eat The Love just got a nod from Saveur because he is a rockstar!!! And, because I met her for the first time last week, one to Annie the Baker, whose dough balls are the stuff of legend.)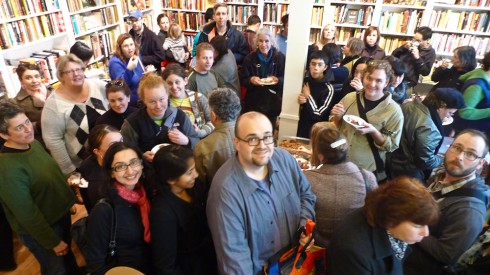 The second place winner – who in my post-sugar-coma I neglected to write down her name – won for her Salted Peanut Butter Triple Chocolate Cookies.  As I started tallying the votes, I realized that I hadn't tried one of these yet, and they were heading clearly to the lead. I'm glad that I snagged one before they were all gone! For her success, she won a coveted year long membership to The Bakers Dozen.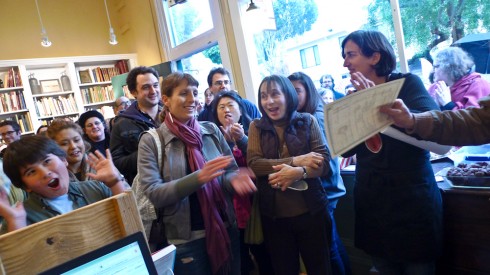 The winner, Julie Wise, won $150, with her Chocolate Toffee Cookies with Sea Salt. She entered the contest at the urging of her son, and is donating the winnings to his school, Mira Loma! So, pretty much, she also deserves an award in the coolest mom category.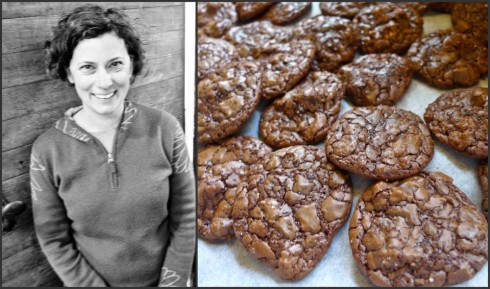 Here is the winning recipe! Now I'm headed to sleep off the sugar coma. Celia, I believe, is a better woman than I, and last I checked twitter is heading to IN-N-OUT. That is dedication people. Have a great rest of the weekend everyone!
Chocolate Toffee Cookies
Adapted from Smitten Kitchen, where it was adapted from Bon Appetit
*     *     *
1/2 cup all purpose flour
1 teaspoon baking powder
1/2 teaspoon salt
1 pound bittersweet or semisweet chocolate, chopped
1/4 cup (1/2 stick) unsalted butter
1 3/4 cups (packed) brown sugar
4 large eggs
1 tablespoon vanilla extract
5 1.4-ounce chocolate-covered English toffee bars (such as Heath), coarsely chopped
1 cup walnuts, toasted, chopped
Flaky sea salt for sprinkling (optional)
Combine flour, baking powder and salt in small bowl; whisk to blend. Stir chocolate and butter in top of double boiler set over simmering water until melted and smooth. Remove from over water. Cool mixture to lukewarm.
Using electric mixer, beat sugar and eggs in bowl until thick, about 5 minutes. Beat in chocolate mixture and vanilla.
Stir in flour mixture, then toffee and nuts. Chill batter until firm, about 45 minutes.
Preheat oven to 350°F. Line 2 large baking sheets with parchment or waxed paper. Drop batter by spoonfuls onto sheets, spacing two  inches apart. Sprinkle with a pinch of flaky sea salt, if you're using it. Bake just until tops are dry and cracked but cookies are still soft to touch, about 10 to 13 minutes. Cool on sheets. (Can be made 2 days ahead. Store airtight at room temperature.)