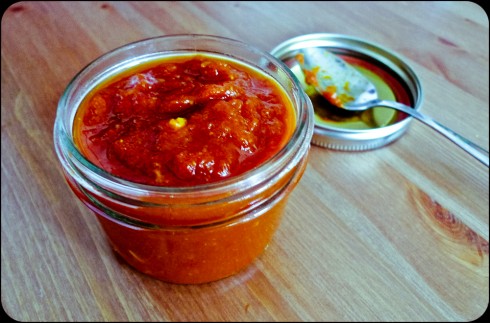 Last week, I had a mini-tragedy.
I was eating my way through half-filled jars in the fridge, and finally came to the end of an excellent tomato chutney that I had acquired from Trader Joe's. I really liked the stuff, and I decided that it was well worth getting a replacement jar. When I went back to the store to do so, I was shocked – SHOCKED! – to find out that they had discontinued it. "We loved it here, but our tastes in the Bay Area don't always translate to the rest of the country," the manager said, shaking his head.
I've seen people wither into depression after TJ's sends their favorite product to the graveyard. I was on the verge of a chutney-less meltdown. I assure you that this was a great tomato chutney. A little sweet, a little spicy, a little tangy. I used it to stir fry greens, to serve with curries, and as a chicken marinade. It was good with toast, topped with melted cheese. It was also a great complement to roasted cauliflower. What was I going to do without it?
And then I remembered that I spent the past year working on my friend Karen's mostly-condiment cookbook, and I could probably  make my own version at home. I knew the ingredients (I wrote them down off the back of the jar), and all I had to do with fiddle with the proportions. It couldn't hurt to try?
After an hour of tinkering, I present to you:
(Not Quite) Trader Joe's Tomato Chutney
makes about 1.5 cups
time: 40 minutes
1 (14.5 oz) can diced tomatoes (no salt added), with juice
1/4 cup sugar
1/4 cup cider vinegar
1 teaspoon cumin
1 large pinch Maldon salt (or kosher salt)
1 teaspoon curry powder
1/2 teaspoon red chili flakes
3 cloves of garlic, peeled
1/4 teaspoon ground ginger
In a small saucepan, add all the ingredients and stir well. [I used an immersion blender in the saucepan before cooking to break it down into a chunky paste, but you could wait until after cooking to process in a food processor or blender.]
Bring to a boil (it will bubble and splatter, so be careful!) then turn the heat down to low, and cover. Simmer for thirty minutes, making sure to stir every five to ten minutes, so that the chutney does not stick to the bottom.
Spoon into a glass jar. This is a fresh chutney and should be stored in the refrigerator for up to two months. You could probably can it, but I find that it's so quick to put together, that it's probably easier to just make a fresh batch when you want it.