[First there was 'Tuesdays With Dorie', where each week food-lovers across the internet united to bake a recipe from Dorie Greenspan's 'Baking: From My Home to Yours'. And now Dorie is out with a wonderful new cookbook 'Around My French Table' where she shares her favorite French recipes, and I've decided to cook along. Check out French Fridays with Dorie if you'd like to join the fun.
This week's recipe is Dorie's Paris Mushroom Soup (p.72), a warming soup for a cold winter day. The ingredients: butter, onions, garlic, mushrooms, rosemary, parsley, white wine (or sherry) and stock are minimal, but provide great depth of flavor. Instead of as suggested over a little salad of mushrooms and herbs, I added Rancho Gordo christmas limas to my soup, and a little swirl of Bariani olive oil. In accordance with 'French Fridays With Dorie' rules, I'm not posting the recipe – you must buy Dorie's book to get the details. But believe me, it will be money well spent.]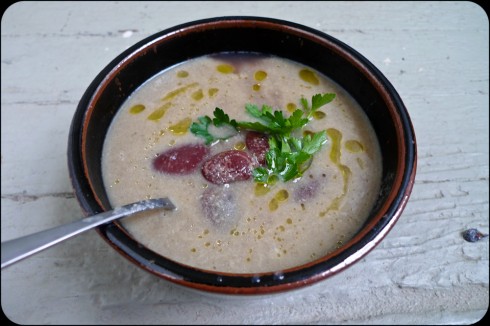 Gretchen Rubin, author of 'The Happiness Project', asked in this week's happiness challenge: "Are there little things in my life that I can do, that can make my life happier?" Rather than tackling massive problems, so much good can come out of making tiny changes, and keeping up with them regularly.
While I don't write out specific resolutions each year, I do write lists for myself regularly, and find that I get more done by doing so. Lists make it easier to live purposefully. Instead of watching life pass me by, lists help me spring into action. Some of my lists are short, easily manageable tasks, others contain lofty goals for my lifetime.
I also like my lists to be flexible. Rather than write out resolutions, I chose a word of the year that can be applied to all aspects of my life. This year's word is Habit. Habits are the little changes – the rituals – that help me do more.
This winter, my fascination with books has overtaken my fascination with food, for the moment at least. When I feel an inkling… I find it fulfilling to throw myself into things.  I've been reading, and reading, and reading, so much that at times I think my head will explode. I've started a new 52 books project, which at this rate might become 150 books, although I suspect I'll need to take a break now and then.
I've been making a bigger effort to journal, document and blog. I've found inspiration here about journaling. I've been attempting to take more photos and to take better photos.
After moving to San Francisco, I found myself forgetting rituals that I'd held dearly for years. There was something about the less pronounced seasonality perhaps – each season here is fleeting, blink, and it's gone. So I started a list for that too. Here is my list for winter:
:: Winter To-Do List, 2011 ::
1. Make home-made Biscoff Spread.
2. Decorate the house with succulents and grass.
3. Winter dinner at Ad Hoc.
4. Work on my 2011 Happiness Project.
5. Bake parsnip fries. More than once.
6. Read! Write! 52 books project.
7. Make space for new books, dust book tops.
8. Flush drains with boiling water.
9. Clean out my closet, again.
10. Go through catalogs and magazines to recycle.
11. Drink hot chocolate. With marshmallows. (Home made, preferable).
12. Spelunking! (Antique shops – for vintage spoons and bowls, that is.)
13. Send Valentine's day greetings a la Julia Child.
14. Plan a spring trip to a geologically significant area.
15. Continue X-Files Marathon. (Yes, I missed out when it was actually on TV.)
16. Broil a grapefruit with brown sugar.
17. Hunting! *For white ceramic animals.
What are your plans for this new year? Do you have things that you like to accomplish in the winter time?