[First there was 'Tuesdays With Dorie', where each week food-lovers across the internet united to bake a recipe from Dorie Greenspan's 'Baking: From My Home to Yours'. And now Dorie is out with a wonderful new cookbook 'Around My French Table' where she shares her favorite French recipes, and I've decided to cook along. Check out French Fridays with Dorie if you'd like to join the fun.
This week's recipe was Hachis Parmentier – what Dorie describes as "a well-seasoned-meat-and-mashed potato pie that is customarily made with leftovers from a boiled beef dinner, like pot-au-feu. Her headnote in the recipe attributes inspiration from the famed chef, Daniel Boulud, who despite spending his days cooking luxurious meals at his haute cuisine restaurants, thinks of nothing better than going home and eating Hachis Parmentier – the perfect comfort food.]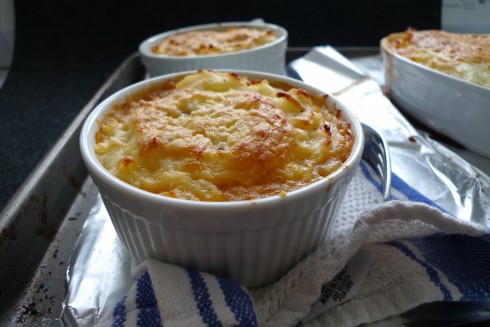 Michael Chiarello was at Omnivore Books this week, and said something I believe to be very wise: "Taste happens in your mouth, but Flavor happens in your mind, intellectually." This is why I cook – not just to produce something which tastes delicious (although, I assure you, this particular dish excites the palate), but for the comfort of food that connects me with my family, my culture, and to a larger global history.
One thing I have learned about comfort food, is that it tends to pop up in variations around the world. Nearly every culture has versions of a healing chicken soup, or a steaming bowl of noodles. These foods were often the food of poverty – simple dishes cooked with care, making the best use of ingredients often harshly rationed.
Although pies can be traced back to the Egyptians in 9500 BC, and potatoes were cultivated over 10000 years ago in Peru, the modern version of shepherds pie is actually a more recent invention. The dish did not become ubiquitous until the potato was heralded as an edible crop in the late 18th century.
In fact, the french name for the dish 'Hachis Parmentier' comes from Antoine-Augustin Parmentier, the French scientist famed for studying the potato, and readily advocated it's nutritional value as a potential boon crop for feeding the poor.
It's not surprising this dish made it's way in some version or another around the globe, because it makes successful use of really any type of meaty leftover, and can be made at minimal cost, with little effort. And it is oh-so-satisfying.
My own nostalgia for the dish comes from eating it regularly at my uncle Allan's table.
Allan grew up in Tangiers, Morocco, and is the consummate host. Family dinners at his house were always a treat. Sometimes there would be fish braised with onions, tomatoes and lemon. Other times, mini meatballs (my favorite) with peas and rice. There were even elegant Moroccan dishes such as b'stilla, a sweet and savory flaky pastry with meat (traditionally pigeon). And of course, there was his Sheperd's pie.
Curious to its provenance, I emailed my uncle to clarify, and he responded: "Yes, in French it is called hachis parmentier. We never really thought of it as a British dish, or a French one for that matter. We usually called it pastel de patatas in Morocco, and indeed it was a pretty common dish back then."
Having the chance to recreate a family favorite, and learning more about the global reach of this dish with some delight, I set to work with gusto, making my Hachis Parmentier à la Dorie Greenspan.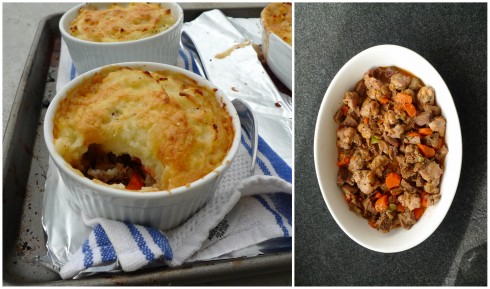 So often these days my cooking is limited to recipes of the simplest variety with few steps. After a day of working in a cookbook store, or testing recipes at home, invariably I am too hungry to wait for a slow cooked meal. But with two days off, I set to work making things from scratch, a veritable foreplay for the main event.
My first step was to assemble the broth that is the basis of the filling. This can thankfully be done in advance, so I headed to Drewes, my local butcher shop to purchase the steak that the recipe calls for. Dorie specifies either cube steak or chuck, and because I rarely buy or eat beef these days, I had to clarify with the butcher, shamefully, that chuck roast is the same as chuck steak. (It is.) They packed me up the steak from Marin Sun Farms, and when asked if I would like anything else, I decided the addition of marrow bones would help to enrich my broth, and provide me a tasty snack as a reward for my first day's work. A few Sicilian sausages went into the bag as well and I headed out.
For the rest of the ingredients, I went to Rainbow Grocery (a vegetarian worker-owned co-op here in San Francisco). My first step was heading over to the cheese department. The recipe specifies using Gruyère, Comté, or Emmental cheese, so I decided to ask the advice of Pete, one of the ever-knowledgeable folks, for a recommendation. After a satisfactory taste, I ended up leaving with a French Gruyère de Comté, made from raw milk and aged for 3 months. (I also could not resist a small piece of Pleasant Ridge Reserve, extra-aged, the recent winner of best in show.)
Wednesday was the perfect afternoon for making broth, my apartment chilly enough that I was still wearing my sweater and scarf. I put my meat, bones, onion, carrot, parsley, garlic, peppercorns and a dash of salt in the pot. I set it to boil, turning it down to a simmer in order not to melt my marrow bones.
After double checking logistics for broth making in both the 'River Cottage Meat Book' and Harold McGee's 'On Food and Cooking' (and to ensure that I wouldn't be poisoning myself somehow by boiling bones for just an hour and a half) I sat reading a temporarily stolen Wednesday New York Times food section from my neighbors, as my broth simmered slowly on the stove.
After an hour an a half of simmering, I partook greedily in my wobbly marrow. [Unlike the chicken liver, which I was taught to be polite and share, I take comfort in the fact that nobody in my household now actually eats the stuff other than me.] I packed everything up, cleaned up the kitchen, and headed out to Omnivore to host Michael Chiarello at our little shop.
The next day I picked up where I had left off: sauteing the sausage with tomato paste, adding the boiled beef, and some of the broth until warmed. I spooned the mixture into two individual buttered ceramic ramekins and one larger casserole.
Then I set to work on the mashed potatoes, using some large russets which I peeled, quartered, and boiled in well salted water. There's nothing that gets me quite as excited as generous quantities of warmed milk, heavy cream, and butter stirred into the tubers. Butter and cream make everything better. After they were done, I spooned them into the ramekins, topped with generous amounts of cheese and baked for a half hour.
The Hachis Parmentier came out of the oven golden and bubbling. The perfect dish for this early fall weather! Devon and I ate contentedly, forking at the layers of salty beef and sausage. The soft carrots had cooked in the broth, and the silky smooth and creamy potatoes were as good as mash gets. Keeping with le French theme, I paired it with some mustard leeks vinaigrette, which provided a nice acidic foil to the richness of the dish.
Recipe:  Hachis Parmentier
In accordance with 'French Fridays With Dorie' rules, I'm not posting the recipe – you must buy Dorie's book to get the details. But believe me, it will be money well spent.