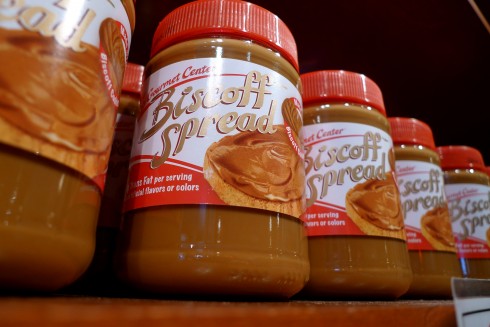 Over the past few nights I've been going to bed with a spoonful of Biscoff Spread. I know, I know, you dentists out there are cringing. I sit there, savoring it for minutes. Devon has joked that it is my crack spoon. Here is the back story:
Almost a decade ago, I was traveling internationally on Delta Airlines when I was first introduced to Lotus Bakeries' Biscoff cookies. Biscoff are Belgian spice cookies, known in Europe as Speculoos, traditionally a holiday cookie. Now ubiquitous year round, they are the perfect accompaniment to a cup of afternoon coffee.
At first bite, I marveled at these crunchy caramelized spice cookies, which tasted similar to a gingersnap. I was so smitten in fact, that on our return trip, I begged the stewards to give me an extra supply as I exited the aircraft. For years I hoarded these cookies, requesting all traveling friends to bring them back for me.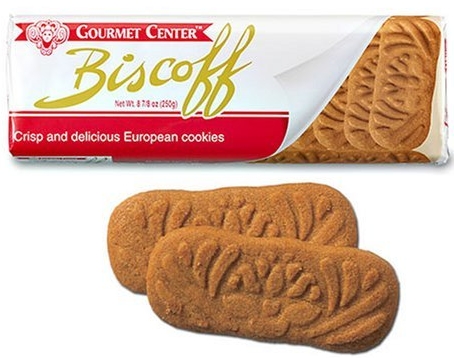 The Biscoff was originally developed by the Boone family in Belgium in 1932, and sold as Lotus Speculoos. In 1984, Lotus partnered with The Gourmet Center in San Francisco, and  introduced the cookie to the United States as "Biscoff", an amalgamation of the words 'Biscuit + Coffee'. Delta began serving Biscoff cookies on their flights in the 1980's, and since then they have been sold to a growing fan base through mail order catalogue, on their website, and just recently popping up in retailers across the country.
In addition to their cookies, the new Biscoff Spread is a food revelation. A few months ago, David Lebovitz raved about it on his blog, and I knew I had to get my hands on some. A similar consistency to peanut butter, it is a smooth spread made of blended Biscoff cookies. (Think Nutella, except tasting like Biscoff). The spread is perfect on toast, stirred into oatmeal, warmed and drizzled over vanilla ice cream, or, as I do most frequently, eaten directly from the jar.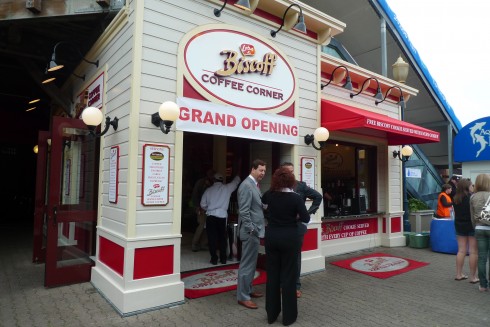 I've been ordering the spread from the internet, but for the first time, it is available for purchase in San Francisco. Lotus Bakeries, and the Simmons Family, owners of Simco Restaurants' PIER 39 establishments on Fisherman's Wharf have partnered to open the Biscoff Coffee Corner and Coffee Cart, the first retail store of Biscoff products in the United States.
As a local, I don't often find myself down by Pier 39, but it's only a quick walk away from the Embarcadero, and well worth the trip in order to get yourself some Biscoff.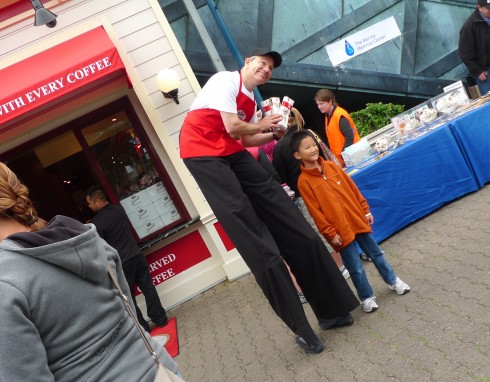 The Biscoff Coffee Corner opened last Thursday with free samples of Biscoff cookies, Biscoff cookie jugglers on stilts, a ribbon cutting ceremony with the Boone family, trivia, and giveaways. One hundred percent of sales were donated to The Marine Mammal Center, which rehabilitates seals and sea lions. In the future, 1% percent of all cookie sales will be donated to The Marine Mammal Center.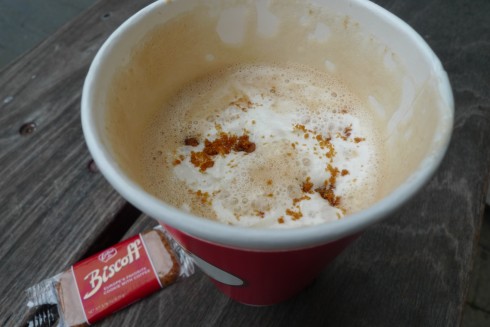 The Biscoff Coffee corner gives a free Biscoff cookie with the sale of each cup of coffee. The shop retails Biscoff cookies, Biscoff spread, as well as features menu items such as toasted bagels with cream cheese and Biscoff spread, and coffee with Biscoff flavoring and Biscoff crumbles (probably my entire calories for the day, but it was delicious!!). Additionally, Simco Restaurants will be featuring Biscoff cookies in dessert creations in their restaurants. Next time I head down there, I think I'm going to get some more Biscoff to make into ice cream.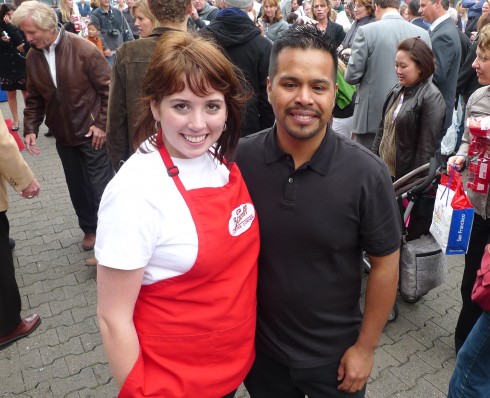 Biscoff Spread is available at the Biscoff Coffee Corner for $5.50 for a 14 ounce jar. Biscoff Cookies are $3.50 for an 8.8 ounce loose package. Coffee with Biscoff flavoring and Biscoff crumbles is also on the menu at the Biscoff Coffee Corner. I highly recommend the trip out there.