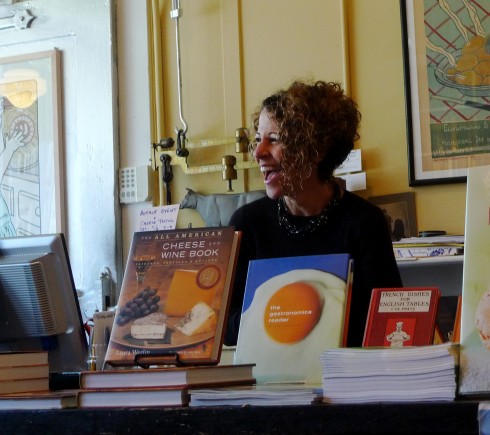 [This photo of Laura Werlin (cheese lover and author) is a perfect example of how much fun we have at Omnivore Books.]
Laura came by to talk about cheese, but more importantly, to lead us in a mini-tasting. We had a tasting of three American cheeses, all of which I'd purchase again, and recommend highly. Forgive my cheese-tasting notes, I need to work on cheese vocabulary without sounding inept or worse, ridiculous – "grapefruit and foie gras notes in that cheese Marty, don't you think?…"
1. Crocodile Tears (See photo below) – made by Judy Schad of Capriole Dairy in Indiana. This was an aged but still soft goat cheese with a really smooth goat-cheesy texture, and nice tangy flavor. While sampling this cheese we learned that most goat cheeses are that characteristic whitish color because don't metabolize beta carotene the same way that cows do, producing a lighter milk.
2. Pleasant Ridge Reserve – made by Uplands Cheese Company in Dodgeville, Wisconsin. A special cross breed of cows, and rotational grazing techniques used by the farmers makes this cheese a nice golden color. It was a firm (semi-hard?) cheese with such pleasant complex notes – a little bit like tasting the grass the cows were eating in the plains, just a little bit of nuttiness and a tiny crunch.
3. Oma – made in Vermont by the Von Trapp Farmstead, aged in the Cellars of Jasper Hill, one of the only Affineurs (cheese agers) in our country. Yes, those Von Trapps. We tasted this cheese last, as it was the most "aromatic" aka delightfully smelly. It was also wonderfully creamy.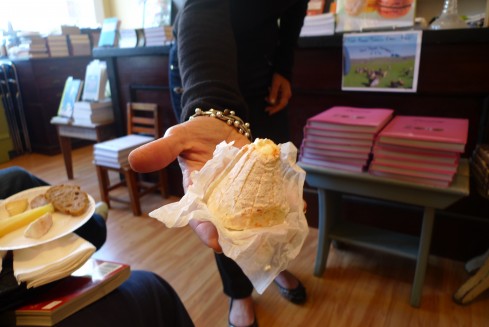 But maybe it's something about people who work with cheese:
Here's Gordon Edgar – Cheesemonger at Rainbow Grocery, and author of one of the best food books I've read this year. His book, 'Cheesemonger: A life on the Wedge' single-handedly doomed me to uncontrollable cheese cravings for the past month. (Fortunately, my family just gave me a gift certificate to Rainbow Grocery for my birthday, so I now have the funds to spend it all on cheese. I'll have to use restraint.)
I loved this book because the voice is uniquely Gordon Edgars' – and is as passionate about cheese as he is about politics, activism, music, and the Bay Area. I learned more about my city from reading this book than from living here. (Which just tells me that I have to be more involved. Folsom St. Fair anyone?) In fact, I enjoyed it so much, that when I finished reading it…. I went back to his livejournal, which to my delight has archives dating back to 2002. I know, I'm a little creepy.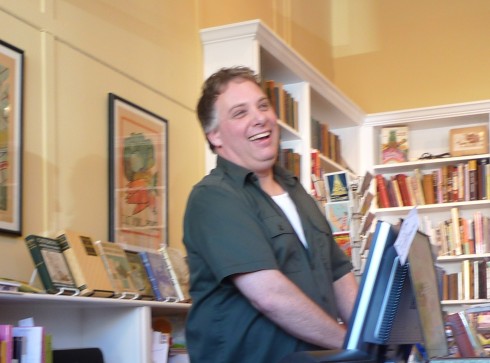 And he loves dogs! And dogs love him.. Maybe dogs also love cheese?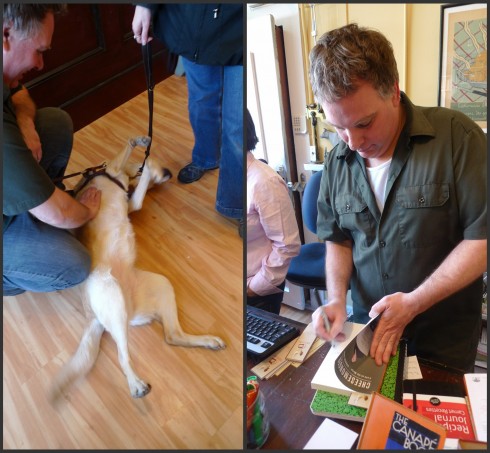 But then, he too fed us delicious cheese:
Dee Harley's freshly made goat cheese from her farm in Pescadero. Not only was this goat cheese delicious and fresh, but I had the privilege to take home some of the leftovers. It went on asparagus, morning toast, and in a glorious trick – in the cavity of my roasting chicken. Delicious!!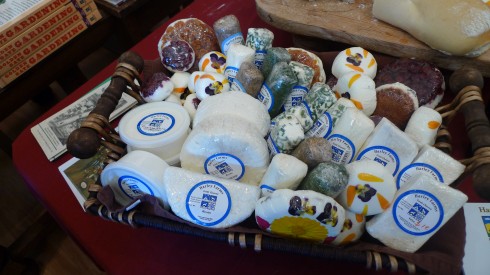 Jealous?
Come to Omnivore! Here's the event calendar. There are events every week – usually on the weekends, but some excellent ones scheduled during the week as well.
As for more cheese lust- this is what I've been reading over the past few weeks:
It's Not You, It's Brie : Kirstin loves cheese, and works as a 'cheese program director' among other fabulous food related jobs. She also takes some beautiful photographs of cheese, and makes me hungry on a regular basis.
@formaggio on twitter: I follow Formaggio Kitchen because I'm a masochist. Some of the best cheese (and foodstuffs) on the East Coast. A few years back I went to a cheese tasting with Ihsan Gurdal (the owner) at Tanglewood. Do it if you have a chance.
Gordon Edgar's Blog: Yes, the Cheesemonger keeps us updated and laughing.
I also am in the middle of reading 'The Town That Food Saved: How One Community Found Vitality in Local Food' about a community in Vermont at the center of a food revolution/scandal/hype/or what have you. (You'll have to read it.). It also has a good amount of information on cheese and dairy'ing. Worth a look.